Distinguished Photographers Award 2013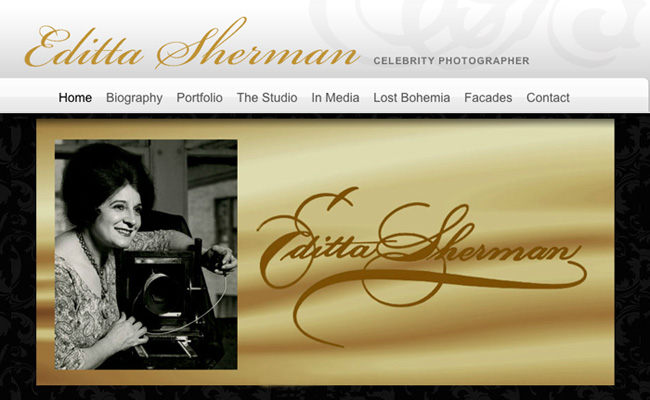 101 year old Celebrity Photographer Editta Sherman
~ The Duchess of Carnegie Hall ~
honored by Women In Photography International

"Remember it is not the camera,
but the person behind the camera that makes the difference!"
Editta Sherman

October 25, 2013:
Women In Photography International is proud to announce Editta Sherman as their Distinguished Photographer for 2013. The award, established in 1983 honors women photographers who have contributed substantially to the world of photography by achieving an impressive presence and portfolio in the field. The Distinguished Photographer's Award is in keeping with WIPI's 32-year history of promoting the visibility of women photographers and their work.

Now 101 years old, Editta Sherman known as The Duchess of Carnegie Hall was born in Philadelphia, PA on July 9, 1912. As a young girl, Editta was introduced to photography by her father, a professional photographer with studios in Patterson, New Jersey. In the mid 1940's, married and working as a portrait photographer, she moved with her husband Harold and their five children to New York City.

The year 1950 would set the stage for Editta to embrace portraiture in a way that very few have the opportunity to achieve. Her professional portrait business was now located in Studio 1208 on the top floor of Carnegie Hall, known as the Skylight Studios, the building and surrounding area a breeding ground for the arts. The next unforeseen change would be the 1954 loss of her husband and partner, Harold, leaving Editta to raise five children as a single mom and working photographer.

According to Sherman "Remember it is not the camera, but the person behind the camera that makes the difference!"

Using her father's 8x10 Kodak camera and her own classic black and white style lighting to capture the genuine qualities of each subject, Editta photographed writers, poets, models, theatrical greats, and musicians. These included legendary artists Tyrone Power (one of her favorites), Noel Coward, Henry Fonda, Carl Sandburg, Marcel Marceau, Leonard Bernstein, Maurice Chevalier, Angela Lansbury, Julie Harris, Jessica Tandy, Yul Brynner, Bela Lugosi, Joe DiMaggio, Robert Evans, Susan Strasberg, LeRoy Neiman, and others such as Andy Warhol, Frank Stella, Veruschka and Tilda Swinton.

Sherman's portraits have been both featured and commissioned by GAVERT company for the 1947 Chicago PAA convention showcasing their Gevalux Velour paper. Her one woman show, Men of Achievement was shot on 8x10 Ektachrome for Radio City's first exhibition of Photography on Parade and in 1967, Kodak presented Editta's largest one-woman public exhibit in New York's Grand Central Station's mezzanine.

Because of her flamboyance and artistic nature, she was asked by Andy Warhol to appear in his 1985 film The Detective and Abel Ferrara's cult film Ms. 45. As a model, the costumed Editta posed for friend and neighbor NY Times Photographer Bill Cunningham in front of 128 Manhattan significant architectural buildings for his book, Facades. Editta, a 60 year resident of Carnegie Hall, is the poster image of the LOST BOHEMIA, the 2010 film about Carnegie Hall produced and directed by fine art photographer Josef Astor, a fellow Carnegie Hall tenant for over 20 years. The documentary is an intimate portrait of the devoured historical wonderland.

Editta's book entitled Studio 1208 - Camera Studies by Editta Sherman will have an upcoming release January 2014. When asked by several interviewers over the years what contributes to her longevity…her response is generally "good food, exercise and a positive attitude!"

"Women In Photography International is honored to present our 2013 Distinguished Photographer's Award to Editta Sherman, a woman who, at age 101, can be an inspiration to all women pursuing a career in photography" says Jean Ferro, photo artist and president of WIPI. "Editta Sherman is a true artist who remains engaged in life, love of people, career and her family."

Sherman's dedication to creating classic portraiture is a testament to the way she lives each day, with a double dose of "Joie de vivre" – a cheerful enjoyment of life and an exultation of spirit!

Sherman is the grandmother and great-grandmother to 31 (corrected from 25 children). (posted Oct. 25, 2013)

(Editta Sherman July 9, 1912 - Nov 1 2013)
Editta was a remarkable women and artist. We are saddened by her loss. She will live on forever in the hearts of all those who knew and loved her.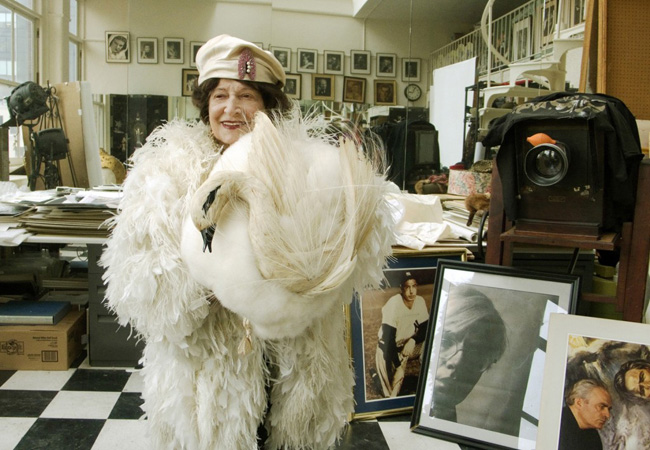 Editta Sherman, Carnegie Hall Studio 1208 courtesy ©Josef Astor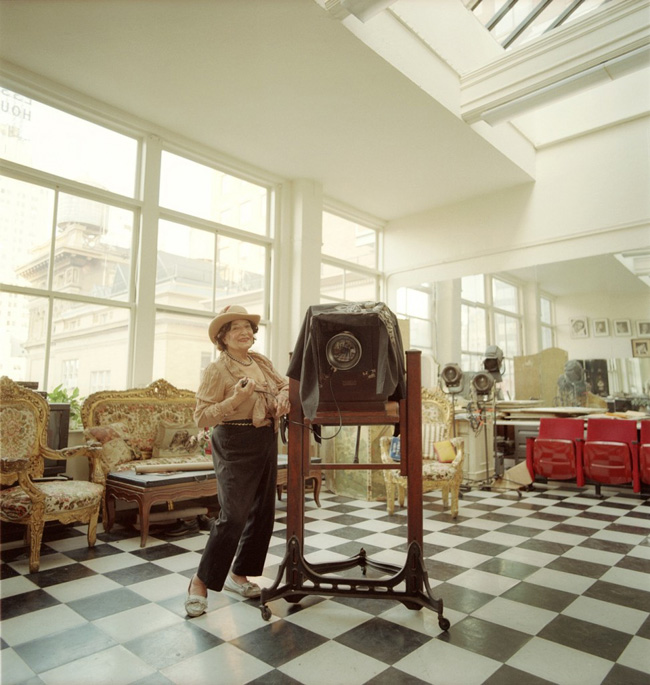 Editta Sherman, Carnegie Hall Studio 1208 courtesy ©Josef Astor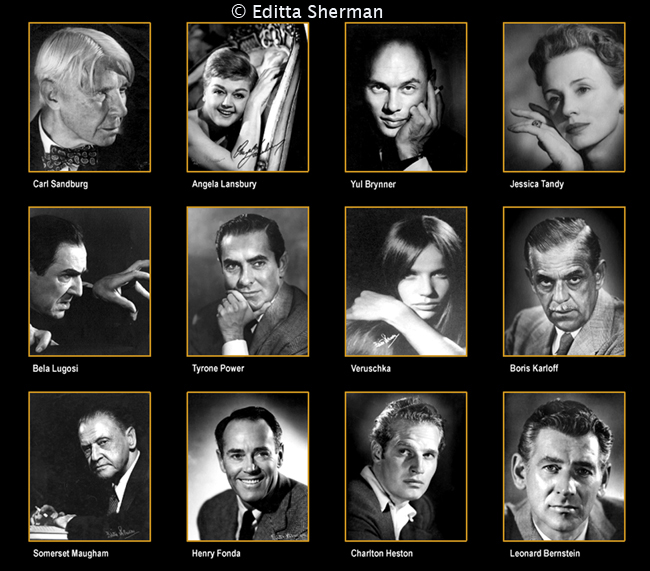 LOST BOHEMIA

Photographer Josef Astor, a resident of the Carnegie Hall Studios for over 20 years, began to film his neighboring artists: ballet and drama instructors, dancers, singers, sculptors, painters, and writers. Over a period of eight years, first-time director Astor filmed several hundred hours of the remaining artist tenants as they fought to preserve the studios for future generations. LOST BOHEMIA is Astor's intimate, affectionate portrait of these extraordinary people, who share the pleasures and struggles of working in New York City.

(DVD's available for purchase)


website:
lostbohemia.com/




©Laszlo Pictures
| | |
| --- | --- |
| | |
PHOTOGRAPHER BILL CUNNINGHAM "Facades"

Bill Cunningham brings together 128 of the best architectural settings and fashion from a 200 year period. These wonderful costumes are worn by Editta Sherman, the "Duchess of Carnegie Hall", as she poses for the camera in virtually every corner of Manhattan. Cunningham and the Duchess do away with the strict decorum and posture of the periods are captured in photographs and text, an intelligent blend of fashion and architectural history, a spirit of playful animation and the illusive sense of the past. (Penguin Books 1978, collectible)
Photographs Bill Cunningham, Model: Editta Sherman, Introduction: Marty Bronson. See website
ELLEN WALLENSTEIN
RESPECTING MY ELDERS


Pratt Adjunct Photography Professor Ellen Wallenstein recently talked about her book of color portraits, Respecting My Elders,

The book contains portraits of 30 creative elders including Eva Zeisel and George Tscherny of Pratt Institute. Respecting My Elders was supported by raising funds through USA Projects and with grants from the Pratt Faculty Development Fund and the Pratt Photography Department.

a self-published project

EllenWallenstein.com
©Ellen Wallenstein 2009

EDITTA SHERMAN
Camera Studies 1940-1990
In Celebration of Her 100th Year
An Exhibit of Celebrity Portraits
by Jill Krementz

Held, July 10-29, 2012
25 CPW Gallery, 25 Central Park West

75 camera studies by Editta Sherman.

organized by photographer and director of
"LOST BOHEMIA" Josef Astor
photographed by Jill Krementz

New York Social Diary, July, 2012

© Jill Krementz
EDITTA at 101!
A wonderful video clip of Editta with her daughter in her new studio
By Jessica Firger, Everyday Health Staff Writer -
VIDEO (uploaded 10/9/2013
click here or click image (2 min 11 second YouTube video)


Women In Photography International founded in 1981 is a 501.c.3 non-profit. Originating as a grass roots organization, WIPI expanded onto the web super highway in 1999 The online resource center showcases and celebrates a diverse selection of female photographers work from around the globe through online and onsite exhibitions juried by the top professionals in the field of photography, including museum curators, gallery owners, book and magazine editors and photographers. WIPI has a long history of collaborating with the international exhibition, photo la and a contributor to the launch of the Lucie Awards by combining our award and honoring onstage Annie Leibovitz in 2003 and Sylvia Plachy in 2004. The WIPI Distinguished Photographer Award was first given to Eve Arnold in 1983, followed by Ruth Bernhard, 1984, Judy Dater, 1985, Marion Post Wolcott, 1986, Linda McCartney, 1987, Mary Ellen Mark, 1988, Ruth Orkin, 1989, Joyce Tenneson, 1990, Berenice Abbott, 1991, Grace Robertson, 1992, Annie Leibovitz, 2003, Sylvia Plachy, 2004, Carrie Mae Weems, 2005, List of One Hundred: Distinguished . Established . Emerging . Debutante, 2008 and Editta Sherman 2013



Note from Jean Ferro, Photo Artist / President / WIPI - Oct. 25, 2013

I am thrilled to have the opportunity to honor a woman who has such a profound effect on myself as a photo artist, mother and my love of family. Her sometimes stable and adventurous life brings me a sense of security as I travel through my own path as I achieve my goals. Editta's unusual positive attitude has helped her overcome very difficult times in life and move forward with great gusto and delight. I was also born in Philadelphia and had a grandmother who lived to be 100+. She too, though not a professional, was very positive and a wonderful inspiration in my own work. Editta was blessed with a special style, talent and a wonderful family and of course the incredible Carnegie Hall studio in Manhattan...location, location, location!

I lost two studios over the years, El Centro Studio and Valentino Place, so I know the feeling of losing a part of identity that developed around one's career. Editta will live on through her wonderful sincere classic black and white portraits of an era that has long past. There's no confusion about what camera, film, paper was used to create these lasting celebrity portraits - a collectors delight. As the saying goes "she may be imitated, but never duplicated." Thank you Editta for being 101 years "young" and showing me how wonderful it is to be dedicated to life and work as an artist.