WIPI SILVERSHOTS PROGRAM
If you want to view previous journal/magazine editions, go to iTunes and download Silvershotz app for both iPhone and iPad. There you can see samples of the magazine. http://www.silvershotz.com/index.php
Please DO NOT contact the editor directly, all questions must come through WIPI.
Your only contact to the publisher at this stage is the submission information below.
If chosen for the article, the editor will contact you to submit the TIFF files.
(Please keep your files with their identity sent to Silvershotz in a separate folder)
This process could take up to two months...for them to complete.
We will supply the editor with the names of women who are submitting.
This is a WIPI MEMBER only article.
Any questions must be addressed to:
Members@womeninphotography.org

Submission to Silvershotz
All material regarding submission is STRICKLY CONFIDENTIAL and not to be disclosed in any matter until Publisher acknowledges to do so. That includes any social media or announcements.
NOTES from the publisher:
At this stage we will put aside 40 pages which may be 10 artists at 4 pages each.
It is a moving feast depending on what is supplied.
Ask everyone to have their submissions in by March 30th if they want to be included.

The images by each individual should have a "cohesive theme"
The group (WIPI) does not have to have a theme- but each submission must be themed.
This is a SPECIAL WIPI presentation. We are very fortunate, this particular issue will be their last PRINTED publication and will also include a PDF download.
SUBMSSION GUIDELINES
Files must be received by Silvershotz in Australia by March 30th. (SEND BY FTP by March 29th.. Australia is almost a full day ahead)
MARCH 30th or sooner in Australia
So, if you're mailing a CD/DVD, check your Post to find out how long it takes airmail to get there. Must be RECEIVED by March 30th. World Clock
FTP to info@silvershotz.com via http://www.wetransfer.com or http://www.yousendit.com is preferable.
see note below regarding YouSendIt

SILVERSHOTZ: The following guidelines are specific to this magazine, but as a general rule of thumb if you follow these rules you will increase your acceptance rate with other publishers, galleries and image banks. This is your article and allows you to tell the international photographic community about yourself, your work and your philosophy.

What do we need?
Color and/or B/W COHESIVE PORTFOLIOS

• one portfolio - 20 images (no more/no less!)
OR two porfolios with 15 images each FOLDER total 30 images (no more/no less!)

• CV - education, exhibition, plublication list
(If you are including competition wins, please include WIPI if you had honorable Mention or placement). CHOOSE your competitions wisely. Do not overload w/secondary competitions of lesser merit.

• A BIO detailing as much about yourself as possible. Include the following:
membership of associations or professional groups,
details about your history in photography plus
information on your full time career if you do not earn your major income from photography.

• Include an artist statement
that explains your philosophy on life and how it determines your approach to your photography/image creation, motivation, technique?


• Attach the above as word documents in the FOLDER with your images.

• Contact details must include your name, address (including country), telephone numbers and email..

• Subjects can be as varied as abstract, still life, landscape, figure work, portraits, photo documentary, social commentary and experimental work.
• Capture device can be as varied as film, memory card, paper negatives, scanners, sensitized materials, lens less photography or even CGI.
• Output material can vary from general darkroom wet processes, alternative printing processes to ink jet printing and multi-media.

• Silvershotz has a strict policy not to place text over an image.

• WIPI-Article images submitted for consideration will be viewed by the editor and upon his selection TIFF files will be requested for the journal print, which must be identical to original submitted 72dpi JPEG

• size: 72dpi, vertical, horizontal or square, no larger than 10" or do not exceed 1000 pixels longest side.
• FILES must be identified as:
LastName_WIPI_01, etc.
01 thru up 20 w/one portfolio,
01-15 and 2nd portfolio 16-30 w/two portfolios.
• Do not submit more than 2 portfolios.

Make sure your files are named as above. NO SPACES, no #.*&... only alpha-numberical. Just the text and the _ (underscore line between LastName_WIPI_number.

Sample contract you will receive from the publisher upon acceptance and prior to publication.

FTP to info@silvershotz.com via http://www.yousendit.com is preferable or http://www.wetransfer.com

see note below regarding YouSendIt
Your main Folder to Silvershotz should read:
YourLastName-WIPI Article
(see below)

If you have a YouSendIt paid account you don't have to ZIP, you know what to do.
If not, you can have a FREE account..50MB
To send multiple files with a free account, You must put the files into a folder and then ZIP them and then attach the ZIP file folder as a file "NOT a folder." As long as your folder doesn't not exceed 50mb. Better to be under 50. If you attach it as a folder they will want you to sign up for a paid account.

Create a FREE account by clicking block below: If you take the FREE TRIAL that is setting the stage for a PAID account. You want to click on Need to Send a file right now block: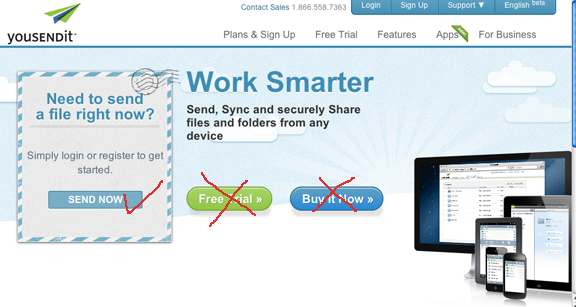 THEN YOU WILL BE taken to this block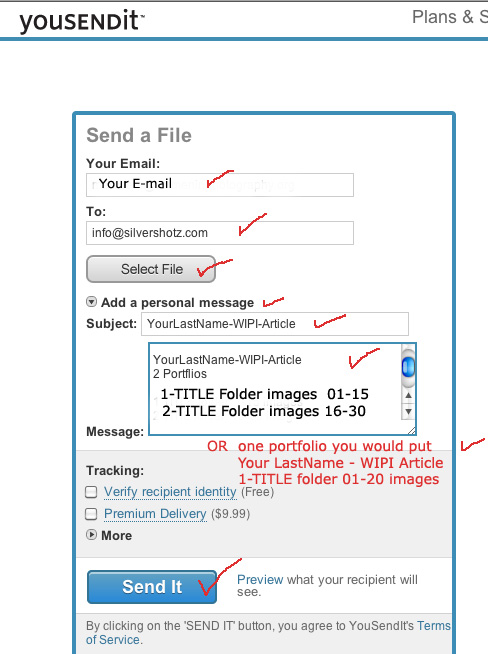 Sending by mail:
Please airmail the CD/DVD directly to the editor: -
Silvershotz-Editor
PO BOX 797
Maleny Queensland 4552 Australia
Once mailed or sent via FTP, please notify WIPI (Members@WomenInPhotography.org) and state
How many images you submitted along with the submitted DATE and how, mail or FTP.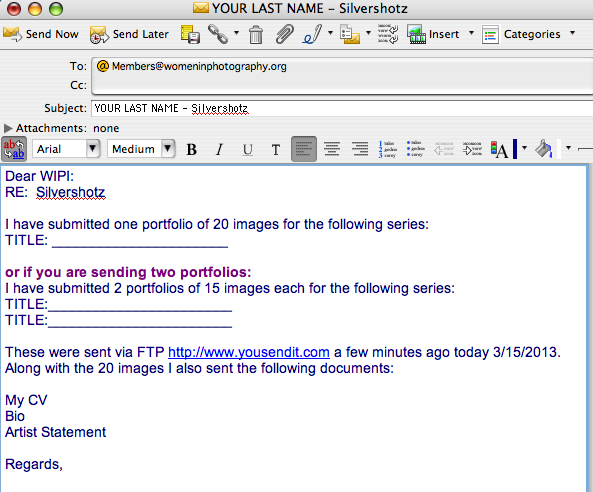 REMEMBER no more than TWO PORTFOLIOS minimum
TWO portfolios should contain 15 images each, no more, no less
ONE portfolio should contain 20 images, no more, no less.
with each having a cohesive theme
PLEASE do not submit more or less than is requested. This is a highly competitive opportunity and following instructions will possibly make or brake your opportunity.


Any questions, please contact us "NOT THE EDITOR/PUBLISHER".
Members@womeninphotography.org