PART 1 - EUGENE ATGET
"Thirty years ago, the name of Eugene Atget was never heard outside specialist circles. Now he is the most celebrated of all the photographers of "Old Paris". His work is enlisted to serve the most varied purposes; major monographs have been written on him; and- the final accolade- the public at large knows his name. His personality and his work give rise to constant controversy. He is, in fact, universally famous. But this fame was late in coming: when he died in 1927, there was not one single line in the press to mark the occasion. If it had not been for the crucial promotion of his work by the American photographer Berenice Abbott, that fame might never have come at all.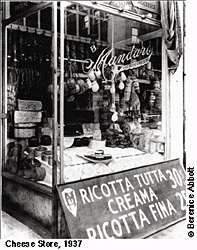 Toward the end of his life Atget met Man Ray, his neighbor on rue Campagne-Premiere in Paris and, through him, Berenice Abbott, a young American who had come to France to study sculpture, but who became Man Ray's girl friend and pupil. She seems to have been one of the first people to understand Atget, and to appreciate the importance of his work. On Atget's death in August, 1927 Abbott bought 1,797 of his glass plate negatives. For the next several decades she campaigned tirelessly to make Atget's work known on this side of the Atlantic. In 1968 she sold the plates, together with 10, 000 prints, to the Museum of Modern Art in New York. Thanks to this purchase, and to Abbott's publications, America was more prompt than France to appreciate Atget's stature as an artist." from the introduction to ATGET PARIS edited by Laure Beaumont-Maillet published by Hazan and drawn from the archives of the Biblioteque Nationale de Paris
This exhibition of Atget's work, 66 prints from the Getty's permanent collection, gives the viewer a sampling of the eccentric pictoral encyclopedia of Paris which the photographer spent 30 years assembling, wandering the streets daily with an 8X10 view camera and glass plates and leaving a body of work contained in 8,500 negatives.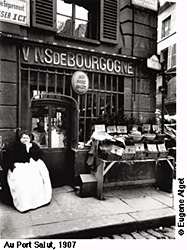 Establishing himself as a photographer in 1890 after a less than stellar career as a traveling actor, Atget began making studies of plants, animals and landscapes which he sold as "documents for artists" to architects, designers and artists such as Maurice Utrillo for use in their work By 1897 Atget changed his focus to the textures of neighborhoods which were beginning to disappear from Paris. He shot from street level the facades of commercial buildings: factories, shops, restaurants and markets - the stage of common French workers who were themselves often missing from their workplaces. By the end of WWI (1918) Atget's work moved from the prosaic to the poetic, shifting from documentation to the study of atmosphere as seen in open spaces such as parks and botanical gardens.
Historical reference: Street Photography
Charles Marville 1816-1879 active 1850-1870 Paris
Eugene Atget 1857-1927 Active 1890-1927 Paris
Berenice Abbott 1898-1991 " 1923-1980 NYC
Walker Evans 1903-1975
Gary Winogrand 1928-1984
PART 2 - JAMES C. OGDEN
James C. Ogden ( 1877 -1929) and his wife Minnie were Kentucky -born missionaries who heard the call to carry their religious message to China at the turn of the century, arriving in Shanghai in 1905.
It took 4 months traveling by steamboat and overland with packhorses to reach western China and the little town of Tatsienlu where they met another American missionary family, the Dr. Albert Sheltons. Together the two couples spent another grueling month in a caravan of coolies, sedan chairs and pack animals loaded with medical supplies, crossing high snow-covered passes and inching along windswept paths where a false step meant a plunge to one's death. Finally they reached Batang on the Tibetian border where they would eventually build their mission.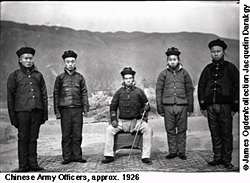 Ogden had degrees in architecture and agriculture and he used these skills to build a dispensary, then an orphanage, a school, a hospital and surrounding gardens, with hand tools and manual labor. Despite his busy schedule preaching, building, raising a family, and helping Dr. Shelton care for the sick, he found time to document the lives of the people of this far-flung corner of the world, their customs, rituals and manners. Chinese army officers sitting in proud formation for their formal portrait, Tibetan monks smiling benignly, Chinese bodyguards glaring at the "devil westerner"- all exhibit a surprising immediacy which draws the viewer into their lives as if they were in the same room with the viewer at the moment of being seen. In addition to these, Ogden's gallery of family, friends, colleagues and converts completes the story. This is not a tourist's view of the exotic "other" but a record of the deep bond between this man and his chosen people, of the love and acceptance that was shared by them for over twenty years.
These photographs are all the more poignant when one realizes that they were taken by a man who suffered continuously from severe bouts of depression which hospitalized him on several occasions. Besides his ill health, and tensions among the personnel at the mission, he worried about his daughter Ruth who had an illegitimate child by another missionary, as well as his son Harold who had gotten a Tibetan girl pregnant. And if all that were not enough, he had made a series of bad investments on the stock market which did not give the return he expected. These overwhelming problems eventually led him to suicide in 1929 while at home in California on leave.
This exquisite body of work - over 800 negatives - would have been lost forever if not for the care and devotion of Jacqueline Darakjy .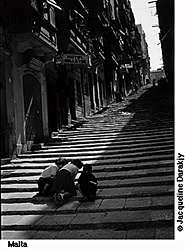 Born near Poitiers, France in 1942, Jacqueline began photographing as a young teenager when her archeologist uncle took her along on his frequent trips to ancient sites around the Mediterranean, including Greece, Italy and Sardinia. She was fascinated by the people they met and places they visited and her passion for capturing the life of a place began at this time. In the late 60's she met and married Robin Darakjy, an American serving in the USAF in France. Eventually they made their way to Los Angeles, where, in the early 80's Jackie met Dorothy Shelton (daughter of Dr. Albert Shelton) who was then teaching at Claremont College. Dorothy asked Jackie to make some prints of her father's negatives (Dr. Shelton also photographed the mission in Tibet). It wasn't until the late 80's however that Jackie just happened to be riding with a friend one day and he stopped by the house of Harold Ogden in Glendale. Harold was cleaning out his garage and was throwing out boxes of moldy old negatives. Jackie looked at a few and asked if she could have them, but he was reluctant. She persisted until finally he handed them to her, saying, "Here, take them and I never want to see them again!"
After cleaning and proofing them over a period of 10 years, she realized the treasure she possessed and began exhibiting the work in gallery shows. "James Ogden captured the soul of Tibet and the trauma already happening to its people at the hands of the Chinese." she explains. "I was so taken by what little I saw that day in his son's garage, that I couldn't let this visual history of a place be destroyed forever."