The Humboldt Arts Council in the Morris Graves Museum of Art presents Tiaras Optional!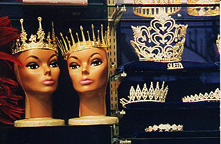 Photographs by Pam Mendelsohn and sculptural ceramics by Susan Needham
April 27-May 27, 2001 in the Homer Balabanis Gallery.
Reception is May 5, 6:00 p.m. during First Saturday Night Arts Alive!
The Museum is located at 636 "F" Street in Eureka, California and is open Wednesday through Sunday, 12 p.m.-5 pm.
---
"Body Language" solo exhibition
Photographs by Pam Mendelsohn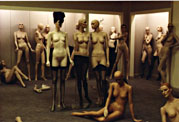 The 30 photographs are from her series of mannequins and people who are playing with and celebrating "the idea" of the mannequin, 1990-2001.
March 3 through April 6, 2001
ARTIST'S RECEPTION: MARCH 5, 5:00 until 7:00 PM
Bucci's, 6121 Hollis Street, Emeryville, CA 94608
Open: Monday through Friday, 11:00 AM to 2:30 PM and Monday through Saturday, 5:30-9:30 PM.
phone: (510) 547-4725
**Pam Mendelsohn (See Archive 2, gallery exhibits)
Contact information: Pam Mendelsohn
(510) 798-3030
pamwiltravel@Compuserve.com
---

"federation de cercles photographiques"
(Belgium)
Presentation of the photos excelled to the contests of the federation. These photos and others will be visible at the time of the exhibition of the federation April 21 and 22.
((Mise à jour de la galery de la fédération de cercles photographiques (Belgique). Présentation des photos primées lors des concours de la FCP. Ces photos et d'autres seront visibles lors du salon FBCP - FCP les 21 et 22 avril. ))

Alain Mairy, Webmaster FCP
http://www.multimania.com/fcp

fcp@multimania.com
amairy@netcologne.de
---
DORIS ULMANN EXHIBIT OPENS
AT THE HOPEWELL MUSEUM
The largest exhibit of the photographs of Doris Ulmann since 1946 opened February 10 at the Hopewell Museum in Paris, KY. The exhibit, "Doris Ulmann's Passionate Portraits of America," coincides with publishing of the first-ever full biography of Ulmann, a gifted artist who was one of the foremost photographers of the early twentieth century.
Photographer Doris Ulmann (1882-1934) worked from 1917 until days before her death in August 1934, producing images of authors and editors, doctors and scientists, rural African Americans, mountain Appalachians and Indians. Harvard psychiatrist Robert Coles has said that these photos "come closer to more truths than perhaps anyone's words can evoke."
The 46 Ulmann photographs in the exhibit are all owned by Bourbon Countians. Most of the vintage artworks are from the collection of Gordon and Lyn Layton and one belongs to Martha Bennett Stiles, author and granddaughter of the noted author John Bennett, whose portrait by Ulmann is included in the exhibit.
The exhibit is curated by Lyn and Margaret Layton, who write in their exhibit introduction, "Ulmann's works are photographically significant because of the difficulty of the techniques she used, her unusual approach to photographing her subjects, and the critical acclaim she earned in her day -- even Eleanor Roosevelt was one of her admirers!
The Life and Photography of Doris Ulmann, by Philip Walker Jacobs, available. Includes twelve of the 45 "Doris Ulmann's Passionate Portraits of America" photographs, or variants.
The exhibit continues through May 30, 2001.
The Hopewell Museum, 800 Pleasant Street, Paris, Kentucky
Wednesday to Saturday, noon to 5 p.m. and Sunday 2 to 4 p.m.,
or contact Hopewell Museum Administrator Betsy Kephart at (859) 987-7274 for further information.


---