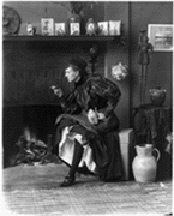 The Woman behind the Lens: The Life and Work of
Frances Benjamin Johnston 1864-1952
by Bettina Berch; University Press of Virginia, 2000, 171 p.
www.upress.virginia.edu
reviewed by Carole Glauber, copyright 2001
Frances Benjamin Johnston studied art in Paris, opened a Washington, DC art studio, photographed five White House administrations, documented Virginia's Hampton Institute and Alabama's Tuskegee Institute, photographed the gardens and architecture of the rich and famous, and declined to "marry for money," or marry at all, for that matter.
In The Woman behind the Lens: The Life and Work of Frances Benjamin Johnston, 1864-1952, author Bettina Berch takes us on a whirlwind tour of Johnston's substantial career and lengthy, energetic life. While the Library of Congress has some 19,000 items of correspondence, diaries, scrapbooks, articles, and materials relating to Johnston, they evidently reveal little about her personal life. Still, Berch has pieced together an account of Johnston and her work.
Johnston grew up surrounded by independent women. Her mother was a leading journalist for the Baltimore Sun and Rochester Democrat and Chronicle in the 1870's, writing about congressional activities and providing Washington inside information to her readers. She had access to anyone important in Washington. Johnston's Aunt Nin also possessed an autonomous streak. From 1883-1885, Johnston studied art at the Academie Julian in Paris, returning to Washington at age 21, ready to make a living from her art.
Given her mother's connections, Johnston gained access to Washington insiders, including the chance to learn camera use and darkroom work from Thomas Smillie, at the Smithsonian. She opened a studio at 1332 V Street behind her father's house. After taking her first photographs in the White House in 1889, she went on to photograph there during the administrations of Cleveland, Harrison, McKinley, Roosevelt, and Taft. Johnston's early astuteness for self-promotion became apparent when, as a founding member of the Business Women's Club, her photos of the 1893 Columbian Exposition were displayed on the clubroom walls on opening day.
She dabbled in Pictorialism more as a curiosity than as a commitment, joining the Photo-Secession and participating in photography salons, once as a juror. She was the first female member of the Capitol Camera Club. By 1900, Johnston's stature provided her the opportunity to organize an exhibit of women photographers for the Paris Exposition that year, where she also showed several hundred photographs from her series of the Washington school system and Hampton Institute.
Year after year, Johnston's accomplishments accumulated. During 1905 and 1906, she, her mother, and aunt became close with the Lumiere brothers in France who trained Johnston in the "theory and technique of their new process." By 1912, she was reported making "color photo-transparencies."
According to author Berch, Johnston and photographer, Mattie Hewitt lived and worked together for some eight years in New York City, with their relationship ending in 1917. Berch wisely avoids making definitive conclusions regarding Johnston's sexual orientation, but provides evidence and context for intelligent conjecture. During this time, Johnston made a dramatic switch from portraiture and journalism to photographing gardens and architecture.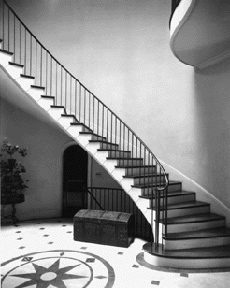 Johnston never stopped working. In July, 1927, she bought a car for a motor tour of the East Coast, arranged for a driver, and ended up in Virginia where she became a Southerner. A series of Carnegie grants kept her going through the Depression. In 1944, her chauffeur stole her car, used up her gas rations, and she ran out of film difficult to obtain during the war-not typical problems for an eighty year old woman. She moved permanently to New Orleans in 1945, where she seemed to enjoy the "thriving bohemian culture." During the previous several decades, various institutions had purchased her work. She died March 16, 1952, but Berch does not reveal the cause of death, presumably old age.
This book contains forty reproductions of Johnston's work, but many of them are the ones typically seen when Johnston is mentioned. Berch by-passed an opportunity to highlight some of the lesser known images such as her Pictorialist work, Mammoth Caves or even her studio exterior so intimately described in the text. An analysis of a worker as prolific as Johnston, bestows an abundance of material to share. While reading this book, it is not difficult to imagine Johnston hustling about making photographs. It is fun to see the photograph Berch included of Johnston standing by her car preparing for one of her many motor trips. In 1973, Anne Tucker published her seminal book, The Woman's Eye with the opening line, "Is anatomy destiny?" A study of Frances Benjamin Johnston safely puts that question to rest.