Game Face: What Does A Female Athlete Look Like?
A five-year, traveling photography exhibition and education
project on girls' and women's athletics.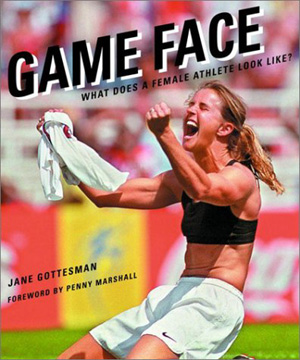 The exhibition opens at the Smithsonian Institution June 26, 2001 and will remain on view until January 2, 2002. The exhibition will travel to twenty cities over the next five years.
This is the first photography exhibition on the contemporary explosion in women's sports and the changes in society brought by Title IX. The exhibition will celebrate the spiritual, physical and social issues responsible for the current popularity and success of women's athletics. It features photographs by over one hundred of America's best photographers, from Annie Leibovitz to WIPI Member Patricia D. Richards to Ansel Adams.
This is a substantial and unprecedented undertaking. Here are some salient features:
Opening at the Smithsonian Institution June 26, 2001. On display at the Smithsonian's Arts & Industries Building from June 25 thru January 2, 2002.
University of Utah in Salt Lake City during the Winter Olympics in February 2002.
Dallas, Texas: Dallas Womenís Museum and Institute for the Future, April 30 thru July 28, 2002.
Exhibition consists of 135 color and black and white photographs
displayed as framed prints and freestanding structures; 7-10 minute video running on a loop.
Random House published a Game Face companion book in June 2001.
Hardcover, 224 pages, 182 photographs throughout. Printed at Mondadori in Verona, Italy.
---
MOBILIVRE-BOOKMOBILE
submitted by WIPI member Shahla Bebe

Project MOBILIVRE-BOOKMOBILE project is a mobile exhibition of artist' book works, 'zines, and independent publications traveling across North America in a vintage Airstream trailer.

A group of coordinators are traveling with the exhibition, facilitating a series of workshops, artist talks, and educational forums about independent media.

This is a completely grassroots project started by a handful of young women artists from the U.S. and Canada. This is our first year but we hope to continue touring in the future and visiting more remote areas where art is hard to come by.

The following website has photos of the bookmobile from the NYC design group who volunteered their services for us, as well as links to our website and an article from the Philadelphia city paper:

http://www.freecellcollective.com/bookmobile/

please let me know if you have any questions or if you would like to support our endeavors in any way. i hope you will be able to make it out to the bookmobile when it stops near you. and please tell your friends and forward this email to other artists and activists.

if we missed your town, please look out for us in the future.

thank you very much,

fereshteh toosi

TOUR DATES

Many thanks to the places we've already been: Montreal, Ottawa, Waltham, Northampton, and Springfield, and Providence.

OCTOBER
1-2 Edmonton AB, TBA
3-4 Glenis AB, Glenis Reserve
6-7 Calgary AB, St Stephens School
8-10 Salmo BC, Salmo Arts Center
11 Kelowna BC, Alternator
12-18 Vancouver BC, Artspeak, Burnaby Arts Center, Spartacus bookstore, Northshore Neighborhood House, Blinding Light
19-20 Olympia WA, Community Print
22-23 Portland OR, Independent print resource center, Reading Frenzy
26-29 San Francisco CA, Locus Arts, Punks with Presses, more TBA
31-Oct2 Los Angeles CA, Alleged Gallery, KBond

NOVEMBER
Richmond VA, Virginia Commonwealth University
Rutgers NJ, Rutgers University
Montreal PQ, Concordia University
St-Jerome PQ, Vieux-Palais
Toronto ON, Art Starts, York University, more TBA
---
Women's Venues by Karren Tolliver
Below are the listings regarding women photographers' venues. Most, if not all, of these places are not exclusively featuring women photographers but seem to have strong commitments to such.
If you have information and would like to add to this list, please contact Karren Tolliver at dblrr@zdnetonebox.com
Magazines:
Alaska Women Speak
P.O. Box 92842
Anchorage, Alaska 99509
Editor: Mary Lee
Telephone: 907/696-0924
Email: akwoman@ak.net
Description: A unique voice for women, Alaska Women Speak is dedicated
to sharing Alaska women's stories, poetry, artwork, and photography.
We encourage heartfelt social commentary on women's issues, especially
positive solutions.
Celebrating Voices
Women's Center
P.O. Box 354
Binghamton, NY 13902
Editors: Peg Johnston, Judy Arnold, Salimah Valiam, and Evelyn Clark
Telephone: 607/785-3429 or 607/797-1360
Fax: 607/785-3915
Email: Bingwomen@aol.com
Description: Quarterly feminist magazine dedicated to good writing, sharing of writing and responsibilities, and diversity. Includes fiction, poetry, analysis, art, photography, reviews, & regional C-NY news.
Frontiers: A Journal of Women Studies
Women's Studies, Wilson 12
Washington State University
Pullman, WA 99164-4007
Editor: Sue Armitage
Telephone: 509/335-7268
Fax: 509/335-4377
Email: frontier@wsu.edu
Description: Multicultural, multidisciplinary feminist journal, a juried
publication accepting scholarly articles, personal essays, fiction, photography,
art, and poetry.
Passionfruit -- a women's travel journal
2917 Telegraph Ave PMB 136
Berkeley, CA 94705
Editor: Michele Jin
Telephone: 510/595-5522
Fax: 510/843-8780
Email: michele@passionfruit.com, submissions@passionfruit.com, ads@passionfruit.com
Website: www.passionfruit.com
Description: A new quarterly journal, Passionfruit features first-person
travel narratives, profiles, cultural reviews, creative writing,
art and photography, all presented from a woman's perspective.
Womyn's Words
P.O. Box 15548
St. Petersburg, FL 33733-5548
727-323-5706
Intuition for Women
4500 4th Street, North
St. Petersburg, Fl 33703
727) 527-3197
FAX (727) 520-8716
info@intuitionforwomen.com

Internet sites and e-zines:
www.art-support.com
www.photobetty.com
US Museums:
Southeast Museum of Photography
Daytona Beach Community College
P.O. Box 2811
Daytona Beach, Florida 32120-2811
(904) 254-4475 phone
(904) 254-4487 fax
Does not really concentrate on women, but does accept queries and appears to have equal # women's vs. men's shows.
California Museum of Photography/Women Photographers
University of California/Riverside
kbarber@ucrac1.ucr.edu
3824 Main Street, Riverside CA 92501
National Museum of Women in the Arts
Archives on female artists. Eligibility is for women who have had at
least one solo show in a museum or gallery. Files may include bio information, resume and up to 20 slides. $10 fee to establish a file. For more info send a SASE to Archives on Women Artists, National Museum of Women in the Arts, 1250 New York Avenue, NW, Washington, DC 20005
http://www.nmwa.org

The Women's Museum
3800 Parry Avenue
Dallas, TX 75226
(214) 915-0860
(877) 915-0860
Email:411@thewomensmuseum.org

US Universities:
Special Collections/ University Archives
Sonoma State University Library Women Artists Archive
Rohnert Park, CA 94928
http://libweb.sonoma.edu/special/waa/
US Ateliers:
Women's Studio Workshop
PO Box 489
722 Binnewater Lane
Rosendale, NY 12472
845) 658-9133
Lightwork
316 Waverly Ave.
Syracuse, NY 13244
(315) 443-1300
Fax: (315) 443-9516
www.lightwork.org
cdlight@summon2.syr.edu
Mounts four major exhibitions annually in the Robert B. Menschel Photography Gallery located in the Schine Student Center at Syracuse University, and six exhibitions in the Light Work Gallery located at 316 Waverly Avenue, Watson Theater Complex. The Light Work Gallery features exhibitions from Light Work's permanent collection, special projects, and work by local area artists. Exhibitions in the Robert B. Menschel Photography Gallery are generally one or two-person exhibitions by emerging artists producing new and important work, and by more established mid-career artists who are not receiving widespread public attention. Exhibitions in the Robert B. Menschel Photography Gallery are published in Light Work's publication Contact Sheet.
International Museums:
Der Verborgene Museum e.V.
Dokumentation der Kunst von Frauen (Documentation of Women's Art)
Schlüterstr. 70
10625 Berlin, Germany
Tel: +49-(0)30-313 36 56
Museum in Berlin that is devoted to women's work--photography among other media.

I'm still getting info re: the women photographer venues. Here is the
latest:
1. http://womenshistory.about.com/cs/photographers/ - online forum
2. http://womensphotoworks.com/ - online forum
3. http://digilander.iol.it/womenphotographers/ (Italian/Mediterranean
Women Photographers organization)
4. IRIS International Centre for Women in Photography, based at Staffordshire
University, Stoke on Trent, United Kingdom, is the leading organization
dedicated to women practioners in the development of photographic theory
and practice. This international body researches into and promotes the
work of contemporary women photographers and writers on photography.
The center and its projects are funded by Staffordshire University and
West Midland Arts.
Kate Newton
IRIS
+44 1782 294 721
iris@staffs.ac.uk
5. http://college.library.wisc.edu/~carrie/wss/womenart.htm - Women
& Art, developed and maintained by the Women's Studies Section of the
Association of College and Research Libraries. This page provides a selective,
annotated list of links with information on women in the visual arts.
---
Raid Projects
Attn: Writers, Artists, and Thinkers
Raid Projects proudly announces the launch of its Monthly Art Journal. The journal will function as a catalog for exhibitions at the Raid Projects gallery located in the Brewery in downtown Los Angeles as well as a forum for critical dialogue on art issues.
SUBMISSIONS are desired for art-related Feature Articles of a critical, philosophical or cultural nature.
The Raid Projects Journal will provide a consistent space for outside contributions. Those submissions received after the deadline will be considered for future issues.
For information please contact:
Arthur Aghajanian
dealine for submission is approx. 21st of each month
---
Inside Advice - "Seeking and Securing an Exhibition:
Q&A with Jill Waterman."
What's New at PhotoProjects.org (September 5, 2001)
An on-line resource and community for photographers working on long-term personal projects - The Center for Photographic Projects:
Inside Advice - "Seeking and Securing an Exhibition: Q&A with Jill Waterman."
Visit this page for tips on optimizing the submission process, asking the right questions about exhibition costs, dealing with rejection, and a discussion of when and where to exhibit your work. A list of resources is included at the end of the interview. Excellent 6 page account of what can help you mount a successful exhibition.

Jill Waterman is a WIPI Advisory Board Member
also see:
WIPI News #4 - Archive 4
Off the Map 6/2000 - L.E.S. Girls Club
by Jill Waterman
see WIPI archive for a personal account of Patricia D. Richards, curator
WIPI News Archive #5, January-March 2001
* "A conversation with Patricia D. Richards, curator, about the In's and Out's of mounting an exhibit. How she put together her international exhibit "Image 2000" in Plano, Texas
---
JOYCE TENNESON AND WORLD'S LARGEST CAMERA HEADLINE 'ATLANTA CELEBRATES PHOTOGRAPHY'
ATLANTA - The world's largest camera, a celebrity lecture series and photography exhibitions across the city will headline the third annual ATLANTA CELEBRATES PHOTOGRAPHY, a month-long festival of photography set for October 2001.
This is the third annual city-wide celebration of photography planned by ATLANTA CELEBRATES PHOTOGRAPHY, a 501(c)(3) nonprofit arts organization. More than 75 fine art galleries, educational institutions and public spaces are expected to feature photography by local, regional and nationally known artists during the month. In addition, planners will bring to the city celebrity photographers Joyce Tenneson, Michael Kenna, Renee Cox and Pulitzer Prize winner John Kaplan as distinguished speakers, along with writer Michael Lesy.
The Polaroid 20x24 camera - the world's largest camera at five-feet-high and 235 pounds - will be installed in Atlanta for one week. Reservations to use it to make 20"x24" original prints are available (tom@acpinfo.org). The larger-than-life instant camera, one of only five of its kind in the world, has gained acclaim for its impressive list of users, including artists Joyce Tenneson (haunting and mystical human figures), William Wegman (and his famous dogs), David Levinthal (and his Barbie dolls) and Timothy Greenfield-Sanders (celebrity portraits).
A Portfolio Review Day is set for October 13, coupled with an October 13-14 Photo Trade Show, in collaboration with the Advertising Photographers of America. Also planned are a Juried Exhibition, Photography Studio Tours, an October 20 Celebration Party and Auction and a free comprehensive city-wide Event Guide.
For more information, contact ATLANTA CELEBRATES PHOTOGRAPHY, a 501(c)(3) nonprofit art organization, at:
660-A 9th Street, NW
Atlanta, Georgia 30318
404-885-9240
Visit our website at www.acpinfo.org, or send email to corinne@acpinfo.org.
---
SCHLESINGER LIBRARY'S EXHIBITION PROGRAM
As an institution committed to expanding public awareness of the roles of women in history and to advancing society by advancing women, the Schlesinger Library established an exhibition program which aims to:
Illustrate the wealth and range of the collections with in-house exhibitions.
Support contemporary women artists by providing a showcase for their work, be it specifically about women and womenÕs issues or not.
With the exception of a few glass cases, the library's exhibition space consists of wall space available on the four floors of the building and totalling about 120 running feet. For this reason, the works exhibited should be mostly two-dimensional (photographs, prints, drawings, watercolors, paintings etc...).
Exhibitors shall be responsible for the following:
Preparation (matting and framing) of their work.
Transportation of their work to and from the library, including costs of shipping and insurance (if necessary).
Hanging of their work (the library has a list of installers who can be called upon if necessary).
Preparation of captions and explanatory texts, biographical material and exhibit statement.
Mailing list for invitations to the opening reception, catalog or list of exhibited objects, price list.
The Schlesinger Library shall provide the following:
Local publicity.
An opening reception.
A standard printed invitation with or without illustration and postage for up to 400 invitations.
Viewing hours for the exhibition shall correspond to regular Schlesinger Library hours. If you are interested please contact Marie-Hˇl¸ne Gold at mhgold@radcliffe.edu or 617.495.8647. For further information about the Schlesinger Library please visit our website at http://www.radcliffe.edu/schles/