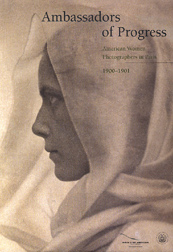 Ambassadors of Progress: American Women Photographers
in Paris 1900-1901
Edited by Bronwyn A. E. Griffith with essays by Verna Posever Curtis, Bronwyn A. E. Griffith, Michel Poivert, and Andrew Robb. Biographies by Laura Ilise Meister.
Musee d'Art Americain Giverny, France in association with the Library of Congress, Washington, D.C.
Distributed by University Press of New England
Hanover and London
ISBN: 0-932171-22-2
200 pp
Pub.Date: 2001
Reviewed by Carole Glauber, copyright 2001

The turn of the 19th century to the 20th accompanied a Renaissance period where inventions and new enterprises coincided with a time of prosperity and optimism. Within a span of 15 to 20 years, most breakthroughs in technology occurred that today influence our lives. Motion pictures, the telephone, electrification, recorded sound, x-rays that revolutionized medicine, and the automobile all predicted an exuberant future. Progress could be seen everywhere.
Yet, most women were still economically dependent on men; many states did not allow women to own property. Still, by 1900, more women were striking out on their own. Increasing numbers of upper class, energetic women attended college; some chose to not marry, nurturing careers instead of families.
Photography provided Frances Benjamin Johnston and scores of other women an opportunity for economic independence and personal autonomy. By this time, due to technological advances, photography was replacing illustrations in the popular press. Johnston pioneered journalistic photography with her dynamic pictures of education in Washington, D.C.and Hampton Institute, portraits of America's elite, photographs made in caves, and images of urban working women.
As an honorary commissioner for the Universal Exposition in Paris planned for 1900, Mrs. Bertha Honore Palmer, turned to Johnston to represent the United States at the International Congress of Photography at Paris during the exposition. By doing so, Johnston organized one of the greatest exhibitions of women photographers in her time. With only short notice, Johnston collected between 150 and 200 images, crated and shipped them to Paris in time for the exposition, and received substantial attention from the French press and populace.
Ambassadors of Progress: American Women Photographers in Paris 1900-1901 is a superb contribution to current scholarship revolving around Johnston and her Paris exhibit. This book serves as a catalog to an exhibition organized by Bronwyn A. E. Griffith at the Musee d'Art Americain Giverny, France in collaboration with Verna Posever Curtis, Library of Congress, Washington, D.C. and with the participation of the National Museum of American History, Smithsonian Institution, Washington, D.C.
The book includes four essays, reproductions of photographs from the Johnston collection, biographies, an appendix of the Russian reaction to the exhibition while it appeared in St. Petersburg, and a detailed bibliography. Bronwyn Griffith provides the historical contexts and political influences. She skillfully outlines the rising popularity of photography among women including the social aspects of clubs, exhibition opportunities, and domestic obligations. Griffith points out how twenty of the thirty-one women selected by Johnston "were unmarried at the time of the exhibition and that eighteen never married." Those who were married often reported the benefit of supportive husbands. Johnston saw her primary objective as highlighting the success of women photographers at the turn of the century and presenting an example of "progress in photography."
Verna Posever Curtis vividly describes Johnston's contributions and provides necessary background to Johnston's life leading to her leadership role in the Paris exhibition. By the time Johnston came to Paris in 1900, she already was a photographer of American presidents and their families, senators, diplomats, and other government officials. In 1894, she had established her own studio in Washington, D.C. and was well known as a journalist, portraitist, art photographer, and salon jurist. Johnston emerged as a logical representative for American photography. Her independent lifestyle and pioneering work positioned her for leadership while she continuously proved her mettle at critical times. Strutting their independence, Johnston and F. Holland Day organized an innovative series of displays of American photography in Paris in 1901, overriding Alfred Stieglitz's objections to such showings he felt inappropriately placed.
Naturally, the French had their own opinions regarding the American exhibitions and the Parisian reaction to the American work is expertly assessed by Michel Poivert. Considering the boycott by, German, Belgium, and Austrian photographers in agreement with Stiegltiz, the Universal Exposition organizing committee welcomed the work of the American women. These photographers represented a unique model for French women who were usually hobbyists or working in male-owned studios. Critics seemed overwhelmed by the American women's work as symbols of modernity and expressed a desire that the French not become Americanized, an irony considering many American women photographers studied art in Paris prior to their involvement with photography.

American art photographers experimented with a wide variety of papers, chemicals, processing, and printing styles. Even the choice of mounts behind the photographs were considered part of the completed work of art. Conservationist, Andrew Robb examines the aesthetic goals of Pictorialist work in relation to the photographic materials used at the time and then assesses how they should be preserved. He illustrates his treatments with an example by Mary Bartlett where he reduced pencil marks and disfiguring surface dirt on the surface of the mount and removed small amounts of adhesive along the edges of the photograph. Other works require more intensive treatments of creases, tears, stains, or adjustments to the mat board. When considering techniques for public viewing of photographs, light levels and intensities must be carefully selected and monitored.
Adding to the comprehensive coverage of Johnston and her cohort, Laura Ilise Meister has compiled biographical abstracts of every woman represented in the Johnston collection. Each entry contains a photograph of the photographer if available, a selected exhibition history, birth/death dates, where she was active, and thumbnail pictures of each photograph from the collection. A selected bibliography provides sources relevant to the book. One interesting facet of Ambassadors of Progress is the inclusion of the Russian response to the exhibit of American women's work while it was displayed in St. Petersburg. The reference to "the style that the Decadents favor" is humorous by today's standards.
What is most striking about this book is the reproduction of seventy-seven stunning color plates representing each of the artists, drawn from the Frances Benjamin Collection at the Library of Congress and the National Museum of American History. Not only do we experience the photographs, but also the mounts with their varied colors, textures, and layers along with the signatures on the mounts. This technique allows us to fully appreciate the beauty and sensationalism of each piece and provides the respect deserved of each photographer by uniting the mount and photograph to create a work of art.
Ambassadors of Progress has harnessed the prolific energies of a select group of workers active over one hundred years ago. With the passing of a century, their photographs, at times derided for their style and technique, are resurrected in a respectful and approachable way. Now, an exhibition traveling from France to Chicago and Hanover, New Hampshire, and this accompanying catalog, allow the world to share in the pleasure and excitement Johnston brought to Paris in 1900. We can applaud the efforts of today's scholars who assure for us the posterity of Frances Benjamin Johnston as ambassador for her corp of women photographers whose courage and creative spirit paved the way for generations to come.
Carole Glauber is a photographer, photo-historian, lecturer, and author.
---
Seasons of Alaska
Edited by Edward Bovy and Alissa Crandall
Text by Kim Heacox
published by Greatland Graphics, 2001
www.alaskacalendars.com
Reviewed by Carrie Villines

"Seasons of Alaska" is a photographic exploration of Alaska's vast and changing landscape and the flora and fauna that inhabit it. The book celebrates Alaska's natural beauty with 140 photographs from 53 photographers, short essays on each season (which are also translated into German and Japanese), and quotes from writers ranging from Dante to Henry Thoreau.
In keeping with its title, "Seasons of Alaska" is divided into four sections: Spring, Summer, Fall, and Winter. In the preface to the book, Kim Heacox notes that "it has been said that Alaska has two seasons: winter and July." The book, however, rebukes this idea, revealing that each season, fleeting though it may be, has its own distinct beauty.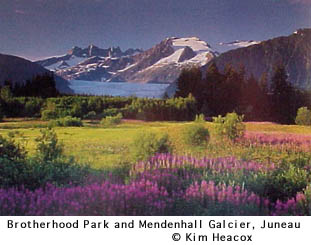 As one might expect, the book is filled with photographs of luminous sunsets, striking landscapes, brilliantly-colored foliage, and wildlife (bears, moose, caribou, birds, wolves, salmon and walruses, among others). Unlike many pictorial books, however, many of the images in "Seasons of Alaska" offer an artistic and unique perspective of familiar sights. Some notable images are Barbara Brundege's "Humpback whale 'spy hopping' at sunset, Frederick Sound," Jennifer Fogle's "Wolf in Motion," and Alissa Crandall's "Moose running through Wonder Lake, Denali National Park."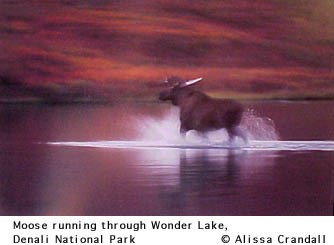 The section of the book devoted to "Winter," Alaska's longest (and arguably most beautiful) season, contains some of the most striking images. Shelley Schneider's "Air Bubbles in Ice, Judd Lake" and "Frozen Minnow and Air Bubbles, Judd Lake" reveal the beautiful patterns that can be found in nature. Though images such as these would seem to imply that life stands still in Alaska during the winter months, the photographs of wildlife in this section, such as Jo Overholt's "Trumpeter swans in snowstorm, Copper River Delta," prove otherwise.
The book concludes with six ethereal images of the Aurora borealis, offering further proof that the truest form of beauty can be found in nature , and that Alaska has this beauty in spades, in any season.
Review by Carrie Villines
www.digitalheadshots.net