photo l.a. 2002
11th LOS ANGELES PHOTOGRAPHIC PRINT EXPOSITION AT THE
SANTA MONICA CIVIC AUDITORIUM JANUARY 17 - 20, 2002
Women In Photography International will have a booth with a Silent Auction of images of Ruth Bernhard, Marsha Burns and Joyce Tenneson. WIPI Professional Member work and a selection of 20th Anniversary Exhbition International Tea Time, Images of Women, Images of Tea will be on display.
photo l.a. 2002
The largest and longest running photographic art exhibition in the West will have seventy galleries and private dealers from over thirty cities as well as galleries from Denmark, France, the Czech Republic and Russia. The finest photographic art, from the earliest 19th Century photographic experiments to the most contemporary photography and photo-based art, will be exhibited for sale. This is an unparalleled opportunity for collectors, curators and photographers to view thousands of images from all over the world. Works by Ansel Adams, Diane Arbus, Eugene Atget, Manuel Alvarez Bravo, Henri Cartier-Bresson, Ruth Bernhard, Imogen Cunningham, Edward S. Curtis, Lynn Geesaman, Michael Kenna, Andre Kertész, Robert Mapplethorpe, Man Ray, Sebastian Salgado, Josef Sudek, Weegee, Edward Weston and many others will be included. Over 6000 people attended last year's fair according to Stephen Cohen, organizer of the event.
BENEFIT RECEPTION - January 17th , 6-9pm
The opening night preview reception, hosted by Ben Stiller,
Ben Stiller is an avid photo collector, as well as a phenomenal actor, director, writer and producer. In his most recent film, "Zoolander", Stiller co-wrote, directed and produced the film. Previous credits include "Meet The Parents", "There's Something About Mary," "Permanent Midnight," "Keeping The Faith", and "Flirting With Disaster".
LECTURES & SEMINARS
Lecturers are photographers Larry Fink, Gerd Ludwig and Beth Gates Warren, formerly of Sotheby's, who will lecture on her new book on Edward Weston and Margarethe Mather. There will be on-site collecting seminars with Karen Sinsheimer, Curator of Photographs at the Santa Barbara Museum of Art, Beth Gates Warren, and Tim B. Wride, Associate Curator of Photographs at the Los Angeles County Museum of Art.
HOURS & TICKET INFORMATION
Public hours: Friday, January 18th, 12-7 pm, Saturday, January 19th 12-7pm and Sunday, January 20th, 12-6pm. Tickets for the event are $15 for one day and $25 for three days and can be purchased at the door or through The Stephen Cohen Gallery.

For further information, contact the Stephen Cohen Gallery, 7358 Beverly Boulevard, Los Angeles, CA 90036
phone 323-937-5525
fax 323-937-5523
SEE 2001 WIPI Survey of Galleries
---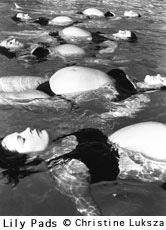 Benicia, CA. (12/6/01)
Photographer Christine Luksza, is featured in the current issue of studioNOTES, a professional journal for artists working in all media and styles. The article outlines the Petaluma resident's quest to document the bodies of pregnant woman. She says, "My aim is to show real bodies in an amazing state." One of her works, Lily Pads, which shows pregnant women floating in a swimming pool is reproduced along with the article. Others notables in the issue include the famous poet Lawrence Ferlinghetti and the art historian Dr. Peter Selz, founding director of the University Art Museum and author of more than 15 books on 20th Century art and artists.
Christine Luksza can be contacted for interview at 707-763-8535 or DeLuksza@pacbell.net.
Luksza is a member of SF Camerawork and Women in Photography International.
---
Raid Projects
Attn: Writers, Artists, and Thinkers
Raid Projects proudly announces the launch of its Monthly Art Journal. The journal will function as a catalog for exhibitions at the Raid Projects gallery located in the Brewery in downtown Los Angeles as well as a forum for critical dialogue on art issues.
SUBMISSIONS are desired for art-related Feature Articles of a critical, philosophical or cultural nature.
The Raid Projects Journal will provide a consistent space for outside contributions. Those submissions received after the deadline will be considered for future issues.
For information please contact:
Arthur Aghajanian
dealine for submission is approx. 21st of each month
---
Women In Photography International

"HOLLYWOOD BOUND" will be presented in the art gallery of the Hollywood branch of the Los Angeles Public Library from January 10 - March 31, 2001. The exhibition will include images of Hollywood themed worked produced by Los Angeles members of Women In Photography International.
Sponsored in part by by Frances Howard Goldwyn Library and The Hollywood Arts Council

Frances Howard Goldwyn Hollywood Regional Branch Library
1623 N. Ivar Street
Hollywood, CA
323 856 8264

Opening date: Jan 10, 2002
Reception: Sunday, March 3, 2:30PM - 5 PM
Closing Date: March 31

Helen K. Garber, Exhibition Curator,
310 392-4272
hkgphoto@aol.com
---

Women In Photography International & Pierce College
kitsch & kIick
(The Art of the Toy Camera)
Exhibition March 23 - April 19, 2002


Organized by Women In Photography International, this exhibition will showcase artist photographs using the toy camera (Holga, Diana, Lomo, etc) from artists in Southern California.

The exhibition will be held at Pierce College Gallery, Woodland Hills, CA
March 23 - April 19, 2002. (reception notice to follow)
---
SCHLESINGER LIBRARY'S EXHIBITION PROGRAM
As an institution committed to expanding public awareness of the roles of women in history and to advancing society by advancing women, the Schlesinger Library established an exhibition program which aims to:
Illustrate the wealth and range of the collections with in-house exhibitions.
Support contemporary women artists by providing a showcase for their work, be it specifically about women and womenÕs issues or not.
With the exception of a few glass cases, the library's exhibition space consists of wall space available on the four floors of the building and totalling about 120 running feet. For this reason, the works exhibited should be mostly two-dimensional (photographs, prints, drawings, watercolors, paintings etc...).
Exhibitors shall be responsible for the following:
Preparation (matting and framing) of their work.
Transportation of their work to and from the library, including costs of shipping and insurance (if necessary).
Hanging of their work (the library has a list of installers who can be called upon if necessary).
Preparation of captions and explanatory texts, biographical material and exhibit statement.
Mailing list for invitations to the opening reception, catalog or list of exhibited objects, price list.
The Schlesinger Library shall provide the following:
Local publicity.
An opening reception.
A standard printed invitation with or without illustration and postage for up to 400 invitations.
Viewing hours for the exhibition shall correspond to regular Schlesinger Library hours. If you are interested please contact Marie-Hˇl¸ne Gold at mhgold@radcliffe.edu or 617.495.8647. For further information about the Schlesinger Library please visit our website at http://www.radcliffe.edu/schles/