POLAROID MANIPULATIONS
A Complete Guide to Creating SX-70, Transfer, and Digital Prints
An Interview with Kathleen Carr by Joanne Warfield, WIPI Director of Exhibitions.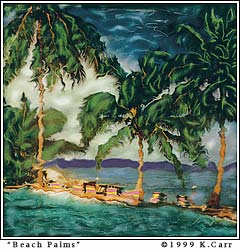 JW: What do you consider your greatest philosophical/spiritual influences in how you approach your photography?

KC: I was fortunate to have studied extensively with Minor White in 1971. His meditative approach to photography had a profound affect on my perception, encouraging a reverence and connection with the subject before exposing the image. I then began to see photography as a vehicle for spiritual growth—a mirror of my inner and outer awareness of life. This awareness was expanded when, in 1972 I began living at Findhorn, an international spiritual community in northern Scotland. One of the founding principles of Findhorn was that nature has intelligence and a spiritual dimension that we all can contact and share, each in our own way. Caring deeply about nature, especially when I see such environmental destruction in the world, I want my photography to inspire people to honor the earth and all who live upon it.

JW: Can you give a brief overview of the Polaroid processes covered in your books?

KC: Polaroid image transfer. An image is exposed onto Polacolor ER peel-apart film by means of a slide printer, camera, or enlarger. The film is pulled apart before complete development and the dye-laden negative is rolled onto another surface, such as watercolor paper. The dyes develop onto the other surface and the image is "transferred." The image may then be manipulated and hand colored if desired. Each image is unique due to the physical properties of the transfer process.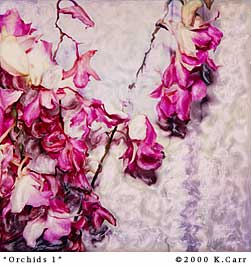 Polaroid emulsion transfers use the same film and equipment, however, the results are completely different. The image is developed fully onto the positive print of the Polacolor ER film. The image layer of the print, or emulsion, is removed with hot water. It can then be placed onto virtually any surface, including three-dimensional forms. The transparent emulsion can be sculpted, stretched, and torn into different shapes, then hand colored.

Polaroid SX-70 manipulations are created by exposing an image onto Polaroid Time Zero film by means of SX-70 or 600 series camera, Daylab slide printer, or an enlarger. After the image develops, the film emulsion remains pliable for a number of hours so that it can be manipulated by using different tools, such as crochet hooks, wooden ceramic tools, burnishing tools, pens, etc.

Digital Applications. A Giclée print is made by scanning the Polaroid art at a high resolution and printing it with a very high quality ink jet printer, which can render the finest detail and vibrancy of the original image. Scanning, Photoshop, printing information and options are detailed in Polaroid Manipulations.

JW: What led you to these processes, and are you still involved with "straight" photography?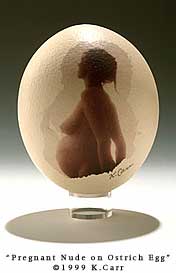 KC: After my book To Honor the Earth was published in 1991 (color photography), my fingers started to itch, and I wanted to work physically on the prints. I started handcoloring my black & white prints with Marshall's oils. That year I attended an ASMP meeting on Polaroid image transfers and was able to make a few transfers. I loved one of my first images, and realized that my photography was about to change. I had already been moving away from the literal image in my straight photography, and image transfer allowed for a more subjective approach to express what I was feeling at the time that I exposed the image.

I continue to photograph with 35 mm slide film and black & white infrared, so I'm still involved in traditional photography—although right now I choose to work with those images that I feel would be most effective as Polaroid transfers or manipulations. Soon, I plan to create a portfolio of my "straight" underwater wild dolphin and whale photographs from over the last 10 years.

JW: I know you wanted to help others learn from your mistakes or difficulties with the Polaroid processes by teaching and sharing your insights and discoveries. How did that lead to the enormous task of writing the books?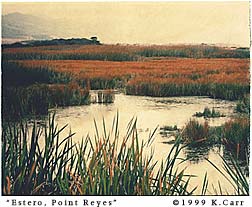 KC: I first started teaching because I wanted Polaroid transfers to become a valid art/photography form rather than a passing fad. I figured that the more people that were involved in it, without getting too frustrated while learning, the more likely it would become part of the accepted photography world. My students kept asking if there were any books or written materials about Polaroid transfers, and there weren't, except for an out-of-print Polaroid booklet. I finally decided to write a simple book, which kept growing. Due to the success of Polaroid Transfers, the publisher, Amphoto, asked me to do another book. I was working with SX-70 Manipulations at that point, and again, there was no thorough book out there. I decided to do a book that covered not only SX-70 manipulations, but included updated information, additional creative examples for image and emulsion transfers, and digital applications, which has been the next step for me in presenting and selling my Polaroid art.

JW: I discovered your first book while developing my own Polaroid manipulation processes, and your invitation for me to be in your second book inspired the experimentation that lead to my "Time-Zero Corrosion process." [Below, and featured in Carr's Polaroid Manipulations.] Has writing these two books lead you to new discoveries?
| | | |
| --- | --- | --- |
| | | |
KC: I'm not really an inventor type. I may come across an idea or technique that I really resonate with and then explore that with my images. A few examples: combining black & white negatives for sandwiching and double-exposing; putting emulsion transfers on eggs, wood, stone, and other surfaces; further enhancing or handcoloring in Photoshop; and making artist books with the images.

JW: You've been very successful at teaching workshops as well as selling and showing your work in galleries around the country. What advice can you give in combining the transcendental aspect of creativity with the pragmatic details of business?

KC: I've found it very difficult to balance these two aspects of being an artist. I end up working too hard on the business details because I have to support myself. However, it is very exciting and fulfilling to create art and career together. I have a part-time office helper, but I often don't do as much artwork as I yearn to do. I've realized that I can't do everything, at least not at the same time. Belonging to an annual Sonoma County ARTrails "Open Studios" program and having exhibitions of my work provide deadlines to force me to do what I really want—create new artwork.
JW: Congratulations, Kathleen, on a beautiful and informative book. As with your Polaroid Transfers, selected by Photo-Eye Books as the first "Best Technical Title, runner-up," this one is sure to be a stellar success.


Kathleen Carr is a fine art photographer, author, and teacher. After studying with Minor White, she spent seven years producing three books and multimedia materials at the Findhorn Community in Scotland. She was staff photographer at Esalen Institute in Big Sur, California, and is a NEA Fellowship recipient. Widely exhibited at galleries around the country and featured in publications such as National Geographic Traveler, Islands, Esquire, and Decor, Kathleen has written three books: To Honor the Earth: Reflections on Living in Harmony With Nature; Polaroid Transfers: A Complete Guide to Creating Image and Emulsion Transfers; and Polaroid Manipulations: A Complete Guide to Creating SX-70, Transfer, and Digital Prints.
Kathleen's images:
"Beach Palms, Thailand"—SX-70 Manipulation
"Orchids 1"—SX-70 Manipulation
"Pregnant Nude on Ostrich Egg"—Emulsion transfer
"Estero, Point Reyes"—Hand colored image transfer
Joanne's images:
"Rosa Doble Gold"—Time-Zero Corrosion
"Orange Filigree"—Time-Zero Corrosion

View more...
Kathleen's work: WIPI Professional Gallery Archive 11, July 2002
WIPI f2 eZine book review Archive 11, July 2002
website: KathleenCarr.com

Joanne's work: WIPI Professional Gallery Archive 9, January 2002
WIPI f2 ezine "Afghanistan" Archive 8, October 2001
website: JoanneWarfieldFineArt.com
•