special WIPI Feature from Abroad, Kuwait
Photographers in Hostile Environments
By Stephanie E. McGehee, living in Kuwait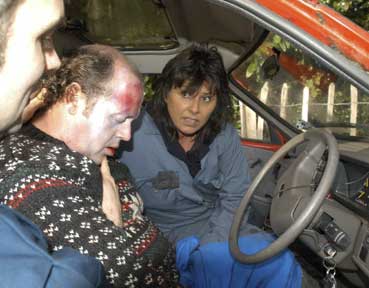 Wars, riots, terrorist attacks, government overthrows, bombings, car accidents, train wrecks, floods, earthquakes, etc…all a part or our everyday life as a photojournalist. With increased tensions all over the world, insurance companies are insisting that members of the media take awareness courses that may save their, or someone near them, life. Having just returned from an extensive course provided to me, by Reuters News Agency, of which I have been their photographer in Kuwait for 12 years.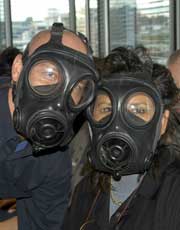 They retained the top risk management company called Centurion of which conducts a week long intense training at a beautiful 65 acre transformed English Manor. An Ideal location for getting blown up in a simulated mine field and taken hostage by hostile forces!!

Intensive First aid, Bio-chemical warfare, and hostile environment training is all for the sake of our personal awareness. We were subject to situations that felt so realistic it was hard to differentiate if it was real or not.

With the increasing threat of chemical warfare, we had a special day, just allotted to nuclear, biological, and chemical (NBC) safety. First of all, what is most important is that your mask, and suit fits you perfectly and the filters are still reliable. So many are out of date and not usable, most filters you by on the street shops are over 10 yrs. Old from manufactures date! In the case that a photojournalist is going to a 'known' area, where there may have a chance of contamination, you would already be wearing your full suit except for your mask, and gloves. Pungent odor of Almond, and fresh mowed hay, is a sign of chemical attack. You have nine seconds to get your mask on ..Taking it off is another story, you must rid yourself of any chemicals on the outside, before, with a powder that you have to carry on your person especially made for this.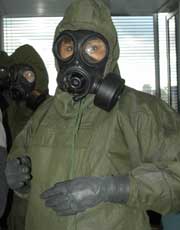 Biological weapons ore hundreds of thousands times more lethal than chemical weapons. But chemical weapons must be inhaled or swallowed to be effective and are harder to use in mass warfare, and they also don't last as long. This could be like an Ebola virus, or botulism, plague, cholera etc. These chemical weapons could be dispersed by missile and effect an area of around 2,300 sq. miles………..
But, if a terrorist released 100 kilograms of anthrax from a tall building, it could kill up to 3 million people…please remember that.

Still want to be a photo-journalist?

The course covered so many of the aspects that photojournalist confront periodically during their career. And when you read the statistic of how many photojournalists are killed or wounded every year around the world, it is amazing. 51 photojournalist killed last year alone!

Our days went something like this…after breakfast, recognition of land mines and personal mines, before coffee break, we were ambushed and kidnapped. After lunch, we learned to carry victims to safe areas and treat them with first aid.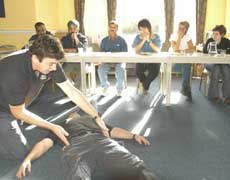 After learning and getting a first hand look at mine fields and anti-personal mines, we then had to go through a field of then and drop for cover every time we detonated one…we had to run across 'sniper's lane'….(easer said than done) …booby traps were put under our cars, in our phones, and mail bombs were sent to us….all so that we, the press, can save our lives in order just to do our job.

Most of the training was a real eye opener for all of us. One of these, was when they took us to a shooting range and they fired live bullets of all type of weapons used in the 'real world' of today. To see the bullet just go through brick walls and steel beams as if it were paper, was incredible. When we all seem to think you are safe if you stand behind a brick wall, in many cases it would take a single bullet to penetrate that wall. As small word of advice, run, and if you can't, fall to the floor flat ! In most cases the bullets will be shot above the base of the wall. And if you think for one minute that the steel in your car will save you, think again, it is as thick as paper when a bullet is fired into it.


In this new world of war and conflicts, we have become accustom to checkpoints and hostile confrontations with rebel or government forces while traveling from one sector to another. So, this is also an important part of our training, to know how to deal with these forces and how to get to where you are going with paying the least amount of bribes or getting taken prisoner yourself. As journalist we usually travel in sets , so we have to get our story straight and elect a spokesman for the team. Usually we have too much money on our person, because we always pay cash when we are on the road, and these rebels know it. So many times we are very vulnerable with out realizing it. I will give you a tip, only answer the question that is asked of you, and don't answer or give away any thing or info no matter what it is, without being asked. So many people just offer everything just in fear, and then they get in trouble.

Of course war environments are not the only things that photojournalist cover in our daily life. So we also learned about how to handle riots and protest marches. These days, more than ever, people are getting more aggressive against police and in return the police are reacting to protect themselves from homemade bombs, fires, and hostile protesters.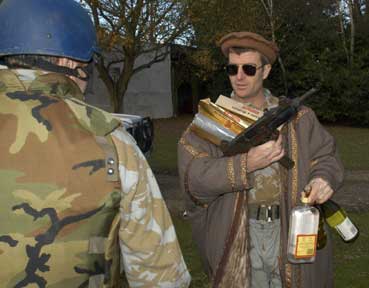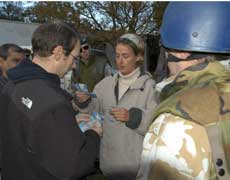 The protestors now mistake a photojournalist for a police spy, and are at greater risk than they realize. Don't forget, from our photos, protesters can be identified.

Which brings the issue of Bullet proof vest, helmets, chin guards, face masks and combat boots! All just to cover a story in downtown Genoa, Italy!!!! So please, the next time you see a photo of a protest march gone wrong, or rebels waving guns, or military conflicts, think of the person behind the camera and how that photo was taken.
Stephanie McGehee
See Archive #9 , January 2002 - March 2002 Stephanie McGehee portfolio of images from Kuwait