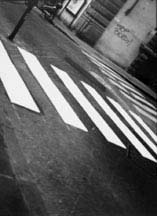 Recent WIPI ACTIVITY IN NEW YORK
January-March 2003

Women In Photography International members have been notably marking the pavement this winter in New York City with solo gallery exhibits, fine art photography books, photography events, auctions, and even launching new galleries, despite the challenging climatic, economic and political conditions. WIPI members from all over are distinguishing their ties to New York City's sprawling web of prosperous photographic opportunities.

J A N U A R Y

WIPI Professional member Elizabeth Siegfried, who is a platinum photographer, made a January visit to New York from her home base, Toronto. One month previous to her visit, Siegfried's work had been exhibited in the highly renowned Swann Auction in New York. George Eastman House curator Therese Mulligan offers insight into Siegfried's vision by commenting about her book, Lifeline, that "the visual echo with which these pictures resonate rings clear—all things are bound in a temporal existence, mediated by the inevitable consequences of time." Lifeline can be ordered at hathawaypress@ca.inter.net. See www.elizabethsiegfried.com for more information.

Also a platinum photographer, WIPI Professional member Joan Almond, based in Malibu, CA, had a solo show at the June Bateman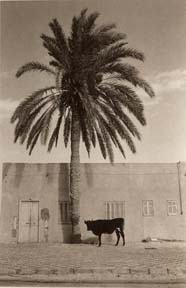 Gallery in New York, where signed copies of her book, Joan Almond: The Past in the Present, were sold and proceeds of her prints were donated to "Women's Commission for Refugee Women and Children." Her work spread out like a visual diary of her travels in an incredible display of platinum/ palladium prints. WIPI/ Almond article Archive #13.

January turned out to be a busy month for WIPI in New York, as Joan and Elizabeth's visits coincided with the exhibition titled "Frozen in Time" at the Photo District Gallery where images from my "Against the Walls" series were displayed, as well as surreal manipulated images from my Death Valley and Italy series. See Susan Scafati Photography online at www.susanscafati.com.

F E B R U A R Y

In the first week of February, photo professionals and enthusiasts alike dedicated quality time to peruse the wonderful collection of historic, classic and contemporary work showcased at "The Photography Show 2003". The 23rd exposition of fine photography was sponsored by The Association of International Photography Art Dealers (AIPAD) and is described by AIPAD's President, Robert L. Klein, as "the most prestigious exhibition in the world dedicated to photography as fine art." Among the photographers represented by AIPAD members are "WIPI Distinguished Photographer" award recipients Eve Arnold (1983), Ruth Bernhard (1984), Judy Dater (1985), Marion Post Wolcott (1986), Linda McCartney (1987), Mary Ellen Mark (1988), Ruth Orkin (1989), Joyce Tenneson (1990, * also a WIPI Advisory Board member), Berenice Abbott (1991), Grace Robertson (1992), Annie Liebowitz (2002); and WIPI Professional members Joan Almond, Elizabeth Opalenik, and Elizabeth Siegfried. WIPI PRO member Talli Rosner-Kozuch's photograph "Bird's Eye" was in AIPAD's "The Photography Show" catalogue along with information about her Talli's Fine Art Gallery in New Jersey, www.photal.com. While at AIPAD, I distributed WIPI flyers; met some very talented photographers, informative fine art dealers and collectors, and viewed a wide array of high caliber work- from Irving Penn to Edward Burtynsky, Sarah Moon to Beatrice Helg.

The second week of February greeted WIPI Advisory Board member and original Women In Photography (1981-1991) member, Carrie Mae Weems, with three solo New York shows which all opened the same weekend. Weems was featured in a show titled "Coming up for Air" and "Dreaming in Cuba" at her representative gallery Pilkington Olsoff Fine Arts, Inc. (PPOW) in New York's gallery district, Chelsea, and in PPOW's SOHO location for a show titled "A Little Bit of This & A Little Bit of That." Additionally, P.C.O.G. Gallery in Harlem presented a solo exhibit of photographs by Weems entitled "A Certain Kind of Love." All the works explore identity and struggle and the reflection of personal battles on a large scale, including the history of revolution and civil rights. The highly acclaimed fine art photographer's previous roster of exhibits includes The Whitney Museum of American Art, The Museum of Modern Art and The Getty Museum. Currently Weems is working with the Beacon Cultural Project, in Beacon, New York, on a project entitled "The Record Shop."

The same weekend there were two openings of my photography: "Time Light Space" at the New Century Artists Gallery, and "Double Exposure" at Galapagos Space, which was part of a Benefit Event and online auction for the Brooklyn-based photography organization Positive Focus (www.positivefocus.org/PF_FTP/entry.asp). Both exhibits featured selected 30" by 40" images from my "Alice in Wonderland" series,
M A R C H

Two exhibits of note by non-WIPI women photographers who offer their own distinct imaginative style of unique portraits, were Gail Thacker's experimental Polaroid photography at June Bateman Gallery (March 6- April 12), and internationally celebrated fashion photographer Deborah Turbeville at the same 560 Broadway location in Staley-Wise Gallery (concluded mid-March).

WIPI member Alison Holland returned from Australia and back to the New York scene, where she showed her WIPI support by attending Joan Almond's January opening and my February exhibitions. Holland represents WIPI PRO member Stephanie Flack, whose work was part of Holland's successful exhibition and special auction last year at Sothebys New York. With the turn of the seasons now leading us into spring, there are new endeavors emerging ahead, as Holland and fellow director Jim Witner plan the launch of their promising new SOHO gallery, photo+graphic, on Saturday, May 10, 2003


If you are a WIPI PRO member and exhibiting in New York, let us know ! If you are interested in joining WIPI, or upgrading your membership, contact:


SUSAN SCAFATI

Susan Scafati
"Stop Biotech" 2002, signed
gelatin silver print, 11x14"

---
Winter Bell, 1975-2003 A Solo Goodbye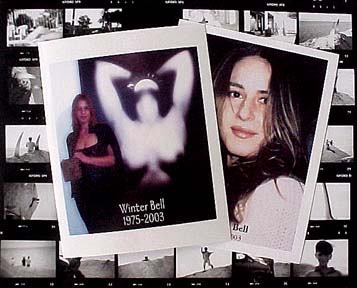 Do not stand by my grave and weep
I am not there. I do not sleep

I am a thousands winds that blow
I am a diamond glint on snow

I am the sunlight on ripened grain
I am the gentle autumn rain.

When you are awake in the morning hush
I am the swift uplifting rushOf wuiet birds in circling flight.
I am the soft starshine at night.
Do not stand by my grave and cry
I am not there...I did not die

Winter Bell, 27, died in Berkeley, Calif.on Jan. 16, 2003. She was a graduate of Portland High School, and was pursuing a Masters of Fine Arts degree in photography at the San Francisco Art Institute. In the short time of her career as a photographer, she produced a critical and magnificent body of work. Beginning as a self-taught amateur photographer while traveling around the southern U.S., she then studied the technical aspects of photography at Santa Monica College in California. She moved on to mentor under Art Lipkye in Los Angeles, in the field of large mural photography. After attending a Rockport School of Photography workshop in Cuba, Winter began her definitive work using pinhole cameras and large scale development. She has been exhibited in galleries and collected in homes internationally. Winter had a home on Peaks Island and practiced photography in Los Angeles, Calif. She was a beautiful, kind, and brilliant young woman, who gave an enigmatic impression of her character to everyone she encountered. She is loved and survived by her parents, Christina F. Winter and Edward M. Bell; her brothers, Tony and Tima Bell; and her grandmother, Sylvia Bell. Portland Press Herlad/Main Sunday Telegram
| | |
| --- | --- |
| | |
The family held a Solo Memorial exhibit on Feb. 16th at the Soho Gallery, 12202 Ventura Blvd., Studio City, Calif.

Also t he family established a Winter Bell Memorial Scholarship Fund at The San Francisco Art Institute to foster the photographic careers of young women.
SFAI, 800 Chestnut St., San Francisco, Calif. 94133.



Edward Bell, Winter's father, relfects for a moment on his only daughters life through the throughtful wishes and cards left by visitors to the gallery.

See photo l.a. 2003, Winter Bell, Mooseskull
Jan 03 WIPI President's letter
---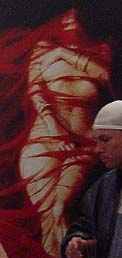 In consideration of current events in the middle east, we are posting this celebration of Spring from a recent exhibit of Painting, Photograph, Sculpture, Installation by Ameeta * Farang * Farideh * Gita * Rebecca Roya * Safoura * Shahla Sepehr Bebe (WIPI member, Shahla Bebe created, red veil image) * Cima * Yasmin and Special Appearances by Code Pink - Women for Peace. Curated by Shari Rezai held at Merging-One Gallery 1547 6th Street Santa Monica CA 90401- March 22, 23 and 29, 30
" A R T I S T S for P E A C E / N U D E S not N U K E S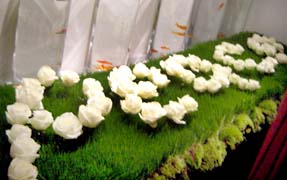 The white rose, wheat grass and gold fish installation "celebration of life" by Shari Rezai was derived from "NOROOZ", (new day) an Iraninan celebration of the spring equinox that dates back 3000 yrs.,and reflects the rich cultural heritage of the Iranians.

It's a celebration of the renewal of life,of universe, values, ,ideals, compassion, wisdom, justice and peace. A table is set with the ceremonial SEVEN items that start with the letter "S" (seen in Persian, that are meant to awaken the senses on the first day of spring. SOMBOL, Hyacinth, SERKEH, vinegar, SEER, garlic, SAMANOU, a wheat dish, SOMAGH, spice, SABZI wheatgrass,for renewal of life,and SEEB apple. Other items on the table are Gold fish in water and coins (prosperity), mirror (soul searching),eggs (fertility) . On the 13th day of new year , the table is cleared, and the SABZI, the wheatgrass is thrown in a river or running water. This year I wished for Peace . (Farsi is the language spoken by most Iranians. They also speak it in parts of Afghanistan)
In celebration of life, artists bear it all for P E A C E: experience sublime beauty in the face of all that is threatened.



A collaboration of Sofia Balme and Shari Rezai brought together many of their artist friends who believe in PEACE. 55 women symbolically bare their bodies in protest to the war. From this original concept blossomed the gallery exhibiton.
ARTISTS FOR PEACE, NUDES NOT NUKES
Photo by Aloma

OF Note: There is a distinct difference in the freedom of expression of ARTISTS FOR PEACE, NUDES NOT NUKES and the BENEATH THE VEIL CNN documentary by Saira Shah, WIPI NEWS Beauty & The Beast, Archive #8
---
Dar Spain - Handcolored Photographs
Dar Spain's large format studio compositions of wood, stone and botanical elements evolve into contemplative photographic images evocative of the mysteries and rhythms of the natural world. Her technique of coloring gelatin silver prints with photo oil colors and oil paint, ranges from luminous, vivid layers of hue to opaque neutral color fields. The photographs in the exhibit are selected from the Primary Content a series begun in 2001 and recent works from the Botanica series.
March 13 - April 6, 2003
Patricia Rovzar Gallery
118 Central Way Kirkland, WA 98033 (425) 889-4627 (800) 889-4278
www.rovzargallery.com email: mail@rovzargallery.com
Gallery hours: Mon-thurs, Sat. 10:30 AM - 6:00 PM Friday 10:30 AM - 9:00 PM Sunday 11:00 AM - 5:00 PM
To view more of Dar's work, visit: Photography WEST Gallery, Women's Alcove Dar Spain Serene, restrained images bearing a sometimes Eastern sensibility have evolved from almost thirty years of artistry. Working with a wide variety of cameras and processes, both antique and comtemporary, Dar Spain imbues ordinary objects with suggestion of the silence of meditation or the enigma of ritual. Hand painted.
Dar was first place winner in the Women In Photography International 20th Anniversary Exhibition Tea Time for her image " and received an Epson 2000P archival printer.