KATHLEEN LARAIA MC LAUGHLIN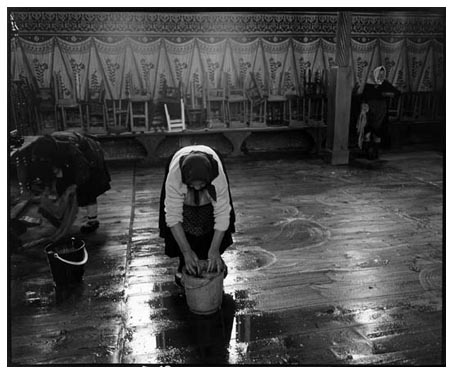 Cleaning their Church, Rozavlea, Romania, 2000
Each village has an annual pilgrimage claimed as their special event. Peasants from many surrounding villages will attend service at Rosavlea's church in honor of Saint Maria's birthday. The women of Rosavlea know their friends in other villages will have a critical eye toward cleanliness.

Curaùtüarea bisericii, Rozavlea, Romania, 2000 Biserica din fiecare sat atrage pelerini "n ziua hramului ei. Tüaùranii din multe sate "nvecinate vor asista la slujba bisericii din Rosavlea pentru a saùrbaùtori nasüterea Sfintei Maria. Femeile din Rosavlea sütiu caù tüaùranii din satele "nvecinate vor avea un ochi critic asupra curaùtüeniei.