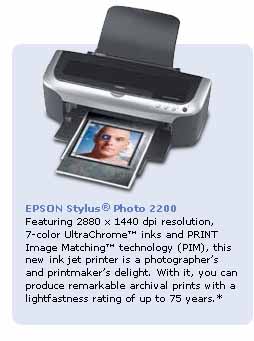 Cutting-edge Performance.
Quality Made to Last.
With 7-color UltraChrome™ inks and
2880 x 1440 dpi resolution, the large-format
EPSON Stylus®Photo 2200 provides remarkable
archival photo printing, plus versatile media handling.

Key Features
7-color UltraChrome inks and individual ink cartridges
•Delivers archival results with a lightfastness rating of up to 75 years for color prints, and up to 100 years for
black and white prints*2880 x 1440 dpi resolution with ultra-fine 4-picoliter ink droplets
Roll paper holder and automatic cutter
Interchangeable Photo and Matte Black inks
•Creates the deepest, darkest blacks on glossy and matte paper respectively
PRINT Image Matching ™ technology (P.I.M.)
•Works perfectly with PRINT Image Matching-enabled digital cameras for the best quality prints possible
Fast USB, FireWire IEEE1394 and parallel connectivity

STYLUS® PHOTO 2200 INK JET PRINTER
Innovative Ink System
The first desktop photo printer to include seven pigment inks, the EPSON Stylus Photo 2200 offers phenomenal quality and detail. EPSON UltraChrome Inks use a special technology that delivers the highest color gamut of any ink jet pigment ink. And, this innovative system provides convenient individual ink cartridges for more efficient ink use. Durable and fade-resistant, these brilliant inks deliver archival results for long-lasting portraits, snapshots and more.

Interchangeable Photo and Matte Black Inks
The EPSON Stylus Photo 2200 lets you optimize image quality based on the type of ink and paper you use. Photo Black ink can be used with glossy paper for the richest, deepest blacks possible. The optional Matte Black ink creates optimum results when printing on matte paper. Each of these choices, when used with its corresponding paper type, provides a higher optical density, plus improved contrast and gradations.
Convenient Paper Handling
The EPSON Stylus Photo 2200 has three paper paths for greater versatility. In addition to its standard paper path, the printer has a straight-through pass to handle a variety of media types, including posters as thick as 1.3 mm. A built-in roll paper holder and automatic cutter, make it ideal for continuous printing of 4" x 6" prints, which are automatically cut to size.

Minimum System Requirements
For Windows
- USB 1.1/Parallel: Windows 98, 2000, Me, and XP
- IEEE1394 (FireWire): Windows 2000, Me and XP
- USB 2.0: Windows 2000 and XP
For Macintosh
- iMac, ™ G3 or G4 processor with built-in USB or FireWire
- Mac OS 8.6 to 9.x and OS X 10.1 or later
For Windows and Macintosh
- 500 MHz or faster processor recommended
- 128MB RAM or more recommended
- 200MB available hard disk space or more recommended
- CD-ROM or DVD-ROM drive
Software
EPSON Software ™ Film Factory ™
P.I.M. plug-in for Adobe® Photoshop®
Exclusive third-party software offers
Printer Technology
• • • • • •

Specifications and terms are subject to change without notice. EPSON, EPSON Stylus and Micro Piezo are registered trademarks and PRINT Image Matching is a trademark of Seiko Epson Corporation. BorderFree and UltraChrome are trademarks and EPSON Connection is a service mark of Epson America, Inc. All other product and brand names are trademarks and/or registered trademarks of their respective companies. Epson disclaims any and all rights in these marks. © Copyright 2002 for Epson America, Inc. CPD-13892 50K 6/02 CL
Epson America, Inc.
3840 Kilroy Airport Way
Long Beach, CA 90806
Epson Latin America, Inc.
6303 Blue Lagoon Drive
Miami, FL 33126
Epson Canada, Ltd.
3771 Victoria Park Avenue
For onto, Ontario M1W 3Z5 www.epson.com
STYLUS ® PHOTO 2200 INK JET PRINTER
• • • • • • • • • • • • • • • • • • • • • • • • • • • • • • • • • • • • • • • • • • • • • • • • • • • • • • • • •
Specifications
Printing Method
EPSON Micro Piezo ® ink jet technology
Color Configuration
7-color (CcMmYKk) UltraChrome pigment inks
with individual ink cartridges
Maximum Resolution (dots per inch)
2880 x 1440 dpi black and color on photo papers
Ink Technology
EPSON Archival Ink with exclusive Micro Encapsulation
Print Speed
8" x 10" photo 2 min. 6 sec. on matte paper
3 min. 51 sec. on semi-gloss paper
Sound Level
42 dB(A)
Printer Language
EPSON ESC/P Raster
Standard Interfaces
USB, FireWire (IEEE-1394), Parallel
Paper Handling
Letter, legal, 3.5" x 5", 4" x 6", 5" x 7", 8" x 10", 11" x 14", 11" x 17" (B),
13" x 19" (Super B), A4, statement, executive, A3 (11.7" x 16.5"),
user-definable sizes, roll paper (4", 8.3", 13") and panoramic up to 13" x 44"
Maximum Printable Area
13" x 44"
Physical Characteristics (L x W x H)
24.3" x 13" x 8.2" (storage)
24.3" x 34.1" x 15.4" (printing)
25.7 lb
Ink Cartridge Life
Black ink life 628 pages text (ISO/IEC 10561
letter pattern); 440 pages graphics
(5% coverage)
Color ink life 440 pages (15% coverage)
Shelf life 2 years from production date
Optional Accessory
EpsonNet 10/100Base-TX External Ethernet Print Server
Warranty
Standard one year limited warranty including EPSON Exchange program
(U.S. and Canada only)

* Lightfastness rating of 75 years, based on accelerated testing of prints on specialty media,
displayed indoors and under glass. Actual print stability will vary according to image, display
conditions, light intensity, humidity, and atmospheric conditions. Epson does not guarantee
longevity of prints. For maximum print life, display all prints under glass or lamination or properly
store them.

Visit the EPSON Website to see the lastest line up of PROFESSIONAL PRINTERS for your home and business
Multi Function printers and a host of incredible products to fill your needs, from the C80 to the 900 that prints directly onto a newly created CD to the 9600 for large scale prints. Epson leads the way and has created a new life in photography that is geared toward the finest printing capabilities ever.


---
KODAK PROFESSIONAL DCS Pro 14n Digital Camera
Ultimate digital performance in an
easy-to-use SLR camera

You'll see all the detail in your full 35 mm size image with the KODAK PROFESSIONAL DCS Pro 14n Digital Camera. This digital SLR camera has the industry's first full 35 mm size CMOS sensor and boasts an incredible 13.89 million total pixels. Choose the Basic mode for an easy, first-time shot. Or, select your preferences to give it the look you want. Now, you can also get the resolution you need with DCS Pro 14n's variable-resolution raw files.

Designed for professional portrait, wedding, event, and commercial photography, the DCS Pro 14n adds speed to your workflow. Its FIREWIRE connectivity—at a 12 MB per second transfer rate—is up to four times faster than previous DCS Camera models.

The DCS Pro 14n Digital Camera—coming to a dealer near you from the industry leader in pro digital photography —Kodak Professional.

* Delivers the highest resolution images in the digital SLR market today—13.89 million total pixels.
* Features a unique full 35 mm size sensor (24 mm x 36 mm) with medium-format quality and enlargement capability. No lens magnification factor—get the same image with the lens as you would with film.
* Offers variable-resolution RAW and ERI-JPEG files.
* Transfers images ~3x to 4x faster than current FIREWIRE connectivity.
* Features a professionally enhanced, magnesium-alloy body.
* Safeguards your images with Picture Protection / KODAK PROFESSIONAL Extended Range Imaging Technology.
* Enables precise exposure control, TTL auto-white balance, and optimal color accuracy with 3D Digital Matrix Image Control.
* Gives D-TTL flash control for multi-sensor balanced fill-flash and manual control.
* Offers five-area autofocus with dynamic AF operation, focus-tracking, and LOCK-ON.
* Competitively priced.
More About DCS Pro 14n
• Features
• Specifications / System Recommendations
• Host Software
• Catalog Numbers / Ordering
• Questions and Answers
• Service and Support
Latest Technology
• CMOS Image Sensors
• Extended Range Imaging Technology (ERI)
• DCS Custom Looks Software
• DCS Photo Desk v2.0
Printable Product Information Sheets (PDF)
• Quick Download (51K)
• Optimized for Print (491K)
uesday, October 8
KODAK PROFESSIONAL DCS Pro 14n Digital Camera
Features

* 13.89 million total pixel image sensor
* Full 35 mm frame CMOS sensor (24 mm x 36 mm)
* Selectable image size—
* 4536 x 3024 (13.7 MP)
* 3024 x 2016 (6 MP)
* 2268 x 1512 (3.4 MP)
* 1134 x 756 (1 MP)

* Selectable ISO from 80 to 800 in 1/3-stop increments
* Burst rate—1.7 frames/second
* Burst depth— ~8 images (full-resolution DCR mode)
* Large, bright color LCD panel for image analysis
* LCD user interface
* KODAK PROFESSIONAL DCR File Format Module
(compatible with ADOBE PHOTOSHOP Software)
* Magnesium-alloy enhanced camera body and SLR functionality
* NIKON F-mount
* DTTL-enabled hotshoe and pop-up flash
* PC connector for external flash sync
* 10-pin remote trigger port
* Vertical shutter release
* Orientation sensor (detects camera orientation +/- 90 degrees from horizontal, rotated about optical axis)
* Custom Li-Ion battery
* 12-bit dynamic range
* Composite-video out—NTSC or PAL
* Single channel audio

KODAK PROFESSIONAL DCS Pro 14n Digital Camera
Ordering Information
Camera CAT No.
KODAK PROFESSIONAL DCS Pro 14n Digital Camera 834 4269

DCS Pro 14n Accessories CAT No.
Charger/AC Adapter 112 7976
Replacement Battery 123 6199
DC Power Module 164 1000
4-pin IEEE Cable 164 7668
Video Cable 181 7774
1 GB IBM MicroDrive 178 3695

KODAK PROFESSIONAL DCS Pro 14n Digital Camera
Specifications

* ISO Settings: 80 to 800
* 13.89 MP CMOS Sensor (4560 x 3048)
* 13.89 Million Total Pixels (4560 x 3048)
* 13.7 Million Effective Pixels (4536 x 3024)

* File size: 41 MB full-resolution TIFF file;
~15 MB full-res. compressed DCR file
* Bit depth: 36-bit color (12 bits per color) original capture
* Removable, rechargeable Li-Ion battery
* 1:1 focal length (no magnification)
* COMPACTFLASH or MultiMedia Card
* Size: 5.16 in. (131 mm) tall, 6.22 in.
(158 mm) wide, 3.5 in. (89 mm) deep
* Weight: 2 lb (907 g) without battery and memory card
* Conforms to FCC Class B, CE Mark
* Class B Declaration, VCCI Class B Certified

Specifications are subject to change without notice.
Eastman Kodak Company is an authorized licensee of the COMPACTFLASH trademark.

System Requirements
PC
* WINDOWS 2000, WINDOWS XP Systems
* 233 MHz PENTIUM II Processor or greater
* 256 MB RAM minimum, 512 MB RAM recommended
* IEEE 1394 OHCI PCI adapter cards
(if tethered without on-board 1394 port)

MACINTOSH Systems
* MACINTOSH OS 9.04 or greater
* 300 MHz G3 or newer
* 256 MB RAM minimum, 512 MB RAM recommended
---

Welcome to the WORLD of Adobe and PhotoShop
PHOTOSHOP 7
Discover all that's new in the latest version of the professional image-editing standard. Find out why PC Magazine gives Photoshop 7.0 a perfect 5-star rating!

New: Resources for government professionals. From the IRS to NASA, Adobe solutions are helping federal and local government organizations move the business of government online.

Acrobat wins Best of 2001 award. Editors of PC Magazine praise document review and forms tools in Acrobat 5.0.

Download Acrobat Reader for Palm OS 2.0 (public beta). View Adobe PDF files on handheld devices from Palm, Handspring, or Sony among others.

Save big and switch to InDesign. QuarkXPress owners: Receive a $300 rebate plus free technical support and training when you buy InDesign 2.0.

Illustrator 10 rave reviews. From Macworld to CNET, find out why this "must-have upgrade" is "freaking awesome!"

Try Adobe DesignTeam. Conduct online reviews, share files, and track projects. Free 30-day trial.

Try Adobe.com on your PDA. Get the latest news, events, and product information all at your fingertips. Got a new operating system? Find out how Adobe applications support Windows XPand Mac OS X.

CLASSROOM IN A BOOK
Adobe® Classroom in a Book®, the world's best-selling series of hands-on software training workbooks, helps educators and students to master Adobe software quickly and easily. Developed by experts at Adobe, this official training series for Adobe graphics and publishing software provides comprehensive, self-paced lessons.

Classroom in a Book is ideal as a course textbook or for an individual, since it offers complete self-paced training based on real-world projects. Classroom in a Book titles include lessons for intermediate and advanced techniques for both Windows® and Macintosh® and feature specially created template files (included on a CD).

Order Classroom in a Book titles at a 25% discount
Educational institutions may order Adobe Classroom in a Book titles through Peachpit Press. All orders from academic institutions (other than college bookstores) receive a 25% discount off the list price. Order as many titles as you want and get the 25% discount on all of them. For academic pricing and information,
visit the Peachpit Press Academic Resource Area or call 1-800-283-9444. http://peachpit.com/connect/academic/lobby.html

Photoshop 6 for Windows and Macintosh: Visual QuickStart Guide

2. Adobe Photoshop 6.0 Classroom in a Book

3. HTML 4 for the World Wide Web, Fourth Edition: Visual QuickStart Guide

4. Illustrator 9 for Windows and Macintosh: Visual QuickStart Guide

5. QuarkXPress 4 for Macintosh: Visual QuickStart Guide

6. Adobe Illustrator 9.0 Classroom in a Book

7. Flash 5 for Windows and Macintosh: Visual QuickStart Guide

8. Dreamweaver 4 for Windows and Macintosh: Visual QuickStart Guide

9. Non-Designer's Design Book

10. Non-Designer's Web Book, Second Edition