Exhibition Highlights



October - December 2003
Also See Featured Galleries Exibition Archives
---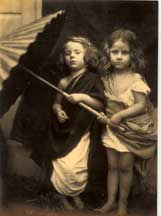 Julia Margaret Cameron, Photographer
October 21, 2003 – January 11, 2004


Some 90 rare photographs by Julia Margaret Cameron (British, 1815-1879), one of the most important figures in the history of photography, will be on view in this retrospective featuring Cameron's best work drawn from collections in Europe and the United States. Cameron came to photography in mid-life, and quickly excelled in the art form, which offered Victorian women the rare opportunity to achieve professional recognition. This exhibition is organized by the National Portrait Gallery, London, in collaboration with the National Museum of Photography, Film & Television, Bradford. The Getty is the third and final venue on the exhibition's tour, after showings at the other two British museums. Available in conjunction with this exhibition is Julia Margaret Cameron: The Complete Photographs, by Julian Cox and Colin Ford (The J. Paul Getty Museum, 2003), the first volume to reproduce Cameron's entire oeuvre.
---
JOAN ALMOND
TOGETHER / Alone
New images / Selected Works
jan. 10th - feb. 22nd


Malibu's Joan Almond explores the world view of threatened cultures and her photographs center around an underlying sense of unity. She prints using the labor-intensive platinum palladium process. Joan has traveled all over the world striving to ingratiate herself to the communities she photographs, from Tijuana to Tunisia, she explores, not exploits. Her style combines her sensitivity for other cultures with her singular ability to recognize unique pattersn of light and architecture. Joan Almond's monograph, entitled The Past in the Present (St. Ann's Press) will be available. Keith Fishman is also on exhibit. To request visuals or interviews with phtographers, please contact Staton-Greenberg Gallery. (see WIPI Almond book archive)
Opening Reception: Saturday Jan. 10, 5-7pm
Staton-Greenberg
15 W. Anapamu Street
Santa Barbara, CA 93101

Contact information:
(805) 962-9878 Fax: (805) 962-9726
Email: staton.greenberg@verizon.net
Website: www.staton-greenberg.com

Magazine feature B & W Magazine, current January - February issue Joan Almond "From the Orient to North America, she has made it her passion to photograph exotic people and the everyday objects that express roots and rituals - emblems of their culture. She does this with an exceptional eye for detail and deep respect for cultures that are different from ours."
---
CAROL NYE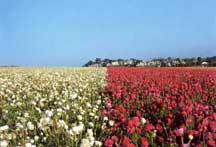 "FLORA CONLENTES" The Flower Growers


A Masters Of Fine Arts Exhibition December 1- December 4, 2003

Opening Reception:Tuesday, December 2, 6 - 10 pm
West Gallery Visual Arts Department California State University, Fullerton
800 North State College Blvd. Fullerton,
California 92834-6850 714-278-3471
Gallery Hours: Monday thru Thursday 12 - 4 pm
E-mail, cnye@tfb.com

Web-sites:
WIPI /archive13-Jan03/gen-jan03-nye/index.html

http://www.artemedia.com/artists/cnye/index.html
http://www.calmardesign.com/cnye/index.html
http://www.thescreamonline.com/contents2-3.html

---
Hillel at UCLA presents Reconstructing the West Bank
Photographs by Shelley Gazin
October 30th - December 6th 2003
"These images are my remnants of hope," says artist/photographer Shelley Gazin of her new exhibit Reconstructing the West Bank, which documents her 1983 road trip. Gazin, a documentary photographer with a 20-year career in fine-art photography, photojournalism and portraiture, glimpsed the power of co-existence and bears witness to a fragile, threatened but hopeful peace. Reconstructing the West Bank is Gazin's is a concept piece and narrative rolled into one, recreated from memory and digitally rendered on frayed canvas in washed hues and sepia. This exhibit dares you to revisit the site of conflict--whose resolution may prove to be the most important and urgent of the century - and to rekindle your imagination, to imagine peace. Education is an essential ingredient in that quest and this exhibit brings a lesson home.

Photographs by Shelley Gazin: Case Studies in Spiritual Pluralism  are photo-based narratives and are available for travel as independent exhibitions. Titles include: Looking for a Rabbi (Skirball Museum & Cultural Center, Los Angeles 2001; Rabbinic Dialogue Series, University of Arizona Judaic Studies, Tucson, AZ 2002; Award-winning pieces selected for the American Jewish Museum/JCC of Greater Pittsburgh, Boca Raton & Boston traveling exhibition 2001-02). Rue des Rosiers slated for the French Consulate, Los Angeles 2004. Shelley Gazin is an affiliated artist of the Center for Jewish Culture and Creativity, International, a member of Women in Photography International and a former Board Member of the Press Photographers Association of Greater Los Angeles.
Yitzhak Rabin Hillel Center for Jewish Life at UCLA Lee & Irving Kalsman Campus
574 Hilgard Avenue, LOS ANGELES
October 30th - December 6th 2003 Hours: Sunday - Thursday 9 AM - 9 PM, Friday 9 AM - 3 PM Open Saturday by Appointment 310-827-0833 Free to the public
Contact: Carol Bar-Or, Associate Director, Hillel -310.208 3081 #224


---

*** international photography award ***


Gala Awards ceremony at the Beverly Hilton Hotel in Beverly Hills, December 7th

• international photography awards - Discovering new and emerging talent from all over the globe, conducts two parallel competitions each year - one for professional photographers who earn the majority of their livelihood from their craft and a second for nonprofessional or amateur. Certificates of excellence will be awarded in 54 categories to both groups: The fourteen major prizewinners-seven professionals and seven non-professionals
-will also compete for the coveted title of International Photographer of the Year™ and the $10,000 prize.

Gala Awards ceremony at the Beverly Hilton Hotel in Beverly Hills. General Public Tickets $150/ea.
(WIPI Members receive special discount, see Message Board for details on how to obtain your special ticketed price up through Oct. 30th only)
international photography awards TM- Honoring the achievements of the world's finest photographers.