Cradoc Corporation
PO Box 1310
Point Roberts, WA 98281
Phone: 360-945-1380
Email: info@fotoquote.com

For Immediate Release Contact: Therese Bagshaw
Director of Sales
E-mail: info@fotoquote.com



Cradoc Corporation Releases fotoQuote Pro 5.0
The Industry Standard Price Guide for Stock and Assignment Photography
Version 5.0 has over 80 new Categories with completely updated Pricing information including new technologies. Also has a new Interface, Find screen, Notes window, and more.


Point Roberts, WA – February 2004 – Cradoc Corporation, a major developer of computer software for the freelance photographer, today announced the release of fotoQuote Pro 5. FotoQuote Pro 5 is an electronic price guide for stock and assignment photography. FotoQuote Pro 5 is the only source of pricing information for photographers that gives you powerful Coaching help in every one of its 218 pricing categories. FotoQuote not only helps you come up with a fair price for your image license, but also gives you the inside information you will need to help you negotiate and close the sale.

"I haven't seen so much change in the photo industry since the original fotoQuote was released in 1993," said Cradoc Bagshaw, President of Cradoc Corporation and Creator of fotoQuote. "I spent nearly a year working on this update and I was surprised at how much time it took to get a handle on what is currently happening in the photo industry. I believe that there are two main reasons for the changes I am seeing. The first is that two large stock agencies are dominating the world markets. The other is that companies are using photographs in many different ways because of digital technology and more targeted advertising. The photo industry is transforming in major ways and I wanted to be sure that fotoQuote Pro 5 would supply the photographer with the information that he or she needs to understand and take advantage of those changes."

FotoQuote automates the process of creating a quote for stock photography submissions. "Our research has shown that when a price quote is given in writing instead of verbally there is a much higher chance of getting the asking price," said Bagshaw. " There are fewer problems, including copyright infringement or rights grabs, if the photographer is willing to take the time to send the client the correct paperwork outlining the exact details of the job, including usages and rights that are to be granted."

The Coach section is a very popular feature of fotoQuote and it's packed full of more negotiating and pricing information than ever before. It's been compared to attending a weekend pricing seminar.

"FotoQuote is the number one program to help photographers gain a clear picture on how to price their photographic images. Any photographer is nuts if they don't have fotoQuote, " said photographer Jean Ferro, the President of Women In Photography International.

(Cradoc Corp fotoQuote Press Release Cont)

Among fotoQuote Pro 5's new features are:

_ New Categories: There are over 80 new categories for a total of 218. There are dozens of new categories that deal with new technologies like, Film, Web, CD/DVD and Television.

_ New Interface: Using fotoQuote is greatly simplified. When creating a quote you simply click a category tab: Advertising, Corporate, Editorial, Electronic, etc, and select the usage you want. FotoQuote once again runs in a single window making it easy to use with other programs.

_ New Find Screen: There are so many categories in fotoQuote Pro 5 we've added a new find screen that makes finding usages easy. Just type in a word or phrase, click the find button, and you will get a list of usages from throughout the program that match.

_ New Notes Window: Each of fotoQuote's main categories now has a notes window that lets you keep multiple notes with sales information for each of your transactions in that category.

_ New Updated Pricing: All of the prices have been carefully reviewed from actual sales records, and raised or lowered to reflect the current market.

"Thanks for all your good work. I have used fotoQuote many times to price sales and it has been invaluable at protecting me from seriously under pricing my work. It gives me the confidence to offer a price, based on your database, then 'clam up' and let the client do the rest of the talking. Plus your helpful tips and tutorials on pricing unusual uses, negotiating and all the rest of it are a godsend for those of us slogging it out in the freelance market," said Jim Lawrence, photographer and writer.

Priced at $149.95, fotoQuote Pro 5 is an excellent value ($139.95 for the download version). An upgrade price for registered owners of fotoQuote or fotoBiz is also available. Please view our web site www.fotoquote.com or call us at 360-945-1380 for more specific details on upgrade pricing. By popular demand fotoQuote is now available once again as a standalone application.

Founded in 1993 Cradoc Corporation is a leading developer of computer software for the freelance photographer. Cradoc Corp also develops fotoBiz the complete business management solution for the freelance photographer. For more information visit www.fotobiz.net.


###


---
#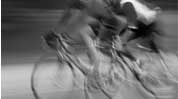 The first IPA Gala will be held at the Beverly Hilton Hotel on Sunday, December 7th, 2003
Gala Awards ceremony, Winners and nominees from countries across the globe will gather to pay tribute to the year's most outstanding achievements and to honor the all-time greats.

FOR IMMEDIATE RELEASE
INTERNATIONAL PHOTOGRAPHY AWARDS INAUGURATES FIRST-OF-ITS-KIND SHOWCASE OF GLOBAL PHOTOGRAPHIC

The International Photography Awards, a global celebration of photographic acumen and imagination, was launched today in Los Angeles. This unique international competition aims to salute the achievements of the world's finest photographers, to discover new and emerging talent, and to promote the appreciation of photography all over the world.

"For years we have witnessed lack of recognition for the great talent and contributions of photographers both here and abroad," said H. Farmani, the executive director of the International Photography Awards. "We plan to shine the spotlight on the brilliant work of both professionals and amateurs alike."

A glamorous Gala Awards ceremony, held at the home of the Golden Globes in Beverly Hills, will cap off the competition each year. Winners and nominees from countries across the globe will gather to pay tribute to the year's most outstanding achievements and to honor the all-time greats. The first IPA Gala will be held at the Beverly Hilton Hotel on December 7, 2003

Winners of the first annual International Photography Awards will set the standard of photographic excellence for years to come. In addition to the top prizes, all entrants will compete for certificates of achievement in seven major categories that include Photojournalism, Advertising, Nature Photography, Architectural Photography, Portraiture and Fine Art.

For additional information on the International Photography Awards,

WIPI Thanks IPA for their generous support to our organization and members
Gala Awards Ceremony

The Gala Awards ceremony will be held at the Beverly Hilton Hotel, home of the Golden Globes. The first annual International Photography Awards Gala will be held on December 7, 2003. Tickets are available now.

The photography community from countries around the world, gathering with luminaries from the international photography community to laud the year's most outstanding achievements. Top IPA trophies including the New Discovery Award and International Photographer of the Year will be announced during this black-tie festivity. Special recognition for lifetime achievement will be awarded to several masters of photography in such categories as fashion, photojournalism, advertising, and fine art. The IPA Advisory Board will select and honor these masters based on lifetime contribution to the photographic arts.

First-of-its-kind Photography Event to Recognize Photography Masters and Present Them With a "Lucie" For Their Achievements

"An awards ceremony honoring photography is such a great idea, I'm surprised no one has thought of it before," said renowned photographer William Claxton. Internationally renowned photographer, Phil Borges added, "As photographers we spend most or our time working alone. Finally we have the International Photo Awards to bring us all together in a celebration of our professional accomplishments."

The recipient of this year's awards will be announced the week of November 5, 2003.

"Cinema has its 'Oscar' but now photography has its 'Lucie,' as a way to acknowledge the achievement of those who constantly redefine the meaning of this extraordinary medium," said Graham Howe, Chairman of IPA's Advisory Board.


Additionally, the IPA will be distributing a commemorative program book during Photoweek and at the Gala ceremony. This program book will contain the work of the award recipients.

The IPA advisory board has nominated the following:


The nominees are:

Lifetime Achievement Award
Arthur Leipzig, Bruce Davidson, Gordon Parks, Helmut Newton, Henri Cartier-Bresson, Irving Penn, Larry Fink, Richard Avedon, Robert Frank, Robert Heinecken, Ruth Bernhard, William Claxton

Outstanding Achievement in Advertising (Presented by APA) -- Craig Cutler, Doug Menuez, Glen Wexler, Greg Gorman, Howard Schatz, Jean Moss, Jim Erickson, Larry Fink, Laurie Rubin, Mary Ellen Mark, Moshe Brakha, Nadav Kander, Parish Kohanim, Peggy Sirota, Pete Barrett, Pete McArthur, Phil Marco, RJ Muna, Rodney Smith, Sally Gall, Stephen Wilkes, Stewart Cohen

Outstanding Achievement in Architecture/Landscape Photography
Ezra Stoller, Elizabeth Gill Lui, Hiroshi Sugimoto, Joel Meyerowitz, Julian Broad, Julius Shulman, Richard Misrach, Tim Street-Porter

Outstanding Achievement in Entertainment Photography (previously Celebrity) Annie Leibovitz, Bob Willoughby, Bruce Weber, Douglas Kirkland, Firooz Zahedi, Greg Gorman, Harry Benson, Larry Fink, Matthew Rolston, Roxanne Lowit, William Claxton
Outstanding Achievement in Music Photography
Annie Leibovitz, William Claxton, Greg Gorman, Harry Benson, Larry Fink, Matthew Rolston, Roxanne Lowit, David Bailey,
Outstanding Achievement in Still Photography for Motion Pictures
Phil Stern, Stephen Vaughan, David James, Peter Sorel, Francois Duhamel, Melinda Sue Gordon, Andrew Cooper, Merrick Morton, Bob Willoughby

Outstanding Achievement in Documentary Photography - Larry Clark, Nan Goldin, Bruce Davidson, Elliott Erwitt, James Nachtwey, Marissa Roth, Sebastiao Salgado, Arthur Tress

Outstanding Achievement in Fashion Photography
Brigitte LaCombe, Bruce Weber, David Bailey, David LaChapelle, Francesco Scavullo, Helmut Newton, Irving Penn, Lillian Bassman, Mario Testino, Melvin Sokolsky, Peter Lindbergh, Ralph Gibson, Richard Avedon, Sarah Moon, Steven Meisel

Outstanding Achievement in Fine Art Photography
Arno Minkkenin, Cindy Sherman, Duane Michals, Helmut Newton, Jack Spencer, Lee Friedlander, Mary Ellen Mark, Michael Kenna, Ralph Gibson, Richard Misrach, Nadav Kandar, Ray Metzker, Robert ParkeHarrison, Ruth Bernhard, Sally Mann, Sheila Metzner, Shirin Neshat, Susan Rankaitis, William Eggleston

Outstanding Achievement in Photojournalism
Antonin Kratochvil, Carolyn Cole, David Burnett, Gary Knight, Horst Faas, James Nachtwey, Lauren Greenfield, Nick Ut, Ron Haviv, Seamus Murphy, Sebastiao Salgado, Steve McCurry, Tom Stoddart

Outstanding Achievement in Portrait Photography (Presented by ASMP) - Albert Watson, Annie Liebovitz, Arnold Newman, Bert Stern, Bettina Rheims, Gene Trindl, Gordon Parks, Paul Jasmin, Richard Avedon, Joyce Tenneson

Women In Photography International Distinguished Photographer's Award (presented by WIPI) - Uta Barth, Lillian Bassman, Jodi Cobb, Helen Levitt, Annie Leibovitz , Sally Mann , Annette Messager, Catherine Opie, Cindy Sherman, Carrie Mae Weems , Mariana Yampolsky

* Adjustments made to Nominees reflect Advisory Board updates See Winner List Announced 11/12

Join in and become part of the commemorative event...!
FYI
visit http://www.photoawards.com
Shout CONFERENCE December 5th & 6th, Pacific Design Center, Los Angeles
6 Moderated Panels
2 Days of Networking - 2 Days of Exhibits - Portfolio Reviews


The International Photography Awards (IPA), in conjunction with Shout Conferences, is pleased to offer a stimulating and original series of panels and seminars to photographers and creatives of all levels -- and every area -- of the field. Whether you're an Art Buyer, Educator or Student, Creative Director, Corporate Communications Exec, Advanced Amateur, Photo Assistant, Graphic Designer, or Stock Photographer -- everyone will find something informative and essential here.

At this two-day Conference, to be held in Los Angeles at the Pacific Design Center December 5 and 6, you'll have the opportunity to attend panels on Book Publishing to Celebrity Photography, to the Digital Workflow, to obtaining Gallery Representation -- and much more. All seminars will be moderated by top leaders in the field, who will engage and interact with you on all of your questions. As a special bonus, if you attend both days of the Conference, you'll be eligible to have your portfolio reviewed by an expert panel of consultants, curators, gallery owners, and editors -- a truly invaluable experience.

Visit the website if anyone is interested in becoming a sponsor of the Gala Awards with exposure to tens of thousands of photographers around the world.

Commemorative program book advertising opportunity - The book offers an opportunity to reach an audience in the photography, advertising, fashion, and publishing industries.


---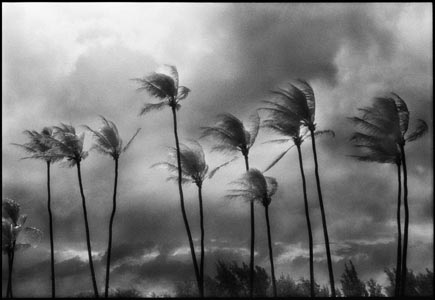 "Palms" Photograph: ©Rose-Lynn Fisher



Read what industry insiders are writing about PiezoTone Monochromatic inks
SEE Four different PiezoTone hue choices.
PiezographyBW ICC printer profiles
Piezography¨BW uses a new generation of industry standard ICC / ICM profiles which have been invented to provide the user with tonal management for a variety of media when using PiezoTone inks. No software other than that which ships with the printer is required to use these profiles. PiezographyBW ICC profiles are used to linearize a media from its dMax (maximum black density) to paper white. PiezographyBW ICC profiles are designed to produce dotless (virtual) images using the manufacturer's own printer driver. read more

PiezographyBW ICC profiles with the appropriate media produce an extremely long tonal latitude, capable of separating a grayscale into 256 distinct luminosity values of gray. PiezographyBW differentiates between highlight and shadow details which escape definition in other digital systems as well as traditional darkroom printing. The PiezographyBW system does not have the shoulder and toe restrictions of conventional darkroom paper. Photographers who are not used to the system may be amazed at how the PiezographyBW system renders detail in both the extreme highlights and shadows. Piezography has profiled the most popular papers. Use PiezographyBW ICC profiles to print from any application which can open and print a grayscale image. Works with Mac OS9, Mac OSX and all versions of Windows since 98 Second Edition.

Exhibition quality prints Longest dynamic range Repeatable print on demand Palladium quality no toxicity. At the website you will find, testimonials, media kits, press releases and excellent articles. It's a wealth of information about the digital printing capabilities.

Piezography quad black inks make black & white prints which look like exhibition quality photographs when used in conjunction with special PiezographyBW ICC profiles for Mac and Windows. You can purchase this entire solution at InkjetMall
Inside Cone's Head at www.piezography.com you'll find a (348k pdf) An interview with fine art printer and inkjet pioneer Jon Cone by Claude J. Jodoin PEI Magazine - September 2002. This is an in depth article about Jon Cone and how he developed the Piezography technique and how it's being applied today. Here's a snapshot of the list of questions asked by Claude J. Jodoin
PEI: Can you give us a little background on yourself and your company?.
PEI: What are your thoughts for photographers,who all of a sudden are selling inkjet color output in their businesses and using watercolor papers and canvas?
PEI: Do you have any advice for photographers using these papers?
PEI: What about canvas materials?
PEI: Do you think professional photographers will help to grow the archival paper market significantly?
PEI: Outputting pigmented ink prints on matte papers and canvas is fine, but what about the photographers who are looking to make prints that look like conventional RA-4 prints?
PEI: Let's talk about what you are known for, black-and-white fine art printing and your Piezography system.
PEI: That's fine for the matte papers, but what about gloss and semi-gloss papers?

For more information about Jon Cone's printing techniques,visit www.inkjetmall.com. Cone Editions has been providing innovative black and white inkjet techniques and methodology since 1993. See Cone Editions Press, Ltd. Black and White Digital Timeline
Cone Editions is one of the earliest pioneers of fine art and photographic digital inkjet printing. They have been training digital studios and individuals since 1992. Their clients include David Adamson, Jamie Cook, Robert Rauschenberg, Robert Buckenmeyer and many others. Their small group workshops take place at Cone Editions Studio in East Topsham, VT and feature hands-on learning experiences.

If you take one workshop in your lifetime according to Cone Editions, this should be it. You leave with the knowledge to explore and print your work with confidence. Workshop Descriptions:

The Complete Digital Workflow color and B&W (new)
B&W: The Digital Fine Print
The Digital Fine Print (new)
Mastering Your Color EPSON¨ printer
PiezographyBW
Scanning for Photographers
Setting up a Digital Print Studio (for Educators) More info...

January 6-9, 2004
January 13-16 , 2004
February 24-27, 2004
March 2-5, 2004
March 16-19, 2004


Please speak with Cathy Cone at Cone Editions Press for detailed information, to reserve a place, and any questions you may have concerning these workshops. (802) 439-5751 ext. 101 (also see the Color portfolio of Cathy Cone at the Art BarkGallery.
b/w piezograph images graciously provided to WIPI by Rose-Lynn Fisher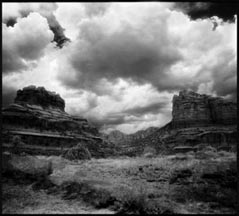 "Sedona" Photograph: ©Rose-Lynn Fisher
---