Exhibition Highlights


July - December 2005
Also See Featured Galleries Exibition Archives
2005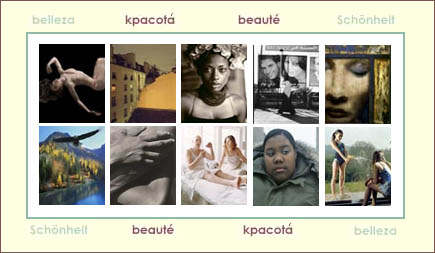 View Gallery
BEAUTY, Camera Eye of the Beholder
LIST OF WINNERS & HONORABLE MENTIONS

jurors: Architecture magazine • Tyra Banks • Deutch Inc/NY • National Portrait Gallery/London •
AGE Fotostock/ Barcelona • Getty Images • National Geographic • Museum of Photographic Arts • Glamour magazine • Communication Arts. see juror bios
---
GEORGE EASTMAN HOUSE Exhibitions - International Museum of Photography and Film



Young America: The Daguerreotypes of Southworth & Hawe
International Center of Photography / ICP / New York June 17 through September 4, 2005,

George Eastman House, Rochester, N.Y. Oct. 1, 2005 through Jan. 8, 2006
Addison Gallery of Art, Andover, Mass. Jan. 28 through April 9, 2006
Young America: The Daguerreotypes of Southworth & Hawes George Eastman House International Museum of Photography and Film in Rochester, N.Y. and the International Center of Photography (ICP) in New York City will present a major exhibition of more than 150 daguerreotypes by famed Boston photographers Southworth & Hawes, a national treasure of early American art. The exhibition Young America: The Daguerreotypes of Southworth & Hawes will open at ICP in June.
view details about Southworth & Hawes
International Center of Photography / new york



Weston photographs.
thru- Monday, September 05, 2005
Edward Weston's stature as a photographer rivals Ansel Adams. This exhibition organized by the Dayton Art Institute includes many of the most famous images as well as works never or rarely seen before. The exhibition also includes unpublished correspondence that reveals the warm personal character of one of photography's most revered innovators. In addition, the correspondence chronicles Weston's travels and life from the early 1940s until his death in 1958. The exhibitions will be supported by images from George Eastman House's extensive holdings of Weston photographs. Saturday, April 23, 2005 - Monday, September 05, 2005

Machines of Memory: Cameras from the Technology Collection
May 01, 2005 - Friday, January 01, 2010
Machines of Memory: Cameras from the Technology Collection "All the things the public most wants to see from the technology collection," that's how Technology Curator Todd Gustavson describes Machines of Memory, the exhibition in the North Gallery. The much-anticipated display includes a variety of photographic highlights from camera obscuras through digital imaging designed to show the evolution of photography as well as it's revolutions. Sunday, May 01, 2005 - Friday, January 01, 2010



What We're Collecting Now
May 14, 2005 - Friday, January 01, 2010

What We're Collecting Now Last year, the photography collection increased by 285 objects through a combination of gifts and purchase. Contemporary acquisitions range from the moody and evocative interiors of young British photographer Andy Lock to the complex and counterintuitive landscapes of Ithaca-based Ron Jude. Saturday, May 14, 2005 - Friday, January 01, 2010

George Eastman House á www.eastmanhouse.org 900 East Ave Rochester, NY 14607 585.271.3361
George Eastman House On The Road
Ansel Adams: Celebration of Genius
Friday, July 15, 2005 - Saturday, October 08, 2005
Museum of Art, University of Maine, Bangor, Maine

Robert ParkeHarrison: The Architect's Brother
Saturday, August 27, 2005 - Sunday, October 02, 2005
View Details Le Mois de la Photo a Montreal, Quebec

---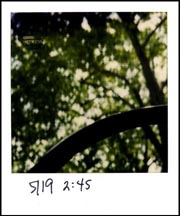 SURFACE STREETS EXHIBITION - MEG MADISON

Driving is such a large part of living in Los Angeles it prompted photographer Meg Madison to began taking a Polaroid picture each time she entered her automobile for seventeen days in 2001.
http://www.megmadison.com/car/surfacests.html
Madison used expired SX70 film to encourage film / camera malfunctions that enhance explosions of color. On display are transformation of the original pictures: Giant Polaroid that are a sensory recreation of driving in Loa Angeles Ð fragments of windshields, headlights, tires, and reflections.

Kristi Engle Gallery, June 18 - August 13
453 S. Spring St, #741, (Downtown Los Angeles)
HOURS: Thurs - Sat, noon to 6 pm
Downtown Art Walk Hours:
Thurs July 14 & Thurs, August 11 - noon to 9pm

Gallery contact 213-629-2358
info@kristienglegallery.com


In addition to fine art photography, WIPI PRO Member, Meg Madison shoots film stills for independent films and documentary style. meg@megmadison.com



---


Exhibition runs January 10 - June 2005, 2005 ARCHIVED
Click here to view list of WIPI exhibitors and award winners

Jurors: Sue Brisk/Magnum Photos, Howard Greenberg Gallery /NY,
Lesley Martin /Aperture Foundation, Galerie Esther Woerdehoff /Paris, France
An online WIPI juried exhibition

---

LOOKING Ahead - 2006
Museum of Photographic Arts presents
April - July 2006
THE MUSEUM of PHOTOGRAPHIC ARTS *
1649 El Prado San Diego CA 92101 (619) 238 7559

More than sixty years ago, a generation came of age under the yolk of the Great Depression, the rise of fascism, and a world war. Some joined the burgeoning field of the mass media that was just taking shape through new and revolutionary technology. Literally at their fingertips was a newer, faster means of communication through radio, talking pictures, newsreels, the 35mm camera, and the large picture magazine. With unprecedented speed, proximity, and realism, their images arrived in people's homes igniting imaginations and shaping public opinion.

In the spring of 2006, the Museum of Photographic Arts is mounting a museum-wide examination of the photographs, films, newsreels, and cameras from the late 1920s to mid 1950s that -- not unlike our Internet age -- changed the world.

The largest of these exhibitions celebrates the first women in photojournalism; Breaking the Frame: Pioneering Women in Photojournalism includes vintage photographs by Margaret Bourke-White, Esther Bubley, Thérése Bonney, Hansel Mieth, and the British and Russian photographers, Grace Robertson and Olga Lander, respectively. Rosie the Riveter had nothing on these women, whose entrée into the mass media helped shape our collective understanding of history then and now. Forging a point of view and way of life through an unprecedented move out-of-the-home and into a career that demanded courage, intelligence, and skill, their achievements were revolutionary. Two exhibitions will accompany Breaking the Frame. The first examines the actual 35mm cameras that came into being in the mid-1920s; the second celebrates the first photographs made with them by Erich Salomon, Robert Capa, Alfred Eisenstaedt, Martin Munkacsi, and Tim Gidal.

In the Main Gallery:
Breaking the Frame: Pioneering Women in Photojournalism

Thérése Bonney (American/French)
Olga Lander (Russian)
Grace Robertson (British)
Hansel Mieth (German/American)
Esther Bubley (American)
Margaret Bourke-White (American)

15-20 photographs by each photographer
Illustrated Catalog - Mieth, Bonney, Lander
Adjacent galleries:
Framing in 35:The First 35mm Photographs 1928-1940
Erich Salomon
Martin Munkacsi
Robert Capa
Tim Gida
Alfred Eisenstaedt
8-10 photographs by each photographer
Birth of New Technology and the Picture Magazine
In cases:
Vintage cameras (UC Riverside Collection)
Magazines from various countries:
Berliner Illustrirte Zaitung, Picture Post, LIFE, USSR, Peste-Napli, etc
Newsreels 1928-1950s – March of Time, RKO Pathé
Early radio

Theater:
Film Series – early documentaries such as Joris Iven's 400 Million, John Huston's War Trilogy, Helen Levitt's The Silent One, Paul Strand, and others; Hollywood fare Since You Went Away, Too Hot to Handle, and others; first on-location feature films using documentary footage including The Search (1948) [written by Thérése Bonney, dir: Fred Zinnemann, debut of Montgomery Clift]
THE MUSEUM of PHOTOGRAPHIC ARTS * 1649 El Prado San Diego CA 92101 (619) 238 7559

---
2004 - WIPI History
A Women In Photography International Exhibition



Best of Show: Stephanie Flack People's Choice: Gabrielle Gianella
See complete list of winners International Jury panel bios Recently Archived Oct. 2004
Curated by: Carrie Villines
Jurors:
Jigisha Bouverat, Director of Art Buying, TBWA\Chiat\Day (Los Angeles)
Jean Ferro, Photo Artist/President, Women In Photography International
Jeanine Fijol, Photo Editor, Photo District News
Graham Howe, Author/Curator/Founder, Curatorial Assistance, Inc.
Stephen Perloff, Founder/Editor, The Photo Review
Maria Piscopo, Creative Services Consultant
Miriam Romais, Managing Director, En Foco (New York)
Niyatee Shinde, Photo Historian/Writer/Curator (India)
Stuart Vail, Editor-In-Chief/Publisher, TheScreamOnline
Roger Watson, Photo Historian, Fox Talbot Museum (England)
---

Photo l.a. 2004 archive, held January 2004 WIPI Booth, presented artists, Michele Dugan, Jean Ferro, Stephanie Flack, Freyda Miller, Elizabeth Opalenik, Juanita Richeson with pecial presentation of Ruth Bernhard.
See artist porfolios and SEE onsite images of event and ...the final hours..behind the scenes after the event...packing up!

*** international photography award ***

Sylvia Plachy received the
2004 Women In Photography Interntional Disginguished Photographers Award
at the 2nd Annual 2004 Lucie Awards presentation,
New York City, Manhattan Center, October 18, 2004