Sample Files

"Summer 09" Juried Competition
REQUIRED
* JPEGs at "high" quality
* 72 dpi resolution
* 8 inches(approx) 8 in = 20.3 cm or 600 pixels at their widest point
* RGB JPEG FILES or GRAYSCALE B/W


Photo listings:
Entry Form Title:
Smith-01-Palm-T.jpg (Trees)
Smith-02-Palm-T.jpg (Trees)
Smith-03-BabyJane-C.jpg (Children)
Smith-04-Roses-F.jpg (Flowers)
etc

(Browse or Upload - depending on what you computer suggests)
browse for your photo and photo attach: Smith-01-PalmTree-T.jpg

Image sizes
Horizontal image
8 " (approx) 8 in = 20.3 cm or 600 pixels widest point
SQUARE image
8" x 8" (approx) 8 in = 20.3 cm or 600 x 600 pixels
Vertical image
8" (approx) 8 in = 20.3 cm or 600 pixels tall

Example of FILE size for VERTICAL image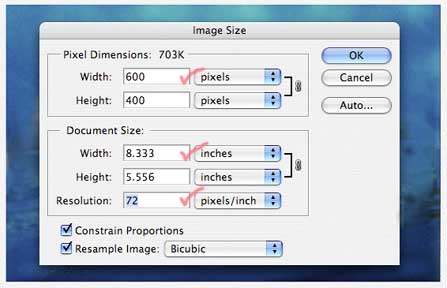 NEED ADDITIONAL HELP WITH DIGITAL FILES ?
A brief help page about image sizing and file naming provided by DoctorGeek.
GO TO www. DoctorGEEK.com
http://doctorgeek.net/design/photogeek.html


SUGGESTON:

* "short title" with your LAST name on all images for everyone involved, jurors, handlers, etc Untitled competition submissions are too easily misplaced or not identified properly.

* Place your images in a folder on your desktop so you can browse easily for your upload.
* When you are ready to upload, the entry form will ask you to browse,
GO TO the folder on your desktop where you prepared the images for submission and browse for the image.

Example: Smith-01-Palm-T.jpg

Image TITLE that you type on the form should match your "attached image file name from your browse file"

FOLLOW EXAMPLE:
TYPE YOUR FILE NAME in the FIRST block.. then CHOOSE file to Upload.
It will take a few minutes depending on the number of images you are submitting.
Please follow this example:

The Browse/UPLOAD file/CHOOSE FILE (this takes you to where you have your image on your desktop, depending on your computer system and browser, the word BROWSE, UPLOAD FILE or CHOOSE FILE will display)

The Title use the same name as your file name (KEEP IT short and sweet)
WHY... both have both names the same name with the .JPG or .JPEG identity?
To make sure you are uploading the right files and you receive the proper confirmation for your
submission

FILE NAMES and IMAGE TITLES NEED TO BE SHORT..and organized


If your title w/category code is not typed into the title, WIPI will choose the category for the submission.