WIPI PROfessional member submissions
12 Annual photo l.a. 2003, Jan 16th - Jan 19th,
Santa Monica Civic Auditorium
Images 1 - 10
Joan Almond, Jane Fulton Alt, Winter Bell, Candace Biggerstaff, Liza Botkin, Christine Burgoyne, Michele Dugan, Jean Ferro, Stephanie Flack












---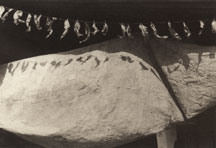 1. Joan Almond

"Paan Leaves Drying" 1996, signed,
platinum/palladium 3.25 x 4.50"
printed 2002, limited edition 3/25





This image is from Joan's recently published stunning book entitled Joan Almond, The Past in the Present, Monograph, presented by St. Ann's Press, 2002. Almond The June Bateman Gallery in New York City will exhibit the work in 2003. Almond has a strong international exhibition record and is collected by Santa Barbara Museum of Art, The Brookings Institute in Washington D.C. and also the Canadian Museum of Contemporary Photography. She prints all her own work using a platinum/palladium process. Selected publications include the Collector Print Program, Friends of Photography, 1998. www.JoanAlmond.com


Joan Almond, The Past in the Present
Hardcover: 128 pages ; Dimensions (in inches): 0.84 x 11.22 x 9.82
Publisher: St Ann's Press; ISBN: 0967174481; (February 15, 2002)
---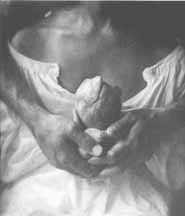 2. Jane Fulton Alt

"Matters of the Heart #5" 2000, signed verso
gelatin silver print, 10 x 10" printed 2001






This image was recently featured in Black and White Magazine (July/August 2002) and Alt has been featured in numerous publication's including Photo District News and La Fotografia Actual (Barcelona, Spain). She has a solid exhibition record since 1995 and has received numerous awards including 2nd place Winner of the Women In Photography International Juried Exhibition "Images of Women, Images of Tea". www.JaneFultonAlt.com

---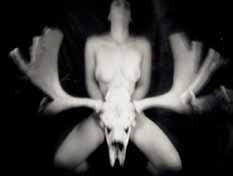 3. Winter Bell
"Moosehead" 1998, 1st Artist Proof, signed verso
gelatin silver print, pinhole camera, 16 x 20""




Cutting-edge photographer Winter Bell, whose background in art and mural painting is raw and dynamic in her self-portrait work. Her expertise in b/w printing serves her career well. Winter is a rising star in the world of photography. She was also considered a top b/w printer at Fleshtones Lab and is currently devoting herself to her artwork and mural printing having collaborated with the well known Arden Lichty/Lichty Photo Murals. Winter's work was on display and sold in WIPI's "Hollywood Bound" exhibition at the Frances Howard Goldwyn Gallery at the Hollywood Library in early 2002.

---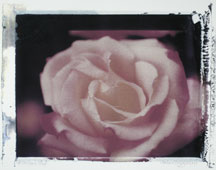 4. Candace Biggerstaff
"Newbury Lane Rose" 2001, signed
archival inkjet 16 x 20" printed 2002
An attendee of Brooks Institute of Photography, Biggerstaff's passion for photography has led her to documenting sports as art along with her continued interest in photographing the circus. Her area of specialty is Polaroid transfers.
www.candacebiggerstaff.com
---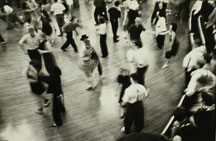 5. Liza Hennessey Botkin
"Jitterbugs" 1999
gelatin silver print, 11 x 14"
After a photographic hiatus 1982-1998, Botkin reemerged in 1999 and has continued with a strong exhibition record and in 2002 alone, showing at over 13 locations nationwide, including 825 gallery. 1973-1982, Liza worked as the studio manager for Michael Childers. Influenced by Henri Cartier-Bresson, She too, searches for the "decisive moment" Liza was also selected in the juried exhibition of WIPI's Tea Time, 2001 and featured in WIPI's Photo Impact 2002 (invitation card) and Hollywood Bound, 2002. Botkin has also received awards from Canon and Leica.
www.LizaBotkin.com

---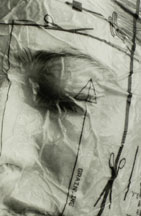 6. Christine Burgoyne
"Pattern of Conformity" 1997, signed and embossed seal
gelatin silver print, 11 x 14" 2000
This images is part of a series entitled "Masks and Alterations", a continuing study on female body alteration. She will be one of the featured artists in the exhibition "Celebrating Women in the Arts" at the Frye Art Museum in Seattle, Washington. She has been a sponsored artist by both the Toyota and Starbucks Foundations and has had solo exhibitions since 1995 and featured in over 40 exhibitions. Christine was featured as the October 2001 Professional Gallery. See WIPI
Archive #8,
October 2001.
---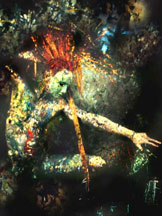 7. Michele Dugan

"The Magician" 2002, signed
archival inkjet, 10.5 x 14" artist proof
photo l.a. catalog page image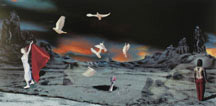 8. Michele Dugan

"Eve II" 2002, signed
archival inkjet, 16 x 8" artist proof




Dugan was selected as the official photographer by the Volunteers of America to photograph and chronicle the artistry and events of the "Community of Angels 2001 and 2002" citywide public art projects. This work has resulted in the publication of two books by Angel City Press entitled "A Community of Angels." Dugan has also garnered several awards throughout her career, including First Place Color Photography at Photographer's Forum Annual Photography Contest. She has exhibited in over 80 shows internationally. Michele is the featured WIPI upcoming January 2003, PROfessional gallery. (www.MicheleDugan.com

Book Signing Saturday, Jan 18, 1-3pm
A Community of Angels: Los Angeles 2002
Paperback: 144 pages ; Dimensions (in inches): 0.41 x 10.00 x 8.02
Publisher: Angel City Pr; ISBN: 1883318270; (October 2002) ΚΚ

A Community of Angels: Los AngelesPaperback: 160 pages ; Dimensions (in inches): 0.49 x 6.79 x 6.80 Publisher: Angel City Pr; ISBN: 1883318254; (June 2001)





---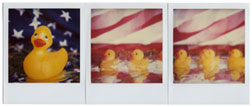 9. Jean Ferro

"Stars & Stripes, ducks-in-a-row", 2002, signed
SX-70 Polaroid series of 3, 1/14.25x10.50"



Ferro, a photo based mix-media artist has been featured in publications such as ZOOM, French Photo and other international publications. Her self-portrait portfolio was chosen to kick off the Women In Photography International online resource center Nov. 1999, WIPI Archive #1. Exhibited worldwide, Ferro's portfolios starting in 1974, include, Self-portraits, Global Liberty, So. Calif. Regional Rail Authority, Metrolink, and Music Industry usic Industry Personalities to name a few. Jean is the recipient of the 92/93 Los Angeles Cultural Affairs grant award to produce, Thorough Our Own Eyes, Self-portraits by People Without Homes, video photo documentary. Ferro, Became President of WIPI, April, 2000 and in Oct. 2001, produced the multimedia CD "Tea Time" for WIPI's 20th Anniversary Exhibition. www.JeanFerro.com

---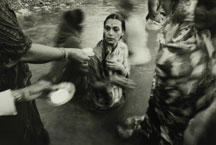 10. Stephanie Flack

"Votive Offering" 2001, signed
gelatin silver print, 11 x 14"




"Votive Offering" recently won the First Place, Black and White Award for Photographer's Forum Magazine in the 23rd Annual Spring Photography Contest. She is a celebrated documentary photographer and has documented such cultures as Tibet, Chana, Cambodia, Myanmar, India, Nepal and remotes areas of Australia. In 2002, she has exhibited in New York, Washington, Seattle, San Diego and Los Angeles. She has been featured in Black and White magazine, Capture and Photographer's Forum publications. See, Archive #10 July 2002, WIPI Features From Abroad - Australia by Stephanie Flack. www.stepahnieflack.com

---
Top of page

Next Page Images 11-20
Next Page Images 21-30

Gallery Main Page

HOME
© copyright 2003 Women In Photography International