WIPI PROfessional member submissions
12 Annual photo l.a. 2003, Jan 16th - Jan 19th, Santa Monica Civic Auditorium - BOOTH #42
images 21 - 30
Marcia Reifman, Juanita Richeson, Susan Scafati, Tracy Jean Shields, Elizabeth Siegfried,
Eva Skold Westerlind, Jill Specht, Carrie Villines, Joanne Warfield, Judith Diana Winston












---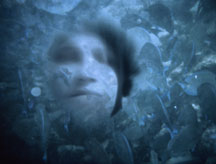 21. Marcia Reifman
"Dreams of the Deep"
hand colored silver print, 16 x 20"
Reifman has experienced a prolific exhibition record in the New Mexico region and nationwide and shown extensively and consistently since 1990. Marcia is past President of the Santa Fe Council for the Arts, 1998-1999, and is currently actively involved in the Santa Fe Art scene and recipient of the 2001 Faculty Excellence Award. She is an instructor with Santa Fe Workshops the Darkroom and Santa Fe Community College and House manager for photo l.a, Santa Fe, from 1994-1999, photo la, 2000-2003 along with photo San Francisco, 2001-2002.
---












22. Juanita Richeson
"The Big Wheel #41" 2002, signed
gelatin silver print, 11x14"





Award winning Fine-art and talented editorial photographer, Richeson recently had a one woman show at the Santa Monica Public Library in 2002. Richeson has been showing since 1997 with a solid award track record. She belongs in many private collections as well as the public collections of Los Angeles County Museum of Art and the New Orleans Museum of Art. Richeson's image "8 skates" was the featured image for the WIPI/Pierce College, "kitsch & klick" 2002 invitation card. See WIPI Archive #12 Oct. 2002 Gallery, www.metropolisphotos.com -

---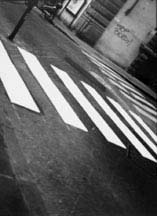 23. Susan Scafati
"Stop Biotech" 2002, signed
gelatin silver print, 11x14"
New York based commercial and fine-art photographer, Scafati shoots portrait, photojournalism, fine art or travel, her pictures carry a unique style, particular to her naturally sensitive perception of the experiences around her. She has had a number of solo shows in Boulder, Colorado and has been in several group shows since 1997. In 2002, Photo District News recently published her work under "Portfolios of the Month" online at www.photoserve.com/portfolio/Scafati_Susan. Susan is WIPI's NY Press representative, see
PR release
, Oct. 2002.
---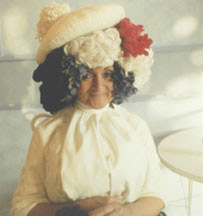 24. Tracy Jean Shields
"Marion" 2001, signed verso
c-print, 11x14"
Tracy Jean Shields has spent the last seven years working as a fine-art photographer, photographing everything from rustic landscapes, to poignant and narrative portraits. This image, a part of a collection of portraits entitled "Welcome to the Grandview", that documents the residents of The Grandview retirement home, as they are, suspended in a lifetime disengaged from the present. Tracy is an award winner for her images in the WIPI and Pierce College collaboration of "kitsch & klick, the art of the toy camera." -
---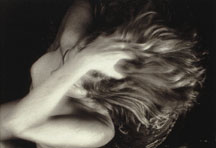 25. Elizabeth Siegfried
"Frenzy #2" 2001, signed
archival inkjet, 9 x 12 3/4" printed 2002, limited edition 3/25






With a decade of solo and group exhibiting experience, Siegfried has shown in Los Angeles, New York, Canada specializing in the platinum printing process. Her work is in the collection of Kiyosato Museum of Photographic Arts and the Canadian Museum of Contemporary Photography in Ottawa, Canada Her work has been featured in Shutterbug magazine, Art Focus and Art News. See Archive #10, April 2002, Elizabeth was WIPI's featured photographer. www.ElizabethSiegfried.com


---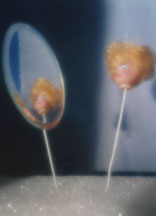 26. Eva Skold Westerlind
"Blond with Mirror" (from the Angel Kit Series) 2001, signed verso
chromogenic, 13.5 x .5", printed 2002
Westerlind is an award-winning photographer whose work is represented by G. Gibson Gallery in Seattle, Washington. Her work is in the collection of Microsoft Corporation, The Houston Museum of Fine Arts and numerous private collections internationally. Her work has been published in Photo Metro and in the Pinhole Journal.
---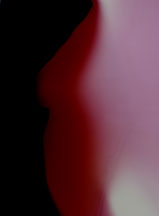 27. Jill Specht
Red Torso, 2002 1/1, unsigned
photogram 14 x 18"
Specht's work is extremely colorful and graphic. In 2002 alone, Specht has shown in over 16 exhibitions including a solo show at Gallery 825 and Roark. She is a rising talent and has a solid exhibition record since 1998. Jill's camera of choice was the Tweety 110 to create the color chromogenic images which were chosen for the juried exhibition "kitsch & klick." See WIPI Archive #7 July 2001 for more of Jill's work.
www.JillSpecht.com
,
---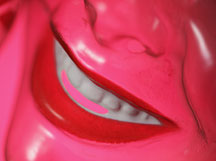 28. Carrie Villines"Smile" 2002, signed
Epson 2000P archival inkjet 10.5 x 14"





Carrie Villines was born, raised and currently resides in Los Angeles, California, where she shoots portraits and publicity shots for entertainers. Her fine art and editorial photography has been exhibited in Southern California and published nationally. Villines work was selected by jurors Connie Butler (MOCA) and Joyce Wilson, (Brooks) to be included in WIPI's "Tea Time" exhibition and again selected by jurors for "kitsch & klick, the art of the toy camera." www.CarrieVillines.com

---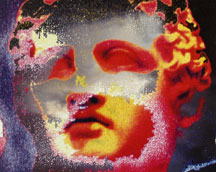 29. Joanne Warfield

"Clouds at Delphi II" 2001, signed
Archival Polaroid wet negative print
9.5 x 11.75" printed 2002
Joanne Warfield was the Director of Exhibitions for photo l.a.2002 and is currently the WIPI Director of Exhibitions for the upcoming show (Spring 2003) in Italy entitled "Through A Woman's Eye". She is a featured artist in Kathleen Carr's book entitled "Polaroid Manipulation". See,
October Quarterly #12
WIPI News "Kathleen Carr, interview by Joanne Warfield" She also has a body of work entitled "The Beauty of Afghanistan Remembered", a photo essay of over 100 images taken in Afghanistan before the War. See WIPI News feature,
Archive #8
October 2001, "Afghanistan" by Joanne Warfield. Featured PRO gallery, January 2002, See WIPI
Archive #9
January 2002. Joanne's images are also included in the WIPI juried exhibitions, "Tea Time" and "kitsch & klick."
---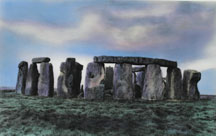 30. Judith Diana Winston
"Stonehenge" signed
archival inkjet 11 x 14" printed 2002





Winston is collected by numerous corporate clients including Hewlett Packard, Alliance Bank and AAA Corporate Headquarters. She is also in over 50 private collections nationwide. She is the author and publisher of Meditative Magic (1995) which is still in print and she has exhibited her photography in juried exhibitions since her one woman show "Visualities" in 1978. See "Meditative Magic" WIPI News Archive #10 - April 2002.
---