Coagula
-
(Ko-WAG-yoo-luh) The Lowdown on High Art Jean Ferro
,
Women in Photography..
article by Eugene Harris - Dec 02 /Jan 03,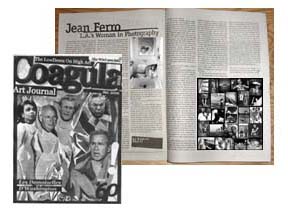 photo credits:
Double Mirror/Broken Mirror, 1975, self-portrait Jean Ferro, pg. 30;
www.WIPI.org 2002 Home page block image, pg 31
Specialization
seems to be the key for linking into the world of art using search engines to cruise the electronic highway. Women In Photography International (WIPI) has found it's niche as an online resource reaching photographers worldwide. Women photographers from Kuwait, Italy, Germany, France, Belgium, Iran, Brazil, Africa, New York, Texas, Los Angeles and the middle American communities have found their way via the internet to the Los Angeles based headquarters of WIPI. Women now have a choice to have their art represented by traditional galleries and/or create their own web gallery and link to an organization like Women In Photography International.
I sat down...online with
Jean Ferro, Photo Artist and President of WIPI
to discuss some of the ins and outs of how WIPI began and where it is today and what's the focus for the future.
EH: I think of you as more cutting edge artist and not an arts administrator. What inspired you to lead WIPI into the 21st Century?
JF
: Arts administrator...how do you do that? The timing was right, in the spring of 2000 WIPI hit a few snags and had to be reorganized and grounded and this required someone to step up to the plate and take charge. Peter Palmquist, historian and founder of the WIPI Archive, encouraged me to take the wheel and do the driving which meant putting my photo art on the back burner and becoming President of the organization. It's not been the easiest project for me, since I'm more of a loner and an independent thinker than a group enthusiast. I was inspired to see how it all worked. If it were possible to blend the old with the new using the internet to rebuild the membership, expand the base Internationally and create the editorial and exhibition content of the website. In the Fall of 2001, WIPI forged forward and we produced our collectible 20th Anniversary Exhibition multi-media CD "Tea Time" with 75 images from 63 women artists from around the globe, their resumes and artist statements. The inspiration for the exhibition theme came from Linda McCartney's "T-Pot" image, which is included in the exhibition.
EH: I remember hearing about WIPI back in the 80's, is this the same organization?
JF
: Yes, it started in Los Angeles 1981 as Women In Photography, Inc. A group of women, Orah Moore, Thea Litsios and Mary McNally created the non-profit outreach support group for women photographers. In 1985 WIPI had workshop series about "how to establish a professional photography business" to shooting fashion with special "New Photographer;s" lecture series with presentations by Judy Coleman, Victoria Pearson, Kenna Love, Claire Garoutte and myself with "Eye to Eye" a lecture on my self-portrait work. I met Nancy Clendaniel, WIPI Director in 1988 at Photo while she was promoting WIPI and I was autographing my Zoom magazine layout. Sometime around 1989 WIPI created a 20 page newsletter called f-2 with feature stories about successful photographers and member exhibition notices. The first Distinguished Photographer Award was presented 1983 to Eve Arnold, and continued over the years with awards to Ruth Orkin, Ruth Bernard, Judy Dater and Linda McCartney to name a few. Today, Carrie Mae Weems (who was a member in 1981) is an Advisory Board Member along with Distinguished Photographer awardee Joyce Tennesen.
EH: Lots of people worked w/WIPI in the early days, who were your best contributors? What were the exhibits during the 80's?

JF:
G.Ray Hawkins, Josine Starrels, Glenna Avila, E.K. Waller, Paris Photo Lab, were all involved in the early 80's. The LA Photo Center held "Women Photographers in America" exhibition in 1985 with grants provided by the NEA in association with the Women's Building. "Women Photographers in America," 1987's was premiered at the LA Municipal Art Gallery with the work of Laura Aguilar, Gisella Gumper, Judy Coleman Judith Winston, Carol Nye and many others. Both exhibitions had beautiful catalogs. 1989 exhibition Women In Photography International traveled to the Royal Photographic Society in Bath UK, Stockholm Sweden and Milan, Italy. Several of the women who participated in the early exhibitions are currently members of WIPI today
EH: WIPI disappeared sometime in the 90's. What happened.
JF:
In the early 70's you could count on one hand the number of women receiving photography degrees. In 1981, the grassroots organization WIPI represented a change that was happening. Women photographers gathered together to share their work and find ways to be recognized as professional photographers, both commercially and in field of fine art. Photography itself was growing and changing as an art form. Women began to pursue photo careers through the educational system at schools like Brooks and Art Center here in California. Starting with the 90's younger women didn't need the same support system that brought the original members together in the early 80's. In 1989, with Nancy Clendaniel leading the way, WIP Inc, changed its focus and name to Women In Photography International. Shortly thereafter, Nancy moved to Seattle with her newborn son and the whole organization fell silent. Nancy and I stayed in contact over the years and often we would talk about how to get WIPI started again.
EH: So, was it the internet that spurred WIPI on to the new growth?
JF:
Absolutely, it's...a perfect marriage of imagery and 21st century communication. Mailing packages, photo's, etc. would take months to reach their destination..months! Now, in seconds there is communication to a member like Stephanie McGehee, a Reuters photographer living in Kuwait or making plans to set up an exhibition with another member in Italy. It's fabulous, you can upload a 12 image Professional gallery and in a few hours the whole world can have access to the work. We get about 50,000 hits +plus a month now. Our mission is to promote the visibility of women working in the photographic arts and the internet is a great way to bring attention to the artists work.
EH: Who are your members?
JF:
A wide variety of members include, students to top of the line PRO's including photo journalists, fine art photographers, educators, curators, authors and lab managers with a wide variety of styles and techniques, with content from social commentary to decorative art, using Polaroid, large format, digital. Almost everything people digest today is photographic related imagery, so it's a huge market. We service our members through our website with Quarterly uploads, (Jan, Apr, July, Oct) where we present PRO, General and Student galleries along with Historical profiles. We have an f2-eZine section with WIPI News articles by our PRO members. We have Competition listings, Exhibition listings, Industry News, this Quarter's Marketing News we posted a special article on the Getty presentation of Art, Technology, and Intellectual Property: First Assembly of the American Assembly. We also maintain the WIPI Reference Library founded by historian and author Peter Palmquist that contains info on over 23,000 women photographers dating back to the 1800's.
EH: I see your on the list for photo l.a. 2003 in January. What's your plan?
JF:
Last year, Pro member Joanne Warfield, called the Stephen Cohen gallery to see if WIPI could have a booth...the answer was Yes..and we jumped in. We're the new kids on the block, a little raw and naive which makes it all so interesting for now. photo l.a. presented by LACMA and the Stephen Cohen Gallery is an exciting 4 day whirlwind of collectors, photographers, over 6000 people cruise the Santa Monica Civic Auditorium. Since our reorganization in 2000, our exhibit schedule includes 20th Anniversary Exhibition, "Tea Time" Oct.-Dec. 2001, at the House Of Photographic Art in San Juan Capistrano, and then back to back exhibits including photo l.a. 2002, Hollywood Bound, sponsored in part the Hollywood Arts Council, and the Hollywood Library's Frances Howard Goldwyn gallery, Photo Impact/Santa Monica, then a collaboration with Mary Oliver and the Pierce College Art Gallery to produce "kitsch & klick, the Art of the Toy Camera" and now the upcoming photo l.a. 2003...So, we're busy 24/7. I am impressed that Mat Gleason has been able to produce Coagula so faithfully and weather all the storms... Amazing, He deserves a metal..! I have a new understanding of mixing content with visuals since I've also been the editor of our online publication and work with the volunteers to create events. We are starting to get notices in photographic publications such as the 30th Anniversary Issue of ZOOM and the magazine called Picture out of NY for the emerging professional photographer...we're growing and glowing.
EH: Where do you see WIPI headed in the next 3-5 years?
JF:
Hm...WIPI exhibitions set into a Dick Tracy picture slide show watch and distributed through Ebay..! Really..The website is our No#1 link to the world. We are also looking for a combination of sponsors, to provide events to produce outreach educational programs, seminars on portfolio presentation, copyright laws, marketing, gallery representation, printing techniques, film, digital photography and exhibitions. Women learn differently then men. Not necessarily slower, but they focus on different aspects of the subject. Men are so much more mechanical and technical, they enjoy things when they break down, so they can feel the accomplishment of fixing things. Women, on the other hand seem to get more frustrated with things when they don't work properly, (how many times have you heard a women say..."I don't know how to operate the VCR!") so they approach learning differently and repetition seems to be a necessary part of the learning process. They take smaller steps over longer periods of time. Of course I'm going to get in trouble for generalizing, but it's just what I've noticed over the last 2 1/2 years. Maybe because Women want to make sure it's solid, stable and they don't like redoing things. I'm not sure, just know that outreach programs are necessary on many levels of photographic education and socialization. WIPI could use a director, a ÒfemaleÓ Joe Smoke, the Los Angeles Cultural Affairs razor sharp allocations manager who handles grants, fellowships and festival funding!


EH: And what are your personal artistic plans?

JF:
I have a huge selection of book material portfolios from Satin Slips to the American Flag, LA artists to International Rock Stars. Since the mid-seventies, I just kept shooting and shooting, hardly ever printing, so my personal archives of personalities and projects are large. Now that I have the 2000P Epson printer and I know the prints will last up to 200 years, I'm finally more attracted to start the process of printing. Something about the disappearing Type R's from the early 80's stopped me cold in my tracks for about 10 years. In 1996, I was planning to do an installation of Global Liberty at the Los Angeles City Hall Bridge Gallery, (Coagula Art Journal Issue #23 News) at the time, the grandfather of photography G.Ray Hawkins said "Jeanne, get your ducks-in-a-row"...I came home and quickly shot a Polaroid image of a row of ducks, that image resonated in my imagination and now 6 years later, I started shooting a Polaroid series "ducks-in-a-row" because I just want to do something simple and literal, one of a kind and that gives me a feeling of going somewhere......I just line them up and like everything else in my life, take my best shot.! WIPI will be at photo l.a. 2003, January 16-19, Santa Monica Civic Auditorium. visit the website at www.wipi.org or visit
photola.com