Press Releases
Distinguished Photographers List 2006-2008 - August 31.2008
The Portrait, International juried Call for Portraits 2006
Turning Silver, 25th Anniversary Call for b/w Print collection 2006
Carrie Mae Weems, named Distinguished Photographer 2005
Beauty, Camera Eye of the Beholder, Juried Call for entries 2005
Decisive Moments, A tribute Call for entries to Henry Cartier-Bresson 2005
Sylvia Plachy Received Distinguished Photographers Award 2004
virtual * visual, International call for entries, 2004
Photo LA 2004, Stephen Cohen Gallery 2004
Lucie Awards, WIPI Distinguished Photographer Award Annie Leibovitz 2003
Staying Focused - WIPI presents 30 PRO member photographers at photo l.a. 2003,
Carrie Mae Weems joins WIPI Advisory Board / Nov. 2002 - January 2003
Susan Scafati new Press attache in New York / Oct. 2002
kitsch & klick, the art of the toy camera, March, 2002
Hollywood Bound, Feb. 2002
Joanne Warfield, Director of Exhibitions, Dec. 2001
"20th Anniversary Exhibition: Images of Women - Images of Tea opens at House of Photographic Art (HOPA)" October 2001
"Call for Entries: 20th Year Anniversary Juried Competition - International Tea Time, April 2001
"Women In Photography International Creates Millennium Archive" December 2000
Articles
Kodak, WIPI member / Kodak Photographic Exhibition presentation
ONE GALLERY, ONE NIGHT, ONE CHANCE: emerging Women In Photography International photographers, LONDON Yvonne De Rosa, Audrey Tan, Nicola Tree, - NEW YORK Amy Postle and Carrie Villines, SAN FRANCISCO Natascha Unkart, also see: TakeGreatPictures.com
Studio Photography, The Business Behind the Images, Women InPhotograhy International by Alice B. Miller, (Aug, 2005)
Lucie Awards, 2004 Sylvia Plachy, WIPI at the Lucies. Also see: GOOGLE PR listings
Maria Piscopo,Shutterbug BUSINESS TRENDS: Building A Photographic Community (Sept. 2004)
JeanFerro, Women in Photography, Coagula Dec.02-Jan03)
Lucie Awards, 2003, Annie Leibovitz, WIPI at the Lucies. Also see GOOGLE PR listings
Picture / New York, (for the emerging advertising photographer Nov-Dec 02)
ZOOM International Magazine, 30th Anniversary Issue pages, images (Jan - Feb 2002, )
TheScreamOnline.com Photo LA 2002, Jan 2002 http://thescreamonline.com/photo/photo2-1/wipi/index.html
---
Recent Articles:

The Photograph Collector: photo l.a. XX 2011
RANDOM NOTES 2011, volume XXXII, No. 2, Feb. 16, 2011 (electronic PDF)
http://womeninphotography.org/f2/JeanFerro/photola-ferro-2011.html

The Photograph Collector: photo l.a. 19 - 2010
RANDOM NOTES 2010,volume XXXI, No. 2, Feb. 15, 2010 (paper newsletter)
http://womeninphotography.org/f2/JeanFerro/photola-ferro-2010.html

The Photograph Collector: photo l.a. 18 - 2009
RANDOM NOTES 2009, volume XXX No. 2, Feb. 15, 2009 (paper newsletter)
http://www.womeninphotography.org/f2/JeanFerro/ferro.html
---

Random Notes on Photo L.A. 16 - 2007
By Jean Ferro

Volume XXVII, No 2 Feb 10. 2007
(text permission granted by The Photographic Collector)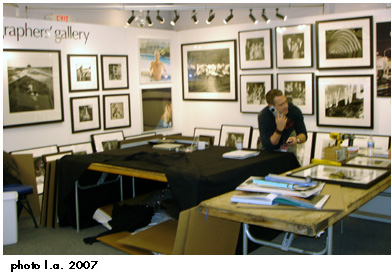 Famed rock icon Graham Nash hosted the opening reception of this year's Photo LA, the 16th Annual International Los Angeles Photographic Art Exposition, benefiting the Elton John AIDS Foundation. (Graham also hosted the first Photo LA show 16 years ago.)

Photo LA brought together a rich palette of galleries from around the globe. Over 6,000 people enjoyed the four photo-packed days of exhibits at the Santa Monica Civic Auditorium. Many notable photographers as well as emerging artists were showcased in this fast-growing photography collecting market.

Exhibitor and artist installations ranged from masters of the 19th & 20th century to the newest in contemporary art, including video, digital, and mixed media work. Well-known curators, gallery owners, and artists presented lectures, collecting seminars and panel discussions.

The Thursday evening opening benefit reception provided scrumptious tasty treats from L.A.'s best restaurants, an open bar and lots of visual eye candy. Two double shots of Absolute Ruby Red Vodka cured my desire to even think about the food!

The Luminous-Lint booth was set up in the lobby with a large "SMART Board Interactive display" that provided viewers with an impressive showcase for the Luminous-Lint.com history of photography website. Alan Griffiths was animated as he led people from one section to another, pulling up info about photographers, collections and prints.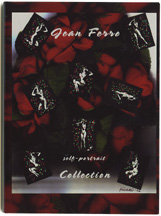 I came to Photo L.A. this year with the personal pursuit to reach galleries and publishers. I produced a cool little 4"x5" 38-page booklet printed in Italy, Jean Ferro self-portrait collection, 1974 thru 1996. The booklet is a sampler of the larger 9.5 x 13" mirror covered limited edition book. The response was inspiring and energizing!

There is always so much to see, so over the next few days, I just followed my instincts to check out whatever caught my eye or served my purpose. Here is a selection of random notes.

I decided to take two of the Collecting Seminars. Held in the morning prior to public hours, the intimate guided tours are led by experts in the collecting field. It's a great way to see the art and gain knowledge about both the galleries and their repertoire of artists. The first seminar was Friday with Virginia Heckert who joined the curatorial staff of the J. Paul Getty Museum's Department of Photographs in November of 2005, so we got a very "Getty" style view of collecting. One of Virginia's favorites was a Charles R. Savage albumen print, Yucca Brevifolia, Mojave Desert, at Paul M. Hertzmann, Inc. / San Francisco, as were the daguerreotypes found on the back wall of Alex Novak's Contemporary Works / Vintage Works / Chalfont, PA.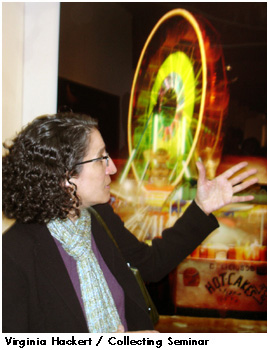 At Stephen Daiter / Chicago I was happy to see Edmund Teske's work more visible and gaining ground. Edmund himself always knew he was a collectible fine art photographer. Daiter offers fine and vintage examples of important American and European photography from the 20th century.

Both California-based Carl Mautz Vintage Photographs / Nevada City, CA (vintage photography and book distributor-specializing in historic photographs of California and the West, nudes, plus photographs by Minor White to Milton Greene) and Richard Moore Photographs / Oakland, CA (19th- and 20th-century fine vintage prints) had good traffic and activity in their booths all weekend.

John Cleary / Houston, TX showed vintage 20th-century work as well as the unique contemporary photographer Maggie Taylor's beautifully printed inkjet prints.

The booth was constantly busy at Photo-Eye Gallery / Santa Fe, NM. Along with showcasing their artists and book publishing, they had a computer display to promote their new VisualServer™, a website management solution for photographers and artists. They also represent Mona Kuhn who gave a lecture about her new body of work, which revolves around metaphors of original sin and raising questions about lost paradises and "innocent" youth.

De Soto Gallery /downtown Los Angeles gallery row, had a luminous, large 72"x96" c-print by Trujillo-Paumier called Hot Cakes 1, 2000. Also from the downtown L.A. scene, the Los Angeles Center for Digital Art had a booth in the lobby. Other lobby dwellers included the Queensland Centre for Photography / Australia, Magnum Photos / New York, Caracola Latin American Fine Art / Los Angeles, and others.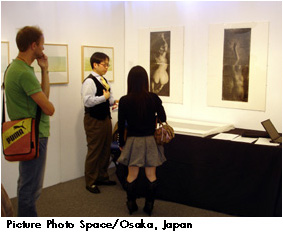 First time Photo LA exhibitor, Picture Photo Space / Osaka, Japan, established 1984, handles 20th-century and contemporary photography (Sally Mann, Michael Kenna, and others). They exhibited photographers Hiroshi Osaka and Kunihiko Katsumata. I also caught a glimpse of another new exhibitor, Serge Plantureux / Paris, vintage work. I was looking for the Galerie Esther Woerdehoff / Paris. Esther was a juror for the Women In Photography International "Decisive Moments," tribute to Cartier-Bresson exhibition.

Stephen Cohen, founder of Photo L.A. and ArtFairs Inc., positioned his gallery in the very center back of the hall. It was a good location; his booth was constantly busy. I once asked Stephen, how do you do it? and he said, "One day at a time." Stephen and his staff are totally amazing!

The lobby promo table was packed with goodies including Women In Photography International collectibles 20th Anniversary CDs, printed materials from Photo L.A., 2002, 03, and 04 as well as promotion for the WIPI 25th Anniversary, Turning Silver juried print collection exhibition.

I saw lots of "sold" red dots on the title tags at the booths, and by Sunday, blank spaces where photos once hung as collectors carried away their prizes. I don't recall seeing anything shocking or too weird. There seemed to be a balance of B/W, color, digital and chemically produced prints.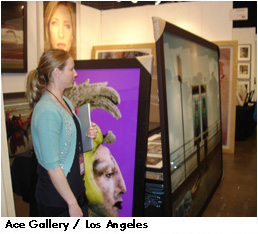 Ace Gallery / Los Angeles was very noticeable, spread across two booths in the center isle with large 5' x 3' and larger glossy photos and backlight portraits: face shot photos by Martin Schoeller of Brad Pitt, Jack Nicholson, and others...lots of "large" work stacked warehouse-style leaning against walls and tables, and mounted on walls, including a Dennis Hopper 1963 photo of "smiling" Andy Warhol

Winter Works on Paper / New York had floor to ceiling prints, lots of early Rock & Roll including photos of Bob Dylan and Elvis. They have an extensive inventory and are known for a wide range of subject matter and genres of photography.

David Gallery / Culver City, CA, originally called APEX Fine Art, has set up shop in Culver City, expanded in size as well as scope to focus on masters of contemporary photography.

Nice to see the Czech Center of Photography / Praha, Czech Republic, a private institute founded in 1984, return again exhibiting Frantisek Drtikol and Josef Sudek.

One of my favorite contemporary photographers, Sebastião Salgado, is handled by Peter Fetterman / Bergamot Station, Santa Monica, CA. The gallery specializes in classic black and white photography and displays images in a salon-style atmosphere. Also from Bergamot Station, L.A.'s notable The Rose Gallery, who handles Graciela Iturbide among many well known photographers. Another Bergamot Station gallery is the Craig Krull Gallery with an emphasis on photo-based media and painting.

The next Collecting Seminar I took was Sunday with Mary Virginia Swanson, consultant to the photographic industry and contributor to many photographic publications. She is a strong advocate for collecting the work of emerging and mid-career photographers; Swanny shared insights about collecting new work as well as provided the group with printed handout sheets of contacts, publications, and resources. At one of our stops, she held up a copy of The Photograph Collector as a key publication for those interested in collecting. One of her favorites was John Cleary's artist Maggie Taylor, as well as the outside-of-the-box artists represented by Lisa Sette Gallery / Scottsdale, AZ, who are more mixed-media-based than straightforward photography. The two-hour power packed tour provided us with a wealth of knowledge about artists, galleries and resources.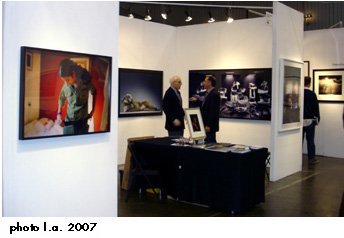 It's always a pleasure to see Susan Spiritus Gallery / Newport Beach, CA, who works with private collectors and corporate clients to enhance and establish their collections. It has been Orange County's premiere gallery of fine art photography since 1976.

A newcomer to Los Angeles, SCALO|GUYE / West Hollywood, CA, opened in April 2006 by Christopher Guye. It's a very international, interesting gallery that exhibits both established and emerging fine art photographers. It recently partnered with Lead Apron, founded by Jonathan Schilder Brown, which offers and assembles libraries of rare, collectible, and out-of-print art and photography books.

Yossi Milo Gallery / New York City featured artist Loretta Lux. I kept hearing the buzz during the Collecting seminars about how three years ago a Lux print sold for $2,000 and now the same print is worth $26,000. The gallery has an eye for up-and-coming talent. Talk about a good investment. Forget the stock market, invest in photography!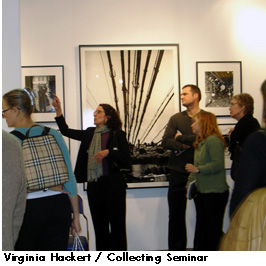 At The Etherton Gallery/ Tucson, AZ the Elliott Erwitt 1983 large silver gelatin print of nude students with easels painting a clothed model was a memorable and fun photo.

One of my favorites is Twin Palms / Twelve Trees Press / Santa Fe, NM. For more than 20 years they have produced some of the most beautiful photography and art books available. Due out Spring 2007 is The Adventures of Constantine Cavafy, Duane Michals, 9 x 13 Inches, 120 four-color plates, 112 pages. All the book publishers/distributors including Nazraeli Press / Tucson, AZ, D.A.P / New York, Schaden.com / Cologne, Germany, and others were crowded hubs with enthusiastic buyers of books and publications.

The exquisite portfolios by 21st Editions / South Dennis, MA were another highlight. They produce handsomely printed platinum series fine press books in limited editions. Due this spring, 21st has been granted permission to reprint one of the greatest of American epics, Hart Crane's The Bridge, along with 13 platinum prints of Sheila Metzner's finest and most luminous images of the Brooklyn Bridge and New York. It will be limited to 60 signed and numbered copies, 13 signed platinum prints, 18 x 14 inches.

Charles Guice Fine Art Photography / Berkeley, CA showed Carrie Mae Weems In De Sica's Light, 71"x60" chromogenic print, edition of 10, from the series Roaming, 2006, photographed in Italy.

I was thrilled to see Snow Crystal (Study V) by Doug and Mike Starn who presented at Hackelbury Fine Art / London. In the late '80s the Starn Twins were my breakout inspiration to take photography out of the frame, explore and experiment with no limitations — a transition from photography to photo art.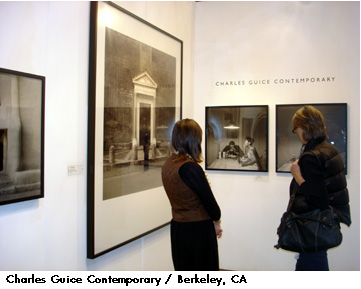 It was nice to see that Julian Cox, Curator of Photography, High Museum of Art / Atlanta, GA traveled in for the weekend. The Getty's Weston Naef and Gordon Baldwin were ever present, even L.A. art critic Peter Frank waltzed through the exhibit. LACMA's Interim Photo Director, and Executive Director of the No-Strings Foundation, Tim Wride, was a panelist for a half-day Seminar defining your relationship to your work, clarifying your personal and artistic objectives, and determining your idea of success, which was moderated by Eric Miles, photo-eye Books and Prints. This seminar was produced by Center, formerly the Santa Fe Center for Photography. ("Center?" Odd name. The name Santa Fe Photography Center was an enchanting invitation to visit the marvelous world of the southwest desert and adobe dwellings. Not sure why they changed the name.)

A Night View of Los Angeles by photographer Helen K. Garber, an ambitious 40-foot display of 20 different photographs digitally stitched together as a composited 360-degree panorama, hung by the entrance.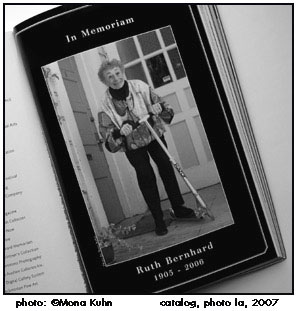 Once again, photographers, collectors, curators, and galleries, congregated to explore, share, sell, and expand the wonderful world of collecting photography at Stephen Cohen's 16th Photo L.A. (The list of exhibitors is online at http://www.photolagalleries.com.

In the Photo L.A. 2007 exhibitor catalogue there is a wonderful memoriam to Ruth Bernhard, (1905–2006), a B/W photo by Mona Kuhn of Ruth standing posed in a sporty outfit, one foot on a Razor skate board, with a wonderful bright-eyed girlish grin. We'll remember her fondly.



Jean Ferro Photo Artist / President, Women In Photography International
(http://www.JeanFerro.com) http://www.womeninphotography.org)

The Photograph Collector: photo l.a. 16- 2007
RANDOM NOTES 2007, volume XXVII No. 2, Feb. 10, 2007 (paper newsletter)
http://womeninphotography.org/archive23-jun-07/wipinews.html


THE PHOTOGRAPH COLLECTOR
Since 1980, collectors, curators and dealers have relied on The Photograph Collector monthly newsletter. Readers who need to know what's happening in all aspects of the market for collectiblephotographs turn to us for analysis, facts, and candid advice, news from dealers and galleries, upcoming auctions and trade fairs and symposiums, and more.
Subscriptions are $149.95 per year in North America. $169.95 overseas.
The Photo Review / The PHOTOGRAPH COLLECTOR



ONE GALLERY, ONE NIGHT, ONE CHANCE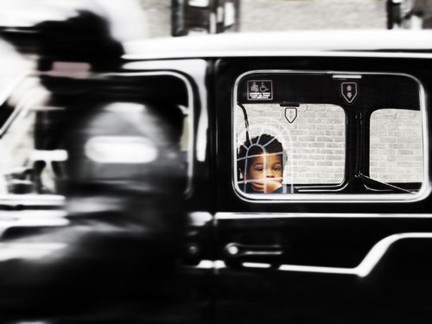 Kodak, WIPI member / Kodak Photographic Exhibition presentation
ONE GALLERY, ONE NIGHT, ONE CHANCE: emerging Women In Photography International photographers, LONDON Yvonne De Rosa, Audrey Tan, Nicola Tree, - NEW YORK Amy Postle and Carrie Villines, SAN FRANCISCO Natascha Unkart,
photo: Yvonne De Rosa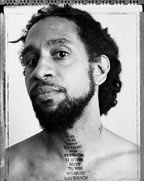 TakeGreatPictures.com May 26, 2006
For talented photographers who struggle with a lack of exposure, Kodak's One Gallery program was a welcome innovation. The program debuted during last year's Christmas season with high-profile exhibitions in New York's SoHo and San Francisco's Union Square. Each exhibit featured four photographers (one established pro and three emerging talents.) Visitors to the galleries could also attend masters classes or get hands-on with Kodak's EasyShare system for shooting, storing and sharing digital photos.


photo: Carrie Villines
---


by Alice .B. Miller

August. 2005 Issue: In 1999, WIPI was energized by the advent of the Internet. Current president and photo artist, Jean Ferro and past director Nancy Clendaniel launched WIPI online with the support of historian Peter Palmquist, whose original WIPI archive is held at the Beinecke Library, Yale University.

Today, WIPI has members in Russia, India, Australia, France, Italy, England, other areas of the world, and
strong U.S. representation in California and New York. Read article about winners of the juried "Beauty, Camera Eye of the Beholder" competition, Lynn Saville, Stephanie Graham Lois Mason, Janet Century, Hannan Saleh, Andrea Thompson, Julia Fullerton-Batten, Wendy Farrow, Annabel Clark, Rania Matar
---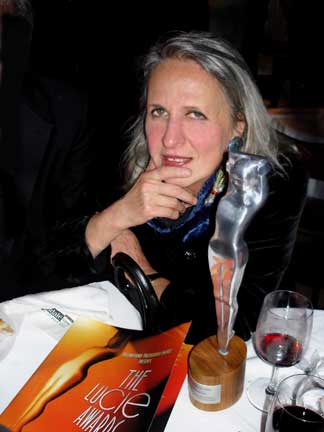 The 2nd Annual Lucie Awards
October 18, New York

New York City welcomed the
2nd Annual Lucie Awards held at the American Airlines Theatre, 42nd Street, NYC. Attended by the world of photography's most celebrated photographers.
Women In Photography International presented the WIPI 2004 Distinguished Photographers Award in Collaboration with the Lucies to Sylvia Plachy.

Photo: Jean Ferro

Also see: Sylvia Plachy GOOGLE PR listings


WIPI at the Lucies
---

BUSINESS TRENDS: Building A Photographic Community An Interview With Jean Ferro, President of WIPI
by Maria Piscopo, September, 2004

"Networking for your photography business means connecting on three different levels: with your client network, your community network, and your peer network."
..".As photographers and artists go, we have wonderful ideas and great gusto, but in the end, an organization needs a certain structure and dependability for the best networking. With its current base on the Internet, a strong archive of online information and visual texture of women's work, WIPI is ready to take the next step up for its members".
---

The 1st Annual Lucie Awards
Los Angles, December 7, 2003
Annie Leibovitz
is renown for her portraits of celebrities, political figures, ... She has received the
Lucie Award 2003
in collaboration with
Women In Photography International's
Distinguished Photograher's Award 2003
See photos of the event
Also see
Annie Leibovitz - GOOGLE
PR listings
---

Coagula
-
(Ko-WAG-yoo-luh) The Lowdown on High Art Jean Ferro
,
Women in Photography..
article by Eugene Harris - Dec 02 /Jan 03,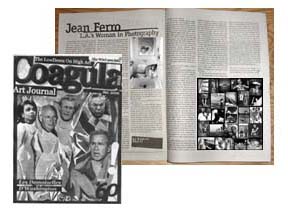 photo credits:
Double Mirror/Broken Mirror, 1975, self-portrait Jean Ferro, pg. 30;
www.WIPI.org 2002 Home page block image, pg 31
Specialization
seems to be the key for linking into the world of art using search engines to cruise the electronic highway. Women In Photography International (WIPI) has found it's niche as an online resource reaching photographers worldwide. Women photographers from Kuwait, Italy, Germany, France, Belgium, Iran, Brazil, Africa, New York, Texas, Los Angeles and the middle American communities have found their way via the internet to the Los Angeles based headquarters of WIPI. Women now have a choice to have their art represented by traditional galleries and/or create their own web gallery and link to an organization like Women In Photography International.
I sat down...online with
Jean Ferro, Photo Artist and President of WIPI
to discuss some of the ins and outs of how WIPI began and where it is today and what's the focus for the future.
EH: I think of you as more cutting edge artist and not an arts administrator. What inspired you to lead WIPI into the 21st Century?
JF
: Arts administrator...how do you do that? The timing was right, in the spring of 2000 WIPI hit a few snags and had to be reorganized and grounded and this required someone to step up to the plate and take charge. Peter Palmquist, historian and founder of the WIPI Archive, encouraged me to take the wheel and do the driving which meant putting my photo art on the back burner and becoming President of the organization. It's not been the easiest project for me, since I'm more of a loner and an independent thinker than a group enthusiast. I was inspired to see how it all worked. If it were possible to blend the old with the new using the internet to rebuild the membership, expand the base Internationally and create the editorial and exhibition content of the website. In the Fall of 2001, WIPI forged forward and we produced our collectible 20th Anniversary Exhibition multi-media CD "Tea Time" with 75 images from 63 women artists from around the globe, their resumes and artist statements. The inspiration for the exhibition theme came from Linda McCartney's "T-Pot" image, which is included in the exhibition.
EH: I remember hearing about WIPI back in the 80's, is this the same organization?
JF
: Yes, it started in Los Angeles 1981 as Women In Photography, Inc. A group of women, Orah Moore, Thea Litsios and Mary McNally created the non-profit outreach support group for women photographers. In 1985 WIPI had workshop series about "how to establish a professional photography business" to shooting fashion with special "New Photographer;s" lecture series with presentations by Judy Coleman, Victoria Pearson, Kenna Love, Claire Garoutte and myself with "Eye to Eye" a lecture on my self-portrait work. I met Nancy Clendaniel, WIPI Director in 1988 at Photo while she was promoting WIPI and I was autographing my Zoom magazine layout. Sometime around 1989 WIPI created a 20 page newsletter called f-2 with feature stories about successful photographers and member exhibition notices. The first Distinguished Photographer Award was presented 1983 to Eve Arnold, and continued over the years with awards to Ruth Orkin, Ruth Bernard, Judy Dater and Linda McCartney to name a few. Today, Carrie Mae Weems (who was a member in 1981) is an Advisory Board Member along with Distinguished Photographer awardee Joyce Tennesen.
EH: Lots of people worked w/WIPI in the early days, who were your best contributors? What were the exhibits during the 80's?

JF:
G.Ray Hawkins, Josine Starrels, Glenna Avila, E.K. Waller, Paris Photo Lab, were all involved in the early 80's. The LA Photo Center held "Women Photographers in America" exhibition in 1985 with grants provided by the NEA in association with the Women's Building. "Women Photographers in America," 1987's was premiered at the LA Municipal Art Gallery with the work of Laura Aguilar, Gisella Gumper, Judy Coleman Judith Winston, Carol Nye and many others. Both exhibitions had beautiful catalogs. 1989 exhibition Women In Photography International traveled to the Royal Photographic Society in Bath UK, Stockholm Sweden and Milan, Italy. Several of the women who participated in the early exhibitions are currently members of WIPI today
EH: WIPI disappeared sometime in the 90's. What happened.
JF:
In the early 70's you could count on one hand the number of women receiving photography degrees. In 1981, the grassroots organization WIPI represented a change that was happening. Women photographers gathered together to share their work and find ways to be recognized as professional photographers, both commercially and in field of fine art. Photography itself was growing and changing as an art form. Women began to pursue photo careers through the educational system at schools like Brooks and Art Center here in California. Starting with the 90's younger women didn't need the same support system that brought the original members together in the early 80's. In 1989, with Nancy Clendaniel leading the way, WIP Inc, changed its focus and name to Women In Photography International. Shortly thereafter, Nancy moved to Seattle with her newborn son and the whole organization fell silent. Nancy and I stayed in contact over the years and often we would talk about how to get WIPI started again.
EH: So, was it the internet that spurred WIPI on to the new growth?
JF:
Absolutely, it's...a perfect marriage of imagery and 21st century communication. Mailing packages, photo's, etc. would take months to reach their destination..months! Now, in seconds there is communication to a member like Stephanie McGehee, a Reuters photographer living in Kuwait or making plans to set up an exhibition with another member in Italy. It's fabulous, you can upload a 12 image Professional gallery and in a few hours the whole world can have access to the work. We get about 50,000 hits +plus a month now. Our mission is to promote the visibility of women working in the photographic arts and the internet is a great way to bring attention to the artists work.
EH: Who are your members?
JF:
A wide variety of members include, students to top of the line PRO's including photo journalists, fine art photographers, educators, curators, authors and lab managers with a wide variety of styles and techniques, with content from social commentary to decorative art, using Polaroid, large format, digital. Almost everything people digest today is photographic related imagery, so it's a huge market. We service our members through our website with Quarterly uploads, (Jan, Apr, July, Oct) where we present PRO, General and Student galleries along with Historical profiles. We have an f2-eZine section with WIPI News articles by our PRO members. We have Competition listings, Exhibition listings, Industry News, this Quarter's Marketing News we posted a special article on the Getty presentation of Art, Technology, and Intellectual Property: First Assembly of the American Assembly. We also maintain the WIPI Reference Library founded by historian and author Peter Palmquist that contains info on over 23,000 women photographers dating back to the 1800's.
EH: I see your on the list for photo l.a. 2003 in January. What's your plan?
JF:
Last year, Pro member Joanne Warfield, called the Stephen Cohen gallery to see if WIPI could have a booth...the answer was Yes..and we jumped in. We're the new kids on the block, a little raw and naive which makes it all so interesting for now. photo l.a. presented by LACMA and the Stephen Cohen Gallery is an exciting 4 day whirlwind of collectors, photographers, over 6000 people cruise the Santa Monica Civic Auditorium. Since our reorganization in 2000, our exhibit schedule includes 20th Anniversary Exhibition, "Tea Time" Oct.-Dec. 2001, at the House Of Photographic Art in San Juan Capistrano, and then back to back exhibits including photo l.a. 2002, Hollywood Bound, sponsored in part the Hollywood Arts Council, and the Hollywood Library's Frances Howard Goldwyn gallery, Photo Impact/Santa Monica, then a collaboration with Mary Oliver and the Pierce College Art Gallery to produce "kitsch & klick, the Art of the Toy Camera" and now the upcoming photo l.a. 2003...So, we're busy 24/7. I am impressed that Mat Gleason has been able to produce Coagula so faithfully and weather all the storms... Amazing, He deserves a metal..! I have a new understanding of mixing content with visuals since I've also been the editor of our online publication and work with the volunteers to create events. We are starting to get notices in photographic publications such as the 30th Anniversary Issue of ZOOM and the magazine called Picture out of NY for the emerging professional photographer...we're growing and glowing.
EH: Where do you see WIPI headed in the next 3-5 years?
JF:
Hm...WIPI exhibitions set into a Dick Tracy picture slide show watch and distributed through Ebay..! Really..The website is our No#1 link to the world. We are also looking for a combination of sponsors, to provide events to produce outreach educational programs, seminars on portfolio presentation, copyright laws, marketing, gallery representation, printing techniques, film, digital photography and exhibitions. Women learn differently then men. Not necessarily slower, but they focus on different aspects of the subject. Men are so much more mechanical and technical, they enjoy things when they break down, so they can feel the accomplishment of fixing things. Women, on the other hand seem to get more frustrated with things when they don't work properly, (how many times have you heard a women say..."I don't know how to operate the VCR!") so they approach learning differently and repetition seems to be a necessary part of the learning process. They take smaller steps over longer periods of time. Of course I'm going to get in trouble for generalizing, but it's just what I've noticed over the last 2 1/2 years. Maybe because Women want to make sure it's solid, stable and they don't like redoing things. I'm not sure, just know that outreach programs are necessary on many levels of photographic education and socialization. WIPI could use a director, a ÒfemaleÓ Joe Smoke, the Los Angeles Cultural Affairs razor sharp allocations manager who handles grants, fellowships and festival funding!


EH: And what are your personal artistic plans?

JF:
I have a huge selection of book material portfolios from Satin Slips to the American Flag, LA artists to International Rock Stars. Since the mid-seventies, I just kept shooting and shooting, hardly ever printing, so my personal archives of personalities and projects are large. Now that I have the 2000P Epson printer and I know the prints will last up to 200 years, I'm finally more attracted to start the process of printing. Something about the disappearing Type R's from the early 80's stopped me cold in my tracks for about 10 years. In 1996, I was planning to do an installation of Global Liberty at the Los Angeles City Hall Bridge Gallery, (Coagula Art Journal Issue #23 News) at the time, the grandfather of photography G.Ray Hawkins said "Jeanne, get your ducks-in-a-row"...I came home and quickly shot a Polaroid image of a row of ducks, that image resonated in my imagination and now 6 years later, I started shooting a Polaroid series "ducks-in-a-row" because I just want to do something simple and literal, one of a kind and that gives me a feeling of going somewhere......I just line them up and like everything else in my life, take my best shot.! WIPI will be at photo l.a. 2003, January 16-19, Santa Monica Civic Auditorium. visit the website at www.wipi.org or visit
photola.com
---
Picture / New York
,
Nov/Dec. 02 (for the emerging advertising photographer)
Photo Organizations page 70 by Mark Rhodes
WOMEN IN PHOTOGRAPHY INTERNATIONAL, www.WomenInPhotography.org
An organization that promotes the visibility of women photo professionals through a variety of programs, exhibitions, and publications. This organization recently celebrated its 20th Anniversary and has functioned as an "online resource center": for all things concerning female oriented photography. There are a varity of typs of membership from Charter Membership (a one-time fee of $1000) to a Professional Membership, which has dues of $150.00 annually to a Student membership, which costs $35.00 annually. The website also has a Reference Library, information on the educational programs sponsored by the organization and member galleries. Needless to say, this handsome and well-organized site functions as a fairly invaluable resource for the women photographer.

---
Picture / New York, Nov/Dec. 02 (for the emerging advertising photographer)
Hot News, page 77, by Renay E. Morris

Founded in 1981 and reorganized in 2000 as an online resource center, Women In Photography International serves the needs of photographers, photo educators, photography students, gallery owners and photographic organizations around the world. In keeping with their mission, they promote the visibility of women photographers and their work through a variety of programs, exhibitions, juried competitions and publications. As an educational nonprofit organization, Women In Photography International perpetuates this tradtion by providing member benefits that accomodate changing interests and needs. Into their third decade it serves as a resource for the international photographic community.
Published quarterly is f2-eZine, an online news magazine with member profiles and portfolios, interviews, book reviews, product information and gallery listings. Past activities include: The Distinguished Photographer's Award, established to give recognition to an artist who has contributed signifcantly to the world of photography. Past recipients include: Eve Arnold, Ruth Bernhard, Judy Dater, Marion Post-Wolcott, Linda McCartney, Mary Ellen mark, Ruth Orking, Joyce Tenneson and Berenice Abbott. New Photographer's Lecture Series established to honor emerging talent in the photographic community. It featured discussions and slide presentations. Past recipients include: Victoria Pearson Cameron, Jean Ferro, Judy Coleman, Claire Garoutte and Kenna Love.
Educational, informational Programs & Workshops are offered for the working photographer, the photography student and the photo enthusiast. Past programs include People Who Hire Photographers featured 6 art directors from major photo agencies, consumer stores and magazines.

Women in Photojournalism program included photojournalist Debra Denker (National Georgraphic) and Monica Almeda (The New York Times).

Print Retouching presented by the Los angeles Photography Center Staff. Negotiating and Pricing Strategies presented by Maria Piscopo, marketing consultant and author of the Photographer's Guide to Marketing and Self-Promotion, and Foto Fashion noting fashion photographers Victoria Pearson and Susan Nygeres.
For more information, log on to womeninphotography.org
---
ZOOM Interntioanl Magazine, 30th Anniversary Issue pages, images
Jan - Feb 2002, Images of Women
cover of women with twins by Joyce Tenneson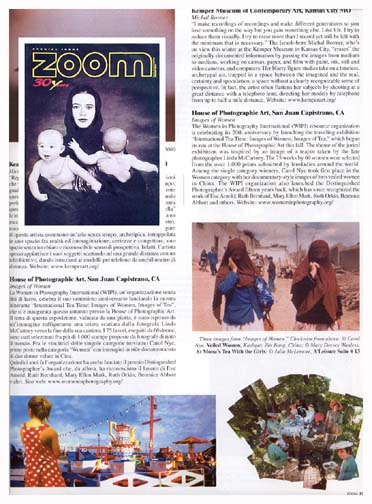 Image credits: Three images from "Images of women" 1) Carol Nye, Veiled Women, Kashgar, Zin Jiang, China, 2) Julia McLemore, A Lesisure Suite $13. 3) Mary Dorsey Wanless, At Mona's Tea With the Girls

The Women In Photography International (WIPI) resource organization is celebrating its 20th anniversary by launching the traveling exhibition "International Tea Time: Images of Women, Images of Tea." which began its run at the House of Photographic Art this fall. The theme of the juried exhibition was inspired by an image of a teapot taken by the late photographer Linda McCartney. The 75 works by 60 women were selected from the over 1000 prints submitted by lensladies aroud the world. Among the single category winners, Carol Nye took first place in the Women category with her documentary-style images of two veiled women in China. The WIPI organization also launched the Distinguished Photographer's Award fifteen years back, which has since recognized the work of Eve Arnold, Ruth Bernhard, Mary Ellen mark, Ruth Orkin Bereniice Abbott and others. Website www.womeninphotography.org/

Three images from "Images of women" Carol Nye, Veiled Women, Kashgar, Zin Jiang, China, 2) Mary Dorsey Wanless, At Mona's Tea With the Girls and 3) Julia McLemore, A Lesisure Suite $13. Cover image, Joyce Tenneson

ZOOM is currently published in Italy in two bilingual editions. The Italian edition varies from the international only in the last section, where products are reviewed for Italy

---

January 2002, Recap of Photo l.a. 2002
TEA TIME: Images of Women, Images of Tea
20th Anniversary Exhibition
Women In Photography International (WIPI) hosted a worldwide competition for their 20th Anniversary Exhibition, titled "Tea Time: Images of Women, Images of Tea," and out of the hundreds of submitted works, 75 images were chosen representing 63 women, with three winners in the two categories:
http://thescreamonline.com/photo/photo2-1/wipi/index.html
---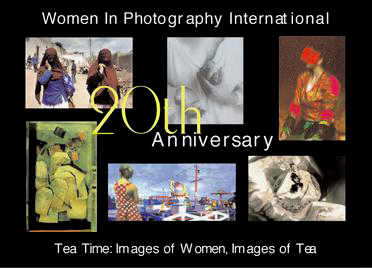 January 2002
TEA TIME: Images of Women, Images of Tea 20th Anniversary Exhibition Women In Photography International (WIPI) hosted a worldwide competition for their 20th Anniversary Exhibition, titled "Tea Time: Images of Women, Images of Tea," and out of the hundreds of submitted works, 75 images were chosen representing 63 women, with three winners in the two categories: "Images of Women": Carol Anne Nye, first; Jane Fulton Alt, second; Shahla Bebe, third. "Images of Tea": Dar Spain, first; Julia K. McLemore, second; Adrien Meredith Hefta, third.

The Exhibition was held at the House of Photographic Art in San Juan Capistrano, California, October 10-November 15, 2001. The entire collection will then tour the world, and slides of each work will be permanently archived at Yale University.

A beautiful multimedia CD of the exhibit contains: images, biographical information, and resumes on each artist; a wonderful soundtrack; the introduction includes Linda McCartney's classic "T-Pot" photograph with text by WIPI President Jean Ferro; "Is Anatomy Destiny?—Notes from the Historical Record" by Peter Palmquist, Historian and Founder/Curator of the Women In Photography Archive; statements by Jurors, Joyce Wilson (Professor at Brooks Institute of Photography, Santa Barbara) and Cornelia Butler (Curator, Museum of Contemporary Art [MOCA] Los Angeles); listing of Board of Directors, Advisory Board, Charter and PRO members, and Credits. The CD is available through WIPI.

Founded in 1981, and reorganized in 2000 as an online resource center, Women in Photography International serves the needs of photographers, photo educators, photography students, gallery owners, and photographic organizations around the world. In keeping with their mission, they promote the visibility of women photographers and their work through a variety of programs, exhibitions, juried competitions, and publications.

As an educational nonprofit organization, WIPI perpetuates this tradition by providing member benefits that accommodate changing interests and needs as they head into their third decade as a resource for the international photographic community.

Their quarterly newsmagazine f2 is an online e-Zine publication with member profiles and portfolios, interviews, book reviews, product information, and gallery listings. This f2 publication, in combination with the WIPI Archives, is a premiere resource and an unparalleled World Wide Web network for the international community of women in photography. Please visit their site at: http://www.womeninphotography.org.
---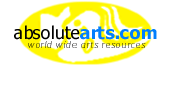 Indepth Arts News:
"Women In Photography International Creates Millennium Archive"
2000-12-14 until 2000-12-31
Women in Photography Los Angeles, CA, USA United States of America
Women In Photography International (WIPI) is gathering names and histories of 2000 women from around the world for a biographical project that will mark the new millennium as well as the heritage of women of photography. read more

---