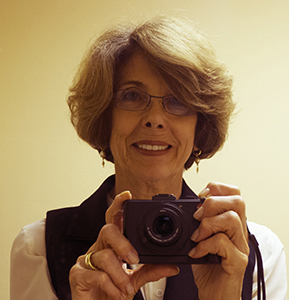 DIANE SILVERMAN, ATR, PHD
The visual has always been fundamental to my life. Having a background in both psychology and art, I have been motivated to pursue the integration of both aspects of my passion. As a psychoanalyst, art therapist and visual artist, I am constantly immersed in the world of emotions, fantasies, dreams and the unconscious mind. I exist in that borderland world between mental events and conscious reality. I believe visual media is one of the most effective ways to communicate the sensory, non-verbal terrain of the internal world. The goal of my photographic art has not only been self expression, but to evoke in the viewer a resonance with some of the unspoken and often not-yet-known internal experiences that lie at a very deep level of human existence. As a photographer, I am more interested in interpretation than I am in producing faithful representations of the concrete world around me. I work from an instinctive and intuitive perspective, attempting to find the balance between personal experience and a broader aesthetic meaning.
Birth and death are the primal themes of art and life. The passage of time is an inescapable act. There is an invisible yet tangible energy that allows us to pass through each day, sometimes able to embrace love and beauty, at the same time be oblivious to the hidden dangers that are always there. Some dangers come from the outside and produce physical injury; some are internal, often caused by those closest to us who can create the deepest and most penetrating wounds imaginable. As acceptance of this journey and its inevitable end is a fact of our life cycles. I believe the photographic image can convey both a narrative, and also be a tool for removing the cloak of repression from forgotten memories, giving meaning to internal experiences for which no language may have previously existed.
As I enter the last third of my life, reflections about this passage are emerging spontaneously in my art. Most readily accessible to me is an exquisitely felt vulnerability that has been my constant companion, helping me to make my way, both personally and professionally, through a lifetime of joyous celebrations and emotional storms. "A Stilled Life" is a comprehensive project of images based on autobiographical impressions. I have photographed assemblages of objects and masks that are symbolic which become visual metaphors that represent a narrative of very personal internal experiences. Masks can conceal, can protect, and can create various illusions. In addition, the mask can also transform the mind of the viewer, who is being tricked, deceived and distracted from the authentic self behind the mask. What is reality's true face? I am drawn to Surrealism as an inspiration because the imaginative and creative use of symbols and metaphors as a mode of communication allows me the most exploratory and interpretive freedom. A parallel to the process of dream-work is obvious. The mysteries of the creative process are related to a synthesis of the conscious and unconscious mind, and the willingness to let go of rationality and fixed categories of meaning. Therein lies the greatest journey of self-discovery.

ACADEMIC STUDIES

B.A. – Psychology and Sociology – U.C.L.A.
M.A. – Clinical Art Psychotherapy – Immaculate Heart College
Ph.D. – Psychoanalysis – Psychoanalytic Center of California


ART STUDIES

California State University Northridge – undergraduate and graduate level
Art Center College of Design
U.C.L.A. Extension

Maine Photographic Workshops, Rockport, Maine
Santa Fe Photography Workshops, New Mexico
Julia Dean Photo Workshops, Los Angeles
Personal photography mentor: Ken Merfeld, Culver City.
Private photography and art studio instruction

[Workshop instructors have included: Joyce Tenneson, Arno Minkkinen, Mary Ellen Mark, Sean Kernan, Harvey Stein, Amy Arbus, Cig Harvey, John Goodman, Todd Hido, Elizabeth Opalenik, Bobbi Lane, Stephen Shafer.]


GROUP EXHIBITIONS

L.A. County Psychological Association, "Mirrors of the Mind", 2013
About Face – Portraits, New Center for Psychoanalysis, Los Angeles, 2012
Photo LA - Women in Photography International, Santa Monica, 2011
Photo LA - Women in Photography International, Santa Monica, 2010
Faces of Aging Around the Globe – Belmont Village, Encino, 2006
The Power of Aging – Gelabert Studio Gallery, New York, 2002
Faces of Aging – American Medical Directors Association, San Diego, 2002
After 75: In Celebration of the Human Spirit - Westside Jewish Community
Center, Los Angeles, 2001
Dignity of Aging – Milken Gallery, Woodland Hills, CA 2001
Faces of Aging – The Living Room Gallery, Santa Monica, 2000


HONORS and AWARDS

Women in Photography International – Juror's Choice Award, 2013
Black and White Magazine – Single Image Award (2 images), 2013
International Fine Art Photography Competition – Jurors Award of Merit, 2012
Black and White Spider Awards – Nominee Honor, 2012
Women in Photography International – Honorable Mention, 2012
Black and White Magazine – Single Image award, 2012
Black and White Magazine – Single Image award, 2011
Women in Photography International – Honorable Mention, 2010
Women in Photography International – Third Place Award – 2008


PUBLICATIONS

Black and White Magazine, Issue #95, February 2013
Black and White Magazine, Issue #88, February 2012
Black and White Magazine, Special Issue, October 2012
The Light Relaxes into Evening, poetry by Kendall Merriam, 2012
History of India by Stanley Wolpert, PhD, Oxford Univ. Press 2007
Journal of American Medical Directors Association, cover photo, March 2003
Journal of American Medical Directors Association, cover photo, January 2001
Journal of American Medical Directors Association, cover photo, Sept. 2001
Journal of American Medical Directors Association, cover photo, Nov. 2001

UPDATE - JULY 2015 - MARCH 2016

Diane Silverman has had the honor of being included in a number of juried exhibitions since July 2014. Notable are: New Center for Psychoanalysis, "The Uncanny, Obsessions and Delusions" 2015; New Center for Psychoanalysis, "About Face", 2014; Los Angeles Center for Photography, Juror's Choice Award "Member's Exhibition"; Los Angeles Center for Photography; Creative Portraiture" 2015; Los Angeles County Psychological Association "Mirrors of the Mind Exhibition", 2014' Black and White Spider Awards, 9th Annual, 2014, Still Life Category.

Her most recent award and publication are in Black and White Magazine Single Image Contest Award, February 2016 Issue 113.

An enriching addition to her workshop experiences was with Andrea Modica and Debbie Fleming Caffery at the Palm Springs Photography Festival in April 2015.

She is in the process of preparing her first self-published book entitled "Masked" featuring her still life photographs of masks, accompanied by essays about the psychological phenomena of authenticity and illusion of both literal and figurative masks, written by several psychology and psychoanalytic colleagues.

UPDATE: Photographer response - NO NEW UPDATES: MARCH 2016 - APRIL 2017

Subject: Re: CHARTER GALLERY - curator Beinecke
Date: 2017-05-04 17:21
From: Diane Silverman <djsilverman@sbcglobal.net>
To: WIPI-CHARTER <members@womeninphotography.org>

Hi Jean,
Just a note to let you know that 3everything is OK2 on my Charter Page. I
updated it about a year ago, and there have not been any really
significant additionsSą.a quiet year!
Thank you for all of your hard work.

Warm regards,
Diane Silverman
Women In Photography International Charter Member
Diane Silverman
Los Angeles, CA
djsilverman@sbcglobal.net
www.dianesilvermanphotography.com


©Copyright for all images remains the property of exhibited photographer, and promotional use for Women In Photography International. All inquiries regarding use of and purchasing image use rights must be directed to the photographer.

File complete August 30, 2014
s-8/30
UPDATE: Photographer response - NO NEW UPDATES: MARCH 2016 - APRIL 2017

UPDATE FINAL May 2017 COMPLETE website 1999-2017 womeninphotography.org file transfer to the Beinecke.
All organization files, computer, external hard drive, printed materials, photographs, DVDs, books, competitions files and onsite installation art work