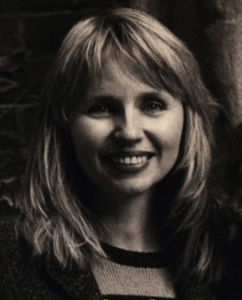 SHARYN KELLER

I am extremely grateful for the unique opportunities presented to me over the years by Women in Photography International and my great friend, Jean Ferro. The experience of being a part of its history and being able to creatively assist her and this important organization, which nurtures female photographers and their work, has been highly energizing. In 2001 I was initially asked to be involved as a graphic designer, collaborating on the design, print and production--primarily the poster and CD jewel case graphics--for WIPI's 20th Anniversary Show, Tea Time.

During the unimaginable days following 9/11, it was an extraordinary experience to have to move forward with the project and not let ourselves be deterred from our September 14 disc production deadline. Notwithstanding its cataclysmic nature, that moment in time taught me that, as artists, we can rise to the challenge and singularly focus to get the job done, never allowing the chaos of world events to stop the flow of our work and ideas. From the beginnings of Tea Time in 2001, to the Put Yourself in the Picture Photo Art Interactive Installation in 2015, I have been uniquely challenged and inspired by the various Women in Photography International projects it has been my pleasure to be associated with.

Education:

Art Center College of Design - BFA - Graphics/Packaging major
Orange Coast College - Art major
Glendale Community College - Digital education updates

Freelance Retoucher, Compositor, Graphic design/production

Resume highlights:

American Greetings Corporation, Lettering Department - Promoted from production to creative as a Lettering stylist and type specifier. Created designs in script, calligraphy and unique lettering styles for greeting cards, calendars and books for seven years.

Jack Keely, Illustration, Los Angeles, CA - Colorist. Teamed up with Jack Keely, producing final hand coloring for illustrations in a greeting card line and twelve children's books including the original Grossology series (publishers Penguin, Putnam, Walter Foster). Book credit: Walter Foster - Make Your Own Halloween Fun, Colorists Jack Keely and Sharyn Keller.

Jack Keely, Art Director, Hershey Communications, Irvine, CA - Graphic design/photo editing assistance - brochure, billboard, catalog, newspaper ad and shopping bag design for nationwide shopping malls.

International Automotive Design (IAD West Coast), Huntington Beach, CA - Freelance graphic designer. Dashboard graphics design for concept cars featured in international shows in Italy, Japan, and Los Angeles - introducing one of the earliest GPS in-car navigation devices - showcased at the Los Angeles Auto Show.

Mattel Toys (Disney division) El Segundo, CA - Pantone color mixing/model painting of multiple prototypes for Toy Fair, including Polly Pocket playsets and characters/Transformers for Toy Story II.

Applause Inc., Woodland Hills, CA - Freelance assistant stylist of children's plush toys, collectibles, and novelty gift items for catalog photoshoots. (Featured American licensed and non-licensed brands).

Bob Giraldi, Film and Television Director - Freelance designer, creating various Alaska period graphics - in turn produced by sign painters and neon artists for Director Bob Giraldi's award-winning, retro chic series of 60-second Alaska Airlines television ad campaign, Alaska Airlines. The last great airline! Filmed at Paramount Studios New York City Backlot, Pasadena and Santa Monica. (http://www.nytimes.com/1995/05/09/business/media-business-advertising-stand-present-alaska-airlines-uses-retro-chic.html)

Scubapro, Rancho Dominguez - Trade show graphic designer for invitations, brochures, binder covers, software jackets, and signage for two succeeding years. Design of company manuals and product packaging.

Hollywood Arts Council - Assistant to Instructor Elayne Koslow in Kodak-sponsored After School Arts Programs (2003-2014). Elementary students used donated disposable cameras and were taught basic photography lessons, the final product being either a photo album or framed work.

Peter Marshall Enterprises - Collaborated on design and production with Laurie Marshall (Art direction) on the Peter Marshall 2011 Music CD, Let's Be Frank with a Touch of Tommy.

Arte and Gisela Johnson Trust - Collaborated with Gisela Johnson on the organization and preparation of a large First Day Cover archive submission to the HPA Hawaii Preparatory Academy and ISAATS Art Center at HPA.

Roger Davies Photography - Freelance compositing/retouching for interiors and places.

Women In Photography International - Collaborated with Jean Ferro, President and Photo Artist on all projects: Design and production of exhibit invitations, promotional materials, poster and commemorative multimedia CD for WIPI's 20th Anniversary Show, Tea Time • 25th Anniversary Turning Silver logo and promotional cards including those for PIDE/Beauty, kitsch & klick, and Photo la 2003 • Ad production for Lucie Awards 2003 and 2004 • Slideshows for Photo la 2012 and 2013 • Installation for photo la 2014 • WIPI online logo update 2015 • Installation, lens typography and FB event photos for photo la and Photo Independent 2015 • Competitions, beginning 2006: Digital file prep/organization for juror review.
Women In Photography International - June/July 2015: organized/scanned/photographed documents featuring additional materials for Tea Time, Turning Silver, Programs-Press, Lucie Awards, photo la, Photo independent and various competitions. Approx 250 items from 2001-2015, organized on a CD with 16 printed pages of contents notation for the WIPI Archive Yale submission.


Women In Photography International Exhibitions:

i AM woman…i AM digital 2015, Juror: Clive Waring, Editor/Silvershotz, (Portrait), Rags to Riches
photo la 2013 onsite digital presentation, Transportation, Metro
photo la 2012 onsite digital presentation, Footwear, NY Punk



Partial Client List:

American Greetings, Amdahl Communications, Applause Toys, Arte and Gisela Johnson, AT&T, Bob Giraldi Productions, Hershey Communications, International Automotive Design (IAD West Coast), Mattel, Medicus Graphics, Mitsubishi Electronics, Peter Marshall Enterprises, Roger Davies Photography, Scubapro, Smiling Moon Studios, Women In Photography International

UPDATE - JULY 2015 - MARCH 2016

Resume highlights:
Susan Jeffers, psychologist and internationally renowned author of the bestseller "Feel the Fear and Do It Anyway" - Graphic design/production of Fearbusters Logo and stationary design; packaging design/production.

Future plans:
Further expansion of retouching/compositing work with photographers. Blending my affinity for films and photography doing design, production and compositing for movie poster design companies.

UPDATE, photographer NO response - NO new updates: SEPTEMBER 2016 - APRIL 2017

Women In Photography International Charter Member (2001)

Sharyn Keller
Los Angeles, CA
Sharyn@KellerDesigns.com


©Copyright for all images remains the property of exhibited photographer, and promotional use for Women In Photography International. All inquiries regarding use of and purchasing image use rights must be directed to the photographer.

File GALLERY & BIO completee August 30, 2014
Updated 6/23/2015
7/15 documention materials included
UPDATE. WIPI binder support/assist to Beinecke and 6 libraries (APRIL 2016 - SEPTEMBER 2016)
UPDATE, photographer NO response - NO new updates: SEPTEMBER 2016 - APRIL 2017

UPDATE FINAL: May 2017 website content 1999-2017
womeninphotography.org file transfer to the Beinecke.
All organization files, computer, external hard drive, printed materials, photographs,
DVDs, books, competitions files and onsite installation art work