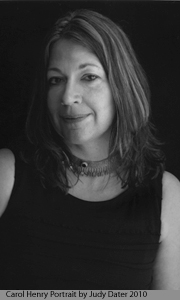 Carol Henry

It has always been my desire to expose people to the unseen elements or small details that surround them from the natural world and to have sensory experiences of beauty or feelings of wonder. I find that color of this intensity fills the viewer with awe. I like that!

Color is one of the tools that I utilize to achieve that desire. For 30 years I have been working with Cibachrome, manufactured by a Swiss Company, which became Ilfochrome in 1992. The archival color darkroom material is a positive receiver and the process is a projection of light passing through my compositions. The exposure on this light sensitive material, when processed, gives me the luminous color I am looking for to help create a zen-like environment, that is enveloping and engaging.

In 2012, the last run of Ilfochrome,was manufactured. Now I am one of the only photographers still using the medium. Although my paper is now expired, I am still printing captivating unique pieces from my final box of 20x24" paper in 2014.

My education in photography began at Northern Michigan University in Marquette, with professor Dennis Staffne, currently of St. Louis. I began working on Cibachrome while pursuing my BFA in Photography. A process I immediately became enthralled with was unique printing on this material, though I was the only one in the program that worked that way.

Many years later while working as an art director in Los Angeles, I was introduced to The Lab Ciba and Frank Green, where I had the opportunity to locate my darkroom near their 48" processor. There I have made 8x10" through 48x56" prints. My color analog darkroom has been located there since the late 80s, now 25 yrs, giving me the ability to print consistently.

I have shown in many galleries and sold over a thousand of these unique prints. It is my current goal to exhibit this work in museums. Publishing monographs will also be a new goal as printing new work with this medium and process is coming to a close.

New maiden journeys are ahead and I look forward to exploring and creative discoveries!

EXHIBITIONS

2014
Photo LA, Postcards, Women In Photography International, LA, CA
Photography West, Carmel, CA
Carmel Visual Arts, Carmel, CA

2013
Photo LA, Wood prints, Women In Photography International, LA, CA
Photography West, Carmel, CA
Acqua Calda Exhibit, Monterey, CA
Ansel Adams Gallery, Yosemite, CA
Carmel Visual Arts, Carmel, CA

2012
Photo LA curating the Ansel Adams Gallery
Ansel Adams Gallery, Yosemite
Photography West, Carmel, CA
SCIART, Camarillo, CA

2011
Photo LA, curated, Women In Photography International, 30th Anniversary, LA, CA
SCIART, Camarillo, CA
Sylvia White Gallery, Ventura, CA
Palm Springs Photo Festival
Photography West, Carmel, CA
Kinsey Institute, Bloomington, IN
Arts Council CV Exhibit, Thousand Oaks, CA
Orange County Contemporary
Center of Art, Santa Ana, CA

2010
Herotogen,Westlake Village, CA
Photography West, Carmel, CA
Studio 391, Gualala, CA
SCIART, Camarillo, CA

2009
Photo LA entry exhibit of large prints.
Fresh Fair, Los Angeles, CA
PhotographyWest, Carmel, CA
Reyes Adobe Art Gallery, Agoura Hills, CA

2008
Center for Fine Art Photography, Ft. Collins, CO
Beatrice Wood Studio, Ojai, CA
Malton Gallery, Cincinnati, OH
Photography West Gallery, Carmel, CA

2007
PhotographyWest Gallery, Carmel, CA
Diesel Bookstore, Malibu, CA
Design Award Exhibit, Cincinnati, OH
Leila Heller Gallery, NY, NY
Mumm Champagne, Rutherford, CA
Santa Barbara Natural History Museum, SB, CA
Brand Library, Glendale, CA

2006
Photo LA, CA
Ansel Adams Gallery,Yosemite, CA
JosephWahl Arts, Woodland Hills, CA
Darkroom Studio,Westlake, CA

2005
The Center for Fine Art Photo, Ft. Collins, CO
Darkroom Studio,Westlake, CA
PhotographyWest Gallery, Carmel, CA
Photo LA, CA
JosephWahl Arts,Woodland Hills, CA

2004
Carmel Highlands Inn, Carmel, CA
Mumm Champagne, Napa, CA
Malton Gallery, Cincinnati, OH
Steinway Gallery, Chapel Hill, NC

2003
Ansel Adams Gallery, Monterey, CA
Photographers Out of the Box, Brea, CA
Joseph Bellows, LaJolla, CA
Mumm Champagne, CA
Sink Gallery, Denver, CO

2002
Contemporary Artifacts Gallery, Berea, KY
Jerry Miller Gallery, Palm Springs, CA
Malton Gallery, Cincinnati, OH

2001
AIPAD, NY, NY
Benham Photographic Art, Seattle,WA
Camera Obscura Gallery, Denver, CO

2000
Ansel Adams Gallery, Mono Lake,Yosemite, CA
House of Photographic Art, San Juan
Capistrano, CA
G. Ray Hawkins Gallery, LA, CA
Houston FotoFest, Houston, CA
Los Angeles Museum of Art, LA, CA
McLean GAllery, Malibu, CA
Mumm Champagne, Napa, CA

1999
Ansel Adams Gallery, Pebble Beach,Yosemite, CA
Museum of Contemporary Art, Denver, CO
Maui Ocean Center, Maui, HI

1998
Ansel Adams Gallery, Pebble Beach,Yosemite, CA
Works On PaperPhoto LA, CA
Malton Gallery, Cincinnat, OH
Northern Michigan University, Marquette, MI
Steinway Gallery, Chapel Hill, NC

1997
Ansel Adams Gallery, Pebble Beach,Yosemite, CA
Mumm Champagne, Napa, CA
Jackson Fine Art, Atlanta, GA
Steinway Gallery, Chapel Hill, NC

1996
Ansel Adams Gallery, Pebble Beach,Yosemite, CA
Ashua-Irving Gallery, Boston, MA
Coast Gallery, Maui, HI
Montecito, Gallery, Montecito, CA
Mumm Champagne, Napa, CA

1995
Ansel Adams Gallery,Yosemite, CA
Julia's Gallery of Photographic Art, Lexington, KY
Malton Gallery, Cincinnati, OH
Pacific Grove Art Center, Pacific Grove, CA
Tiffany & CO, Pebble Beach, CA
Steinway Gallery, Chapel Hill, NC

1994
Ansel Adams Gallery, Pebble Beach, CA
Grant Gallery, Denver, CO
Montecito Gallery, Montecito, CA

1993
Ansel Adams Gallery, Yosemite, CA
Camera Obscura Gallery, Denver, Co
Malton Gallery, Cincinnati, OH
National Audobon Society Gallery
The Woods, Brentwood, CA

EDUCATION

University of Cincinnati, Design, Art and Architecture
Northern Michigan University
UCLA


GALLERIES Over The Past 20 Years

Joseph Bellows Gallery, La Jolla, CA
Susan Spiritus Gallery, Newport Beach, CA
G. Ray Hawkins Gallery, LA, CA
McLean Gallery, Malibu, CA
Joseph Wahl Gallery, Woodland Hills, CA
Montecito Gallery, Montecito, CA
Photography West Gallery, Carmel, CA
Ansel Adams Gallery, Yosemite & Pebble Beach, CA
Coast Gallery, Maui, HI
Benham Gallery, Seattle, WA
Jackson Fine Art, Atlanta, GA
Camera Obscura Gallery, Denver, CO
Mark Sink Gallery, Denver, CO
Malton Gallery, Cincinnati, OH
Julia Weinstein Gallery, Lexington, KY
Ashua Irving Gallery, Boston, MA
Leili Tagliani Gallery, NY, NY
D'Arno Gallery, Jakarta, Indonesia

CORPORATE ART COLLECTIONS

Stanford University Hospital
Northwestern University
Kaiser Permanente Hospitals
Goodby SIlverstein Advertising
Latham and Watkins Law Firms
Fox Media and more
Women In Photography International Charter Member

Carol Henry
Carmel, CA,
WIPI PhotoProfile
ch.darkroom@gmail.com

©Copyright for all images remains the property of exhibited photographer, and promotional use for Women In Photography International. All inquiries regarding use of and purchasing image use rights must be directed to the photographer.

File complete August 30, 2014
s-8/30 -
CH confirmed complete April 7, 2015