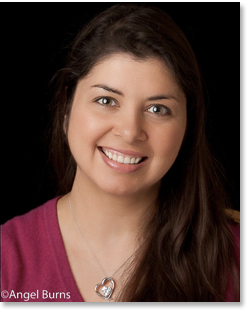 Angel Burns

Angel Burns is a contemporary fine art portraitist, often combining digital painting and illustrative techniques to suggest a philosophical concept or a commentary on society. Although constantly snapping candids since youth, she did not begin a photography career until after becoming a mother. Self-taught, she began capturing dancers, while her daughters toured in competitions and companies, eventually becoming a commercial photojournalist in the entertainment industry. Expressive subjects of her themes, featured on television's "So You Think You Can Dance" and in live cirque aerial shows, granted her extraordinary access to direct and preserve their moods. Press releases, advertising, dvd covers, editorial magazine articles followed featuring her photos, until she was invited to create a summer-long solo exhibition of her unconventional personal images for La Foto Gallery, Santa Monica, in 2009.Soon she was exhibiting in galleries and public art events throughout Southern California, with growing notoriety.
She published her first book of images, "In Dreams" and designed several press-printed scrapbooks for dance teams. She was selected as lead studio shooter for Flashes of Hope charity at UCLA Children's hospital, making final portraits of critically ill children. Angel's work has twice been recognized in annual volumes by OneEyeland.com juried selection as "Best of the Best World Photographers." Today she continues generating original work, publishing, exhibiting and licensing. In addition to being a lifetime charter member of Women in Photography International, Ms. Burns is a member of American Photographic Artists, American Society of Media Photographers, Professional Photographers of America, National Association of Photoshop Professionals, Apple Certified Pro, Adobe Beta Testers, among several other trade organizations.

BACKGROUND

Angel Burns, though an American citizen, was born in Canada of a multi-cultural family, and raised in rural Pennsylvania. While Ms. Burns may be considered relatively new to photography's fine art world, her talents have been years in the making. As a child, she was a performer, dancer, model, actor, and earned scholarships as a writer. Growing up on the grounds of the state mental hospital, where her father was a staff physician, Burns thrived in fascination alongside the international families at this teaching facility. Consequently, she pursued an educational major in pre-med/pre-psychiatry, intent on her interest in the spectrum of human experience. A precocious member of the high-IQ society Mensa, she let her curiosity lead her to eclectic studies and a variety of day jobs: computer programming, nursing, hospice, abused shelters and rehab centers, psychiatric units, churches, charities, medical research centers, and always keeping a hand in show business, studying acting and performing in theater, commercials, television, industrial films. Eventually she won bit parts in soap operas to earn her Screen Actors Guild card, and formed a production company to create independent shorts. Effectively she translated experiences since childhood to her current art forms. "Like I learned as an actor (and a 'shrink's kid'), I wanted to look IN, not AT others. It's all storytelling, but with the thread of my personal viewpoint..." Most recently Angel marketed her optimism as executive producer of two feature-length social change documentaries: "Average Joe on the Raw" about healthy eating, and the festival-award-winning "Opening Our Eyes," about making a global difference, one person at a time. She is a longtime member of Film Independent and SAG-AFTRA performers union. A mother of two, she lives in Los Angeles, and travels extensively for causes and outreach, constantly exploring, creating, and sharing.


STATEMENT

"Seeing a photograph is a reminder of a feeling...and creating one requires invoking or catching what one wants to feel. What do we choose to re-live? These works are about dreams, hope and the mysterious inner experience of us all. They are glimpses in an epic light, a drama told via the expressive colors and lines reflecting deep emotion, memory, wistfulness. Sometimes they contain a wink!
I believe in openness, both personal vulnerability and open-armed embracing of others. It is my wish that my images soothe, inspire and reflect the beauty I find in fragile hearts every day. May the viewer come away gifted. 'Photography is a way of Loving.'"

ACKNOWLEDGEMENTS

Contribution here was sponsored in part by two illustrious mentors the artist wishes to thank, master photographers John Woodward and Michael Gilbert. Along with the family of Ms. Burns, they are recognized with heartfelt appreciation for their attention, patience and support toward furthering her skills and career.


UPDATE: Photographer response - NO NEW UPDATES: AIGUST 2014 - APRIL 2017

------- Original Message --------
Subject: Re: CHARTER GALLERY - curator Beinecke
Date: 2017-05-05 06:32
From: Angel Burns <halohugs@hotmail.com>
To: WIPI-CHARTER <members@womeninphotography.org>

Hello, dear Jean,
Yes the email address is still working. I don't get much time online or
social media, but the mailbox is fine (just backed up with messages) and
my Yale submission was long ago reviewed as correct. I checked it again
and it is still fine. No update required.
Hoping this finds you well and happy. Thanks for all you did in 2014 to get this project off the ground and work preserved.blessings,
Angel
Women In Photography International Charter Member


Angel Burns
Malibu, CA
WIPI Photo Profile
Angel@AngelBurns.com
www.AngelBurns.com


©Copyright for all images remains the property of exhibited photographer, and promotional use for Women In Photography International. All inquiries regarding use of and purchasing image use rights must be directed to the photographer.

FIile: GALLERY & BIO complete - August 30, 2014
s-8/30
UPDATE: Photographer response - NO NEW UPDATES: AIGUST 2014 - APRIL 2017

UPDATE FINAL: May 2017 website content 1999-2017
womeninphotography.org file transfer to the Beinecke.
All organization files, computer, external hard drive, printed materials, photographs,
DVDs, books, competitions files and onsite installation art work