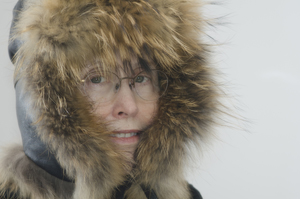 J. J. L'Heureux

Antarctic Photographs

My Antarctica photographs have been taken on thirteen expeditions to Antarctica and the Sub Antarctic Islands over a fourteen-year period.

Initially I went to Antarctica to gather ice images for my abstract painting series. It was clear after this first effort that the photographs would produce several different series unto themselves. Landscape is an important element in my paintings, but the white on white wilderness of Antarctica, its amazing wildlife and history soon convinced me that these photographs conveyed a more direct expression that the color field paintings.

I am attracted to photographs that are simple, capture a characteristic and yet are abstract in their realism: The question can be, "Is that a real event, a real moment?" My response was and still remains, "Yes, incredible."

These photographs are intended to be a series by themselves. I like that the photographs convey an entirely different sense of the spirit of Antarctica, the wind and the cold than that of my paintings. I also like myself as camera- person who had to exercise patience and direct involvement in taking the photos. It is a chore to tote gear over miles of ice and set-up to take a photograph in a place nearly never visited by people. Except for the sounds of the rookeries and the wind, there is a complete absence of industrial sound. Photographs lack sound or any suggestion of it. It is as if each scene has been encapsulated and frozen in crystal pure ice.

My studio is located in Venice, California. I have studied at the San Francisco Art Institute and Academy of Art University in San Francisco, and Parsons School of Design, New York. My paintings are abstract and use specific physical elements of the observed landscape as the primary inspiration. With my photographs my goal is to convey my enthusiasm and attraction to the environment, its wildlife and history.


Selected Solo Exhibitions

2014
Peggy Notebaert Nature Museum: Museum of the Chicago Academy of Science, Chicago, Illinois
International Wildlife Museum, Tucson, Arizona
Goddard Center, Ardmore, Oklahoma
Lafayette Science Museum, Lafayette, Louisiana
Science Spectrum, Lubbock, Texas

2013
Houston Museum of Natural Science, Houston, Texas
Fort Worth Museum of Science and History, Fort Worth, Texas
Albany Museum of Art, Albany, Georgia
Discovery Gateway Museum, Salt Lake City, Utah

2012
Athy Heritage Centre Museum (Shackleton Museum), Athy, County Kildare, Ireland
Old Capital Museum, The University of Iowa, Iowa City, Iowa
Topeka Zoological Park Gallery, Topeka, Kansas

2011
G2 Gallery, Venice, California
Detroit Zoo, Ford Gallery, Royal Oak, Michigan
Gindi Gallery, Hillel at UCLA, Dortort Center for Creativity in the Arts, Los Angeles, California

2010
Children's Museum of Indianapolis, Indianapolis, Indiana
Melissa Morgan Fine Art, Palm Desert, California

2009
G2 Gallery, Venice, California
North Museum, Lancaster, Pennsylvania

2008
Fernbank Museum, Atlanta, Georgia
Spartanburg Art Museum, Spartanburg, South Carolina
Anderson Center for the Arts, Anderson, Indiana

2007
I. Wolk Gallery, St. Helena, California
Museum of the Rockies, Bozeman, Montana
Jacqueline Casey Hudgens Center for the Arts, Duluth, Georgia
Parkersburg Art Center, Parkersburg, West Virginia
Taube Museum of Art, Minot, North Dakota

2006
Mary G. Hardin Center for Cultural Arts, Gadsden, Alabama
University Art Gallery, University of Nebraska, Omaha, Nebraska

2005
Eagle Gallery, Murray State University, Murray, Kentucky

2004
Brand Library Art Gallery, Los Angeles, California
Mt. San Jacinto Gallery, Mt. San Jacinto College, Palm Springs, California

2003
I. Wolk Gallery, St. Helena, California.
Pensacola Museum of Art, Pensacola, Florida.
Tallahassee Museum of History & Natural Science, Tallahassee, Florida

2001
Hiromi Paper, Santa Monica, California.
Palos Verdes Art Center, Rancho Palos Verdes, California (Catalogue)

1999
Wiseman Gallery, Rogue Community College, Grants Pass, Oregon

1996
Brand Library Art Gallery, Los Angeles, California (Catalogue)

1995
Lyn Bassett Gallery, Los Angeles, California

1994
Susan Street Fine Art Gallery, San Diego, California

1993
Two Rodeo Place Gallery, Beverly Hills, California

1992
El Camino College Gallery, Torrance, California

1991
IDEA Gallery, Sacramento, California, (Catalogue)

1990
Marathon Plaza Gallery, San Francisco, California
University Art Gallery, University of California, Riverside, California
Convention Plaza Gallery, San Francisco, California

1989
University Art Gallery, California State University, Hayward, California
Grants Pass Museum of Art, Grants Pass, Oregon, (Catalogue)
Convention Plaza Gallery, San Francisco, California

1987
Acme Art, San Francisco, California

1986
Las Vegas Art Museum, Las Vegas, Nevada, (Catalogue)

1985
Pacific Grove Art Center, Pacific Grove, California, (Poster)

Selected Group Exhibitions

2014
"On the Brink," G2 Gallery, Venice, California
"Landscapes," Georgia O'Keeffe Museum, Santa Fe, New Mexico
"Art of Travel Photography," PhotoPlace Gallery, Middlebury, Vermont

2013
"Future Perfect," G2 Gallery, Venice, California
"Transportation," Photo LA, Women in Photography International, Santa Monica, California
"AAXV," Long Beach Museum of Art, Long Beach, California, (Catalogue)

2012
"Wilderness Mind: Dissolving Duality," Angeles Gate Cultural Center, San Pedro, California
"Beyond Landscape," Marin Community Foundation, Novato, California
"The Song of the Land," Hebrew Union College, Los Angeles, California, (Catalogue)
"Death Is The Destination," Welch School Gallery, Welch School of Art & Design, Georgia State
University, Atlanta, Georgia

2011
"Survey of Contemporary Photography," University of Maine Museum of Art, Bangor, Maine
" Where Imagination Takes Flight," Long Beach Museum of Art, Long Beach, Californi.
"A Sense of Place," Gertrude Herbert Institute of Art, Augusta, Georgia
"Into the Light," The Turner Print Museum, Chico, California

2010
"Deconstructed Applications," Los Angeles Municipal Art Gallery, Los Angeles, California
"Romance," G2 Gallery, Venice, California
"What Matters Most?" Exit Art, New York, New York
"About Face," The Louisa Arts Center, Louisa, Virginia

2009
"Director's Choice," I. Wolk Gallery, St. Helena, California
"Out of the Blue," Bergen Art Gallery, Bergen College, Paramus, New Jersey, (Catalogue)
"Celebrating Thirty Years," Sylvia White Gallery, Ventura, California

2008
"California Dreamin', LA to HI," Nu'uanu Gallery, Honolulu, Hawaii
"Best of Show," Olive Hyde Art Gallery, Fremont, California
"Director's Choice," I. Wlolk Gallery, St. Helena, California

2007
"Incognito," Santa Monica Museum of Art, Santa Monica, California
"Menagerie," The Photo Review Magazine, Langhorne, Pennsylvania
"Polar Artists," McMichael Canadian Art Collection, Kleinburg, Ontario, Canada
"Polar Pyramids," Bong Head Gallery, Bong Head, Ontario, Canada

2006
"Out of the Blue," Abington Art Center, Jenkintown, Pennsylvania
"Picking Up the Pieces: Contemporary Collage," Cannon Art Gallery, City of Carlsbad, Carlsbad,
California, (Catalogue)
"Beaux & Eros," Peninsula Museum of Art, Belmont, California, (Catalogue)
"Photography Exhibition 2006," 12 12 Gallery, Richmond, Virginia

Attended:
San Francisco Art Institute, San Francisco, California
Academy of Art, San Francisco, California
Parsons School of Design, New York, New York
Eastern Michigan University, Ypsilanti, Michigan

Selected Talks & Presentations:

2014
International Wildlife Museum, Tucson, Arizona
Science Spectrum Museum, Lubbock, Texas
Goddard Center Art Gallery, Ardmore, Oklahoma
Clickers & Flickers Speaker, Malibu, California

2013
Celebrity Lecture Series, Fort Worth Museum of Science and History, Fort Worth, Texas
U.S.-China Symposium, Dothan, Alabama

2012
Aquarium of the Pacific Speaker Program, The Aquarium of the Pacific, Long Beach, California
Shackleton School, Athy Heritage Centre Museum, Athy, County Kildare, Ireland
Alabama-China Symposium, Monroeville, Alabama
Dame Bradbury's School, Saffron Walden, Essex, United Kingdom

2011
The Community Library Speaker Program, The Community Library, Ketchum, Idaho.
Detroit Zoo Ford Gallery, Detroit Zoo, Royal Oak, Michigan.
G2 Gallery, Venice, California.

Women In Photography International Charter Member

J.J. L'Heureux
Venice, CA
jjstudio@earthlink.net
www.jjlheureux.com
www.penguinspirit.com


©Copyright for all images remains the property of exhibited photographer, and promotional use for Women In Photography International. All inquiries regarding use of and purchasing image use rights must be directed to the photographer.

File complete August 30, 2014
j-8/30
Update: 4/22/2015 selection of exhibition cards and two books, one large catalog inside large book, books signed to Women In Photography International