RANDOM NOTES ON PHOTO L.A. 19 - 2010
by JEAN FERRO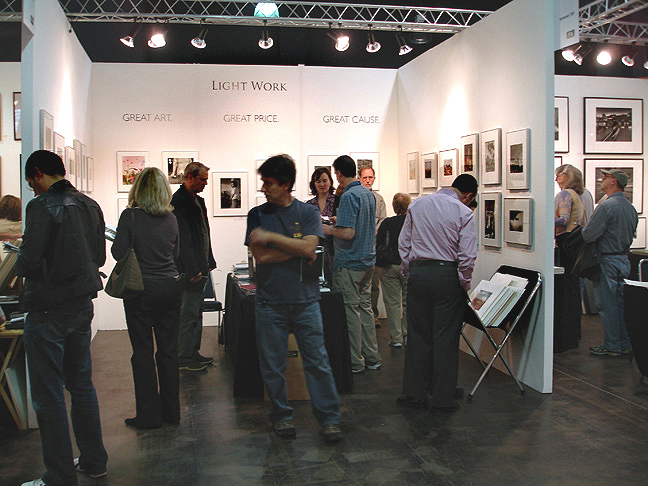 This year's photo l.a. was another round of eye candy for the soul. Amidst much confusion and delays, the 19th Annual photo l.a. 2010 (www.photola.com) came off like the grand event it deserves to be. Stephen Cohen waved his magic wand to present photo l.a. at my favorite venue, the Santa Monica Civic Auditorium.

The convenience of the Civic Auditorium is location, location, location — two blocks from the beach, hotels, and a super-large, easy-to-navigate parking lot. The open, modern-styled lobby brings people together in conversation and interesting exchanges either before entering the auditorium or on last-chance meeting upon leaving.

Hosted by David LaChapelle and Christopher Lowell, the opening night reception benefit was held for the Wallis Annenberg Photography Department at the Los Angeles County Museum of Art. As you entered the auditorium lobby, LaChapelle's work filled the walls with his three-dimensional photo constructions of crashed automobiles.
| | |
| --- | --- |
| ©David LaChapelle | ©David LaChapelle |
Because of the stylistic eye of LaChapelle, I was hoping to see a parade of characters and maybe the transsexual model Amanda Lepore, but the crowd over the next few days was more subdued than my fantasy.
The collecting seminars are my favorite: small groups, time to see the show before the crowds arrive, and the best curators giving a personal tour of their favorite and sometimes not so well-liked imagery.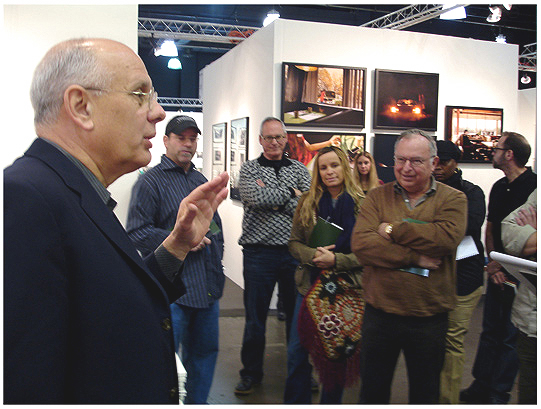 Anthony Bannon, Director, George Eastman House w/photographer Bob Weingarten
Director of the George Eastman House Anthony Bannon's collecting seminar was excellent. Bannon favored a broad palette of photographic artistry and the paradigmatic and simulacrum of the various works. One of his favorite prints was Bill Brandt's classic Nude, circa 1950–1959, at The Halsted Gallery.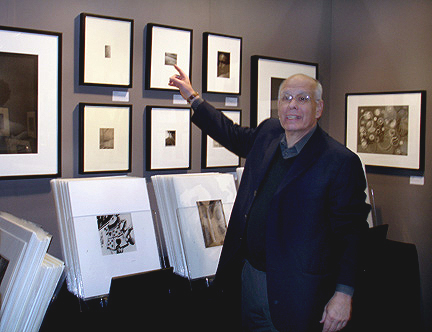 Anthony Bannon at Contemporary Works/Vintage Works
Photographer Bob Weingarten accompanied us on the tour as we worked our way through the auditorium to visit a host of galleries such as Alex Novak's Contemporary Works/Vintage Works, Hous Projects, Stephen Cohen Gallery, and many others. While at Nazraeli Press, Bannon also brought our attention to one of his favorite books, Michael Kenna's, Mont St. Michel.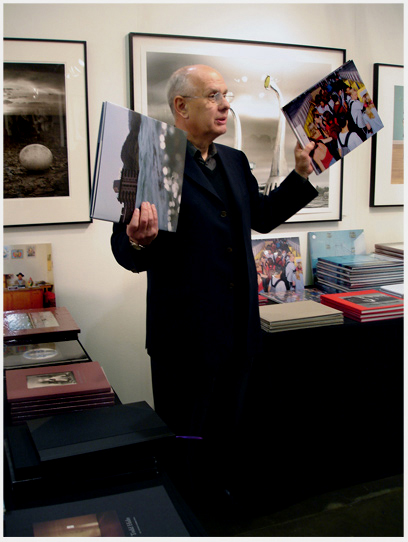 Antony Bannon at Narzarelli Press
The Gordon Baldwin collecting seminar on Saturday was a real treat. I've known Gordon for years, He came to my Hancock Park Salon back in the '90s. Gordon was very particular about what he liked…and didn't like.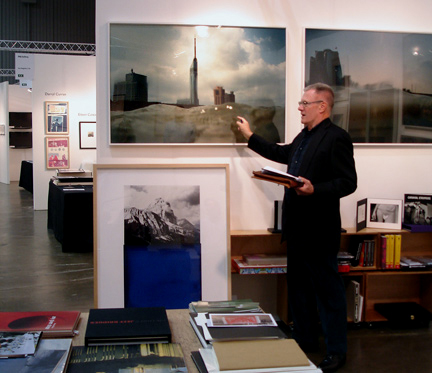 Gordon Baldwin at The Rose Gallery / Asako Narahashi photo
In the most fun way, Gordon would cast his eyes upon a work, look a bit puzzled, then say "not my style" and quickly move on, while friend Colin Westerbeck, Director of UC Riverside California Museum of Photography, would interject a view of the photographer's history or insight as to why the work prevails in the market. Gordon is currently at work on an exhibition and catalog of John Divola for the Santa Barbara Museum of Art, fall of 2011. The whole experience left a smile on my face all weekend. Love the collecting seminars!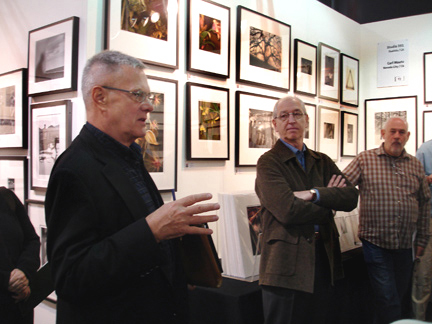 Gordon Baldwin, Curator/Author and Colin Westerbeck, Director of UC Riverside
California Museum of Photography at Carl Mautz Gallery
As an artist, I was happy to hear both Baldwin and Bannon exclaim their loyalty and dedication to accepting the photographer's choice of subject and presentation. Both seemed to favor artists in The Halsted Gallery, Stephen White Associates, and Susan Spiritus Gallery, and had interest in the Phase One of the La Brea Matrix Project. Six art photographers from Germany accepted an invitation to Los Angeles as part of an artist-in-residence program in 2009 and 2010 to search for photographic points of reference to Stephen Shore's iconic picture. The project was produced by The Lapis Press and Schaden.com with the support of the Goethe Institut and MAK Center for Art and Architecture. On view was Stephen Shore's Beverly Boulevard and La Brea Avenue", Los Angeles, California, June 21, 1975.
| | |
| --- | --- |
| The Lapis Press and Schaden.com | ©Stephen Shore "Beverly Boulevard and La Brea Avenue" Los Angeles, California, June 21, 1975. |
Stephen White, Stephen White Associates, a Los Angeles-based photographic historian and collector, brought his class from the Skirball Cultural Center Education Department. In his booth, Stephen had the Edward Steichen image George Washington Bridge, New York, 1931, gelatin silver print, $90,000.

Latin American photography was more prevalent at this year's event. Idurre Alonso is the Museum of Latin American Art's (MOLAA) curator who did a collecting seminar and lecture series on Sunday. Her current area of research is on Latin American photography of the 1990s. Her most recent project, "Changing the Focus: Latin American Photography (1990–2005)," opens in February 2010 at MOLAA.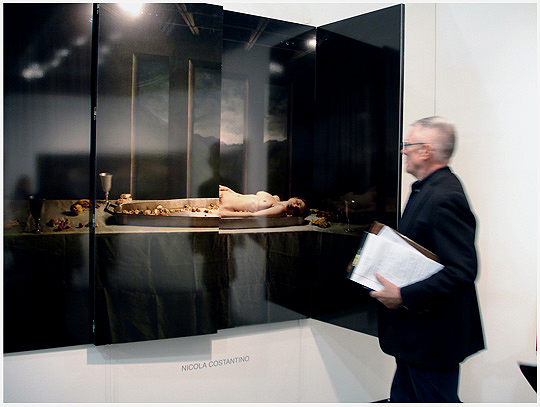 Nicola Costantino
,
still life
, 2008.
In
Nude On Table
, 184x275 cm., edition of 3 (cerrado)
From Puerto Rico, Carlos Mercado, Mercado Art Gallery, presented mixed media photography and acrylic, mounted on laminated sintra. From Spain, Galeria Sicart presented the work of Gisela Rafols, Tears, 2009, color print, 100x66.67 cm. each. One of the largest mixed media pieces I've seen at photo l.a. was by Argentinean artist, Nicola Costantino, still life, 2008. In Nude On Table, 184x275 cm., edition of 3 (cerrado) double image of full view nude, panels open to reveal an interior image of the consumption of the body and only remnants of bone remain on a platter.

At Hous Projects/New York/Los Angeles, Australian photographer Marian Drew's work attracted a lot of attention with her still lifes of animal cadavers photographed and lit in the style of Dutch and Flemish still life paintings of the 17th century.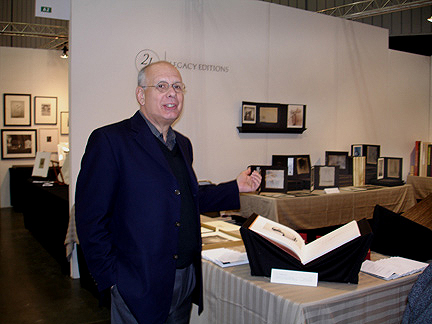 Anthony Bannon at 21st Editions
21st Century Editions SPECIAL OFFERING: The Journal Plate Set, 64 photogravure books, 74 fully signed prints, hand delivered set, was offered at $400,000. The Love, Graham Nash, edition of 80 signed and numbered copies (50 for sale), 21 bound, and 9 signed freestanding pigment ink prints, was also on display.

Great to see Rose Shoshana of the Rose Gallery witha strong showing of Japanese artist Asako Narahashi on display, including Momochi, from the series Half Awake and Half Asleep in the Water, 2003
David Fahey, Fahey Klein Gallery — entire exhibit space filled with Mark Laita largescale archival pigment b/w edition prints.

The Blind Photorapher's Guild from Sacramento again this year with their unique and surprising imagery. The Czech Center of Photography is always a pleasure. Queensland Centre for Photography from Brisbane, Australia, featured work by Lydal Petzke, Bonnett (US 19th century, paper flower), 2008, pigment print, 80x80 cm.

On the flamboyant side, to add a little sizzle to the mix, Guy Hepner from West Hollywood, featured Tony Duran and his debut of The Porn Room collection along with Duran's Role Playing Celebtography Naughty Fantasy images including a photograph of actress Sandra Bullock.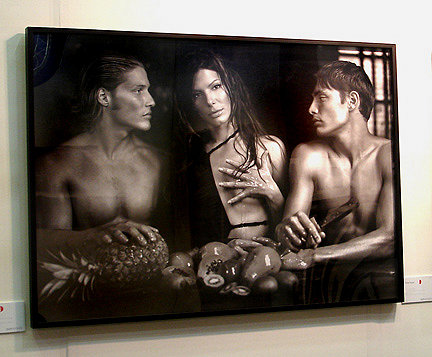 Sandra Bullock by ©Tony Duran / Guy Hepner Gallery
In contrast, there were the classics. Susan Spiritus Gallery/Newport Beach presented Camille Seaman with her iceberg images from The Last Iceberg Series II, and toy camera favorite and rising star, Susan Burnstine with her signature style of archival pigment, varnished prints. Susan makes her own toy cameras and names her cameras for each project. One of her favorite cameras, "James Brown," was accidentally knocked from her hands into the ocean. Susan is represented by both Susan Spiritus and Kevin Longino Fine Photographs/Houston, TX.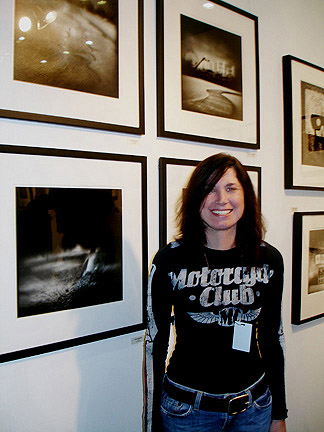 Susan Burnstine/ Kevin Longino Fine Photographs

Other Los Angeles-based galleries were DNJ Gallery with vintage prints by Jane O'Neil and Eileen Cowin. Laurie Frank, Frank Pictures/Santa Monica, CA, had a large selection of David Hume Kennerly prints from, "If Only O.J. Had Called Me: A 40-year Photographic Retrospective, 1966–2010," which will be on exhibit until April 2010 at the gallery.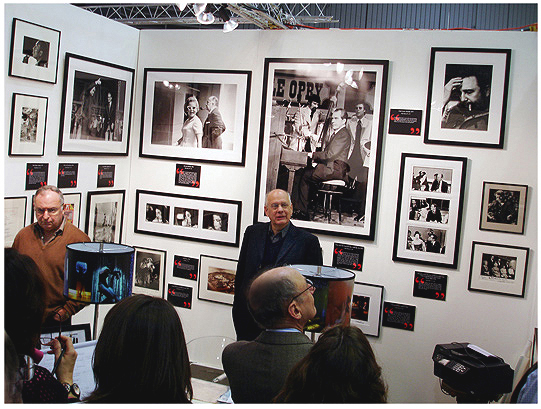 Antony Bannon, Director, George Eastman House at Frank Pictures
Light Work from Syracuse, NY, produces Contact, one of the longest running art photography publications in the world. The non-profit organization started their artist-in-residence program in 1975 and is still going strong today. Mary Goodwin, Light Work's Assistant Director, will juror the WomenInPhotography.org current "A Decade of Images 2000–2010" competition.
| | |
| --- | --- |
| Photographers, Antonin Kratochvil and Colin Finlay | Photographers, Antonin Kratochvil and Jean Ferro |
I had the opportunity to connect with my dear friend and mentor from many years ago, award winning Czech photographer Antonin Kratochvil at the Fotovision booth, the San Francisco Bay area non-profit. Co-Founded by Ken Light, Fotovision was created to support photographers interested on documenting their world. Photographer Colin Finlay joined Antonin and me and announced he was going to Haiti in less than 10 days. Antonin, who covered Afghanistan and Iraq, reminded him to take every safety precaution — including a protective jacket: "One can lose their life too easily when people are hungry and scared," Kratochvil warned.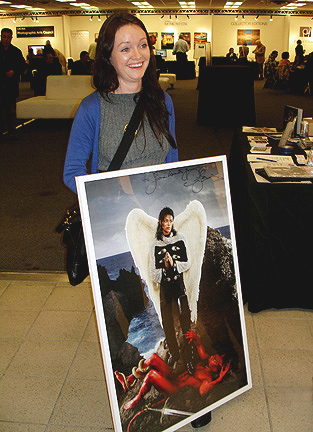 Michael Jackson ©David LaChapelle, raffle winner
While standing by the Fotovision booth, one of their past volunteers arrived carrying a large, signed poster print from the "David LaChapelle: Reflections on Photography" seminar raffle: a Michael Jackson digitally-enhanced Jackson look-a-like as an archangel standing atop a red devil. Inspired by Mexican saint cards, the image was first published on the September 2009 cover of the London Sunday Times Magazine.
I enjoyed the Smith Andersen North collections of Ruth Bernhard, Judy Dater, and Imogen Cunningham, and the Scott Nichols Gallery from San Francisco with their beautiful collection of prints.
Although photo l.a. was half the size of last year, it seemed fuller and more interesting. Maybe that was because one had the chance to digest the work and become more familiar with the differences each gallery brought to the show.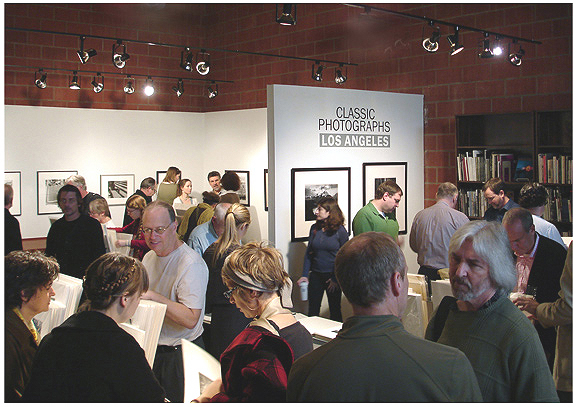 Michael Dawson Gallery/ Book Store, Larchmont Village

Missing this year were a host of vintage galleries that set up shop at the Michael Dawson Gallery/Dawson's Bookhop on Larchmont Boulevard. I stopped by and it seemed the perfect place for the vintage dealers to gather. Etherton Gallery, Tucson, AZ; Gallery 19/21, Guilford, CT; Paul M. Hertzmann, Inc., San Francisco, CA; Richard Moore Photographs, Oakland, CA; and Barry Singer Gallery, Petaluma, CA — to name a few. Singer has a wonderful collection of Edmund Teske prints. I found a wonderful print at Richard Moore's gallery…hope he'll save it for me. Not sure what next year has in store, but all in all I think everyone did very well. Dawson's environment looked like a period piece movie set and was perfect for the vintage collecting market. Charming.

Happy to see Carl Mautz at photo l.a., among his collection, Hal Lotterman's Nude Montage, 1974, silver print, 8x10 in.

photo-eye Gallery, Santa Fe, had interesting images by David Trautrimas, including Storm Crown Mechanism, 2009, pigment ink photograph, 30x40 in. They also had a large-screen Mac in the booth, a great way to display their at-home artists' portfolios.

Newcomer Louis Klaitman from Berkeley, brought Horst P. Horst, Round The Clock, gelatin silver print, 20x16 in. Willem Photographic hung the classic Irving Penn, Nadja Auermann, platinum print. Pan American Art Projects showcased, Chinese artist, Alex Guofeng Cao, Marilyn vs Monalisa, 2009, chromogenic print, 108x72 in.

At the nearby Double Tree Inn panel discussions were held with Edward Robinson, Associate Curator of the Wallis Annenberg Photography Department at LACMA, featuring author and editor Stacy Twilley, Photojournalist Colin Finlay, Photographer Sara Terry, and International Medical Corp's Margaret Aguirre.
Sara Terry, founder and president of The Aftermath Project, was also part of Centre's portfolio reviews. I dropped in to see how things were going. It's an intense environment — in a good way: eye's fixed on the work, conversation and exchange with the curator and the participant. Twenty minutes to make the best presentation you can. At a glance, I saw some incredible work critiqued by reviewers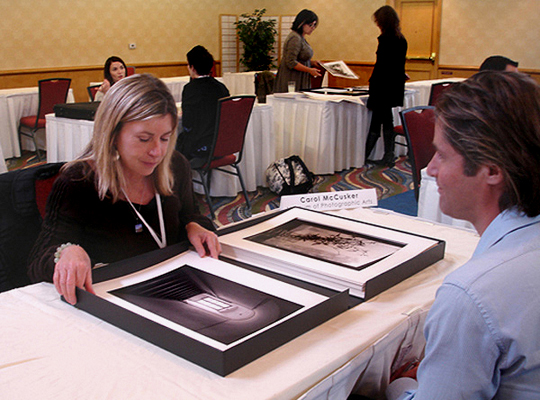 Carol McCusker, Curator, Museum of Photographic Art, San Diego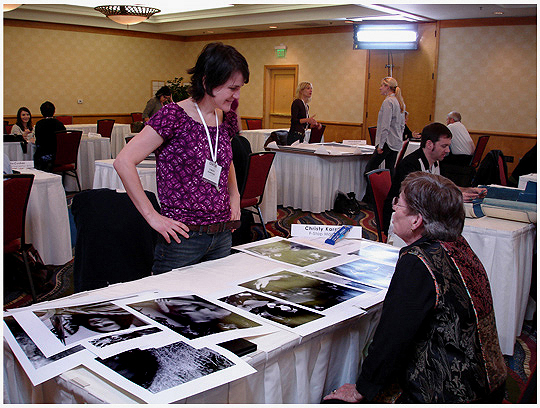 Christy Karpinski, Editor / F-Stop Magazine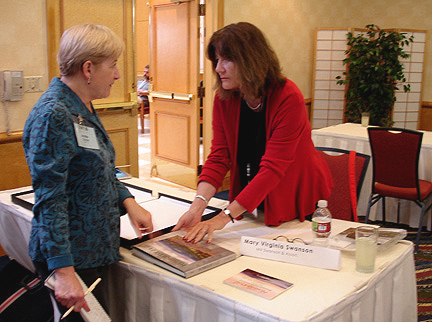 Consultant Mary Virginia Swanson
Carol McCusker, Curator, Museum of Photographic Art, San Diego; Karen Sinsheimer, Curator, Santa Barbara Museum of Art; Virginia Heckert, Associate Curator, J. Paul Getty Museum; Consultant Mary Virginia Swanson; Anthony Bannon, Director George Eastman House; photo editors; photographer representatives; publishers; and gallery owners were among the reviewers. I can see why this program sells out almost immediately.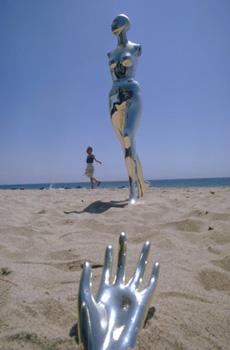 I was particularly interested in box set prints this year. Since most of my work is more experimental, I rarely did multiple prints. I'm planning to venture out there in 2010 with a limited edition, Jean Ferro 1st self-portrait pigment print collection, produced by the Box Set Gallery/Santa Fe and printed by Rush Creek Editions.With this new career move, it was good to see vintage work has a healthy value, and pigment prints, edging up and becoming more collectible — especially in color.
In an economy that encourages one to put the "Think Twice Hat" on, the 35-plus galleries were a perfect mix of vintage, traditional, and very contemporary work. And there were amazing deals — it was definitely a buyers' market. Dealers and collectors will most likely look forward to next year's 20th Anniversary event.

Jean Ferro, photo artist (www.jeanferro.com)
and President of Women In Photography International (www.womeninphotography.org)
For a list of gallery links and listings, see www.photola.com
For a subscription to The Photographic Collector see
The Photograph Collector/The Photo Review

©Jean Ferro, Mannequin Series, 1974, Limited Edition
| | |
| --- | --- |
| | PHOTO LA 2010 RANDOM NOTES by Jean Ferro was also featured in Silvershotz, Volume 6 Edition 4 International Edition |




The Photograph Collector: photo l.a. XX 2011
RANDOM NOTES 2011, by Jean Ferro volume XXXII, No. 2, Feb. 16, 2011
http://womeninphotography.org/f2/JeanFerro/photola-ferro-2011.html

The Photograph Collector: photo l.a. 19 - 2010
RANDOM NOTES 2010,volume XXXI, No. 2, Feb. 15, 2010
http://womeninphotography.org/f2/JeanFerro/photola-ferro-2010.html

The Photograph Collector: photo l.a. 18 - 2009
RANDOM NOTES 2009, volume XXX No. 2, Feb. 15, 2009
http://www.womeninphotography.org/f2/JeanFerro/ferro.html
The Photograph Collector: photo l.a. 16- 2007
RANDOM NOTES 2007, volume XXVII No. 2, Feb. 10, 2007
http://womeninphotography.org/archive23-jun-07/wipinews.html