Random Notes on Photo L.A. 16 - 2007
By Jean Ferro

Volume XXVII, No 2 Feb 10. 2007
(text permission granted by The Photographic Collector)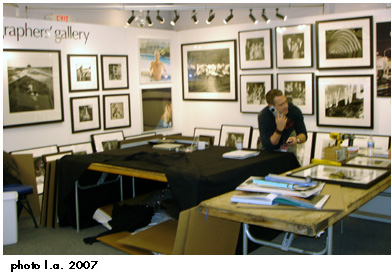 Famed rock icon Graham Nash hosted the opening reception of this year's Photo LA, the 16th Annual International Los Angeles Photographic Art Exposition, benefiting the Elton John AIDS Foundation. (Graham also hosted the first Photo LA show 16 years ago.)

Photo LA brought together a rich palette of galleries from around the globe. Over 6,000 people enjoyed the four photo-packed days of exhibits at the Santa Monica Civic Auditorium. Many notable photographers as well as emerging artists were showcased in this fast-growing photography collecting market.

Exhibitor and artist installations ranged from masters of the 19th & 20th century to the newest in contemporary art, including video, digital, and mixed media work. Well-known curators, gallery owners, and artists presented lectures, collecting seminars and panel discussions.

The Thursday evening opening benefit reception provided scrumptious tasty treats from L.A.'s best restaurants, an open bar and lots of visual eye candy. Two double shots of Absolute Ruby Red Vodka cured my desire to even think about the food!

The Luminous-Lint booth was set up in the lobby with a large "SMART Board Interactive display" that provided viewers with an impressive showcase for the Luminous-Lint.com history of photography website. Alan Griffiths was animated as he led people from one section to another, pulling up info about photographers, collections and prints.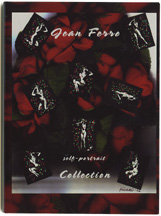 I came to Photo L.A. this year with the personal pursuit to reach galleries and publishers. I produced a cool little 4"x5" 38-page booklet printed in Italy, Jean Ferro self-portrait collection, 1974 thru 1996. The booklet is a sampler of the larger 9.5 x 13" mirror covered limited edition book. The response was inspiring and energizing!

There is always so much to see, so over the next few days, I just followed my instincts to check out whatever caught my eye or served my purpose. Here is a selection of random notes.

I decided to take two of the Collecting Seminars. Held in the morning prior to public hours, the intimate guided tours are led by experts in the collecting field. It's a great way to see the art and gain knowledge about both the galleries and their repertoire of artists. The first seminar was Friday with Virginia Heckert who joined the curatorial staff of the J. Paul Getty Museum's Department of Photographs in November of 2005, so we got a very "Getty" style view of collecting. One of Virginia's favorites was a Charles R. Savage albumen print, Yucca Brevifolia, Mojave Desert, at Paul M. Hertzmann, Inc. / San Francisco, as were the daguerreotypes found on the back wall of Alex Novak's Contemporary Works / Vintage Works / Chalfont, PA.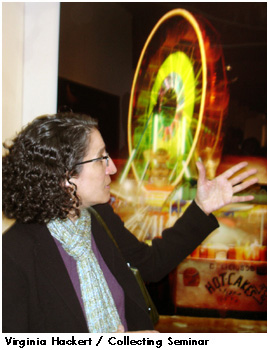 At Stephen Daiter / Chicago I was happy to see Edmund Teske's work more visible and gaining ground. Edmund himself always knew he was a collectible fine art photographer. Daiter offers fine and vintage examples of important American and European photography from the 20th century.

Both California-based Carl Mautz Vintage Photographs / Nevada City, CA (vintage photography and book distributor-specializing in historic photographs of California and the West, nudes, plus photographs by Minor White to Milton Greene) and Richard Moore Photographs / Oakland, CA (19th- and 20th-century fine vintage prints) had good traffic and activity in their booths all weekend.

John Cleary / Houston, TX showed vintage 20th-century work as well as the unique contemporary photographer Maggie Taylor's beautifully printed inkjet prints.

The booth was constantly busy at Photo-Eye Gallery / Santa Fe, NM. Along with showcasing their artists and book publishing, they had a computer display to promote their new VisualServer™, a website management solution for photographers and artists. They also represent Mona Kuhn who gave a lecture about her new body of work, which revolves around metaphors of original sin and raising questions about lost paradises and "innocent" youth.

De Soto Gallery /downtown Los Angeles gallery row, had a luminous, large 72"x96" c-print by Trujillo-Paumier called Hot Cakes 1, 2000. Also from the downtown L.A. scene, the Los Angeles Center for Digital Art had a booth in the lobby. Other lobby dwellers included the Queensland Centre for Photography / Australia, Magnum Photos / New York, Caracola Latin American Fine Art / Los Angeles, and others.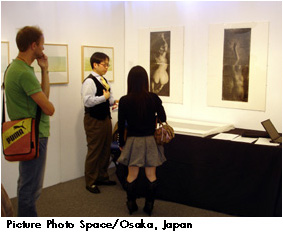 First time Photo LA exhibitor, Picture Photo Space / Osaka, Japan, established 1984, handles 20th-century and contemporary photography (Sally Mann, Michael Kenna, and others). They exhibited photographers Hiroshi Osaka and Kunihiko Katsumata. I also caught a glimpse of another new exhibitor, Serge Plantureux / Paris, vintage work. I was looking for the Galerie Esther Woerdehoff / Paris. Esther was a juror for the Women In Photography International "Decisive Moments," tribute to Cartier-Bresson exhibition.

Stephen Cohen, founder of Photo L.A. and ArtFairs Inc., positioned his gallery in the very center back of the hall. It was a good location; his booth was constantly busy. I once asked Stephen, how do you do it? and he said, "One day at a time." Stephen and his staff are totally amazing!

The lobby promo table was packed with goodies including Women In Photography International collectibles 20th Anniversary CDs, printed materials from Photo L.A., 2002, 03, and 04 as well as promotion for the WIPI 25th Anniversary, Turning Silver juried print collection exhibition.

I saw lots of "sold" red dots on the title tags at the booths, and by Sunday, blank spaces where photos once hung as collectors carried away their prizes. I don't recall seeing anything shocking or too weird. There seemed to be a balance of B/W, color, digital and chemically produced prints.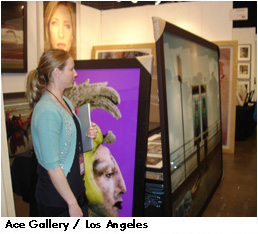 Ace Gallery / Los Angeles was very noticeable, spread across two booths in the center isle with large 5' x 3' and larger glossy photos and backlight portraits: face shot photos by Martin Schoeller of Brad Pitt, Jack Nicholson, and others...lots of "large" work stacked warehouse-style leaning against walls and tables, and mounted on walls, including a Dennis Hopper 1963 photo of "smiling" Andy Warhol

Winter Works on Paper / New York had floor to ceiling prints, lots of early Rock & Roll including photos of Bob Dylan and Elvis. They have an extensive inventory and are known for a wide range of subject matter and genres of photography.

David Gallery / Culver City, CA, originally called APEX Fine Art, has set up shop in Culver City, expanded in size as well as scope to focus on masters of contemporary photography.

Nice to see the Czech Center of Photography / Praha, Czech Republic, a private institute founded in 1984, return again exhibiting Frantisek Drtikol and Josef Sudek.

One of my favorite contemporary photographers, Sebastião Salgado, is handled by Peter Fetterman / Bergamot Station, Santa Monica, CA. The gallery specializes in classic black and white photography and displays images in a salon-style atmosphere. Also from Bergamot Station, L.A.'s notable The Rose Gallery, who handles Graciela Iturbide among many well known photographers. Another Bergamot Station gallery is the Craig Krull Gallery with an emphasis on photo-based media and painting.

The next Collecting Seminar I took was Sunday with Mary Virginia Swanson, consultant to the photographic industry and contributor to many photographic publications. She is a strong advocate for collecting the work of emerging and mid-career photographers; Swanny shared insights about collecting new work as well as provided the group with printed handout sheets of contacts, publications, and resources. At one of our stops, she held up a copy of The Photograph Collector as a key publication for those interested in collecting. One of her favorites was John Cleary's artist Maggie Taylor, as well as the outside-of-the-box artists represented by Lisa Sette Gallery / Scottsdale, AZ, who are more mixed-media-based than straightforward photography. The two-hour power packed tour provided us with a wealth of knowledge about artists, galleries and resources.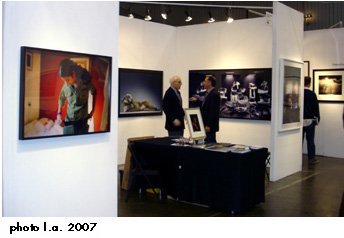 It's always a pleasure to see Susan Spiritus Gallery / Newport Beach, CA, who works with private collectors and corporate clients to enhance and establish their collections. It has been Orange County's premiere gallery of fine art photography since 1976.

A newcomer to Los Angeles, SCALO|GUYE / West Hollywood, CA, opened in April 2006 by Christopher Guye. It's a very international, interesting gallery that exhibits both established and emerging fine art photographers. It recently partnered with Lead Apron, founded by Jonathan Schilder Brown, which offers and assembles libraries of rare, collectible, and out-of-print art and photography books.

Yossi Milo Gallery / New York City featured artist Loretta Lux. I kept hearing the buzz during the Collecting seminars about how three years ago a Lux print sold for $2,000 and now the same print is worth $26,000. The gallery has an eye for up-and-coming talent. Talk about a good investment. Forget the stock market, invest in photography!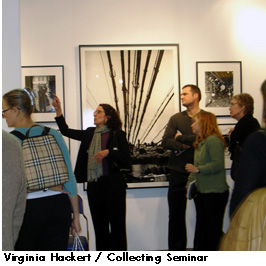 At The Etherton Gallery/ Tucson, AZ the Elliott Erwitt 1983 large silver gelatin print of nude students with easels painting a clothed model was a memorable and fun photo.

One of my favorites is Twin Palms / Twelve Trees Press / Santa Fe, NM. For more than 20 years they have produced some of the most beautiful photography and art books available. Due out Spring 2007 is The Adventures of Constantine Cavafy, Duane Michals, 9 x 13 Inches, 120 four-color plates, 112 pages. All the book publishers/distributors including Nazraeli Press / Tucson, AZ, D.A.P / New York, Schaden.com / Cologne, Germany, and others were crowded hubs with enthusiastic buyers of books and publications.

The exquisite portfolios by 21st Editions / South Dennis, MA were another highlight. They produce handsomely printed platinum series fine press books in limited editions. Due this spring, 21st has been granted permission to reprint one of the greatest of American epics, Hart Crane's The Bridge, along with 13 platinum prints of Sheila Metzner's finest and most luminous images of the Brooklyn Bridge and New York. It will be limited to 60 signed and numbered copies, 13 signed platinum prints, 18 x 14 inches.

Charles Guice Fine Art Photography / Berkeley, CA showed Carrie Mae Weems In De Sica's Light, 71"x60" chromogenic print, edition of 10, from the series Roaming, 2006, photographed in Italy.

I was thrilled to see Snow Crystal (Study V) by Doug and Mike Starn who presented at Hackelbury Fine Art / London. In the late '80s the Starn Twins were my breakout inspiration to take photography out of the frame, explore and experiment with no limitations — a transition from photography to photo art.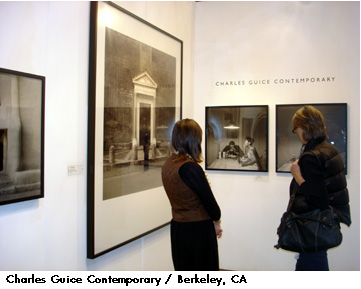 It was nice to see that Julian Cox, Curator of Photography, High Museum of Art / Atlanta, GA traveled in for the weekend. The Getty's Weston Naef and Gordon Baldwin were ever present, even L.A. art critic Peter Frank waltzed through the exhibit. LACMA's Interim Photo Director, and Executive Director of the No-Strings Foundation, Tim Wride, was a panelist for a half-day Seminar defining your relationship to your work, clarifying your personal and artistic objectives, and determining your idea of success, which was moderated by Eric Miles, photo-eye Books and Prints. This seminar was produced by Center, formerly the Santa Fe Center for Photography. ("Center?" Odd name. The name Santa Fe Photography Center was an enchanting invitation to visit the marvelous world of the southwest desert and adobe dwellings. Not sure why they changed the name.)

A Night View of Los Angeles by photographer Helen K. Garber, an ambitious 40-foot display of 20 different photographs digitally stitched together as a composited 360-degree panorama, hung by the entrance.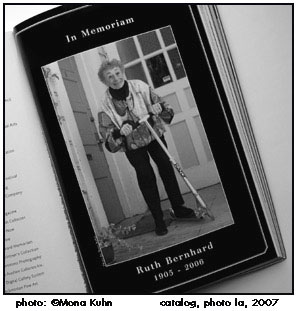 Once again, photographers, collectors, curators, and galleries, congregated to explore, share, sell, and expand the wonderful world of collecting photography at Stephen Cohen's 16th Photo L.A. (The list of exhibitors is online at http://www.photolagalleries.com.

In the Photo L.A. 2007 exhibitor catalogue there is a wonderful memoriam to Ruth Bernhard, (1905–2006), a B/W photo by Mona Kuhn of Ruth standing posed in a sporty outfit, one foot on a Razor skate board, with a wonderful bright-eyed girlish grin. We'll remember her fondly.



Jean Ferro Photo Artist / President, Women In Photography International
(http://www.JeanFerro.com) http://www.womeninphotography.org)

The Photograph Collector: photo l.a. 16- 2007
RANDOM NOTES 2007, volume XXVII No. 2, Feb. 10, 2007 (paper newsletter)
http://womeninphotography.org/archive23-jun-07/wipinews.html

The Photograph Collector: photo l.a. 18 - 2009
RANDOM NOTES 2009, volume XXX No. 2, Feb. 15, 2009 (paper newsletter)
http://www.womeninphotography.org/f2/JeanFerro/ferro.html

The Photograph Collector: photo l.a. 19 - 2010
RANDOM NOTES 2010,volume XXXI, No. 2, Feb. 15, 2010 (paper newsletter)
http://womeninphotography.org/f2/JeanFerro/photola-ferro-2010.html

The Photograph Collector: photo l.a. XX 2011
RANDOM NOTES 2011, volume XXXII, No. 2, Feb. 16, 2011 (electronic PDF)
http://womeninphotography.org/f2/JeanFerro/photola-ferro-2011.html


THE PHOTOGRAPH COLLECTOR
Since 1980, collectors, curators and dealers have relied on The Photograph Collector monthly newsletter. Readers who need to know what's happening in all aspects of the market for collectiblephotographs turn to us for analysis, facts, and candid advice, news from dealers and galleries, upcoming auctions and trade fairs and symposiums, and more.
Subscriptions are $149.95 per year in North America. $169.95 overseas.
The Photo Review / The PHOTOGRAPH COLLECTOR