Sylvia Plachy's Surprise Video Letter

During the Lucie Award presentation by Women In Photography International
Sylvia was greeted with a surprise video letter from her son, Adrien Brody to congratulate his Mom., Also appearing in the video is Jack Black. The video letter
was produced in Australia while Adrien and Jack were filming Peeter Jackson's King Kong. October 2004
titled:
"Adrien's Love Letter to Mom"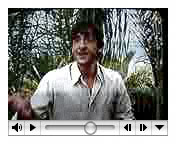 Sylvia Plachy - Adrien Brody - LUCIE AWARDS - FULL CLIP 2004. Lucie Foundation WIPI was the opening presentation. Douglas Kirkland introduces Hossein Farmani, and on we go. In 2004, images had to be very small online.. so it's fun looking back at the WIPI history and seeing how much we've grown and who are some of the photographers over the years that stayed with WIPI. .
https://www.youtube.com/watch?v=XWfQ72Pd_FE&t=5s
Lucie Awards Lucie Foundation 2004, Sylvia Plachy receives special surprise video clip from her son Adrien Brody....with the help of Jack Black when Jean Ferro & Joyce Tenneson present Sylvia with her Outstanding Achievement award on Oct. 18, 2004...thought this fit perfectly as a Mother's Day post too! (it's funny, I had suggested Adrien send her flowers, or a telegram...and he was brilliant and surprised us all.! We got the video 1 hour before show time! (Full cliip to follow) Sylvia Plachy - Adrien Brody - LUCIE AWARDS - #1 Mommy - Short Clip
https://www.youtube.com/watch?v=wsUJ58XBMD8
We are working on providing a larger, more defined file, in the meantime,
please enjoy this tribute clip to
Sylvia Plachy at the 2004 Lucie Awards


** please note:
Adrien Brody and Jack Black were not presenters at the Lucie Awards.
Adrien with the help of Jack Black provided the above special video congratulations tape to his mother, Sylvia