The Private Dinner Party - 2004 Lucie Awardes /NYC
photos by Jean Ferro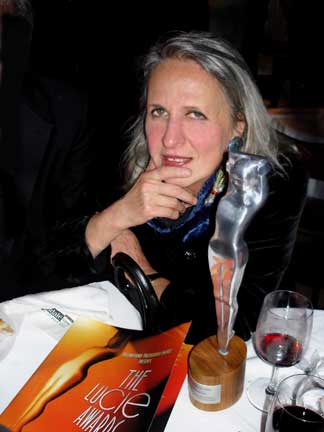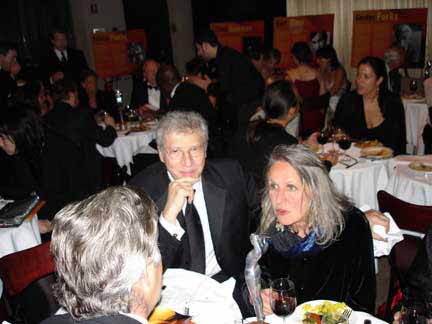 Elliott Brody and Sylvia speaking to John Dolan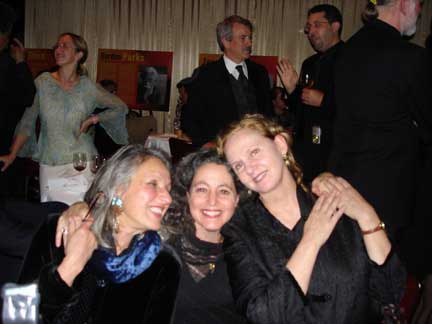 Sylvia Plachy, best friend of Joyce and Joyce Tenneson
Sylvia Plachy, Lillian Bassman (Lucie Award for Achievement in Fashion), Jean Ferro
Jay Maisel, (Achievement in Advertising), left
Bob Willoughby, (Achievement Still Photographer Motion Pictures) right
Sylvia, Anna Mia Davidson, Hossein Farmani and Bruce Davidson (Achievement Documentary Photography (left)
Sylvia and Marrigje deMaar / Netherlands, (New Discovery Award) signing autographs
Timothy White, (Photographer of the Year), Douglas Kirkland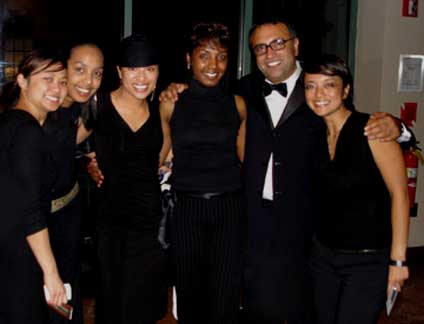 WIPI Pro Member Cat Jimenez, (w/hat, 3rd from left) organized volunteers gather
with Hossein Farmani, Founder Lucie Award program

It was a pleasure to see so many great photographers who normally are hidden behind the camera, come forth and so enthusiastically received their Lucie Award Statue in a public arena on stage at the American Airlines Theatre. Each recipient professed a heartfelt "THANK YOU" for the recognition. Unlike traditional photography awards that are generally "industry only" related, the Lucie Awards 2nd annual presentation is raising the mantle of visibility for photographers far beyond the traditional photo ceremonies. Video clip presentations by renown actors and directors paid tribute to this cast of incredible talent including WIPI's Sylvia Plachy and one of NY's greatest female fashion photographer's, artist, Lillian Bassman. Similar to the Academy Awards, recognition was also given to those "behind the scenes," those incredible helping hands that help to make the whole picture come together, the models, stylists, wardrobe, make-up, editors, publishers. The rest of the evening was very much the "old boy's club"... (see Award presentation photos) with awards going to:
Women in Photography Award:
Sylvia Plachy presented by photographer, Joyce Tenneson and Jean Ferro, photo artist and president of Women In Photography International (WIPI) included was a special video clip congratulations from son Adrien Brody.

Art Buyer/Producer, Justine Enoch / TBWA Chiat Day S.F., Adidas "Impossible is Nothing"

Art Director, Ashley Reese / McCann Erickson, S.F., Microsoft

Creative Director of the Year, Kai Zastrow / TBWA Chiat Day S.F., Adidas "Impossible is Nothing"

Advertising Photography: Jay Maisel, presented by Michael Grecco / Advertising Photographers of America (APA)
New Discover Award, Marrigje de Maar, Netherlands, accepted the award announced and presented by Douglas Kirkland

Sports Photography: Walter Iooss, presented by Steve Fine / Director of Photography at Sports Illustrated Magazine
Picture Editor of the Year, Michele Stephenson, Time Magazine

Book Publisher of the Year, Taschen, A Tribute to Muhammad Ali

Photojournalism: James Nachtwey, presented by Jim Kelly / Managing Editor of Time Magazine

Humanitarian Award: Sebastian Salgado, Salgado on location, award, accepted by Douglas Kirkland on his behalf

Documentary Photography: Bruce Davidson, presented by his daughter, photographer Anna Mia Davidson
Special Tribute to Helmut Newton (1920-2004) , Ralph Gibson accepts award on behalf of Newton with special video clip recognition by Jodie Foster
Photographer of the Year, Timothy White, presented by Susan Baraz and Glen Serbin of Art Edge

Fashion Photography: Lillian Bassman, presented by Martin Harrison
Hair Stylist of the Year, Guido Palau - Art and Commerce
Make-Up Artist of the Year, Paul Starr - MAO
Wardrobe Stylist of the Year, Bill Mullen- Art and Commerce
Model of the Year, Caroline Winberg - Women Management

Entertainment Photography: Bert Stern, presented by Shannah Laumeister

Portrait Photography: Arnold Newman, presented by Eugene Mopsik, ASMP

Architecture Photography: Julius Schulman (Julius Shulman was on location, sent a video clip)

Special Tribute: Francesco Scavullo, (1921- 2004) along with congratulations letter from Barbara Streisand, video congratulatory clips from Cindi Crawford and Addie McDowell, award was presented by pop star Deborah Harry to Scavullo's life mate, collaborator, Sean Byrnes

Outstanding Achievement Awards Fine Art Photography: Arthur Leipzig presented by Mary Panzer /Photography Curator of National Institute of Photography, Smithsonian, Washington D.C.

Visionary Award: Cornell Capa, introduction by James Nachtwey with presentation of award to Willis Hartshorn, President of ICP

Music Photography: Jim Marshall, presented by Timothy White

Still Photography for Motion Pictures: Bob Willoughby, presented by Eli Reed / Society of Motion Picture Still Photographers (SMPSP) special congratulations video clip from Director Sydney Pollack

New Discoery Award: Marrigje deMaar / Netherlands

Special Tribute - Rememberences Eddie Adams (1933-2004), Richard Avedon (1923-2004).
Cartier-Bresson (1908-2004), Gene Trindle(- 2004)

Gallery of the Year, Howard Greenberg Gallery, New York, "Eikoh Hosoe, Ukiyo-E Projections"

Photo Curator of the Year, Sandra S. Phillips, San Francisco MOMA, "Diane Arbus Revelations"

Lifetime Achievement in Photography: Gordon Parks presented by Richard Rabinovitz, Publisher of American Photo Magazine to Gordon's daughter Toni Parks. Her 92-year-old father was unable to make the long journey, his daughter, Toni Parks flew in from England to accept the award on behalf of her father and read a letter from Gordon. "I still have a passion for living, so this is no farewell," he said. "Lift a glass of wine for me and keep going."
It's a special celebration to the worlds greatest image makers. In the coming years, we will see many photographers grace the stage to receive this honor. Salute Lucie's! Salute the winning Photographers! .. Jean Ferro / WIPI
All photographs Copyright Jean Ferro 2004 authorization required for reproduction
The Awards Backstage, page 1
The Presentation, page 2
Adrien Brody Video Clip - page 3
The Private Party, page 4 This page TOP
Full list of winners and presenters
Sylvia Plachy PR release
Sylvia Plachy articles