photo l.a. XX - 2011
IN JANUARY, L.A. IS THE CENTER OF THE ART UNIVERSE
by ©Jean Ferro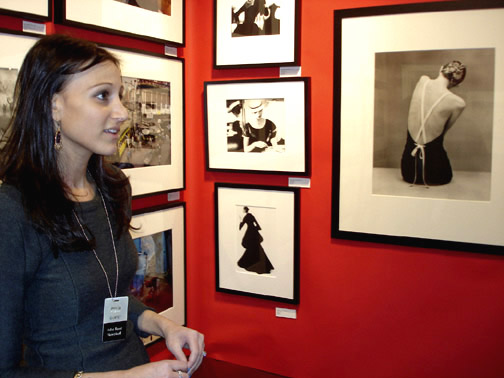 Julie Rose Novakoff, principal of Nova Fine Art, LLC, at Peter Fetterman Gallery
images of Lillian Bassman
photo l.a. XX + artLA Projects
January 13–17, 2011
Santa Monica Civic Auditorium
www.Photola.com

From its earliest beginnings at Butterfield & Butterfield in 1991, Stephen Cohen's photo l.a. has become one of the most successful photographic art fairs in the country. This edition was no exception. According to the Stephen Cohen Gallery, over 8,000 people visited this year's fair.
The 20th Anniversary Edition opening reception with honored guests William Eggleston and Stephen Shore benefited the Wallis Annenberg Foundation Photography Department at the Los Angeles County Museum of Art (LACMA). This year, photo l.a. also launched an addition, art-LA projects, a prelude to a much larger artLA 2011 that will align with the start of the Getty's Pacific Standard Time initiative and Art Platform—Los Angeles, a new art fair creation by The Armory Show team in the fall of 2011.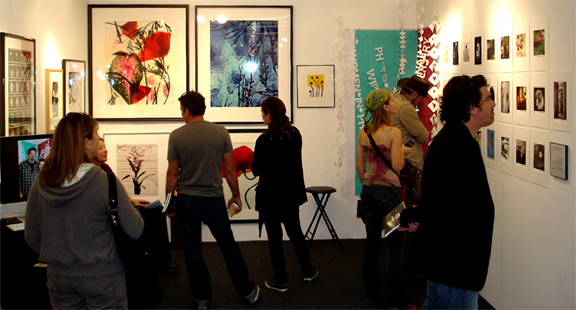 Women In Photography International booth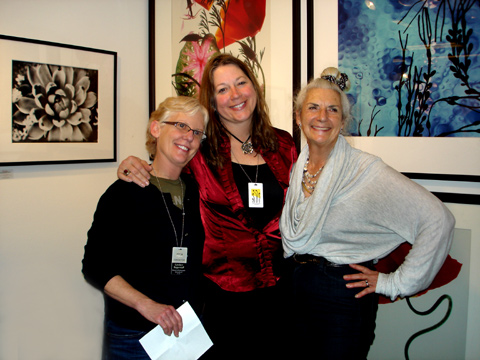 Charter Members, Candice Biggerstaff, Carol Henry w /Jeanne Adams, Ansel Adams Gallery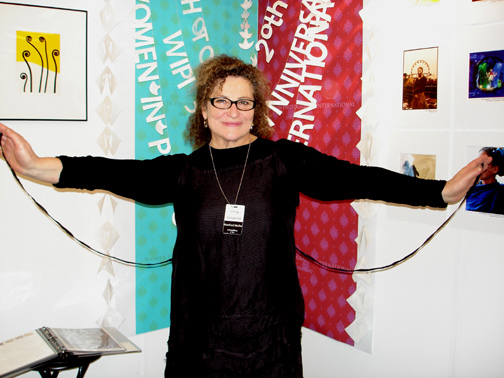 Rose Shoshana, Rose Gallery, Bergamot Station, Santa Monica

My agenda was celebrating Women In Photography International's (WIPI) 30th Anniversary booth at photo l.a. Fine art photographer Carol Henry designed the vibrant interactive photo booth for the fair's attendees, collectors, gallery owners, and photographers. William Eggleston also stopped by to be photographed. It was a power-packed five days at photo l.a. displaying member work and celebrating WIPI's history. (See images on Facebook. Jan 13 Reception – Jan 17th, http://www.facebook.com/media/albums/?id=52330307762.) What was new: Several galleries, including Kahmann Gallery from The Netherlands, had a strong, black-and-white, European, contemporary nude portfolio. Galerie Dix9, France, featured the radical young Chinese photographer/filmmaker Cui Xiuwen who pushes the envelope's edge with her photo and video documentation Lady's, in which she secretly filmed unlicensed prostitutes at work. Born in 1970, Cui is not hindered by traditional attitudes; she reaches out for equality in the once-forbidden, and still-controversial sexual territory for women. Juxtaposed to Cui Xiuwen's work, Pan Vu Gallery/China showcased a rural, classic Chinese lifestyle in black-andwhite and the Ofoto-Gallery/China showed more conceptualized, contemporary imagery of modern society, along with MR Gallery/Beijing. Another new comer, Skotia Gallery from Santa Fe (with plans to move to Los Angeles in 2012), noted a good response to photographer Kelsy Waggaman.


There were a lot of "new to the fair galleries" this year including Eyestorm/London; the well established Gallery 825/Los Angeles, founded in 1925 to provide the Los Angeles community with the opportunity to view fine art as well as establish a collection of European and American art; Riflemaker/London; Villa de arte Galleries/Spain; and TS+ Projects, New York. At the Rivera & Rivera and Known Gallery/Los Angeles, their backdrop was great: a graffiti graphic wall designed and painted by Retna. The hanging work was typical gang symbolism, street, black-and-white photo work. One in particular — of a railroad bridge — was very good, but in general, for me, it's a worn-out story that could use bright colors to show strength and purpose. Abba Fine Art/Miami showcased Debra Holts's limited edition, large-scale, contemplative, environmental images of cloud formations, water, and landscapes. Hous Projects/NY/Los Angeles, presented edgy new photographers. One Hour Cleaners was a new addition. As Stephen Cohen told me, "One Hour Cleaners is a nom de plume or de guerre or some other nom de. I fell in love with the signage of a defunct One Hour Cleaner store in Mar Vista. The photo in the catalogue is the front of the building. I thought it would be a great name for a gallery and since I am expanding the horizons of Stephen Cohen Gallery to include different media as well as secondary market work, I thought now is the time — or close to the ti me — to transition to a new gallery after 19 years (and longer as a private dealer)." They had Siri Kaur's Superman on the wall as well as Kristie, 2007, a WIPI juried competition winner.

The nonprofit Light Work artist-in-residence space from Syracuse, New York, had a wonderful Carrie Mae Weems Untitled, from the "Kitchen Table Series, 1990/2010" — a silver gelatin print, 9.875"x9.75" image on 14"x11" sheet, signed and numbered print, in a limited edition of 100. The Blind Photographers Guild/Sacramento set up shop once again. Everyone is always amazed at the visual content displayed in their booth melding photography and technology. The Queensland Center for Photography (South Brisbane, Queensland, Australia) returned once again this year with a little apprehension over the flooding making its way through the Australian countryside.

Joining the ranks of bad boy artist Andres Serrano's 1987 Piss Christ and the 1989 The Perfect Moment by Robert Mapplethorpe, David Wojnarowicz's Fire in My Belly the current, controversial, Smithsonian-axed video, was shown continuously in the video lounge. The upstairs VIP lounge played host to the Lucie Awards Foundation, which presented the photographic works of Tasya van Ree and Jessica Lange as well as a conversation with Amy Arbus and Sara Terry, photographer and founder of The Aftermath Project.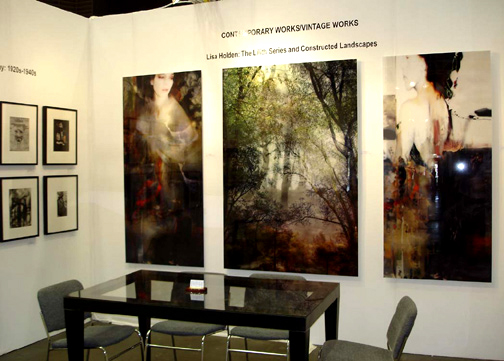 Contemporary Works/Vintage Works

The 70-plus exhibitors included the collectors' choice galleries, such as Alex Novak's beautifully presented Contemporary Works/Vintage Works/Chalfont, PA. Novak handles the top twentiethcentury photographers from Brassaï to Weston. Contemporary work on display included Arthur Tress (Owl, Big Thicket, Texas; Flood Dream), Lisa Holden, British-born artist based in Amsterdam, the Netherlands (Scarlet & Gold and Licit, both from the "Lilith Series;" and two of her new "Constructed Landscapes," Tree III and Forest). Holden's work is made on a large scale. Most of the images are available in 30"x40" paper versions (her smallest size), larger sizes in Diasec mounts and/or as very large, unique, painted pieces mounted on aluminum with a UV laminate. Artist Arthur Tress signed copies of his new book, Skate Park, on Saturday, January 15th at the show, and at other times Tress spent time in Novak's booth. The gallery overall had good sales including Daido Moriyama's Kagerou (Mayfly). Paul M. Hertzmann, Inc./San Francisco, with 35 years experience in buying and selling vintage photographs, books with original photographs, and photographic albums, handles photographers from Ansel Adams to Minor White. Paul displayed Edward Weston's Metro-Goldwyn-Mayer, 1939, vintage gelatin silver print 9"x7.5". Barry and Gretchen of The Barry Singer Gallery/Petaluma, CA, house Berenice Abbott to Max Yavno and a couple of my favorites, Edmund Teske and Lou Stoumen. Singer presented Paulette Tavormina's Lemons and Pomegranates, After J.v.H., archival inkjet print, 2010. WIPI captured a really nice photo of Gretchen Singer in the WIPI photo booth. John Cleary Gallery/Houston carried Maggie Taylor's 42"x42" limited editions. Stephen Daiter/Chicago, had a full house of 20th- and 21st-century European and American avant-garde documentary photography. DNJ Gallery, recently moved to Bergamot Station/Santa Monica, showcased Bill Sosin limited editions prints. Sosin's photographs are now part of the permanent collection at LACMA.

ROSEGALLERY/Santa Monica carries a lineup of diverse modern and contemporary artists
like Dorothea Lange, William Eggleston, Manuel Alvarez Bravo, and Graciela Iturbide. The photo l.a. catalog image was Clare College, May Ball, Cambridge, 2005, from the "Luxury Series," 1995–2001 by Martin Parr. "All Things Parr," the recent exhibit at the Bergamot Station gallery, ran through January 29.
Susan Spiritus/Newport Beach, CA, featured new work by rising star Susan Burnstine from the series "Absence of Being." Susan creates images from her own handmade cameras and lenses that are frequently unpredictable and technically challenging. Work by Cara Barer whose unique imagery has evolved from her chance encounter with the Yellow Pages is a delight for all to see. Also, Spiritus presented work by Roman Loranc and Larry Vogel. Larry was awarded a photographic scholarship from The Friends of Photography for the Ansel Adams Photography Workshops in 1983. It was thelast of the workshops for renowned photographer Ansel Adams.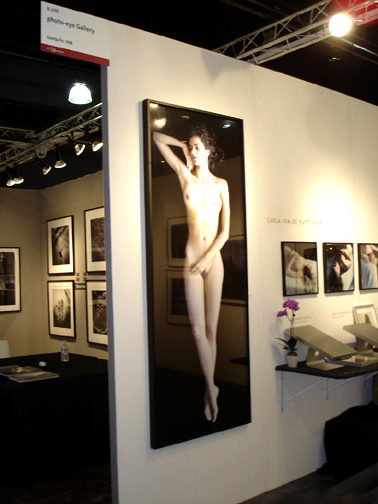 At photo-eye Gallery/Santa Fe you couldn't miss the large-scale nudes of Carla van de Puttelaar from the "Cranach Series," cleverly hung by the edge of the wall so passersby came face to face with the simplicity of nudity.
Want to find Peter Fetterman (Peter Fetterman Gallery/ Bergamot Station, CA)? Look for the red walls with classic black-and-white prints! Established in 1990, Peter, a successful independent-film-producer-turned-gallery-owner, specializes in classic photography with an emphasis on humanist imagery. At photo l.a., he had a wonderful display of work by the ninety-four-year-old fashion photographer Lillian Bassman. Bassman's work inspired me as a young woman approaching the visual arts; her graphically styled haute couture images for Harper's Bazaar were strikingly memorable. Peter handles top contemporary photographers today, including Leibovitz, Salgado, Erwitt, McCurry, and many others, in addition to one of the largest inventories of Cartier-Bresson's photographs in the world. Starting in March, after 16 amazing years in Gallery A7 at Bergamot Station, Fetterman is expanding to a larger, beautiful, 3,200-square-foot space, Gallery A1, and will open with an extraordinary exhibition, "Elliott Erwitt: Classics."
Getting the most out of wall space was relative newcomer Smith Anderson North/San Anselmo, CA, established in 2004, which maintains an active exhibition schedule by creating shows by established and emerging artists, primarily from the San Francisco Bay area. Emphasis is on 20th century and contemporary fine art photography and photo-based art, as well as contemporary painting, sculpture, and works on paper. Stefan Kirkeby is a delight to talk to and enthusiastic about the work the gallery handles with its emphasis on California artists.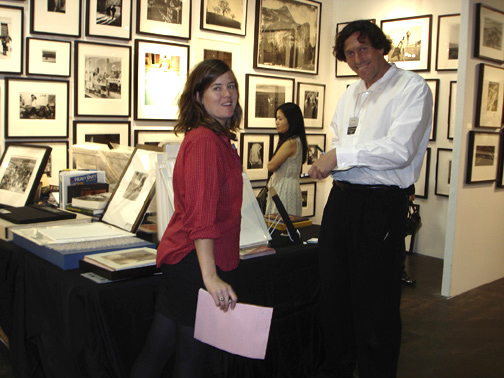 Smith Anderson North
Paul Kopeikin Gallery/Culver City, CA, returned this year with a lineup of artists including Steve Fitch, Garry Winogrand, and Marion Post Wolcott, with attention to Ansel Adams-inspired
photographer Mitch Dobrowner's Bear's Claw, Moorcroft, Wyoming, 2010. J.J. Heckenhauer /Germany; Gitterman Gallery/New York; Phaidon/New York; Monroe Gallery of Photography /Santa Fe, NM; photokunst/Friday Harbor, WA; Louis Klaitman/Berkeley, CA; Gallery 19/21/Guilford, CT; Cordon Potts Gallery/San Francisco; JoAnne Artman Gallery/Laguna Beach, CA; Romer Young Gallery/Los Angeles, Kaycee Olsen Gallery/ Los Angeles; Joel Soroka Gallery/Aspen, CO; Robert Tat Gallery/San Francisco; along with Select Vernacular Photographs/Norman Kulkin also came onboard to celebrate Stephen Cohen's 20th anniversary photo l.a.. Fittingly, the Stephen Cohen Gallery showed Josef Hoflehner's images, City of Angeles and L.A. Metro, Los Angeles, 2009.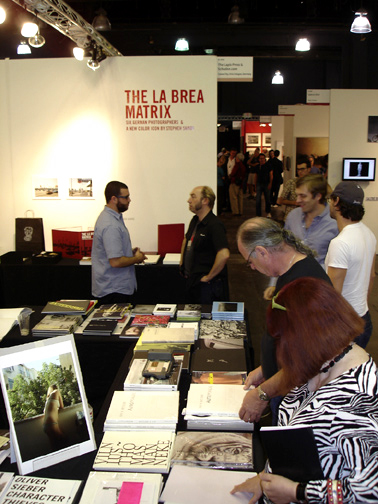 At Schaden/Los Angeles, The La Brea Matrix (published by the Lapis Press and Schaden.com) reappeared this year with the presence of Stephen Shore, one of photo l.a.'s opening reception honored guests. Other crowd-pleasers were Nazraeli Press, Artbook | D.A.P, Aperture Foundation, and El Nopal Press. 21st Editions presented Listen: Herman Leonard and His World of Jazz. The portfolio includes an introduction by Quincy Jones; an afterword by Steven Albahari; more than 60 iconic photographs of jazz greats such as Louis Armstrong, Duke Ellington, Dizzy Gillespie, Billie Holiday, Charlie Parker, and many others; and twelve platinum prints.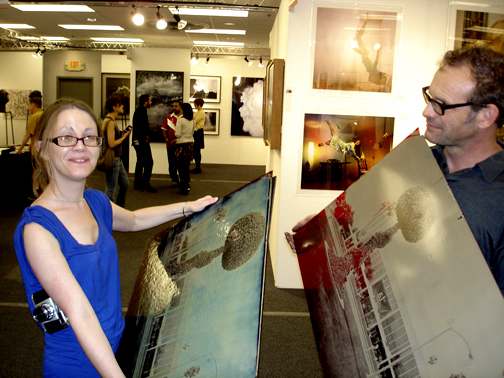 Luther Gerlach mammoth wet plate with assistant Eva Crawford

Photographer Luther Gerlach, owner and operator of the world's largest mammoth wet plate
collodion camera photographed the exterior of the Santa Monica Civic Center and created on-site
22"x30" ruby and blue glass wet-plate collodion plates.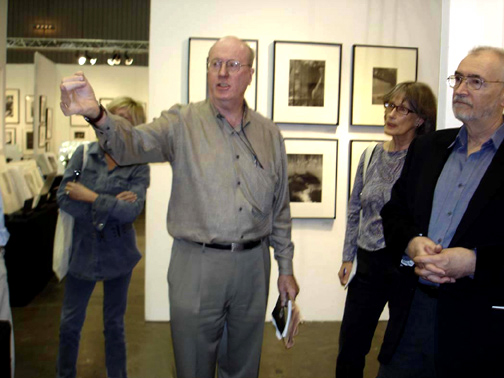 Weston Naef, independent author/curator, collector Michael Wilson

I followed two collecting seminars: one with Weston Naef, independent author/curator and founding curator of the Getty's Department of Photographs, who partnered with collector Michael
Wilson. Together they covered why curators and collectors buy work and exchanged informative dialogue about recognizing value and authenticity of photographs today. ("Felice Beato: A Photographer on the Eastern Road," is on view at the Getty through April 24, 2011. In 2007, the Getty Museum acquired a substantial collection of more than 800 photographs by Beato, a partial gift from the Wilson Centre for Photography. That acquisition is the impetus and foundation for the exhibition.) The other early morning collecting seminar I attended was with Julie Rose Novakoff, principal of Nova Fine Art, LLC, who had an inspiring, young, contemporary view of work and artists today. I find the collecting seminars one of the most valuable sessions, a chance to view and gain knowledge firsthand and often an opportunity to meet a gallery owner who may describe a more in-depth, artist background.
There was a lot going on, from the Child's Collecting workshop, Center's portfolio reviews at the Doubletree Hotel, lecture series, parties, and nighttime exterior Civic Center wall videos. It is truly worth the $20/day pass or $30 three-day pass photo l.a. admission fee to visit a space dedicated to photography of all styles housed under one roof with galleries from around the globe. Congratulations to everyone on presenting a successful photo l.a. XX. Next on the photo expo agenda: the AIPAD Photography Show New York, March 17–20.

---
IN JANUARY, L.A. IS THE CENTER OF THE ART UNIVERSE
by ©Jean Ferro
Classic Photographs Los Angeles
see article
January 14–17, 2011
Helms Daylight Studio, Los Angeles

16th Annual Los Angeles Art Show
see article
January 19–23, 2011
Los Angeles Convention Center

Art Los Angeles Contemporary
see article
January 27–30, 2011
The Barker Hanger, Santa Monica
artlosangelesfair.com

©Jean Ferro / photographs /article
www.JeanFerro.com
www.WomenInPhotography.org

The Photograph Collector: photo l.a. 19 - 2010
RANDOM NOTES 2010,volume XXXI, No. 2, Feb. 15, 2010
http://womeninphotography.org/f2/JeanFerro/photola-ferro-2010.html

The Photograph Collector: photo l.a. 18 - 2009
RANDOM NOTES 2009, volume XXX No. 2, Feb. 15, 2009
http://www.womeninphotography.org/f2/JeanFerro/ferro.html

The Photograph Collector: photo l.a. 16- 2007
RANDOM NOTES 2007, volume XXVII No. 2, Feb. 10, 2007
http://womeninphotography.org/archive23-jun-07/wipinews.html


For a subscription to The Photographic Collector see
The Photograph Collector/The Photo Review