IN JANUARY, L.A. IS THE CENTER OF THE ART UNIVERSE
by ©Jean Ferro

photo la XX
Classic Photographs Los Angeles
16th Annual Los Angeles Art Show
Art Los Angeles Contemporary


Classic Photographs Los Angeles
January 14–17, 2011
Helms Daylight Studio, Los Angeles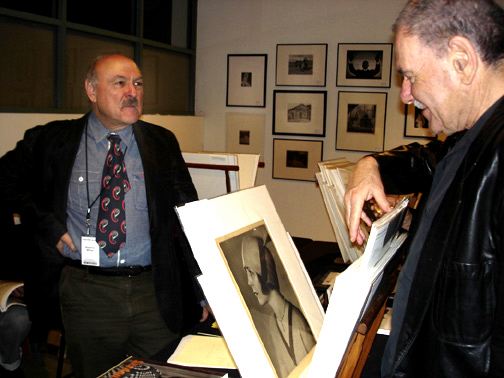 Stephen White, Stephen White Associates, Los Angeles, CA

The Friday, January 14th opening reception of the second annual Classic Photographs Los Angeles at The Helms Daylight Studio, Helms Bakery Complex, Culver City, CA, was a successful event for all the exhibitors, who included Joseph Bellows Gallery, La Jolla, CA; Michael Dawson Gallery, Los Angeles, CA; Etherton Gallery, Tucson, AZ; Charles A. Hartman Fine Art, Portland, OR; Steven Kasher Gallery, New York, NY; Lee Gallery, Winchester, MA; Carl Mautz Vintage Photographs, Nevada City, CA; Richard Moore Photographs, Oakland, CA; Scott Nichols Gallery, San Francisco, CA; William L. Schaeffer/ Photographs, Chester, CT; Andrew Smith Gallery, Santa Fe, NM; Weston Gallery, Carmel, CA; and Stephen White Associates, Los Angeles, CA.

Soon after the first Classic Photograph Exhibition, held in January 2010, at the Dawson's Book
Shop, Michael Dawson moved the Hancock Park business to his home office. There he continues
to specialize in rare books (especially Californian), fine art photography, and historical photography of California and the Southwest, as well as appraisal services. It's interesting to note, for those unfamiliar with the background, that the bookshop has been in the family since 1905, started in downtown Los Angeles and settled in Hancock Park in 1968. Michael, a third generation Dawson continues the shop's established growth.

I stopped by the reception this year and enjoyed seeing curators, collectors, and gallery owners sift through bins of classic, matted photo images in archival sleeves. Will they find a special gem
to either hold dear or sell in the future? Glad to see something I have my eye on is still obscurely hidden in the bin. Good to see Richard Moore, Carl Mautz, and Michael Dawson, and I met William
Schaeffer from Chester, Connecticut, who is back at a California show for the first time since 2006.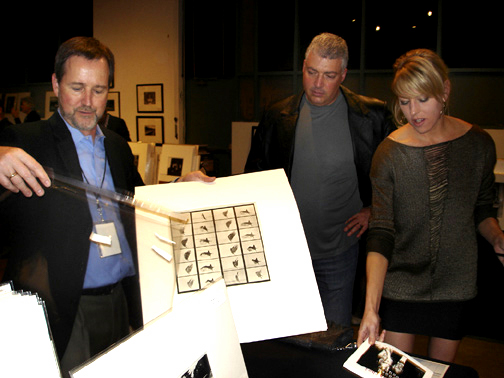 Richard Moore, Richard Moore Photographs, Oakland, CA

Photos were selling! The focus was on smallscale 19th- and 20th-century, European, American,
and Asian images. Work by Atget, Brady, Teske, Adams, Hosoe, Muybridge, Cunningham, Moriyama,
Bernhard, Weston, Watkins, and Kertész, plus vernacular photographs and out-of-print books
could be examined and appreciated. Advantages for the dealers to participate in this event are twofold: the price of space is right and it's a specific audience, interested in vintage or historical
work. It actually allows the dealer a little more room to make good deals because the overhead is
lower compared to the broad-audience, larger-attende events. The price range is wide, from midhundreds to thousands. So there's something for everyone. Seems like most dealers had a good two days and look forward to next year's third annual Classic Photographs Los Angeles.
---
16th Annual Los Angeles Art Show
January 19–23, 2011
Los Angeles Convention Center
www.laartshow.com

The Sixteenth Annual Los Angeles Art Show 2011, the centerpiece of the citywide Los Angeles
Arts month, titled "From Rembrandt to Ruscha and Beyond," took place from January 19 to 23. Over 100 prominent galleries from around the globe featured painting, sculpture, works on paper, photography, and video. Kat von D (star of LA Ink) hosted the Wednesday Night Premiere Party. Proceeds from the event will enable The Art of Elysium program to bring arts to critically ill hospitalized children, and increase the number of school children who visit the Getty through the Getty Museum's Education Department's Title One bus transportation program.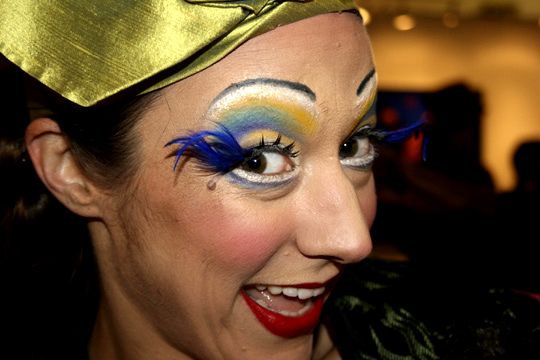 The evening pulsated with excitement and entertainment, great food, and art for the 5,000-plus
attendees. Flamboyant Cirque du Soleil performers roamed the convention center isles, greeting
people and promoting the upcoming move to their new permanent home, Hollywood's Kodak Theatre, opening summer 2011 with the production "Iris: A Journey Through the World of Cinema." More than 50,000 visitors (the organizers claimed) enjoyed gallery presentations, onsite street art painters, lectures, workshops, book signings, and several private parties.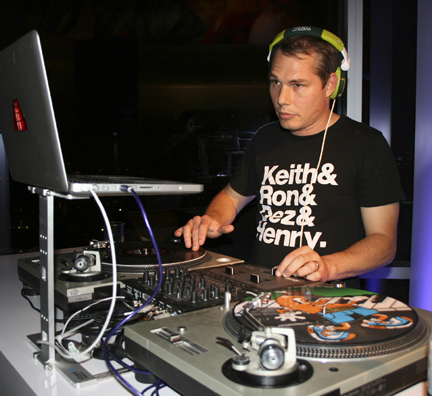 Legendary street artists Retna, El Mac, Mear One, and Kofie using aerosol cans, painted on-site murals on 12'x12' and larger canvases. (A week earlier, Retna created the graphic backdrop for the Rivera & Rivera gallery at photo l.a.) Fueled by the Oscar-nominated documentary Exit Through the Gift Shop, directed by famed UK stencil artist Banksy, and Shepard Fairey's Obama "Hope" poster, an unlicensed use ofAssociated Press photographer Mannie Garcia's photo — you have one of the most popular and controversial art forms today: street murals, cutting-edge, guerillaart- turned-big-business.

Shepard Fairey, DJ for the evening at private party
After a two-year battle, the Fairey/Garcia infringement case against Fairey was settled in mid-January with both parties agreeing to share profits of future sales of the image. "I respect the work of photographers, as well as recognize the need to preserve opportunities for other artists to make fair use of photographic images…. I often collaborate with photographers in my work, and I look forward to working with photos provided by the AP's talented photographers," Fairey was quoted as saying.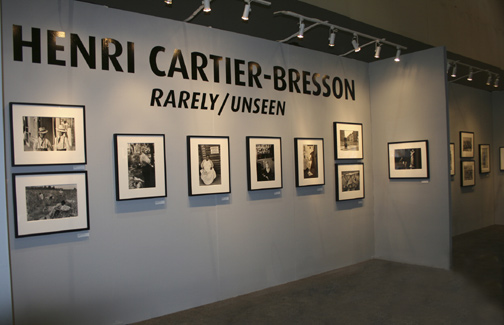 Peter Fetterman display of Cartier-Bresson

"Rarely/Unseen" images by Henri Cartier-Bresson from Peter Fetterman's private collection was
a stunning group of more than twenty years of work during the time Peter was the photographer's primary gallery in the United States. Several Cartier-Bresson images were also on display at the patron after-party at the new Ritz Carlton Hotel, 51st floor, where street artists decorated the suite with wall murals. Shepard and Amanda Fairey hosted the event while Shepard entertained everyone as the DJ of the evening.

Amstel Gallery/The Netherlands showcased Mel Bagshaw's Doll Face series, photo in epoxy and Patricia Steur, color and black-and-white celebrity portraits. Skotia Gallery/Santa Fe, which had a booth at photo l.a., had one here, too.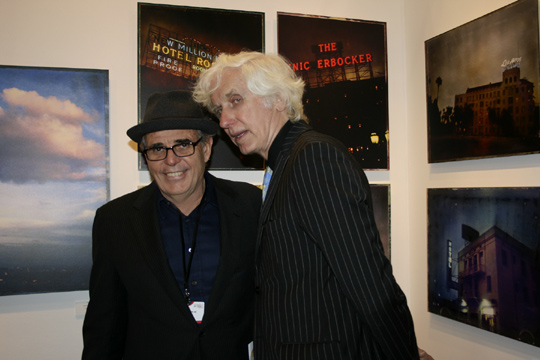 Jim McHugh and Douglas Kirkland
Jim McHugh's large-format, Polaroid prints of Los Angeles were shown at Timothy Yarger Fine Art/Beverly Hills. Alex Guofeng Cao was featured at Guy Hepner Contemporary/Los Angeles. Decompose, Recompose, Resurrect, oversized main images and the armies of tiny images that compose them are specifically paired to create a dialogue in images entitled Jackie vs. JFK II; Warhol vs. Mao, After Mapplethorpe; Brigitte Bardot vs. Eve, Creation of Eve; and others.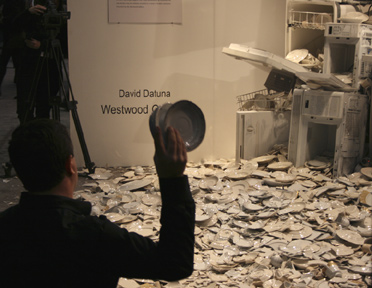 Fred Lyon's black-and-white images were represented by Modernbook Gallery/San Francisco.
53 Art Museum, a new avant-garde, contemporary art institution located in Guangzhou, China, presented an exhibition of three cutting-edge artists: Feng Feng, Qin Jin, and Liu Qingyuan. Feng Feng's work includes thirty-five pieces of human specimen photos and three sculptures.

Westwood Gallery/New York, exhibited Douglas Kirkland's Coco Chanel, Paris, 1962 images,
editions of 24, paper size 20"x24". Speaking of the Westwood Gallery, artist David Datuna hadan installation of smashing plates. It was visually interesting and the sound of plates crashing into a kitchen stove, a refrigerator, and a pile of previously smashed plates was very oddly interesting.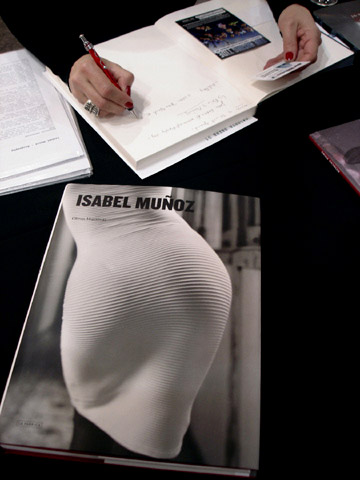 One of my favorites was Isabel Muñoz at SEINE 51 Gallery/Paris. Muñoz captures the movement of body and soul. Her black-and-white photos are a study of toreros, dancers, and warriors.
SEINE 51's artist roster includes French photographer Sophie Elbaz; Margarita Gonzalez, Spain; David Hamilton, UK; Jeff Cowen, USA; and many others.

An impressive and unique move by the show's promoters was to add mobile technology in the way
of a free iPhone app to enable more interactivity between visitors and exhibitors. The state-of-the art app allowed visitors to point their iPhone at any registered artwork exhibited at the fair and instantly receive extensive information on an artist and piece; add their own notes; bookmark for later; share with a friends via Facebook, Twitter and email; take the fair home with them; and contact the gallery!


Isabel Muñoz at SEINE 51 Gallery/Paris.
---

Art Los Angeles Contemporary
January 27–30, 2011
The Barker Hanger, Santa Monica
artlosangelesfair.com

Art Los Angeles Contemporary included lots of video, performance art, and installations, including photography. This year the fair stepped up its production from the Pacific Design Center to Barker Hanger in Santa Monica. The fair presented 70 international blue-chip and emerging galleries from around the world: Athens, Berlin, Dublin, Düsseldorf, London, Moscow, Milan, Madrid, Oslo, Seoul, and New York, as well as a strong showing of galleries from Los Angeles and a sprinkling from Boston to Seattle to Chicago and Miami.

One of the things I like about Tim Fleming's Art Los Angeles Contemporary program is its youthful cutting-edge work. One of the biggest contenders there was ACE Gallery/Beverly Hills, which plans to open in a new location in New York City in the spring. They have a long history and have also exhibited at photo l.a., where their almost warehouse style — stacking images against tables — at the time didn't fit so well with the traditional photo galleries. ACE handles large work: Gary Lang's large circle spectacularly dominated the space.

Liz Glynn designed Verse | Chorus | Verse, the stage for readings, music, and performances.
It was a large-scale installation constructed out of discarded art shipping crates and based on the
architecture of ancient Greek amphitheaters. In between performances, people gathered with friends and enjoyed the unique seating arrangement.

Special programs included, "X-TRA, 1 Image 1 Minute," the live presentation of the ideas and anecdotes tied to each image, ranging from funny to poignant to historically iconic. Fifty artists, curators, and members of the art community each presented a significant photograph of their choosing for one minute. Hosted by Creative Artists Agency (CAA) in conjunction with Art Los Angeles Contemporary, the event benefited LACMA's Modern and Contemporary Arts Council and the Art Here and Now initiative.

It was good to see the presence of LACE (Los Angeles Contemporary Exhibitions). Founded
in 1978 by a small group of artists, LACE has nurtured not only several generations of young
artists, but also newly emerging art forms such as performance art, video art, digital art, and installation- based work. Many of the artists that LACE has supported over the years, once unknown, have gone on to become influential and admired individuals in their field, including Laurie Anderson, John Baldessari, Barbara Kruger, Ed Ruscha, and Bill Viola. LACE takes on social commentary within their artist roster.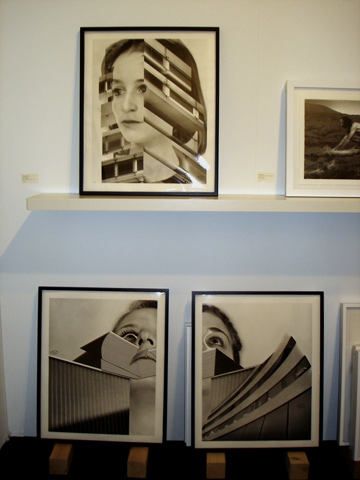 VALIE EXPORT

The most interesting for me was Gasser Grunert Gallery, New York, which handles VALIE EXPORT, an extraordinary mixed-media, feminist artist from Austria. Born Waltraud Lehner, in Linz, Austria, in 1940, VALIE, in 1966 took the name VALIE EXPORT as an artistic concept and as a logo (spelled with all upper case letters). EXPORT uses her own body in combination with film, photography, video, and now digital technology. Her work confronts the conformity of social politics, especially about women. When viewing some of VALIE'S photo work I'm somehow reminded of French avant-garde photographer Florence Henri. EXPORT has shades of avant-garde content and style, but stands on her own for her sexual "in you face" feminist social commentary, which is very well done with her explosive installations and video.

Among a number of other galleries that showed photo-based work was Gavlak Gallery/Palm
Beach, FL, which exhibited Lisa Anne Auerbach's torn Epson Ultrachrome prints.

Allegra LaViola Gallery/New York presented Jennifer Catron & Paul Outlaw's performance installation accompanied with photographic archival inkjet prints. Their performance was a life-size frame positioned on a kelly green wall. There Catron & Outlaw created interactive scenarios with each other within the frame itself, in barely noticeable slow movement. The rest of the gallery had large digital prints of their work.

Gallery Luisotti/Santa Monica, hung John Divola's As Far As I Could Get (10 Seconds) R02F09B, 1996/1997, Ultrachrome pigment print 64"x44". Gallery Luisotti also carried Catherine Wagner. Quint Contemporary Art/La Jolla showed photo-based installation work.

Regina Gallery/London/Moscow exhibited French artist Claire Fontaine, who they are exhibiting simultaneously in London and Moscow through March. Fontaine's Fighting Gravity video and digital prints aim to approach the threatening magma deposited inside our lives by the recent economic crisis.

The Los Angeles January art month seemed prosperous for many. This year stars sited were
MOCA director Jeffrey Deitch, Brad Pitt, Roseanne Barr, Julian Michaels, and Neil Patrick Harris, along with various producers, directors, art lovers, and other collectors. Most reports
across the board claimed good sales. Los Angeles is expanding its arts base. The City of LA, with its limited budget, does it's best to show support for all art media. Billionaire, art-collector Eli Broad
will open his new Broad Museum, a $130 million structure in early spring 2013. Broad's 2,000-piece art collection includes work by notables like John Baldessari, Jeff Koons, and Cindy Sherman.

All in all January is a great month to visit Los Angeles. The 20th anniversary photo l.a. XX is
always special because of its predominately photographic content. The second annual Classic Photography boasted bins filled with treasured 19th- and 20th-century prints. The 16th Annual Los Angeles Art Show presented premiere galleries from around the world showcasing the best of the best in painting, sculpture, and a sprinkling of photography. Finally at the end of the month the second annual Art Los Angeles Contemporary, with a concentration on cutting-edge installation, photography, painting, and sculpture made its mark.

©Jean Ferro / photographs /articles
www.JeanFerro.com
www.WomenInPhotography.org

The Photograph Collector: photo l.a. XX 2011
RANDOM NOTES 2011, by Jean Ferro, volume XXXII, No. 2, Feb. 16, 2011
http://womeninphotography.org/f2/JeanFerro/photola-ferro-2011.html

The Photograph Collector: photo l.a. 19 - 2010
RANDOM NOTES 2010,volume XXXI, No. 2, Feb. 15, 2010
http://womeninphotography.org/f2/JeanFerro/photola-ferro-2010.html


For a subscription to The Photographic Collector see
The Photograph Collector/The Photo Review