Biography:
Henri Cartier-Bresson was born in France in 1908. Trained as a painter, he began his career in photography in 1931 on a trip to the Ivory Coast. He was one of the first photographers to shoot in the 35mm format with a Leica camera, and helped to develop the photojournalistic "street photography" style that influenced generations of photographers to come.
Cartier-Bresson is well known for his concept of the "decisive moment" in photography. He defined this moment as "the simultaneous recognition, in a fraction of a second, of the significance of an event as well as of a precise organization of forms which gave that event its proper expression." His famous photograph of a man jumping over a puddle ("Behind the Gare Saint-Lazare, 1932") illustrates this concept perfectly.
During his photographic career Cartier-Bresson photographed all over the world - Mexico, Canada, USA, Europe, India, Burma, Pakistan, Indonesia, Africa, Burma, China, Japan, Cuba, and the USSR, among other places. He also photographed many famous personalities and artists of the 20th century, including Matisse, Picasso, Coco Chanel, Truman Capote, and Gandhi. His interest in the visual arts also extended to film - he made films with Jean Renoir, Jacques Becker and André Zvoboda and a documentary on Republican Spain (1937).
During the Second World War Cartier-Bresson was taken prisoner by the Germans and escaped, then photographed the occupation and liberation of France. During this time rumors reached the USA that he had been killed, and the Museum of Modern Art began to prepare a "posthumous" show. Cartier-Bresson later spent a year in the US helping to prepare this show.
In 1947 Cartier-Bresson co-founded the photographic cooperative Magnum along with fellow photographers Robert Capa, George Rodger, David Seymour, Bill Vandivert and others.

Valuing his anonymity as a tool for capturing decisive moments with his camera, Cartier-Bresson did not like to be photographed, and shot with a Leica camera which was smaller, quieter and less intrusive than other cameras.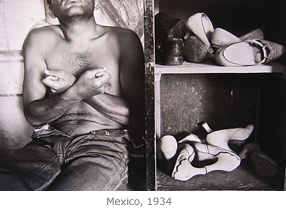 Cartier-Bresson retired from photography in the early 1970s to return to drawing and painting. Although no longer taking photos, his influence on photographers and the photographic world was solidified. The Henri Cartier-Bresson Foundation was created by Cartier-Bresson and his wife and daughter in 2002 to preserve and share his legacy.
Henri Cartier-Bresson died on August 3rd, 2004 in Paris. He is survived by his wife and fellow photographer Martine Franck, and his daughter Melanie.
Publications by Henri Cartier-Bresson
Henri Cartier-Bresson Photographer
Text by Yves Bonnefoy
Bullfich, New York, 1979
Henri Cartier-Bresson in India
Introduction by Satyajit Ray, photographs and notes by Henri Cartier-Bresson
text by Yves Véquaud
Thames and Hudson, London, 1987
Line by Line, Henri Cartier-Bresson's Drawings
Introduction by Jean Clair and John Russel
Thames and Hudson, London, 1989
America in Passing
Introduction by Giles Mora
Bullfich, New York, 1991
A propos de Paris
Text by Véra Feyder and André Pieyre de Mandiargues
Thames and Hudson, London, 1994
Mexican Notebooks 1934-1964
Text by Carlos Fuentes
Thames and Hudson, London, 1994
Henri Cartier-Bresson and the Artless Art
Texts by Jean-Pierre Montier
Thames and Hudson, London, 1994
Europeans
Text by Jean Clair
Thames and Hudson, London, 1997
Tête à tête
text by Ernst H. Gombrich
Thames and Hudson, London, 1998
Landscape Townscape
Text by Erik Orsenna and Gérard Macé
Thames and Hudson, London, 2001 The Man, the Image and the World