WIPI PROfessional member submissions
12th Annual photo l.a. 2003, Jan 16th - Jan 19th, Santa Monica Civic Auditorium - BOOTH #42

Images 11 - 20

Lauren Gabriele, Shelly Gazin, Carol S. Gee, Wilda Gerideau-Squires, Cat Jimenez, Kenna Love, Freyda Miller, Orah Moore, Elizabeth Opalenik, Elizabeth Rassiga













---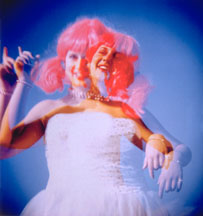 11. Lauren Gabriele
"Boogie Woogie" 2001, signed verso mat
fuji crystal digital, 10 x 10"
$350
Filmmaker and Photographer, Gabriele received the First Place Award for this image "Boogie Woogie" at the "kitsch and klick, Art of the Toy Camera" exhibition at Pierce College this past spring. She has exhibited in London and nationwide and received the First Place Award for the UEA Photographic Society at the Norwich Arts Centre, in Norwich England. See
Archive #11
July 2002, Lauren Gabriele Gallery -
---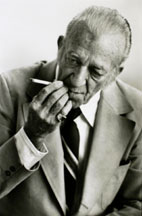 12. Shelley Gazin
"Harry James" 1979, (printed 1979) signed
gelatin silver print, 11 x 14"
$1800
Gazin had a one woman show at the Skirball Cultural Center, Los Angeles, entitled "Looking for a Rabbi" and most recently sponsored by the University of Arizona Judaic Studies. There is preparation for upcoming book featuring quotes and images by Gazin. Shelley's exhibition history began in 1973 with a Group Show, at the Frederick S. Wight Gallery, UCLA, followed by a steady career growth both in art and commercial work. Gazin's portraits and documentary work has been commissioned by clients such as Corbis Images, Security Pacific Bank and many others.
---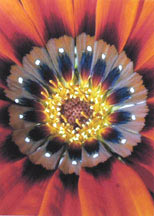 13. Carol S. Gee
Gazania 4, 2001, signed
archival inkjet 5.25 x 7.25", printed 2002
$200
A newcomer onto the Photography scene recently exhibiting at the Gallery 825 group show in 2001. Gee's work is colorful, playful and graphic. According to Gee...she is born in the year of the "monkey" in the Chinese horoscope.
www.csgimages.com
-
---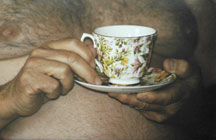 14. Wilda Gerideau-Squires
"Low Tea" 2001, unsigned
fuji crystal archive, printed 2002
$325




Exhibiting extensively in Massachusetts since 1993, Gerideau-Squires has solid exhibition experience. Newburyport Art Association gave her an award for General Excellence for "Low Tea" and said... "we liked the play between the massive male nude and the exquisitely fragile teacup. The humorous subversion of the traditional nude subject matter in the photograph creates a contemporary irony." http://www.wgsgallery.org/
---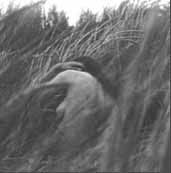 15. Cat Jimenez

"Stephanie" 1999, signed verso
silver platinum 5 x 5" , printed 2000
$350
.


A seasoned traveler experiencing picturesque places such as Cuba, Mexico, Morocco, Paris, Italy and her parents native country of the Philippines, Jimenez is a dedicated travel and documentary photographer with a fine art and commercial edge. Building up her exhibition experience with 5 shows in 2002, Jimenez is currently working on a photo-documentary book project that celebrates the lives and contributions of Filipino-Americans to American society and culture slated for release in October 2003. See Quarterly #12, WIPI News, Oct. 2002, T-Zone, Tyra Banks Foundation Pictures and text By Cat Jimenez. www.CatJimenez.com -

---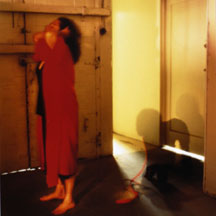 16. Kenna Love

"Remembering Homer", unsigned
c-print 11 x 11"
$450


An original member of Women In Photography since the 80's, acclaimed artist Kenna Love, has combined her extensive and varied photography talents to find success both as a commercial and fine arts photographer. To her credit is an impressive list of corporate and advertising clients, a succession of one woman shows, and her two published books; "Exposures: Women and Their Art" and "101 Harley Davidson Performance Projects," the number one on an extensive list of the MBI Publishing Company). KennaLove.com

---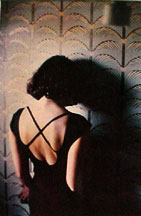 17. Freyda Miller
"Woman With Wallpaper" 1978, signed verso
cibrachrome 10 x 14" printed 1980
$700



Freyda Miller displays a solid exhibition record, showing in numerous galleries in Los Angeles. Artweek magazine has consistently reviewed and publisher her work in conjunction with her exhibitions with Soho/Cameraworks Photo Gallery. She is also an exhibiting artist with the Los Angeles County Museum of Art, Rental and Sales Gallery. Miller is in the collections of New Orleans Museum of Art, St. Louis Museum of Art and several private collections. FreudaMiller.com

---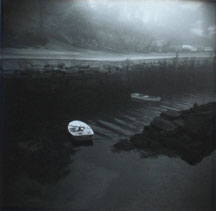 18. Orah Moore

"Rock Wall at Low Tide" 1998, signed
Iris print on watercolor paper, 7 x 7" printed 2000
$350
.
One of the original founding members of WIPI in 1981, (see WIPI Historical Profile, October Quarterly 2002) Ms. Moore is living in Maine and owns and operates a greeting card business, Haymaker Press. Exhibiting consistently since 1978, Moore has a strong professional track record and her work is many collections, including the Gene Autry Western Heritage Museum. Her work has been shown in several publications and has been reviewed by the New York Times. www.Haymakerpress.com -

---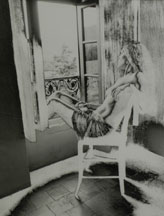 19. Elizabeth Opalenik

"Waiting for You" 2002, signed
pigment of mordancage, 16 x 20"
$500






Bay Area photographic artist Opalenik is celebrated and collected worldwide. Her innovative works in mordancage and handpainted images have shows in over sixty exhibitions worldwide and resides in such collections as La Biblioteque Nationale in Paris, the Portland Museum of Art, and the Milwaukee Art Museum among others. She also teaches alternative process workshops for the Maine Photographic Workshops, Santa Fe Photographic Workshops, The Center for Photography at Woodstock, and many others. Her work has been profiled in most major photographic publications and recently, she was featured in Zoom Magazine's 30th Year Anniversary Issue.

---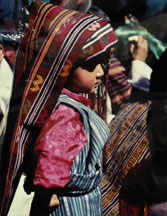 20. Elizabeth Rassiga

"Before the Work Begins" signed verso mat
fujichrome, crystal archive 11 x 14" printed 2000
$400

Infusing her passion for remote trekking and photography, seasoned traveler Rassiga specializes in capturing unique images from her trekking experiences. Her work captures unique views from higher altitudes and has produced images from a top Mt. Kilimanjaro to the Northwest frontier of Pakistan to Himalayan village of Laya on the border of Tibet. Rassiga's ""Proprietess: Tibetan Tea House" was chosen for WIPI's 20th Anniversary Exhibition "Tea Time." www.outdoorneophyte.com

---
Previous Page Images 1-10
Next Page Images 21-30

SEE: ONSITE GALLERY AT SANTA MONICA CIVIC

HOME
© copyright 2002-2003 Women In Photography International