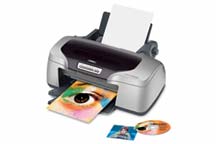 Epson Stylus Photo R800 Overview

* Epson UltraChrome™ Hi-Gloss pigment ink for archival quality glossy and matte photos lasting up to 80 years
* Eight individual cartridges, including matte black ink and gloss optimizer
* World's first 1.5-picoliter droplets and up to 5760 x 1440 optimized dpi for unsurpassed clarity and detail
* Prints a 5" x 7" color photo in as fast as 45 seconds and black text at up to 17 ppm
* True BorderFree™ photo printing in popular photo sizes (4" x 6", 5" x 7" and 8" x 10") * Print directly on ink jet printable CD/DVDs
* Fast connectivity with built-in USB 2.0 Hi-Speed and IEEE 1394 FireWire®

Brilliance you can see. Experience the power and speed of the Epson Stylus®

Photo R800. Print brilliant archival quality glossy and matte photos!

The world's first printer with 1.5- picoliter ink droplets and up to 5760 x 1440 optimized dpi, this revolutionary performer gives new meaning to quality and detail. And, it provides eight individual cartridges, including matte black ink and a unique gloss optimizer, for professional results every time - no matter what the paper type.

Durable Epson UltraChrome Hi-Gloss pigment inks deliver long-lasting portraits, landscapes and more on virtually any media, including ink jet printable CD/DVDs and 4" and 8.3" roll paper. It also prints borderless photos in convenient, frame-ready sizes. And, with innovative PRINT Image Matching™ II technology, you'll get brilliant prints automatically from popular digital cameras.

The Epson Stylus Photo R800 offers groundbreaking quality and performance, for perfect prints made to last. With Epson Software™ Film Factory™, Epson Print CD™ software, and premium ICC Profiles, all included in the box, this affordable ink jet offers a complete photographic solution for many creative projects. Whisper-quiet operation and fast built-in connectivity make it an ideal fit for any home or studio, while high-speed performance makes it the perfect printer for quickly creating show-stopping high-gloss prints.

The Epson Print Academy (now thu July 25, 2004 in a city near you) Two exciting new ways to learn the expert techniques, valuable tips and insider secrets the pros use to create spectacular digital prints. Held in 30 cities across the U.S. and Canada, this ALL NEW half-day event is packed with tips, techniques and insider secrets for taking your photography and digital prints to the next level and beyond. Don't miss this one...you'll learn a lot, even if photographer expert/host Vincent Versace's ego is bit through the roof..!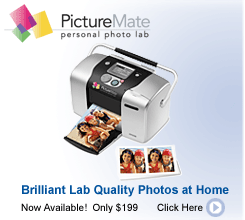 Epson created PictureMate™ to help you preserve your memories so even your great-grandkids could enjoy photos of your most loyal companions. When displayed, PictureMate™ photos resist fading as much as 2 to 4 times longer than the leading photo lab brands, and about 4 to 20 times longer than other dedicated 4" x 6" photo printers.

PS... heard that the smaller portable Epson printer is great to take out on shoots when you are using digital ... a quick wasy way to present your client with a "quick shot" of the image to carry home with them. With the accessory, you can plug it into your cigerette lighter. Perfect for business and pleasure, easy to store and handle.. and the prints are archival..up to 100 years...!
---
>>>>>>>>>>

Now we're talking progress, simplicity and functionality...you can go anywhere wtih Go Video in your line up of products. Now you can transfer your VHS to DVD so easily and it's affordable !
DVD Recorder+VCR

VR4940 DVD Recorder+VCR From the leader in Dual-Deck technology, GoVideo's new VR4940 DVD Recorder + VCR combines a high performance DVD recorder and a hi-fi VCR all in one! Archive precious memories from home movies, record your favorite television programs, and copy your VCR tapes onto high-quality DVD discs at the touch of a button. The VR4940 can even play Video CDs and comes with a backlit remote.


VR3930 DVD Recorder+VCR
GoVideo's new VR3930 DVD Recorder + VCR is the company's first product combining a high performance DVD recorder and a hi-fi VCR all in one! Archive precious memories from home movies, record your favorite television programs, and copy your VCR tapes onto high-quality DVD discs at the touch of a button.

DP7240 Portable DVD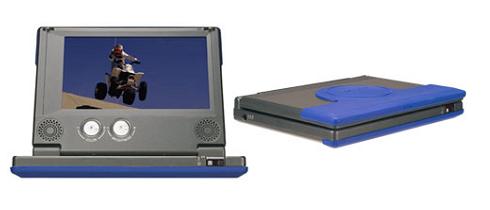 Rugged OFF-ROAD design for durable entertainment on the go! OFF-ROAD design – Made for the rigors of an active lifestyle with Anti-Shock Protection (ASP) and Impact Shield Rubber Edges. 7" LCD screen – Widescreen 16:9 format. Versatile Entertainment – Plays DVDs, DVD-R/RW, DVD+R/RW, Music CDs, Kodak Picture CDs, MP3 audio and JPEG image files on CD-R/RW.



WIPI recommends the DVD/VHS player and feels it would truly be an asset for women working in photography to move their files easily and quickly onto DVD. Don't hesitate, go buy.>>>>>> Go Video
Available in a lot of stores including Costco and Sam's club
visit the

website for details and specs on equipment and where to purchase

---
Digitizing Films Made Easy Full line of high quality film scanners to help you digitize and archive your old films. A convenient and easy unit to use. Excellent results.m Affordable, a great start for getting those images archived or ready for your website or digital submissions. WIPI recommends this product for your transparency and negative film needs. Now distributed worldwide. Check their website for a location near you.

Also see Pacific Image Electronics PRO version
The most versatile solution Ideal for graphic designers, professional photographers and photo enthusiasts. The PF3600 PRO scans 35mm roll films or filmstrips and mounted slides and film. No film holders or templates are required, making the scanning process simple and intuitive

High resolution and superb image quality True optical 3,600 dpi gives you enough resolution to get the quality you need in all your imaging projects, even when images are enlarged. With a 3.6 dynamic range, this scanner is built for producing sharp, high-quality scans with accurate color reproduction

Whether your shooting fine art, weddings or commercial advertising, you'll want to scan those files in a hurry to transport to the internet or a quick print out for our customer. Pacific Image is the perfect user friendly tool.
Pacific Image Electronics
For sales inquiries US and Canada : sales-us@scanace.com
For sales inquiries in Other Countries: sales-worldwide@scanace.com

---

Don't wait, secure your images now.... Back it up..!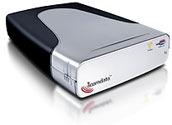 USB 2.0 & FireWire Combo Drives AcomData's Combo External Hard Drive is the easiest way to add hi-performance data storage to your PC or Mac. It's FireWire interface offers 400 Mbps, CPU-independent performance that's fast enough for full-motion digital video editing. The USB 2.0 interface offers data transfer rates of up to 480 Mbps––40 times faster than first-generation USB devices. Whether you use the FireWire or USB 2.0 connection, the plug-and-play set-up, hot-swap capability, and the ultra-compact, stackable design makes the AcomData Combo Hard Drive the ideal combination of performance and value. Features • Hi-speed data transfer and retrieval • Stackable • Quiet operation • Compact, durable case • Perfect for graphics, digital photos and digital music storage • FireWire models are ideal for full-motion digital video editing





Spark! 2.5" Portable Hard Drives AcomData is proud to introduce Spark!, one of the smallest portable hard drives available. Measuring only 3" X 5.5", the lightweight Spark! is great when you need extra strorage for your laptop, or if you need to transport very large amounts of data between home and office on a regular basis. Download the PDF Specifications Sheet.

Make sure your photo and video files are safe and secure, back up everything !
The USB /Firewire drive is one of the best. It allows you to work through several different operating systems so you can easily move your older files onto the dirve and back to the computer or another computer.. They are reliable and great..!
I was standing, staring at the hard drives in Comp USA...looking for the best deal for an external drive. A video guy stepped up and said... buy this one. I use them all the time and I do a lot of work.. and they are really good..! Jean Ferro
Use ACOMDATA.com
---

WIPI recommends this product to every photographer who wants to have the best possible research for pricing their photography. It's a must have program and will bring great clarity to your photography promotion and contract negotiations. One of the most frequest questions in photography relates to "HOW MUCH SHOULD I CHARGE..?" You won't have to ask anyone that question again if you invest in yourself and purchase this program. It's a great asset to photographers and image makers..!

For Immediate Release Contact: Therese Bagshaw
Director of Sales
E-mail: info@fotoquote.com

Cradoc Corporation Releases fotoQuote Pro 5.0
The Industry Standard Price Guide for Stock and Assignment Photography
Version 5.0 has over 80 new Categories with completely updated Pricing information including new technologies. Also has a new Interface, Find screen, Notes window, and more.

Point Roberts, WA – February 2004 – Cradoc Corporation, a major developer of computer software for the freelance photographer, today announced the release of fotoQuote Pro 5. FotoQuote Pro 5 is an electronic price guide for stock and assignment photography. FotoQuote Pro 5 is the only source of pricing information for photographers that gives you powerful Coaching help in every one of its 218 pricing categories. FotoQuote not only helps you come up with a fair price for your image license, but also gives you the inside information you will need to help you negotiate and close the sale.

"The changes in the photo industry are huge since we last released the original fotoQuote in 1993," said Cradoc Bagshaw, President of Cradoc Corporation and Creator of fotoQuote. "I spent nearly a year working on this update and I was surprised at how much time it took to get a handle on what is currently happening in the photo industry. I believe that there are two main reasons for the changes I am seeing. The first is that two large stock agencies are dominating the world markets. The other is that companies are using photographs in many different ways because of digital technology and more targeted advertising. The photo industry is transforming in major ways and I wanted to be sure that fotoQuote Pro 5 would supply the photographer with the information that he or she needs to understand and take advantage of those changes."

FotoQuote automates the process of creating a quote for stock photography submissions. "Our research has shown that when a price quote is given in writing instead of verbally there is a much higher chance of getting the asking price," said Bagshaw. " There are fewer problems, including copyright infringement or rights grabs, if the photographer is willing to take the time to send the client the correct paperwork outlining the exact details of the job, including usages and rights that are to be granted."

The Coach section is a very popular feature of fotoQuote and it's packed full of more negotiating and pricing information than ever before. It's been compared to attending a weekend pricing seminar.

"FotoQuote is the number one program to help photographers gain a clear picture on how to price their photographic images. Most photographers would be nuts if they don't have fotoQuote, " said photographer Jean Ferro, the President of Women In Photography International.

Among fotoQuote Pro 5's new features are:

New Categories: There are over 80 new categories for a total of 218. There are dozens of new categories that deal with new technologies like, Film, Web, CD/DVD and Television.

New Interface: Using fotoQuote is greatly simplified. When creating a quote you simply click a category tab: Advertising, Corporate, Editorial, Electronic, etc, and select the usage you want. FotoQuote once again runs in a single window making it easy to use with other programs.

New Find Screen: There are so many categories in fotoQuote Pro 5 we've added a new find screen that makes finding usages easy. Just type in a word or phrase, click the find button, and you will get a list of usages from throughout the program that match.

New Notes Window: Each of fotoQuote's main categories now has a notes window that lets you keep multiple notes with sales information for each of your transactions in that category.

New Updated Pricing: All of the prices have been carefully reviewed from actual sales records, and raised or lowered to reflect the current market.

"Thanks for all your good work. I have used fotoQuote many times to price sales and it has been invaluable at protecting me from seriously under pricing my work. It gives me the confidence to offer a price, based on your database, then 'clam up' and let the client do the rest of the talking. Plus your helpful tips and tutorials on pricing unusual uses, negotiating and all the rest of it are a godsend for those of us slogging it out in the freelance market," said Jim Lawrence, photographer and writer.

Priced at $149.95, fotoQuote Pro 5 is an excellent value ($139.95 for the download version). An upgrade price for registered owners of fotoQuote or fotoBiz is also available. Please view our web site www.fotoquote.com or call us at 360-945-1380 for more specific details on upgrade pricing. By popular demand fotoQuote is now available once again as a standalone application.

Founded in 1993 Cradoc Corporation is a leading developer of computer software for the freelance photographer. Cradoc Corp also develops fotoBiz the complete business management solution for the freelance photographer. For more information visit www.fotobiz.net.
www.photoquote.com
Cradoc Corporation
PO Box 1310
Point Roberts, WA 98281
Phone: 360-945-1380
Email: info@fotoquote.com
---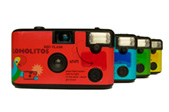 A REVOLUTION IN LOMOGRAPHY. The Lomolitos are single-use cameras - disposable in cost and simple construction, but absolutely priceless in sheer photo-impact. For the first time ever, a compact throwaway (or more accurately, "throw to the developer") camera has been fitted with our color-gel flash apparatus - resulting in the hectic colorsplashing effects that we have all grown hopelessly addicted to. Allow us to break it down:

COLORFUL
The distinguishing feature - Lomolitos includes an integrated color filter that can be switched on or off at will. Instantly, you can add a burst of wild colored light into both your daytime and nightime exposures. Each Lomolitos includes one of four tasty colors - yellow, blue, red, or green.

CHEAP
Not cheaply made, but cheaply priced. Outside of being easy on the purse, the low price of Lomolitos allows you to experiment with each individual camera at will. Fiddle with the lens, try a crazy mounted filter, play with the rear door - each Lomolitos begs to be explored and modified. And the best news: the more you get, the cheaper they become!

EASY
Lomolitos are small little things - tiny in weight and size - that fit just about everywhere. The lens is focus free, and the color gel needs merely a moment's attention to flick on and off. Given this conveinence, there's no reason not to have a Lomolitos at the ready for every given moment - ready to instantly slap your subject with a burst of colored light and record a quick Lomograph through its beady lens. Once your roll is finished, drop off your entire camera with any 35mm developer.

MULTIPLE
Lomolitos flip the usual equation of one camera with multiple rolls of film over to many cameras available simultaneuosly. This means: color-splashed pictures from one hand with green and the other with blue, a group of your 30 closest friends lighting up the party all at once, one camera with a clear lens and one with a lens painted with nail polish for before-and-after portrait, a camera always stashed in your car for those unexpected roadside lomographs, exchanging a Lomolito with your international friends to yield a few Lomographs from each country, never reloading when time and Lomographic necessity is of the essence, heart-pounding Lomolito-duels with your photographic adversaries, and full-scale Lomographic power at your fingertips when and wherever you need it!

Lomolito On!
http://shop.lomography.com/lomolitos/
---

Find the lowest price on the latest Digital Cameras
Canon Sony Olympus Nikon Fuji Minolta
Latest digital camera reviews / previews:
News Reviews Cameras Timeline Buying Guide Side-by-Side Galleries Forums Search Learn Glossary Feedback Newsletter Links

Digital Photography Review Where is where you'll find all the latest in digital photography and imaging news, reviews of the latest digital cameras and accessories, the most active discussion forums, a large selection of sample images, a digital camera buyers guide, side-by-side comparisons and the most comprehensive database of digital camera features and specifications.  Make us your home page or add us to your bookmarks.

About the Site

Digital Photography Review™ is an independent resource dedicated to the provision of news, reviews and information about Digital Photography and Digital Imaging published at the Internet address www.dpreview.com™. Digital Photography Review is a fully owned website of Askey.Net Consulting Ltd. dpreview.com is edited and maintained by Philip & Joanna Askey.

Digital Photography Review was established in December 1998, from simple beginnings grew a large and popular site, as time went on we gradually built the site up to include our vast digital camera database, timeline, forums, galleries a glossary and learn section. Of course, the core of the site are the all-day news updates and regular in-depth digital camera product reviews.

These days the site is one of, if not the, premium digital photography site with an audience of nine million unique visitors a month reading over fifty million pages. The site really has sky rocketed since those early days at the end of 1998.

One of the keys to the site is its long term stickiness, users bookmark and then return regularly, over 60% of our daily visitors come from their bookmarks / typed in URL. Many thanks to all my regular visitors and welcome onboard to the new visitors.

dprpeview Editor, Phil Askey,