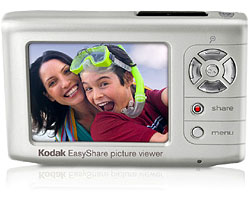 New KODAK EASYSHARE Picture Viewer



An Ideal Gift for Dads, Grads or Yourself;

Share Digital Pictures from the Palm of Your Hand ! A Credit Card-Size Viewer with Big, Bright LCD Display

ROCHESTER, N.Y., May 24 -- Are you searching for a trendy yet affordable gift for dads and new graduates, one that they'll actually use instead of tossing in a drawer after a week? Look no further than the new KODAK EASYSHARE Picture Viewer, which is available at retail stores worldwide. (US$149).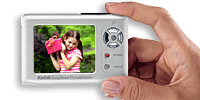 This credit card-sized "digital photo album" can be slipped into a pocket or purse, but is powerful enough to hold life's biggest memories. With the ability to internally store and show up to 150 digital pictures with its crystal-clear, 2.5-inch LCD screen, the EASYSHARE Picture Viewer is perfect for dads who want to show off snapshots of the kids, or the graduate who wants to keep pictures of hometown family and friends close at hand. To view even more pictures, simply insert a standard SD or MMC memory card.



Alternatively, as summer holiday plans take shape, buy a Picture Viewer for yourself. It's an ideal companion for sharing pictures with friends while away from home. This tiny marvel can even automatically update itself with your most recent favorite snapshots -- new pictures from the beach, amusement park or family barbeque, for instance -- simply by connecting it to a personal computer.

"The Picture Viewer makes picture sharing convenient and portable, not to mention incredibly easy," said Jeanine Thiemel, marketing manager for digital viewers at Kodak. "No longer will you be embarrassed when asked by a friend to share your latest pictures, only to pull out a handful of outdated prints from your purse or wallet."





The Picture Viewer lets people mark their favorites for printing or e-mail with the simple touch of the exclusive, red-jeweled Share button. By simply placing the viewer on a KODAK EASYSHARE Printer Dock Series 3, pictures can be printed in as little as 90 seconds at the touch of a button. The device can also be connected directly to other printers that are IMAGELINK Print System compatible or PICTBRIDGE technology enabled.
For more information, visit www.kodak.com/go/pictureviewer/

About Eastman Kodak Company
Kodak is the leader in helping people take, share, print and view images – for memories, for information, for business, and for entertainment. With sales of $13.5 billion in 2004, the company is committed to a digitally oriented growth strategy focused on four businesses: Digital & Film Imaging Systems – providing consumers, professionals and cinematographers with digital and traditional products and services; Health – supplying the medical and dental professions with traditional and digital imaging and information systems, IT solutions and services; Graphic Communications – providing customers with a range of solutions for prepress, traditional and digital printing, and document scanning and multi-vendor IT services; and Display & Components – supplying original equipment manufacturers with imaging sensors as well as intellectual property and materials for the organic light-emitting diode (OLED) and LCD display industries. More information about Kodak (NYSE: EK) is available at www.kodak.com.


---
THE PRO'S PRINTING CHOICE
Redefining Fine Art Photography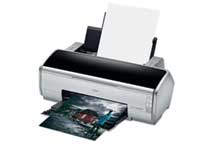 EPSON STYLUS Photo R2400

* 8-color Epson UltraChrome K3 pigment inkset for archival color and black and white photos worthy of gallery display
* Nine ink cartridges including user-
interchangeable Photo and Matte Black
* Output photos up to 13" wide using a maximum 5760 x 1440 optimized dpi
* Speeds through a 11" x 14" photo in under 2 minutes1
* Creates borderless photos in seven popular sizes
* Print to glossy, matte, roll, fine art and board medias using three separate paper paths * Built-in fast connectivity with Hi-Speed USB 2.0 and FireWire®

Redefining Fine Art Photography

Create stunning color and black and white prints with the Epson Stylus® Photo R2400. A welcome addition to any photo studio, this revolutionary printer delivers large, archival prints worthy of gallery display. Its professional level ink set, the 8-color Epson UltraChrome K3™ inks, includes three levels of black and sets a new standard in fine art photography and black and white prints.

With its expanded ink set, this printer ensures a wider color gamut and superior midtones, highlights, neutrals and shadow details making it ideal for professional quality prints. With its Black, Light Black and Light-Light Black inks, anyone can easily achieve amazing black and white prints. And, since the inks are pigment-based, they deliver fade-resistant works of art that stay brilliant for up to 108 years in color and over 200 years in black and white.

The Epson Stylus® Photo R2400 delivers studio quality results on virtually any artistic media. Three convenient paper paths support matte, glossy, canvas, roll, posterboard, and many artist papers, so it's easy to expand your creativity. And, with its powerful production speeds, the Epson Stylus Photo R2400 lets you create brilliant displays in no time at all, and quickly move on to your next show-stopping exhibit. See Specifications page for notes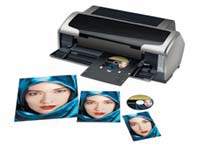 Epson Stylus Photo R1800
Overview

* 8-color Epson UltraChrome Hi-Gloss™ pigment inkset for archival-quality glossy and matte photos
* Fade-resistant photos lasting up to 100-200 years1
* Output photos up to 13"-wide
* Speeds through a 11" x 14" photo in under 2 minutes
* Creates borderless photos in seven popular sizes
* Prints directly on ink jet printable CDs/DVDs
* Built-in fast connectivity with Hi-Speed USB 2.0 and FireWire®

Features & Benefits

Revolutionary 8-color Epson UltraChrome Hi-Gloss™ pigment inkset
using individual ink cartridges

* Optimized to produce beautiful archival photos on both glossy and matte papers with lightfastness rated as long as 100-200 years1
* 8-color pigment ink system including matte black and unique gloss optimizer
* Red and blue inks provide an expanded red and blue color gamut
* Delivers up to 5760 x 1440 optimized dpi and ink droplets as small as 1.5 picoliters
Print archival-quality glossy and matte photos

The photographer's choice for large archival photos.

Taking Epson's award-winning technology one step further, the Epson Stylus® Photo R1800 quickly creates large, archival quality glossy and matte photos worthy of display. Experience the rich, true-to-life colors and subtle detail that's evident in every image. It's all possible with Epson UltraChrome Hi-Gloss Inks, plus an industry leading resolution and ink droplet size - the same innovative features that made the Epson Stylus Photo R800 a resounding success.

The Epson Stylus Photo R1800 delivers studio quality results on a wide variety of media and in eight popular borderless sizes - up to 13-inches wide, as well as panoramics up to 44-inches long.

See: R1800 Specifications

See www.wilhelm-research.com for test details and information on other Epson papers. Actual prints stability will vary according to display conditions, light intensity, humidity, and atmospheric conditions. Epson does not guarantee longevity of prints. For maximum print life, display all prints under glass or properly store them.



www.EpsonOnlineExperience.com

The Epson Online Experience is an innovative web based program. Every week, you can view five new videos packed with professional techniques, tips and step-by-step tutorials for creating spectacular images and digital prints.
Greg Gorman, Jay Maisel, John Shaw and other award winning professional photographers show you how they capture images plus how they and master printmakers produce spectacular digital prints.

Hosted by award-winning photographer and musician Graham Nash. Watch the preview

Just $29.95 gets you 60 exciting segments of exclusive, behind-the-scenes videos along with valuable step by step techniques on digital printing you won't find anywhere else. Knowledge is Power..espeically in making GREAT PRINTS..!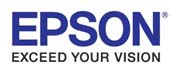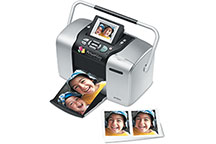 Epson created PictureMate™ to help you preserve your memories so even your great-grandkids could enjoy photos of your most loyal companions. When displayed, PictureMate™ photos resist fading as much as 2 to 4 times longer than the leading photo lab brands, and about 4 to 20 times longer than other dedicated 4" x 6" photo printers.

* Beautiful photos, your way
* Easily view and print, no computer required!
* Long-lasting, fade, water, and smudge proof photos
* Superior performance at an unbeatable value
* Fast and convenient
* Complete compatibility Brilliant Lab Quality Photos at Home PictureMate® Deluxe Viewer Edition takes the personal photo lab one step further, making it even easier to view, edit and print glossy 4" x 6" photos at an everyday low price! Packed with many additional PC-free photo printing features, PictureMate Deluxe Viewer Edition is all you need to get brilliant fade-proof photos

PS... The smaller portable Epson printer is great to take out on shoots when you are using digital ... an easy way to present your client with a "quick shot" of the image. With the accessory, you can plug it into your cigerette lighter. Perfect for business and pleasure, easy to store and handle.. and the prints are archival..up to 100 years...! Blue Tooth adapter PictureMate printer available at Epson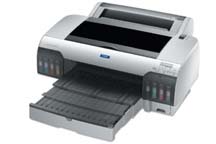 Epson Stylus Pro 4000 Professional Edition C511001PRO Estimated Price: $2,195.00* Overview
* 17" Wide Desktop Printer
* Maximum resolution 2880 x 1440 dpi
* 3.5 picoliter droplet size
* 7-color Epson UltraChrome™ Ink with 8-channel print head technology
* Epson internal 10/100 BaseT Ethernet
* Custom-designed PostScript Language Level 3 Compatible RIP by ColorBurst
See the Line up of WIDE format printers
http://www.epson.com/cgi-bin/Store/WideFormat/pgindex.jsp?BV_UseBVCookie=yes
Want to know what type of prints last the longest, compare product information on photo papers from major companies here:
Permanence Tests:
Henry Wilhelm Research,
here you will find information on inks, printerrs and archival storage necessary for preserving the life of your fine art prints as well as family album prints.
http://www.wilhelm-research.com/index.html

We feel it is important that this subject be openly discussed and reviewed amongst consumers and professionals alike so they can make an informed decision on the products they use.
www.epson.com/printpermanence
---



WIPI Conference Seminar PANEL April 20, 2-4pm -
follow up will be posted shortly
The Do's and Don'ts of Working in Photography Jean Ferro, Photo Artist/President, Women In Photography International Sponsored by Women In Photography International Business/Marketing Track WIPI (Women In Photography International) presents a roundtable discussion by a group of established professionals working in the fields of photography, from Commercial to Fine-art. Specific suggestions for achieving personal and financial goals while avoiding mistakes will be covered throughout the discussion. Moderated by Jean Ferro, Photo Artist/President, WIPI



Panelists: See BIOS

Jean Ferro, Moderator
Françoise Kirkland, Consualtant/Manager, DouglasKirkland.com
Scott McKiernan, Founder/Director ZUMA PRESS, ZumaPress.com
Karen Hansen, Owner, Fresh Lists, FreshLists.com

WIPI Conference Seminar PANEL April 20, 2-4pm, follow up from Panel will be posted shortly.

SPONSORED BY: WIPI, International Photography Awards
and the LUCIE AWARDS
---

Lensbabies Launches Lensbaby 2.0 for Brighter, Sharper, Faster Selective Focus Photography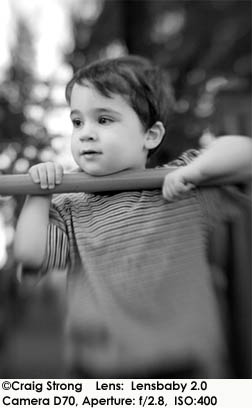 March 21, 2005, Las Vegas, NV. Today at the WPPI trade show, Lensbabies launched Lensbaby 2.0, a second-generation selective focus SLR camera lens, bringing brighter, sharper, and faster selective focus photography to professional and avid amateur photographers.

"Lensbaby 2.0 has proven to be a wonderful creative tool for demanding photographic assignments. Compared to The Original Lensbaby, Lensbaby 2.0 has a greater range of aperture settings, a much sharper 'sweet spot' of focus, and a new levitating magnetic aperture system, which makes it a snap to change apertures," said Craig Strong, the inventor of the Lensbaby and Co-CEO of Lensbabies, LLC.

Lensbaby 2.0 and The Original Lensbaby bring one area of a photo into sharp focus, with that 'sweet spot' surrounded by graduated blur, glowing highlights, and subtle prismatic color distortions. Photographers can fluidly move the sharp area around the photo by bending the flexible lens tubing.

Lensbaby 2.0 features an f2.0 aperture setting in addition to The Original Lensbaby's f2.8, f4.0, f5.6 and f8.0. With Lensbaby 2.0, a photographer can control the size of the sweet spot of sharp focus by changing the apertures.
The brighter the aperture, the smaller the sweet spot of focus and the greater the amount of graduated blurring in the photo's surrounding area.

Lensbaby 2.0 also features a coated, high refractive index, low dispersion optical glass doublet instead of the singled uncoated optical glass element in The Original Lensbaby.

"In the year since we launched The Original Lensbaby, we learned many photographers wanted to create Lensbaby images that had an even sharper sweet spot. Lensbaby 2.0's optic creates a much sweeter sweet spot of focus, which allows photographers to print large photos and see fine details like eye lashes or individual threads of fabric in the sharp area. Photographers will also find that Lensbaby which allows photographers to print large photos and see fine details like eye lashes or individual threads of fabric in the sharp area. Photographers will also find that Lensbaby rsions of Lensbabies in their camera bags; others will naturally find a favorite. We expect those who love soft focus, diffused images will gravitate towards The Original Lensbaby, while photographers who want a brighter lens with a very sharp sweet spot of focus and minimal diffusion will favor Lensbaby 2.0."

Kevin Kubota, a professional photographer who used a prototype Lensbaby 2.0, was thrilled. "The optic is bright and crisp. The images have beautiful mix of clarity and dreaminess. I love using it with my wedding work and find it perfectly suited to feminine portraits like pregnancy and high school seniors. My customers love the 'new' look," said Kubota.

Lensbaby 2.0 also features a levitating magnetic aperture system that makes changing apertures faster than with The Original Lensbaby, which uses a rubber gasket to hold aperture disks in place. Lensbaby 2.0 uses three shielded magnets embedded inside the optics cup to suspend metallicized plastic aperture disks just above the coated optical glass doublet. When a photographer drops an aperture disk into Lensbaby 2.0, it quickly snaps into position. Removal is also very easy: Lensbabies provides a complimentary Cell-Klear™ Lenspen® that the photographer inserts through the center hole in the aperture disk to lift it out.

Lensbaby 2.0 is available for sale now at www.lensbabies.com for $150, in camera mounts for virtually all SLR camera bodies. It will be rolled out to specialty photographic supply stores starting in mid-April. Lensbabies continues to offer The Original Lensbaby for $96.

Both Lensbaby 2.0 and The Original Lensbaby combine several vintage camera technologies in a novel, patent-pending combination. The shooter focuses a Lensbaby using the same general principle used with a bellows camera, by moving the focusing collar in and out with his or her fingertips. The photographer moves the 'sweet spot' of focus around the picture by bending the glass optic out of a parallel position to the image capture plane, like a tilt-shift lens.

Lensbabies, LLC is a Portland, Oregon based manufacturer and marketer of selective focus SLR camera lenses. Lensbabies was launched in February 2004 by Craig Strong, a professional photographer and the inventor of the patent pending Lensbaby selective focus SLR lens. Lensbabies sells to photographers all over the world through its website, www.lensbabies.com, at tradeshows, and through specialty photographic equipment retailers.

WIPI PROfessional Member Meg Madison created images from her 1st generation Lensbaby.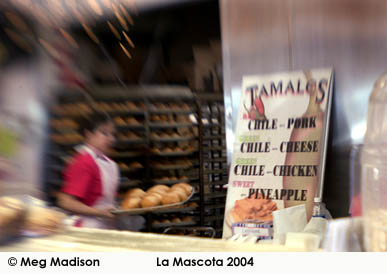 La Mascota Tamales Christmas 2004
Camera: Nikon 1DX, Aperature: Lensbaby F4, Shutter: 60 sec, ISO: 400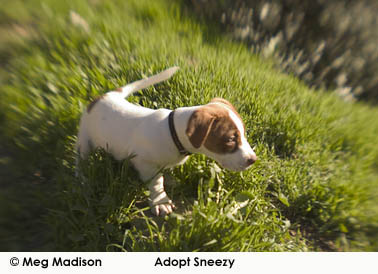 Adopt Sneezy 2005
Camera: Nikon 1DX, Aperature: Lensbaby F4, Shutter: 125 sec, ISO: 200

Images provided by Meg Madison are supplied by Women In Photography International
See WIPI Recommend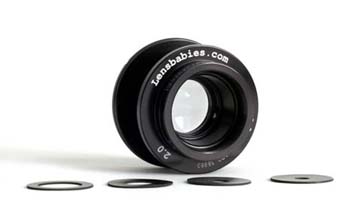 Lensbaby 2.0 Product Specs:
Brighter, Sharper, Faster selective focus photography
Available in mounts for Canon EF, Nikon F, Pentax K, Olympus E1, Minolta Maxxum, Olympus OM, Canon FD, Leica R, Minolta Manual, Sigma, Contax/Yashica, and Screw mounts
Focal Length: right around 50 mm
Focus Type: Manual, fingertip, actually
Optical element: coated, high refractive index, low dispersion optical glass doublet
Aperture Type: Interchangeable levitating magnetic apertures
Apertures: f2.0, f2.8, f4, f5.6, f8
Nominal Focus: approximately 18 inches
Maximum Focus: infinity and beyond
Minimum Focus: approximately 10 inches (achieved by pushing on the back of the focusing collar)
Size: 2.25" high x 2.5" wide
Weight: ~3.6 oz.
Manufacturer Suggested Retail Price: $150
The Original Lensbaby and Lensbaby 2.0 Compared
Lensbaby 2.0 is brighter, sharper, and faster

| | | |
| --- | --- | --- |
| | Lensbaby 2.0 | The Original Lensbaby |
| Aperture settings | f/2.0, f/2.8. f/4.0, f/5.6, f/8.0 | f/2.8. f/4.0, f/5.6, f/8.0 |
| Optical glass element | Coated, high refractive index, low dispersion optical glass doublet | Uncoated single optical glass element |
| Aperture system | Levitating magnetically receptive aperture discs that float above the optic | Aperture discs held in place with a friction fit rubber gasket |

Contact: Sam Pardue, Co-CEO, Lensbabies, LLC 503-516-5569, sam@lensbabies.com For release on March 21, 2004: 12:01 AM
---

WIPI recommends this product to every photographer who wants to have the best possible research for pricing their photography. It's a must have program and will bring great clarity to your photography promotion and contract negotiations. One of the most frequest questions in photography relates to "HOW MUCH SHOULD I CHARGE..?" You won't have to ask anyone that question again if you invest in yourself and purchase this program. It's a great asset to photographers and image makers..!

For Immediate Release Contact: Therese Bagshaw
Director of Sales
E-mail: info@fotoquote.com

Cradoc Corporation Releases fotoQuote Pro 5.0
The Industry Standard Price Guide for Stock and Assignment Photography
Version 5.0 has over 80 new Categories with completely updated Pricing information including new technologies. Also has a new Interface, Find screen, Notes window, and more.

Point Roberts, WA – February 2004 – Cradoc Corporation, a major developer of computer software for the freelance photographer, today announced the release of fotoQuote Pro 5. FotoQuote Pro 5 is an electronic price guide for stock and assignment photography. FotoQuote Pro 5 is the only source of pricing information for photographers that gives you powerful Coaching help in every one of its 218 pricing categories. FotoQuote not only helps you come up with a fair price for your image license, but also gives you the inside information you will need to help you negotiate and close the sale.

"The changes in the photo industry are huge since we last released the original fotoQuote in 1993," said Cradoc Bagshaw, President of Cradoc Corporation and Creator of fotoQuote. "I spent nearly a year working on this update and I was surprised at how much time it took to get a handle on what is currently happening in the photo industry. I believe that there are two main reasons for the changes I am seeing. The first is that two large stock agencies are dominating the world markets. The other is that companies are using photographs in many different ways because of digital technology and more targeted advertising. The photo industry is transforming in major ways and I wanted to be sure that fotoQuote Pro 5 would supply the photographer with the information that he or she needs to understand and take advantage of those changes."

FotoQuote automates the process of creating a quote for stock photography submissions. "Our research has shown that when a price quote is given in writing instead of verbally there is a much higher chance of getting the asking price," said Bagshaw. " There are fewer problems, including copyright infringement or rights grabs, if the photographer is willing to take the time to send the client the correct paperwork outlining the exact details of the job, including usages and rights that are to be granted."

The Coach section is a very popular feature of fotoQuote and it's packed full of more negotiating and pricing information than ever before. It's been compared to attending a weekend pricing seminar.

"FotoQuote is the number one program to help photographers gain a clear picture on how to price their photographic images. Most photographers would be nuts if they don't have fotoQuote, " said photographer Jean Ferro, the President of Women In Photography International.

Among fotoQuote Pro 5's new features are:

New Categories: There are over 80 new categories for a total of 218. There are dozens of new categories that deal with new technologies like, Film, Web, CD/DVD and Television.

New Interface: Using fotoQuote is greatly simplified. When creating a quote you simply click a category tab: Advertising, Corporate, Editorial, Electronic, etc, and select the usage you want. FotoQuote once again runs in a single window making it easy to use with other programs.

New Find Screen: There are so many categories in fotoQuote Pro 5 we've added a new find screen that makes finding usages easy. Just type in a word or phrase, click the find button, and you will get a list of usages from throughout the program that match.

New Notes Window: Each of fotoQuote's main categories now has a notes window that lets you keep multiple notes with sales information for each of your transactions in that category.

New Updated Pricing: All of the prices have been carefully reviewed from actual sales records, and raised or lowered to reflect the current market.

"Thanks for all your good work. I have used fotoQuote many times to price sales and it has been invaluable at protecting me from seriously under pricing my work. It gives me the confidence to offer a price, based on your database, then 'clam up' and let the client do the rest of the talking. Plus your helpful tips and tutorials on pricing unusual uses, negotiating and all the rest of it are a godsend for those of us slogging it out in the freelance market," said Jim Lawrence, photographer and writer.

Priced at $149.95, fotoQuote Pro 5 is an excellent value ($139.95 for the download version). An upgrade price for registered owners of fotoQuote or fotoBiz is also available. Please view our web site www.fotoquote.com or call us at 360-945-1380 for more specific details on upgrade pricing. By popular demand fotoQuote is now available once again as a standalone application.

Founded in 1993 Cradoc Corporation is a leading developer of computer software for the freelance photographer. Cradoc Corp also develops fotoBiz the complete business management solution for the freelance photographer. For more information visit www.fotobiz.net.
www.photoquote.com
Cradoc Corporation
PO Box 1310
Point Roberts, WA 98281
Phone: 360-945-1380
Email: info@fotoquote.com
---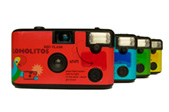 A REVOLUTION IN LOMOGRAPHY. The Lomolitos are single-use cameras - disposable in cost and simple construction, but absolutely priceless in sheer photo-impact. For the first time ever, a compact throwaway (or more accurately, "throw to the developer") camera has been fitted with our color-gel flash apparatus - resulting in the hectic colorsplashing effects that we have all grown hopelessly addicted to. Allow us to break it down:

COLORFUL
The distinguishing feature - Lomolitos includes an integrated color filter that can be switched on or off at will. Instantly, you can add a burst of wild colored light into both your daytime and nightime exposures. Each Lomolitos includes one of four tasty colors - yellow, blue, red, or green.

CHEAP
Not cheaply made, but cheaply priced. Outside of being easy on the purse, the low price of Lomolitos allows you to experiment with each individual camera at will. Fiddle with the lens, try a crazy mounted filter, play with the rear door - each Lomolitos begs to be explored and modified. And the best news: the more you get, the cheaper they become!

EASY
Lomolitos are small little things - tiny in weight and size - that fit just about everywhere. The lens is focus free, and the color gel needs merely a moment's attention to flick on and off. Given this conveinence, there's no reason not to have a Lomolitos at the ready for every given moment - ready to instantly slap your subject with a burst of colored light and record a quick Lomograph through its beady lens. Once your roll is finished, drop off your entire camera with any 35mm developer.

MULTIPLE
Lomolitos flip the usual equation of one camera with multiple rolls of film over to many cameras available simultaneuosly. This means: color-splashed pictures from one hand with green and the other with blue, a group of your 30 closest friends lighting up the party all at once, one camera with a clear lens and one with a lens painted with nail polish for before-and-after portrait, a camera always stashed in your car for those unexpected roadside lomographs, exchanging a Lomolito with your international friends to yield a few Lomographs from each country, never reloading when time and Lomographic necessity is of the essence, heart-pounding Lomolito-duels with your photographic adversaries, and full-scale Lomographic power at your fingertips when and wherever you need it!

Lomolito On!
http://shop.lomography.com/lomolitos/
---

Find Info on the latest Digital Cameras
Canon - Fuji - Kodak - Nikon- Olympus - Minolta - Sony

Latest digital camera reviews /specifications/ previews:
News Reviews Cameras Timeline Buying Guide Side-by-Side Galleries Forums Search Learn Glossary Feedback Newsletter Links

Digital Photography Review Where is where you'll find all the latest in digital photography and imaging news, reviews of the latest digital cameras and accessories, the most active discussion forums, a large selection of sample images, a digital camera buyers guide, side-by-side comparisons and the most comprehensive database of digital camera features and specifications.  Make us your home page or add us to your bookmarks.

About the Site

Digital Photography Review™ is an independent resource dedicated to the provision of news, reviews and information about Digital Photography and Digital Imaging published at the Internet address www.dpreview.com™. Digital Photography Review is a fully owned website of Askey.Net Consulting Ltd. dpreview.com is edited and maintained by Philip & Joanna Askey.

Digital Photography Review was established in December 1998, from simple beginnings grew a large and popular site, as time went on we gradually built the site up to include our vast digital camera database, timeline, forums, galleries a glossary and learn section. Of course, the core of the site are the all-day news updates and regular in-depth digital camera product reviews.

These days the site is one of, if not the, premium digital photography site with an audience of nine million unique visitors a month reading over fifty million pages. The site really has sky rocketed since those early days at the end of 1998.

One of the keys to the site is its long term stickiness, users bookmark and then return regularly, over 60% of our daily visitors come from their bookmarks / typed in URL. Many thanks to all my regular visitors and welcome onboard to the new visitors.

dpreview Editor, Phil Askey,
WIPI Highly recommends you visit dp