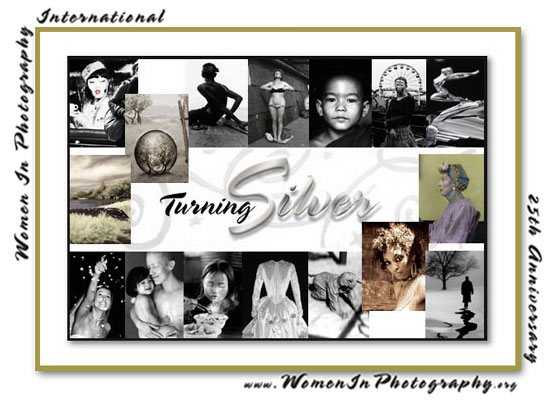 Women In Photography International

25th Anniversary Winning Images Jurors
Exhibition online August 11 thru Dec. 31st
---
GEORGE EASTMAN HOUSE Exhibitions - International Museum of Photography and Film



Young America: The Daguerreotypes of
Southworth & Hawe

George Eastman House, Rochester, N.Y. Oct. 1, 2005 through Jan. 8, 2006
Addison Gallery of Art, Andover, Mass. Jan. 28 through April 9, 2006

900 East Ave á Rochester, NY 14607 á 585.271.3361
George Eastman House On The Road
Exhibits on the Road
---
RADICAL VISION : The Revolution in American Photography, 1945-1980
The James A. Michener Art Museum, Doylestown, PA
January 14 - May 28, 2006
Opening Reception January 13, 6-7:30pm
(Please contact info@photoreview.org for an invitation if you would like to attend the opening reception)

The decades after the Second World War were a time of innovation and discovery in the American photography scene. Post-war American photographers from Robert Frank to Diane Arbus, from Lee Friedlander to Garry Winogrand, questioned both the old social order — in an effort to expose racism and alienation in our midst — and the old aesthetic order in photography. Challenging the dominance of the sharply focused, pristinely beautiful print (championed by Ansel Adams and Edward Weston, among others), these photographers explored oblique framing, radical cropping, the use of the natural grain of the film, extreme close-ups, and subject matter that ranged from the dispossessed to the freakish to the oddly normal in American society. This exhibition explores these radical changes in American photography in the period from the mid-1940s through 1980, through the work of the best-known photographers of the time as well as some important figures whose work deserves to be better known.!
The exhibit is drawn from the David Sestak Family Collection, and curated by the photographer, critic, and editor Stephen Perloff.

Photographers in the exhibit are Diane Arbus, Mark Cohen, Bruce Davidson, Louis Faurer, Larry Fink, Robert Frank, Lee Friedlander, Allen Ginsberg, William Klein, Leon Levinstein, Danny Lyon, Susan Meiselas, Joel Meyerowitz, Lisette Model, Bill Owens, and Garry Winogrand.

The exhibition will also feature some never before exhibited film footage by Leon Levinstein that puts into motion the street photography aesthetic of the time.

In addition, there will be a video screening of "Masters of Photography: Diane Arbus" and "Fire in the East: A Portrait of Robert Frank" on Sunday, March 5, at 3 pm with introductory remarks by Stephen Perloff. "Masters of Photography: Diane Arbus" is a fascinating, 30 minute, out-of-print documentary which explores Arbus's work and ideas in her own words, spoken by a close friend who narrates her pictures. "Fire in the East; A Portrait of Robert Frank" is an award-winning, 28 minute documentary which presents an intimate view of four decades of Frank's life, films, and photographs, including interviews with many of his collaborators and contemporaries, including Emile de Antonio, Allen Ginsberg, Walter Gutman, June Leaf, Jonas Mekas, Duane Michals, John Szarkowski, and Rudy Wurlitzer.

Radical Vision: The Revolution in American Photography, 1945-1980
James A. Michener Art Museum, 138 S. Pine St., Doylestown, PA 18901, 215/340-9800,
Hours: T-F 10-4:30, Sat 10-5, Sun 12-5, January 14 - May 28.

R E L A T E D E V E N T S
* Radical Vision: The Revolution in American Photography, 1945-1980,
Curator's Exhibition Lecture Tuesday, February 7

* Meet the Collector:
David Sestak, Tuesday, February 28

Please contact info@photoreview.org for an invitation if you would like to attend the opening reception on Friday, January 13, 6-7:30 PM.
---

"LOOK AND LEAVE:
New Orleans in the Wake of Katrina"

Photographs by Jane Fulton Alt

January 16 - March 12
DePaul University Art Museum, Chicago IL

As part of the recovery efforts following Hurricane Katrina, New Orleans city officials allowed residents from the most devastated areas to visit their homes briefly in order to assess damage. Jane Fulton Alt, a Chicago photographer and social worker, spent two weeks in New Orleans in November as a counselor through the program sponsored by the Substance Abuse and Mental Health Services Administration, an agency of the U.S. Department of Health and Human Services. Alt provided assistance and counsel to lower Ninth Ward residents returning to their homes in the city's Look and Leave program. While careful not to intrude on residents' privacy, Alt felt compelled to document the landscape of devastation and loss the hurricane left behind. Personal items such as a shoe, family photos or clothes hanging from a tree become poignant reminders of the individual losses the people of the region have suffered. Jane presents 30 archival color pigment prints 14" x 20"

DePaul University Art Museum
addaress: 2350 N. Kenmore Ave., Chicago IL ,
phone: 773-325-7506
http://museums.depaul.edu/artwebsite/
Hours Mon-Thurs 11am-5pm, Fri 11am-7pm, Sat-Sun 12-5pm

Reception Info: there will be a reception / fundraiser on
Mardi Gras, Tuesday, February 28th from 5-8pm
to benefit: Common Ground - http://www.commongroundrelief.org/mission_and_vision/
which provides -Immediate relief work in Algiers, Houma, Dulac, Inner
city wards and surrounding parishes and Building/Rebuilding infrastructure for the long term in Algiers including a permanent health and medical clinic,
training programs for skilled labor, land trusts and sustainable community
based affordable housing, free education, fair labor cooperatively run jobs, computer and technology infrastructure and training, and legal aid as well as

Katrina Kids Project - Hope, One Crayon at a Time
Katrina's Kids Project was started by a group of Houston area moms in the aftermath of Hurricane Katrina. The project gave evacuee children the opportunity to create, discuss and process their experience through art. http://www.katrinaskidsproject.org/index.html

Jane Fulton Alt
www.JaneFultonAlt.com see Current Projects or directly to the katrina photos
e-mail: photos@JaneFultonAlt.com
phone: 847-869-1331

Jane is an award winning photographer and WIPI PRO Member



JANE FULTON ALT, evanston, il WIPI PhotoProfile

Also January 2006 WIPI NEWS Feature

---
Stephen Cohen's Photo LA 2006
January 19 - 22, 2006

Opening night reception: Hosted by DIANE KEATON
Thursday, January 19th 6 - 9 pm
The proceeds will benefit the
Photographic Arts Council / LACMA

Exhibitors

collecting seminars
The seminars are led by experts in the collecting field. This is an intimate guided tour of the exhibition, before public hours. A two-day pass is included in the $80 fee (per person/per seminar). Enrollment is limited and reservations must be made in advance. All collecting seminars are held in the Santa Monica Civic Auditorium. WIPI highly recommends collecting seminar with Stephen Perloff of the Photo Review and Photograph Collector FRI, Jan. 20, 9 am


Seminar: "The Business Of Being An Artist" 1-5:30 p.m.
Coordinated by the Santa Fe Center for Photography. Hosted by photo L.A. at the Doubletree Suites Hotel in Santa Monica. Details and registration information to be announced at www.sfcp.org.

See complete list of seminars
register early, seating limited
Santa Monica Civic Auditorium
1855 Main Street,
Santa Monica, CA 90401

artfairs inc. Over the course of fifteen years, photo l.a. has become one of the most popular photography fairs in the country, bringing together over seventy galleries and private dealers from around the globe. Highlighting the finest works of the medium, from classic 19th Century photography, to contemporary images including digital and photo-based artwork. Last year, photo l.a. had a record attendance of over 7500 visitors, and its numbers and popularity only continue to grow.
---
Museum of Photographic Arts presents

BREAKING THE FRAME: Pioneering Women in Photojournalism
May 7 – September 24, 2006
THE MUSEUM of PHOTOGRAPHIC ARTS
* 1649 El Prado San Diego CA 92101 (619) 238 7559

More than sixty years ago, a generation came of age under the yolk of the Great Depression, the rise of fascism, and a world war. Some joined the burgeoning field of the mass media that was just taking shape through new and revolutionary technology. Literally at their fingertips was a newer, faster means of communication through radio, talking pictures, newsreels, the 35mm camera, and the large picture magazine. With unprecedented speed, proximity, and realism, their images arrived in people's homes igniting imaginations and shaping public opinion.

In the spring of 2006, the Museum of Photographic Arts is mounting a museum-wide examination of the photographs, films, newsreels, and cameras from the late 1920s to mid 1950s that -- not unlike our Internet age -- changed the world.

The largest of these exhibitions celebrates the first women in photojournalism; Breaking the Frame: Pioneering Women in Photojournalism includes vintage photographs by Margaret Bourke-White, Esther Bubley, Thérése Bonney, Hansel Mieth, and the British and Russian photographers, Grace Robertson and Olga Lander, respectively. Rosie the Riveter had nothing on these women, whose entrée into the mass media helped shape our collective understanding of history then and now. Forging a point of view and way of life through an unprecedented move out-of-the-home and into a career that demanded courage, intelligence, and skill, their achievements were revolutionary. Two exhibitions will accompany Breaking the Frame. The first examines the actual 35mm cameras that came into being in the mid-1920s; the second celebrates the first photographs made with them by Erich Salomon, Robert Capa, Alfred Eisenstaedt, Martin Munkacsi, and Tim Gidal.

In the Main Gallery:
Breaking the Frame: Pioneering Women in Photojournalism

Thérése Bonney (American/French)
Olga Lander (Russian)
Grace Robertson (British) - A WIPI Distinguished Photographer Awardee 1992
Hansel Mieth (German/American)
Esther Bubley (American)
Margaret Bourke-White (American)
15-20 photographs by each photographer
Illustrated Catalog - Mieth, Bonney, Lander
Adjacent galleries:
Framing in 35:The First 35mm Photographs 1928-1940
Erich Salomon
Martin Munkacsi
Robert Capa
Tim Gidal
Alfred Eisenstaedt
8-10 photographs by each photographer
Birth of New Technology and the Picture Magazine
In cases: Vintage cameras (UC Riverside Collection)
Magazines from various countries:
Berliner Illustrirte Zaitung, Picture Post, LIFE, USSR, Peste-Napli, etc.

Newsreels 1928-1950s – March of Time, RKO Pathé Early radio

Theater:
Film Series – early documentaries such as Joris Iven's 400 Million, John Huston's War Trilogy, Helen Levitt's The Silent One, Paul Strand, and others; Hollywood fare Since You Went Away, Too Hot to Handle, and others; first on-location feature films using documentary footage including The Search (1948) [written by Thérése Bonney, dir: Fred Zinnemann, debut of Montgomery Clift

THE MUSEUM of PHOTOGRAPHIC ARTS
* 1649 El Prado San Diego CA 92101 (619) 238 7559

ALSO SEE:
Today's Pioneers: Two Women Photojournalists in Iraq and Afghanistan
May 14 – September 17, 2006
This exhibition examines thirty-five images by award-winning contemporary photographers Stephanie Sinclair and Andrea Bruce from The Chicago Tribune and The Washington Post respectively. Their work brings the legacy of the earlier women photojournalists full circle. Sinclair and Bruce capture on film not only active combat but domestic life in the Middle East not accessible to their male counterparts.

Stephanie Sinclair - StephanieSinclair.com
is a WIPI PRO member and founder of PhotoBetty.com
See Sinclair WIPI Gallery Archive September 2000