WIPI ARCHIVE
BEAUTY, Camera Eye of the Beholder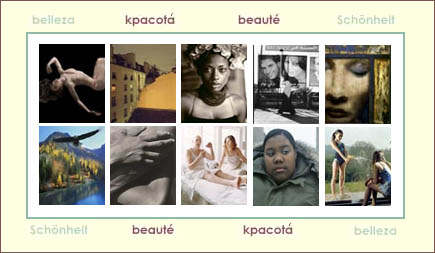 View Gallery
BEAUTY, Camera Eye of the Beholder
LIST OF WINNERS & HONORABLE MENTIONS
A Women In Photography International Exhibition ARCHIVED

jurors:
• Abby Bussel - Executive Editor, Architecture magazine, New York
• Tyra Banks - Supermodel, TV/Film Producer, Bankable Productions. Founder, TZONE Foundation
• Michael DePirro, Senior Vice President, Group Creative Director, Deutsch Inc, New York
• Clare Freestone - Assistant Curator of Photographs, National Portrait Gallery, London National Portrait Gallery/London
• Alfonso Gutierrez - Editor/Managing Director, AGE Fotostock, Barcelona
• Charlie Holland - Director of Photography, Getty Images, Los Angeles, CA
• Valerie May - Senior Editor of New Media, National Geographic magazine, Washington DCNational Geographic
• Carol McCusker, PhD - Curator of Photography, Museum of Photographic Arts (MoPA), San Diego, CA• Glamour magazine
• Anne Telford - Editor-at-Large, Communication Arts, Menlo Park, CA see juror bios
---


A Women In Photography International Exhibition ARCHIVED
Exhibition runs January 10 - June 2005, 2005
Click here to view list of WIPI exhibitors and award winners

Jurors: Sue Brisk/Magnum Photos,
Howard Greenberg Gallery /NY,
Lesley Martin /Aperture Foundation,
Esther Woerdehoff /Galerie Esther Woerdehoff /Paris, France
A WIPI online juried exhibition

A reminiscence from Martine Franck, photographer & wife of Henri Cartier-Bresson: "Henri was always immensely supportive as a photographer. He taught me how to say "No" gracefully and to follow through all projects right to the end. In his opinion no details were insignificant and he would always say," Don't show your work until you feel ready and you have done your own editing." He was adamant about being at the printers when a book was being printed. How right he was."
---
A Women In Photography International Exhibition ARCHIVED
Best of Show: Stephanie Flack People's Choice: Gabrielle Gianella
See complete list of winners International Jury panel bios
Recently Archived Oct. 2004
Curated by: Carrie Villines
Jurors:
Jigisha Bouverat, Director of Art Buying, TBWA\Chiat\Day (Los Angeles)
Jean Ferro, Photo Artist/President, Women In Photography International
Jeanine Fijol, Photo Editor, Photo District News
Graham Howe, Author/Curator/Founder, Curatorial Assistance, Inc.
Stephen Perloff, Founder/Editor, The Photo Review
Maria Piscopo, Creative Services Consultant
Miriam Romais, Managing Director, En Foco (New York)
Niyatee Shinde, Photo Historian/Writer/Curator (India)
Stuart Vail, Editor-In-Chief/Publisher, TheScreamOnline
Roger Watson, Photo Historian, Fox Talbot Museum (England)
---

Photo l.a. 2004 ARCHIVED held January 2004 WIPI Booth, presented artists, Michele Dugan, Jean Ferro, Stephanie Flack, Freyda Miller, Elizabeth Opalenik, Juanita Richeson with pecial presentation of Ruth Bernhard.
See artist porfolios and SEE onsite images of event and ...the final hours..behind the scenes after the event...packing up!
---
International Photography Award / Lucie Awards
Sylvia Plachy received the 2004 Women In Photography Interntional Disginguished Photographers Award at the 2nd Annual 2004 Lucie Awards presentation, New York City, Manhattan Center, October 18, 2004