"I Dream to…Photojournalism for Girls"
Step Up Womens' Network's "Photojournalism for Girls" class.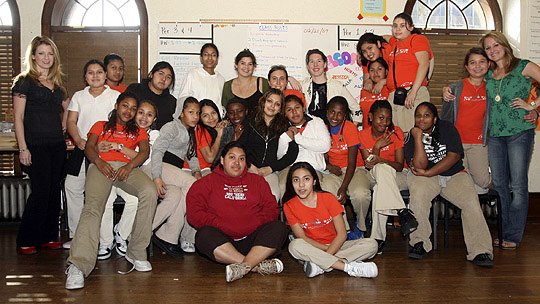 Step Up Women's Network Photojournalism for Girls class 2007: back row, center: co-instructor Maya Myers, Step Up Women's Network Community Programs Manager Jamie Kogan, and lead instructor Amy Tierney
"I Dream to…Photojournalism for Girls" is a class for Teen girls, sponsored by Step Up Women's Network and Crystal Light, and taught by photographers and WIPI members Amy Tierney and Maya Myers.

I dream to be a photographer.
I dream to be an attorney.
I dream to be an actress.
I dream to be a police woman.
I dream to be a fashion designer.
I dream to be a DJ.
I dream to be a model.
I dream to be a veterinarian.
I dream to be a skin care entrepreneur.

The list goes on and on and represents just a few of the 24 dreams that were further inspired in Step Up Womens' Network's "Photojournalism for Girls" class.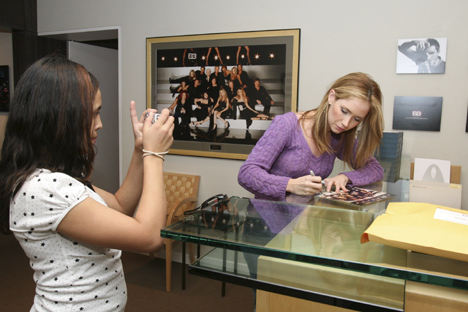 Photo by ©Amy Tierney
"The Bold and The Beautiful" actress Ashley Jones gets photographed by Step Up Women's network photojournalism student Ana Chairez in the show's production office.
Crafted by pro-photographer Amy Tierney (www.joyridephotography.com) and co-taught by pro-photographer Maya Myers (www.mayamyers.com), the class took place every Wednesday after school from January 10th - April 18th, 2007, with the fantastic support of women in the Step Up network as a way to introduce our teen girls to women succeeding in all types of careers.

The girls were first taught the tools of photojournalism, and then given the opportunity to interview and photograph a professional Step Up member who they dreamed to emulate. It was an exciting opportunity for the girls to expand their skills by learning how to use manual-function digital cameras, digital voice recorders, and Photoshop. Amy and Maya spent four months teaching the girls the skills they needed, and then took the girls on the interviews with all the women that signed up to take part in the program. After interviewing and photographing a professional Step Up member, the girls created a web page to showcase their interviews.

Not only did the girls learn a new set of skills, the meetings between the girls and the women were extraordinary! Sabrina Smith interviewed Step Up member DJ Shy (of KIIS FM) completely without note cards. Jocelyn Flores stepped out from behind her shy shell to improvise an acting scene with actress Kali Rocha of "Gray's Anatomy" after she interviewed and photographed her. Ana Chairez got the full tour of CBS Studios by actress Ashley Jones (of The Bold and the Beautiful) as she photographed her, and then put Ashley's words of wisdom to use when she asked for the production coordinator's card on her way out the door!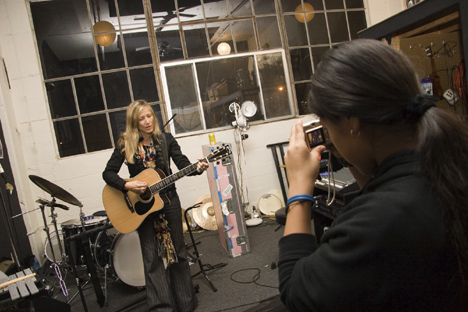 Photo by ©Maya Myers
Aspiring musician and Step Up's photojournalism student Elsa Tiodocia,
photographs singer and songwriter Joan Jones.

Self Magazine ran an advertorial (as placed by class sponsor Crystal Light/Kraft Foods) on the program in the September 2007 issue of "Self Magazine", and a gallery show was held in Los Angeles on August 23rd at DCA Fine Arts Gallery to showcase the girls' work and members' involvement. The class, will furthermore, be introduced to the other Los Angeles Charter High Schools Step Up partners with in 2008 and potentially, the class will be introduced to the organization's New York and Chicago chapters.

NBC local news covered the event, as did WireImage (see images)

Please help support programs like these for underserved girls. Our public schools lack in art, music and physical education classes. Step Up Women's Network is helping to provide a bridge for young women. Consider donating here: www.suwn.org.

Step Up would like to thank the amazing women that met with the girls: DJ Shy, Kristin Wasserstrom, Kali Rocha, Ashley Jones, Kimberly Buffington, Stephanie Walker, Rachel Pally, Kate Somerville, Stephanie Cohen, Ashley Jones, Chef La La, Michele Karron Belkind, Carla Gentile, Claire Wolterman, Cathy Brown, Joan Joans, Susanna Mercedes, Joanie Dodds, Ellice Schwartz, Dolphina, Saretta McDonough, Jenny Morgan, Laurissa Hulsebus, Susanna Mercedes, Jenny Morgan, Ellice Schwartz, Joanie Dodds, Michelle Karron

Step Up is on the cutting edge of women's social philanthropy. The organization's strength stems from the members' ability to leverage their personal and professional skills and relationships to give back to the community. Programs are designed to engage women in a way that inspires a life-long commitment to responsible, philanthropic involvement encompassing hands-on volunteer work and leadership opportunities. "Invest, Involve and Inspire" is their motto.
article by:




AMY TIERNEY, los angeles, ca (7-05) PROfessional Member



MAYA MEYERS, los angeles, ca (9-07) PROfessional Member