RE: Requests for posting: Although we would like to serve everyone, WIPI will only post selected conferences and Seminars and workshops by Photo Companies, Sponsors or affiliated organizations and MEMBER associated conferences. See SPONSOR list
---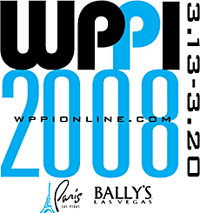 WEDDING & PORTRAIT PHOTOGRAPHERS INTERNATIONAL

WPPI 2008
CONVENTION & TRADE SHOW

It's all about education, networking, the biggest trade show in professional photography and FUN!
You can learn and still have a good time—after all, it's Vegas!
All classes will be held in Bally's Hotel
The Trade Show will be held in the Paris Hotel
Room rates are: Bally's $129 (use discount code SBWAP8)
Paris $159 (use discount code SPWAP8)


BE INSPIRED!
March 12-14 - The Las Vegas Experience with Michele Gauger and Chris Nelson
March 13 and 14 - WPPI Plus classes
March 14 and 15 - Business Institute
March 15 and 16 - Print and Album Competition Judging
All About Schools program
March 16 - Platform programs begin
Welcome Reception sponsored by Canon USA
Young Guns (a new event!)
March 17–19 - The best Trade Show ever!

Trade show hours (Paris)
Monday and Tuesday 11:00 AM - 4:30 PM
Wednesday 10:00 AM - 3:00 PM
Venue Booths (Bally's)
Sunday 12:00 PM - 5:00 PM
Monday and Tuesday 7:30 AM - 10:30 AM and
4:00 PM - 9:00 PM
Wednesday 7:30 AM - 10:30 AM

Platform classes
MasterClasses
Breakfast Club—a special morning program
3 evening programs
· Champagne Shootout
· First Ladies of Photography
· Awards Reception and Presentation sponsored by Kodak
March 20 - Closing Program



Make Sure you visit GRAPHIS STUDIO - WPPI Tradeshow – Las Vegas – March 17-19, 2008 – Booth 747

PLUS
or catch the CALIFORNIA classes sponsored by Graphi Studio
Don't miss this opportunity! The seminars in California, which have limited space available so register today!

MASTER YOUR CRAFT: A full day with Bob Davis and Mike Colón.
Together for the first time!!
www.masteryourcraft.net

WHEN:
Wednesday, February 27 in Los Angeles, CA, 2008 9:00 a.m. – 6:00 p.m.
Networking Happy Hour from 6:00 – 8:00 p.m. (for seminar attendees only)

Friday February 29 in San Francisco, CA, 2008 9:00 a.m. – 6:00 p.m.
Networking Happy Hour from 6:00 – 8:00 p.m. (for seminar attendees only)
to find out when the next GRAPHISTUDIO presentation is coming to your town
call GRAPHISTUDIO California Sales
Rep Lane Nelson
866-472-7445 ext 473
Direct: 651-379-3473



EPSON's make sure you see lastest printers and paper
---


Sunday, March 30 thru Thrusday, April 3rd

KORAKIA PENSIONE HOTEL
257 S. Patencio
Palm Springs, California 92262
(A long way from Tangier, nestled in the heart of a Southern California desert, at the base of the San Jacinto Mountains, lies an unmistakably Mediterranean experience, Korakia Pensione.)

4-DAY WORKSHOPS (Max 15 attendees each for most. Click on the Instructor's name on the left to see full details of each program.

Events, Seminars, Fine Art Print Walk, Symposiums, Portfolio Reviews, Evening Presentations, Call for Entries-Slide Show contest.
|Participants: Andreas Bitesnich, Keith Carter, Bruce Barnbaum, Patrick Darrin, Bruce Davidson, Jeff Dunas, Michelle Dunn, Colin Finlay, Tom Grill, Michael Grecco, Lauren Greenfield, R. Mac Holbert, Amy Kawadler, Antonin Kratochvil, Juergen Nogai, Frank Ockenfels III, Sylvia Plachy, Lorne Resnick, Barrie Rokeach, Mary Virginia Swanson, Joyce Tenneson, Stephen Wilkes,

Palm Springs Photo Festival
http://www.palmspringsphotofestival.com
---
The Society for Photographic Education






2008 National Conference
March 13-16, 2008 in Denver, Colorado.

"AGENTS OF CHANGE: ART AND ADVOCACY"
the 45th annual conference

... Lens-based artists have been catalysts for change with imagery that advocates social and environmental awareness. Artists bear witness, interpret, expose and address problems ranging from the Aids epidemic and stereotypes in race and gender to the plight of refugees in war torn countries. In what ways are artists responding to the local and global challenges that are reshaping politics, cultures, economies and the planet? As educators, artists and scholars, what has been the historical impact of our advocacy? What role will we play in shaping the future?...
Joann Brennan
Conference Chair

2008 conference proposal form
deadline June 1, 2007

SPE - competition listing
Lists of university programs in USA, calls for submissions of pictures and manuscripts, conferences and exhibitions

SPE National Office
110 Art Building Department of Art
Miami University
Oxford, OH 45056-2486
Phone 513-529-8328
Fax 513-529-1532 (attn:spe)
email speoffice@spenational.org
---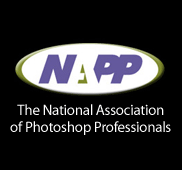 National Association of Photoshop Professionals
Training seminars 2008
NAPP is dedicated almost exclusively to training and education. NAPP delivers training and tutorial content in a variety of ways.

Photoshop User Magazine, award-winning magazine delivers the equivalent to dozens of magazines on their members-only web site.NAPP trainers are the talent behind the best selling Photoshop books and training DVDs. The most famous trainer is NAPP's president and top-selling author of all books on technology — Scott Kelby.
No matter how you use Photoshop or your skill level, you're sure to get more than your money's worth from a NAPP membership. Join the thousands of Photoshop users in more than 100 countries who have made NAPP the largest graphics and digital imaging association anywhere. NAPP DIRECTOR, Larry Becker

TIPS - See How'd they do that?

Photoshop TV - The new video podcast featuring Scott Kelby, Dave Cross and Matt Kloskowski - "The Photoshop Guys" Watch Now
---

Education Opportunities At chbphoto.com
In Person, By Telecoaching, & Tutorial CD
• Live action, real-time video tutorials covering specific areas of Photoshop
• A pragmatic approach to learning Photoshop - stressing technique & process
• Up to 5 1/2 hours of tutorial material
• Each CD covers Mac and Windows, as appropriate
• Many CDs address Photoshop versions CS3, CS2, CS, and 7
• Some CDs address Photoshop Elements 3
• CD purchase can be combined with in-person telecoaching
Visit CHBphoto.com to see the Training products information

Everyone needs a personal one on one at times. CHBphoto provides excellent support and training. You may want to ask Chuck about "printing" They are set up to do large scale prints in a variety of materals and fine art papers.

Want to put a class together of your friends, contact chuck@chbphoto.com or call 310.216.6611 to find out how easy it would be to do this in the Los Angeles area, or special even a special class where CHBphoto can travel to your city.
---

Online Training Library®

Lynda.com is an award-winning provider of educational materials, including Hands-On Training™ instructional books, the Online Training Library®, CDand DVD based video training, and events for creative designers, instructors, students, and hobbyists.

Learn the latest tools and techniques in digital media, design, and development from expert instructors who possess a passion for teaching and present their material in a caring, honest, and unbiased manner.

Over 26,941 video tutorials Professionally-produced Windows and Macintosh compatible QuickTime videos. Over 394 topics available online, 24 hours a day, 7 days a week. Easy to use, priced to meet your every day needs and variety of training titles. Lynda.com

WIPI RECOMMENDS: These training videos are great, if you need a tutorial on the total software program or just a quick tutorial on a specific area, Lynda.com can provide you the oppotunity to keep your project moving forward with these easy to use training turorials. You can stop the video at any time and resume, or instant replay the information. You can't beat this system of learning outside of one on one training.

Priced fairly and is very convenient to use, no long term contract, learn at your own pace!
Planning to take one of those sophisticated Photoshop seminars, do yourself a favor and go through the tutorial first, so that you are equipped to grasp the techniques that the seminar programs usually glide through too quickly to really retain. Or, after your master class, Lynda.com will be an excellent support system.

---

The Santa Fe Photographic Workshops
, established in 1990, is one of the foremost year-round centers for experiential learning and creativity in the world.
With a faculty comprising many of today's most influential and talented photographers, present more than 150 programs annually for amateurs and professionals alike. These include weeklong workshops at the campus in historic Santa Fe, New Mexico, as well as in San Miguel de Allende, Tuscany, and Provence.
In addition, Santa Fe photographic workshops offer two-and-a-half-day intensives and custom-designed, one-on-one study opportunities in Santa Fe, and travel workshops to Ireland, Australia, Morocco, Thailand, Tanzania, Big Sur, and the coast of Maine.
Join the community of photographers to expand your skills, explore your creativity, and invigorate your passion for image making.
Look for clalsses from WIPI PRO members
Bobbie Lane
,
Rosanne Olson
and Advisory Board and Distinguished Photography Award winner
Joyce Tenneson