photo la 2011

Celebrating 30 years!

CHARTER Member, fine art photographer and gallery owner, Carol Henry will curate the grid styled digital exhibit of vertical and square images. The call for members work was a spontaneous request. Thank you for those who could make the very short deadline! The WIPI booth will also have a 27" iMac for website viewing.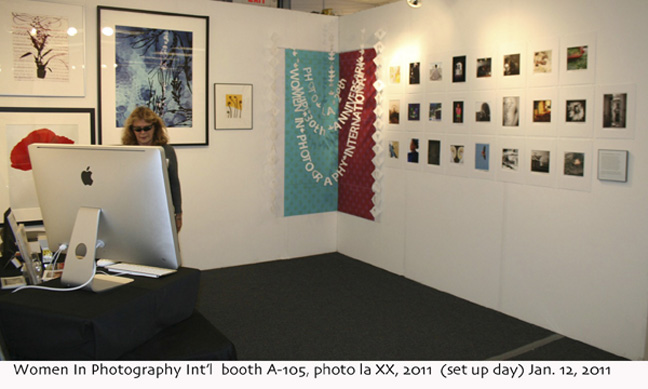 photo l.a. XX + artLA projects
the 20th ANNUAL INTERNATIONAL LOS ANGELES
PHOTOGRAPHIC ART EXPOSITION & ARTLA PROJECTS
LA's Longest Running Art Fair Joins artLA projects
January 13-17, 2011

Opening Reception, Thurs. Jan 13th benefits the
Wallis Annenberg Department of Photography at LACMA

We look forward to meeting you... visit our booth and have a picture taken for our Facebook wall!
| | | | |
| --- | --- | --- | --- |
| Jean Ferro, President | Carol Henry, Curator | Candace Biggerstaff | Callie Biggerstaff |
Photo LA Booth Wall Plaque

But I am certain that in almost every house there is a camera used by a female to document the lives and spaces that surround her. A chance to place those personal visions on paper in the past came with some obstacles but now you can instantly share your vision around the world within seconds. An instant reality that has changed the opportunities for female photographers; no need to buy materials, portfolios, hire a babysitter, have crates built, ship etc. Sharing these visual expressions can inspire or accompany narratives or simply illustrate thoughts touching countless lives and creating new bonds of awareness. Those are powerful tools we have now to build and understand each other. Looking over these photo la images we have collected from the Women In Photography International members I see quiet moments of introspection as a uniting visual in many of the prints, not grand landscapes but social windows and insight! I would like to mention that this is Women in Photography's 30th anniversary and WIPI president Jean Ferro has shared her uncompromising will and passion for photography with thousands of women around the world for 10 years. Thank you Jean!

— Carol Henry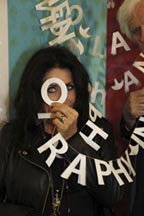 Photo LA Facebook images:Access FULL LIST OF FOLDERS Jan 13 Reception – Jan 17th final:

http://www.facebook.com/photos.php?id=52330307762
each days album will open in a separate URL.. you can copy and paste that URL and send to friends or post on blogs. Please copy accompanying text below the photography when sending or displaying any images.


Francoise Kirkland


PRESS
http://womeninphotography.org/Events-Exhibits/PhotoLA-2011/photola-wipi2.html


WIPI Members exhibiting:

Merrie Asimow, Menlow Park, CA, USA
Colorado Bridge, 2009

Merrie Asimow, previously a computer consultant, has been helping people understand computers, software, and cameras for over 20 years. Merrie now devotes herself to being a full-time photographer and artist. In recent years her desire for a unique approach has led her to use specialized filters to enhance her images.
Asimow and her images from China and Tibet were featured in Viewfinder magazine and was the winner of the Worldwide Photowalk at Lake Tahoe in 2008.
www.merriephoto.com




Ivy Bigbee, Washington, DC, USA
Chambered Nautilus, 2010

Chambered Nautilus, Bigbee's current work examines the architecture and design of shells. Past work includes the POW/MIA commemorative postage stamp, unveiled in 1995 at the Vietnam Memorial and reproduced 200 million times. Granted rare access to chronicle Cirque du Soleil, the photographer-writer also has created images for HBO; photo-restorations detailing the Federal Writers' Project appear on the Library of Congress "American Memories" web site. In 2010, five Bigbee SX-70 landscapes were included in Torpedo Factory's "5 x 5 Exposed," Kathleen Ewing, juror. Her 24" x 36" Ilfochrome, "Black-headed Gull," was exhibited in "Beyond Audubon, Woman Made Gallery, Chicago.
www.ivybigbee.com


Candace Biggerstaff, Newbury Park, CA, USA
New Flora

My passion for photography began at the age of twelve , upon receiving a used Aries 35mm Rangefinder camera as a birthday gift from my father. The pivotal work of photographers Imogen Cunningham, Dorothea Lange, have been a major inspiration for my work. I am learning to become selective. I can focus on life's obstacles and challenges or choose to consciously turn them into opportunities. I know that everything in life seems to appear more hopeful through the lens of a camera.
www.CandaceBiggerstaff.com

Callie Biggerstaff, Newbury Park, CA, USA
Sunday

Callie Biggerstaff is a fourth generation Los Angeles native. She realized her serious passion for photography in her early twenties, and is following in her mother's footsteps by pursuing a career in professional photography, with an emphasis on fashion, commercial and documentary style imagery.
www.calliebiggerstaff.com

Kathy Corday, Chicago, IL, USA
"Wave Self-Portrait No. 1"

After a hiatus from exhibiting her work, former staff photographer for Walt Disney Imagineering, Kathy Corday reemerges with this selection from her "Gray" series, an exploration of the charisma of humanity as it exists in shadow. Previously, her work has appeared in exhibitions for Long Beach Arts, the Los Angeles Cultural Affairs Department, and in 1990 Women In Photography International. Direct inquiries to: kathycordayusa@me.com.

kathycordayusa@me.com

Joan Dooley, Los Angeles, CA, USA
Nimbus, Toned, 2000

A fine art documentary photographer & art historian, Joan's style has been described as "decisive moment meets Jan Vermeer." After earning a Master's degree in Art History, she has worked in various aspects of the photography field - photojournalism, museum curatorship and now education – each new venture serving to further invigorate her passion for the medium. She was Assistant Curator of Photographs at the J. Paul Getty Museum for twelve years. Since 1999 she has worked as an award-winning photo teacher in LA's inner city, currently at LAUSD's new arts high school, aka HS#9, at 450 North Grand. joandooley.carbonmade.com/

Estelle Dougier, Paris, FRANCE
Mystery Woman, 2009

Estelle Dougier is a fine-art photographer. Born in 1971 in Paris, she has followed classes at the Ecole Speos in Paris and at the International Center of Photography in New York. Her key themes are night life, shows and childhood. She uses an old film and medium format camera (an Hasselbald 501 CM) and works principally in color. Estelle has exhibited in France (Paris, Arles, Lille), the UK, the United States, Portugal, Italy, Bulgaria and Belgium and her images have won several well-known international photography prizes. www.estelledougier.com

Jean Ferro, Los Angeles, CA, USA
ducks-in-a-row 2009, ongoing series

Jean Ferro's fine art self-portrait work has been published in international publications Zoom, French Photo and Japan's Shukan Shincho. TV network magazine shows ABC Network Eye On LA and CBS, America Show. Ferro's film and music personality collection includes such artists as David Bowie, Reba McEntire, Ringo Starr, and her actor/director son, Eric Etebari. She produced and directed 30 min dcumntary "Through Our Own Eyes, Self-Portrait by People Without Homes." As a feature photographer for Los Angeles Magazine, Ferro photographed Arianna Huffington, Larry Gelbart, Fred Otash and others. Her collections include self-portraits, Global Liberty, Bucks County, Pa, Film/Music and the ducks-in-a-row series. President of WIPI 2000-2011 www.JeanFerro.com





Ellen Freyer, Los Angeles, CA, USA
Searching for Beauty, 2010

My work as a photographer is informed by my studies in art history, my background as a painter and my experience as an award winning filmmaker. Using familiar subjects I try to create a sense of mystery and beauty in pictures that exist between observation and memory, painting and photography. freyere@sbcglobal.net

Lauri Gaffin, Los Angeles, CA, USA
Lake Jo

laurigaffin@mac.com

Wilda Gerideau-Squires, Andover, MA

Wilda Gerideau-Squires is an award-winning fine art photographer who has garnered national and international recognition. She uses both film and digital photography to capture a variety of images during her extensive travels around the world. The included image, "Tendril", was recently featured in an exhibition at the Pen and Brush Gallery in New York City. Gerideau-Squires is a resident artist at Western Avenue Studios in Lowell, Massachusetts and serves on the Board of Directors of the Brush Art Gallery, also in Lowell. Her work may be viewed at her studio or www.wgsgallery.org.

Law Hamilton, Rockport, ME, USA
Charles Lloyd, The Profile, August 2002

Photographing musicians exposes the essence of the improvisational aspects of Jazz. The genius captured in the performances is a portrait of creative people.
Love of nature leads me to express through investigation, using patterns to lead the eye to a new perspective of what otherwise might be passed by, and finding
ways of incorporating nature into architectural details.
www.lawhamilton.com


Carol Henry, Los Angeles, CA, USA

For 25 years, Carol Henry has been creating one-of-a-kind imagery in the darkroom on cibachrome paper. For over two decades she has exhibited her images through fine galleries: Photography West, Ansel Adams Gallery, Susan Spiritus Gallery, Jackson Fine Art, also exhibiting in public spaces such as Mumm Champagne, Maui Ocean Center, Los Angeles County Museum of Art and the Museum of Contemporary Art Denver. Her work appears in several permanent corporate collections as well as many health care facilities including several Kaiser Hospitals, UC Sacramento, Stanford Univ., Northwestern Univ. Hospitals and Meijer Heart Hospital. Environments and the effect art has on people in them is an important consideration in Henry's work. She wants to expose the viewer to unseen worlds and makes sure that each time they see her work they find something new!
www.carolhenrygallery.com

Heather Jacks, Belpasso, ITALY

I have always been acutely conscious of light, shadow, and the beauty of my surroundings. Shadows produced by the late day sun, along with simple objects and textures, inspire me to photograph. Whether a moody landscape, or a window side still life, I try to impart a sense of timelessness to my work. The use of selective focus via a plastic lens, or the addition of textures and tones to my photographs is an integral part of the creative process for me. These additions allow me to complete my vision for a particular image.
www.heatherjacksphotography.com

Monica Kane Stewart, San Diego, CA, USA
Untitled, November, 2009

This image is part of a series. Monica Kane Stewart is a commercial and fine art photographer and mixed media artist based in San Diego, California. She received
her BA in Visual Arts: Studio in 2010 from the University of California at San Diego. She was awarded honorable mention for her work accepted in Women In
Photography International's "A Decade of Images 2000-2010" and in "Black & White & Color 2011", as well as being accepted into two other juried exhibits with
Special Recognition since she started exhibiting in 2010. She operates a natural light portrait business called 15th Street Photography in Del Mar, CA. www.maksdesign.com

Noreen Larinde, Los Angeles, CA, USA
THE KORAN, October, 2010

www.NoreenLarinde.30art.com

Joyce C. Lopez, Chicago, IL, USA
Little Eve. 2006

WIPI 2011 "Black and White and Color" Comp., Nature -First Place SOHO Photo Small Works Itl. Comp. Feb 2011-Honorable Mention, NYCThe Worldwide Photography Awards-Dominant Color Comp-Gold Honorable Mention
Photocenter NW Member show. 2010, Dec-Jan. 2011, Seattle Finalist-The Clarence John Laughlin Award 2010-New Orleans Photo Alliance Women In Photography Itl. "Faces" 2010 competition-two entries. The Julia Margaret Cameron Itl. Comp. 2010, 1st, and 2nd and Honorable Mention in Nature Category. The Center-Editor's Choice Award 2010 selected by Kathy Ryan and Scott Thode www.joycelopez.com

Meg Madison, Los Angeles, CA, USA
Red Tail Light, Union Square, 12.26, series, 2007

Meg Madison is a fine art photographer concerned with investigating image, and memory. She has been taking photographs for 20 years, exhibiting for 15, and is a graduate of San Francisco Film School. Her recent work RIGHTSIZING NARRATIVE explores our cultural visual Language of storytelling and was exhibited at the Kristi Engle Gallery in Los Angeles. Madison is currently working on a portrait project and soliciting subjects., in you are interested please contact her at info@megmadison.com
MegMadison.com

Winifred Meiser, Vista, CA, USA
Freedom's Struggle, 2008

During the forty plus years that she has lived throughout the United States and Europe, Scottish-born Winifred Meiser's creative endeavors have earned her awards in poetry, art, writing & photography. Her work has been published in a variety of publications including Shutterbug Magazine. She wrote the children's Environmental Edu-tainment play "Roxy the Recycling Robin and the Mystery of the Missing Trees" and is the founder of a nonprofit children's organization using photography as an educational tool. View the children's photography at www.throughchildrenseyes.org

Barbara Pickles, Camarillo, CA, USA
Obligation, 2009

Barbara Pickles is a fine art and commercial photographer in Southern California. After studying art at Wellesley College she became a photographer, art director and commercial producer in Los Angeles. Recently completing her MFA studies in photography at Brooks Institute in Santa Barbara, Pickles continues to develop her photographic career. Her fine art photography explores the challenges today's women face in navigating their roles as mothers, wives, sisters, daughters, and professionals. bpickles@roadrunner.com

Dani Roter, Los Angeles, CA, USA
The Office, 2009

daniroter@gmail.com

Barbara Ruffini, Costa Mesa, CA, USA
Isn't it Pretty to Think So, 2010

Barbara Ruffini is a Southern California-based artist; interested in the vernacular, the everyday, but also in looking toward something greater. Her work is often personal and sometimes sentimental, melancholic, somewhat romantic, or purposefully mysterious. She is interested in what is reflected back to the self or the viewer; the mood created. She is inspired by the singular beauty of imperfection and what it is to be human. Our fragility and resilience. In some ways – it is always self-portraiture. What she sees in the world – always reflected back upon herself. www.barbararuffini.com

Aliki Sapountzi, Edinborough, SCOTLAND
Mother Earth Spinning, 2010

Filmmaker and Photographer Aliki Sapountzi is known for her socio-documentary and travel photography. Exhibited and published internationally, her purpose is to bring spirit into focus. Alternative ways of living and dying are amongst her favoured subjects. In 'Mother Earth Spinning' Aliki branches out into a more playful mode.
www.aliki.co.uk

Wendi Schneider, Denver, CO, USA
Reverie, October 2010

Wendi Schneider's graceful compositions are the foundation for her detailed, sensual photographs. Raised in Memphis, she graduated in fine art from Newcomb in New Orleans. She began making photos as reference for oil paintings and began painting them, finding balance between surrealism and realism. She moved to NY in '88 to pursue her photo career and to Denver in '94. A major contributor to Hearst's Victoria Magazine, her color and hand-painted photos have been featured by Bantam, Berkley, Little Brown, Penguin Putnam, Random House, St. Martin's, Simon & Schuster, Warner Books, Sony Records, Young & Rubicam and others. Her images are exhibited and collected internationally.
www.wendischneider.com

Elizabeth Siegfried, Toronto, Ontario, CANADA
Turbo, 2009

Elizabeth Siegfried is known for her work in self portraiture and photographic narrative. Siegfried has worked with the historical process of platinum for twenty-five years and has exhibited her images internationally. Her photographs have been published in SHOTS magazine, Schwarzweiss, La Fotografia Actual, Camera Arts, Photo Life Magazine and The Women's Daybook. "LifeLines" her first book, published in 2000 includes a literary introduction by the National Book Award Winner Andrea Barrett. Her work is represented in private and public collections, including the Kiyosato Museum of Photographic Arts in Japan; the Canadian Museum of Contemporary Photography in Ottawa; and the Peter E. Palmquest Women in Photography International Archive held at the Beinicke Rare Book and Manuscript Library at Yale University, New Haven, Connecticut. www.elizabethsiegfried.com




Diane Silverman, Los Angeles, CA, USA
Doll Baby #1, 2009

Diane Silverman has been an actively engaged artist in a variety of media for most of her adult life, with a concentrated focus on photography for the past 20 years. Professionally she is a psychotherapist, psychoanalyst and an art therapist in private practice. This image is part of a series entitled "A Stilled Life", a continuing project based on autobiographical impressions. After many years of photographing others, she has turned the camera on herself through a series of actual self-portraits and metaphorical still life images. "I do not want to photograph only what I see, but what I feel".
djsilverman@sbcglobal.net

Mara Zaslove, Santa Monica, CA, USA
Eye of the Beholder, 2010

I have traveled extensively throughout this country and abroad. The bulk of my portfolio revolves around my exploration of people, cultures and environments and mirrors my love of form and design. Traveling affords me the opportunity to record the primal beauty of the human spirit within its established settings. I am drawn towards a composition that tells a story. The outcome results in an unfolding documentation of the world in which we live. At times, I engage my subjects but also utilize my telephoto to capture candid shots that exude a sense of humor and humanity.When shooting, my innate reaction to what I experience consistently delights my senses and translates seamlessly to print. www.photosbymara.com
Sponsored in part by: The Stephen Cohen Gallery, Samy's Camera, Santa Barbara and Chuck Behrman, CHBPhoto. Special thank you, Carol Henry, Candace Biggerstaff, Sharyn Keller, Gabriela Moya, photo la, Grace Nomasa and Fair Manager, Simmy Swinder. WIPI volunteer support staff, Ellen Freyer and Barbara Pickles

The Photograph Collector: photo l.a. XX 2011
RANDOM NOTES 2011, by Jean Ferro, volume XXXII, No. 2, Feb. 16, 2011
http://womeninphotography.org/f2/JeanFerro/photola-ferro-2011.html

Photo LA Facebook images:
WIPI Booth Jan 13 Reception – Jan 17th
http://www.facebook.com/photos.php?id=52330307762