Breaking the FRAME: Pioneering Women in Photojournalism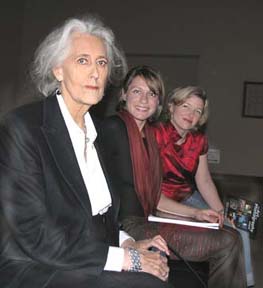 Museum of Photographic Arts / San Diego is mounting a museum-wide examination of the photographs, films, newsreels, and cameras from the late 1920s to mid-1950s that changed the world. Breaking the Frame celebrates the first women in photojournalism such as Margaret Bourke-White, Grace Robertson, Therese Bonney, Hansel Mieth, Esther Bubley, and Olga Lander. A film series will complement this and the two adjacent exhibitions, Today's Pioneers: Women Photojournalists in Iraq and Afghanistan - Andrea Bruce and Stephanie Sinclair. To September 17th. And Shooting in 35: The First 35mm Photographs.
May 7 - Sept. 24, 2006

www.mopa.org
Phone: 619.238.7559

pictured, l. to r. Grace Robertson, Andrea Bruce, Stephanie Sinclair





reception photographs and article by: j. Madison Rink © 2006

Fly, drive, bus, bike, walk or take the rail - however challenging I truly recommend that you do your best and get to the Museum of Photographic Arts MOPA, San Diego and see the inspiring work of eight pioneering women in photojournalism. Fortunately Jean Ferro, WIPI president called to see if I could take her place at the Opening reception on Friday, May 12. Jean was in the final stage of the 25th Anniversary - WIPI "Turning Silver" competition and just couldn't break away. It was an amazing opportunity handed to me and quite a stretch for this monk-like, underground fine art photographer. This would be my first shot, pardon the pun, at photo journalism and promised myself not to cower... so I said yes. Jean empathized with my concerns, supported and encouraged me and truly lived up to the WIPI mission statement and philosophy of "promoting women working in the photographic arts," and that's what this organization is all about! I'm so grateful.

The three distinguished photojournalist present and honored at the opening, were Grace Robertson, (WIPI Distinguished Photographer Awardee 1992), Stephanie Sinclair (WIPI PRO Member and founder of PhotoBetty.com) and Andrea Bruce. I charged around all night, popping a blinding flash like a bull in a China closet. Jean's motto.."just do it".. So my subjects endured my photojournalist debut.

| | |
| --- | --- |
| | © Stephanie Sinclair |
Simply standing in the presence of these extraordinary exhibits stirred a strong sense of pride and inspiration in me; a heartwarming privilege. Each photojournalist bearing their own rich history of experience, achievement and survival while facing varying adversities in pursuit of their chosen fields. Clearly, all eight women being honored in this exhibit expressed a unique and artistic point of view and shared ONE characteristic in common; all bold and daring risk takers who broke with tradition, found ways to circumvent the system, strike out on their own and risk capturing images reflecting a quiet, sometimes blissfully light, more often a chaotic and painful intimacy with the issues and people of the times. All, showing the world stories through the lens of their vision.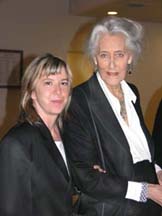 The lecture series for the evening began with a packed audience and warm introductions by Carol McCusker, the museum's talented and highly motivated curator who seemed no exception in this league of women, herself. I was truly inspired by her courage as I now recall her bold assertion, that if more women were introduced into leading positions around the world, we might actually end up with a more useful balance of testosterone, and certainly unlike the level operating right now... How brave to say that!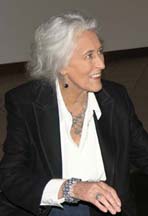 Oh, the stature, elegance and delightful eccentricity of the renowned photojournalist Grace Robertson, from the United Kingdom. She was first to grace the lecture stage dawning images projected behind her on a large film screen, depicting an earlier time -- the aftermath of World War II and amidst the great Depression, she often turned her eye to such images as the heartwarming delights of everyday life. The sweet joy and surprise of children at play and those familiar, highly regarded images from her well known documentation, the "London's women pub outing" which she photographed first for Picture Post and then for Time Magazine. I was later moved during the audience question- answer period when she firmly asserted, 'No, I didn't shoot the war. I lived it! I was stunned by it! A terrible thing, for a tender young child to stand amidst the rubble, so concerned about the chaos and the confusing, unclear randomness of it.'

It's now a week later and I continue to be haunted by the work of Andrea Bruce and Stephanie Sinclair. The numbingly stunning, poetically rich, conflictingly beautiful and profoundly painful images depicting the chaos and tragedy of the war in Iraq and Afghanistan shot by these two gutsy award winning photojournalists. I bumbled all over them the entire evening, awe struck by the warm and lovely hearts they both still wore on their sleeves; badges of great strength and courage. This is a tremendously important body of work which they struck out to accomplish on their own. Instead of choosing to be embedded with the troops they independently headed straight for the underbelly of this ongoing raging war for active combat shots and a the sacred opportunity to enter the dark intriguing wombs, the domestic life of the women and children in this rich culture a unique place - where their male counterparts are not allowed to go. Both Andrea and Stephanie spoke softly, describing the starkly looming images on the huge screen appearing traumatized at times all over again, by their own poignant shots. One can easily see, their own suffering still lingers but they returned with a palatable love and deep compassion for the people and the countries they photographed.

| | |
| --- | --- |
| © Andrea Bruce | |
Stephanie Sinclair wanted us know that she had learned the vital importance of listening, to everyone's point of view, even when we don't agree. Andrea Bruce spoke of how often she would break down and cry while in the midst of doing her work. "Perhaps it's a woman thing," she lamented. Separate from the exhibit, I read from her online journal, of flesh sticking to her shoes as she persevered through shooting scenes flooded with body parts. Stephanie later jumped in to say, "I cried too and I'm not so convinced it's a woman thing. I saw plenty of men over there break down and cry. I wanted to bring this work back. I just want people here, to care."

A woman rustled in the chair behind me and frantically whispered to the person next to her, "What does she mean? She doesn't think we care?" It sounded like a kind a conundrum to me because I understood them both -- as confusing as it might be -- whatever does it mean to show that we care?" Traveling to see this powerful exhibit was important for me. I can't stop thinking about it. I do hope this brings some relief and joy to the hearts of these brave and dedicated photojournalists who risked their own lives and emotional stability to bring this message and their extraordinary photojournalistic images back. Let us all find our own way -- show ourselves and the world that we do truly care as photographers that continually document the world around us.

Special thanks to j. Madison Rink, e-mail: info@RinkArte.com
WIPI CHARTER Member for documenting and photographing the reception of Pioneering Women



j. MADISON RINK, los angeles, ca (2006)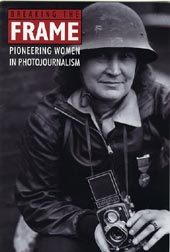 Breaking the FRAME: Pioneering Women in Photojournalism
May 7 - Sept. 24, 2006
Today's Pioineers: Women Photojournalists in Iraq and Afghanistan, Andrea Bruce and Stephanie Sinclair
May 14 - Sept. 17, 2006
Award-winning photojournalists Andrea Bruce and Stephanie Sinclair bring the legacy of the women in Breaking the Frame full curcle. Each opted not to be imbedded while working in Iraq and Afghanistan, entering instead into the fray of daily life and domestic communities that are off-limits to male photographers and capturing unique images of Muslin life.

Museum of Photographic Arts / San Diego
www.mopa.org
Phone: 619.238.7559


NOTE: May 29, 2006 Two British journalists, CBS cameraman Paul Douglas, 48, and soundman James Brolan, 42, died at the scene in a car bomb attack on a US military convoy in Baghdad as they were working on a story about American troops in Iraq on Memorial Day. Reporter Kimberly Dozier, 39, is still critical in a German hospital. An American soldier and an Iraqi interpreter were also killed in the same blast and six American soldiers were injured.

"Kimberly, Paul and James were veterans of war coverage who proved their bravery and dedication every single day," CBS News President Sean McManus said in a statement. "They always volunteered for dangerous assignments and were invaluable in our attempt to report the news to the American public.

According to Abi Wright, spokeswoman for the New York-based Committee to Protect Journalists shows that CBS cameraman Paul Douglas, 48, and soundman James Brolan, 42, killed in Baghdad by a suicide car bomb on Monday, were the 70th and 71st journalists to die in Iraq since the U.S. invasion in 2003. Ann Cooper, CPJ's executive director, said that while foreign media deaths get a lot of attention, three-fourths of those killed have been Iraqis, who are encountering the same dangers whether they work for local media or western media.

WIPI sends our deepest sympathies to their families. We wish Kimbery Dozier a speedy recovery.

GOOGLE NEWS
---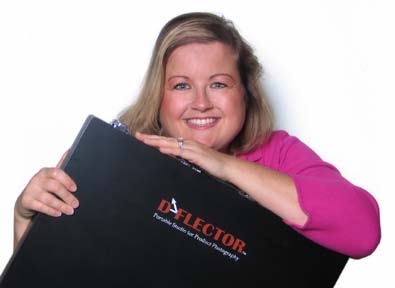 Sharpics, Inc. Danica Mazon, Co-Founder and Vice President

Danica Mazon was born and raised in Southern California. She received her Bachelor's Degree in Liberal Arts from Loyola Marymount University. She was raised in a photographic family. Her father has been a professional photographer specializing in family portraits, weddings and school photography her entire life. As a teenager, she would work in her father's studio helping customers place order. Her love of customers took her into inside sales positions after college. Once she got married Jeffrey and started a family, she wanted a career that could offer her the ability to play an active role in her children's lives. As Co-Founder and Vice President of Sharpics, Inc., Danica has found a way to accomplish both goals for career and family.

Jeffrey Mazon, Founder of Sharpics Inc. has been working in the consumer electronics industry for over twenty years specializing in product development and project management. Jeff originally created photographs with a floating-on-air effect using expensive equipment in a dedicated studio environment. His colleagues wanted this effect for their presentations too. But it took too much time going back and forth from the office to the studio. After many long months of developing the concept, the D-Flector was born. Together with his wife Danica, they created a business. It was Danica's father, a professional photographer that inspired them to pursue this revolutionary concept in an industry they know extremely well.

WIPI: The D-Flector is such a unique product, who developed it and how long did it take from start to finish ?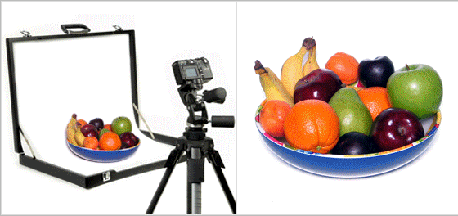 DANICA: The D-Flector was created by myself, Danica Mazon and my husband Jeff starting in August of 2003. Jeff had a need to take product photos for his job. He did research to find out what the options where for tabletop studios that he could keep near his desk. After an investigation, he learned that the options were limited and often expensive. Jeff decided to create his own solution, and the D-Flector was born. From the early stages of research and development to bringing the product to market was one year.

WIPI: Was the Monopod part of the original idea?

DANICA: Our goal was to offer a complete solution for product photography. We knew that a stable camera platform is a key component. In the early stages, we were reselling a monopod that was available in the market place. In time, we identified design improvements and decided to make our own.

WIPI: How did you test market your product ?



DANICA: In the early stages of our product, we sold it on eBay in one size. Our customers requested larger sized D-Flectors to meet their needs. eBay was a great launching pad to connect with customers. A year later, we made the D-Flector available in a total of 4 sizes.

WIPI: What do you see in the future for Sharpic's?

DANICA: We would like to be the leader in product photography solutions. Our customer's have asked for a solution for jewelry photography. This is our current project.

WIPI: Seems like HOME shopping or QVC would be great for this product, have they approached you or have you contacted them?

DANICA: We would like to do business with HSN and QVC. Our goal is get the word out about the D-Flector.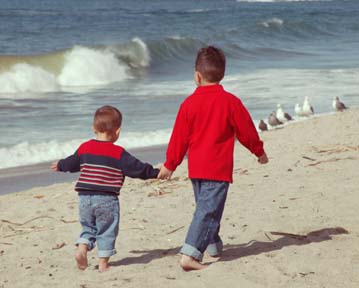 WIPI: On a personal note, what kind of photography do you like the most?

DANICA: I like photography involving children in nature. One of my favorite photos is one of my children taken on the beach in cuffed jeans and sweaters walking away from the camera along the shoreline. All the details of the seagulls on the shoreline are amazing, captured by Creative Images/© David Anderson


WIPI: Lastly, who are your favorite female photographers?

DANICA:I am a big fan of Jennifer Walker, a photographer here in San Diego. Her work is truly artistic and inspiring.

Tranquility, Cabo San Lucas, August 2003, © Danica Mazon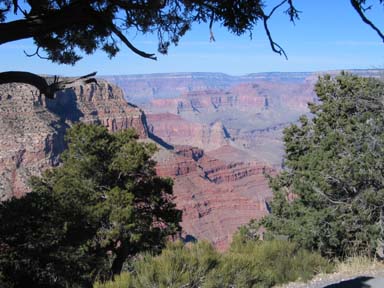 Grand Canyon, November 2005,© Danica Mazon

Sharpics.com

PR contact:
Lynn Pittman Marketing, Public Relations, Brand Building 619-542-1898
WIPI Member PERK promotion for your D-Flector purchase

"LOOK AND LEAVE : New Orleans in the Wake of Katrina"
Photographs by Jane Fulton Alt
See Jane's website directly to see ALL
the katrina photos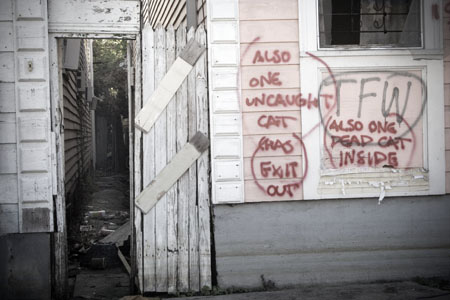 This project grew out of having witnessed the aftermath of an unprecedented, devastating, natural disaster. read and see more
---


It's rare that we really focus on programs... Online printing is a growing trend that is here to stay. First the photo companies panicked over home printing and now they've found a new ground to stand on and a very good one at that. It supports the PRO and the amateur market. I'm not sure what is available in Europe. I'm guessing pretty much the same in each country. At one time it seemed an amateur practice to send film off to be developed, now with digital, the possibilities are endless. Read about the possibilities and links to photoshop learning centers.