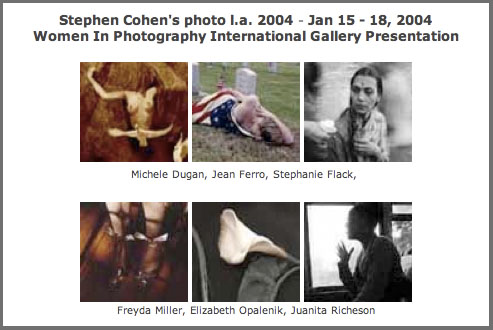 Artisits Michele Dugan, Jean Ferro, Stephanie Flack
Freyda Miller, Elizabeth Opalenik and Juanita Richeson
exhibited at photo l.a. 2004.
click on images


Michele Dugan










With the use of elemental forces such as fire and water or alternative and multiple artistic means Michele Dugan explores the capabilities of film to absorb and transmute energy.
---
Jean Ferro

Images from the Jean Ferro Self-portrait collection 1974-1996.
---
Stephanie Flack








Stephanie Flack is an Australian who currently resides in Los Angeles. For the past few years, she has been pursuing her ongoing Australian Aboriginal project documenting two remote communites – Palm Island situated off the coast of far north Queensland and Yiyili, located in the Kimberly region at the top of Western Australia.
---
Freyda Miller










Innate interpretation of space, color, form, light and the female form allows Frreyda Miller to continually explore new levels of metaphor through the use of raw texture, fleshy, moody hues and subtle luminosity.

---
Juanita Richeson








All 5 images are from Juanita Richeson's large project about New Orleans titled Desire Lines. From the project requested by the Historic New Orleans Collection, Royal Street, New Orleans.

---
See Photo l.a. 2004 complete exhibit
© copyright 1999-2004 Women In Photography International