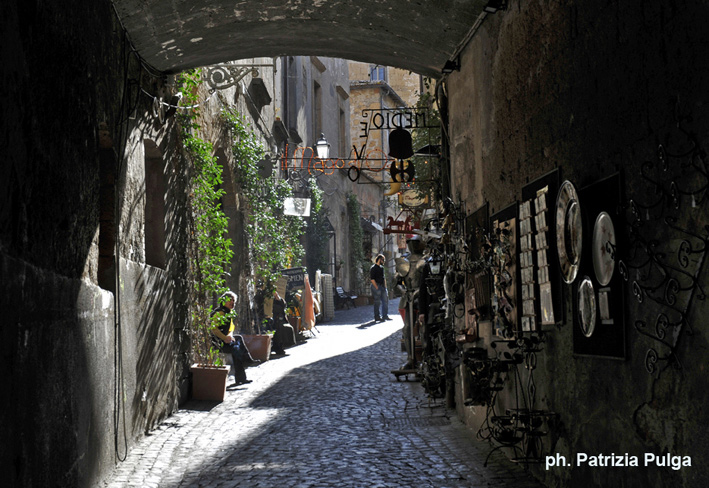 "FOCUS ON FEMALE" at Orvieto
Fotografia 2009



Since 1999 Orvieto has welcomed a very important event in photography: Orvieto Fotografia Convention.
Orvieto is an historic town in central Italy, visited by many tourists that enjoy its beautiful architecture, good cooking, genuine wine, artistic pottery, and the chance of shopping in its narrow streets.

The town played a leading role in the Etruscan culture and later on, in the Middle Age, it reached its peak with beautiful churches such as the Cathedral and buildings like "Palazzo dei Sette" and "Palazzo del Popolo", used for exhibitions, seminars and lectures of Orvieto Fotografia Convention.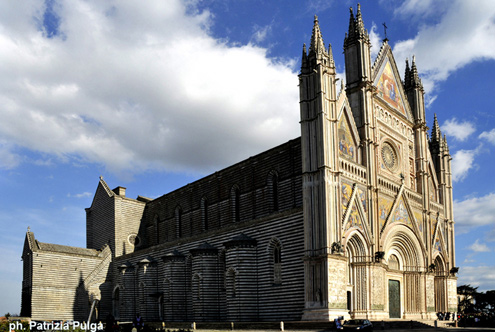 The Italian national photography associations brought about "ORVIETO FOTOGRAFIA", an event which in just a few years has become Europe most important international conference about photography. After six successful editions, in 2004 Orvieto Fotografia International Foundation (F.I.O.F.) was born. It is a permanent Foundation for the promotion and development of professional photography, both at national and international levels, thus contributing to the professional development of photographers.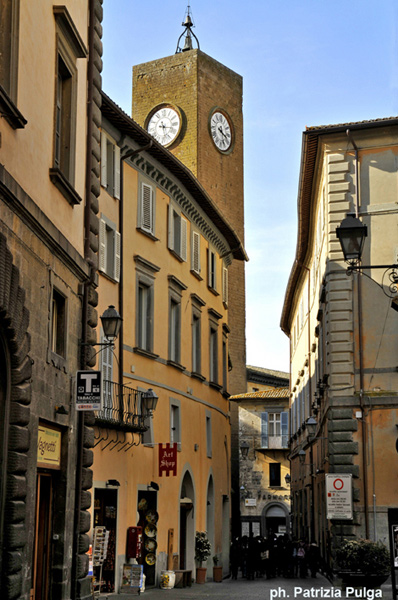 "ORVIETO FOTOGRAFIA" is sponsored by (European Federation of Professional Photographers) and by WCPP (World Council for Professional Photographers), as well as Companies such as Nikon, Hasselblad, Epson, Fujifilm and others.

The convention includes exhibitions, seminars, lectures by photographers and a specific award named FIOF Professional Photography Award, addressed to different fields ranging from advertising to personal research, wedding, photojournalism, and portrait.

This year the main topic of the convention, which took place from March 13th to March 15th was "FOCUS ON FEMALE". The program was really amazing.

Most of the exhibitions, seminars and lectures were led by women photographers. Many women photographers also in the staff, as Licia Papini, President of F.I.O.F. and Laura Sassi and Jessica Morelli, curators of the publications and catalogues of Orvieto Fotografia.

I was invited to lecture about my census of European Women Photographers carried on at the end of 2000, and about Women In Photography International, an organization I belong as a PROmember.


I presented WIPI's web site to show what an amazing source of oportunities there for women photographers worldwide. I talked about

its history, organisation and exhibitions-contests open to all the women photographers. The audience and the staff were really interested in the project that WIPI has carried on since its foundation, and showed sincere appreciation for the many sources the huge website provides to photographers.
Patrizia Pulga and Licia Papini, the President of FIOF
The day after, Italian Letizia Battaglia, one of the most important women photographer, (see her placement in WIPI "Distinguished Photographer Award 2008) presented an exhibition of her work and a lecture about a tough topic: "The life of a women photographer against mafia"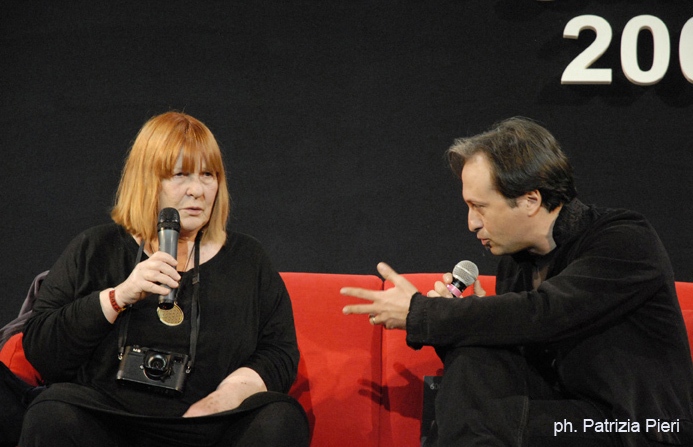 Letizia Battaglia and Augusto Pieroni, historian of photography
Letizia began her career in 1974 as a photojournalist for "L'Ora", a Palermo newspaper. Since then her work has come to represent Sicily and Mafia all around the world. Over the years she documented the ferocious internal war afflicting Mafia, and its assaults on civil society. Her images in black/white played a central role in the anti-mafia campaign. Letizia, now 73, won Eugene Smith prize in 1985. She has dedicated herself to many other projects such as a school of photography, an art gallery and a publishing house focused on human rights issues.
Letizia's work has been published in the book "Pace, giustizia, libertà" (Peace, Justice, Freedom).
Absolutely different the pictures of Nancy Fina, another woman photographer invited to the convention. www.nancyfina.com
Fina's images, full with strokes of overfilled colours, let transpire all her lively dash.

Nancy, born in the U.S.A., came with her family to Italy when she was 20, and started her career in Milan, shooting pictures for fashion and advertising. Currently she works in Italy and around
the world creating glamour pictures for advertising campaigns, catalogues, cosmetics, and publishing, all in digital formats.

Then it was the turn of Lucille Feremans, a woman photographer from Belgium, who lectured about her pictures of weddings. "Matrimonio al Femminile" was the title she had chosen for the lecture.
www.feremans.com

Nancy Fina (left) and Licia Papini President of FIOF
Furthermore, the exhibits of the "deboutantes" Alessandra Salardi, Angelina Chavez, Annalisa Ceolin, Daniela Perego, Marta Sarlo and Patricia Dubien, all young European women photographers, represented a perfect framing to further underline the very high quality of the event.

For the whole program:
www.orvietofotografia.org

All phtographs copyright the photographers. Photographs by: Patrizia Pulga, Patrizia Pieri, Ulderico

A lot of thanks to the photographers Patrizia Pieri and Ulderico, who provided me the pictures
of myself, Letizia Battaglia and Nancy Fina.
All phtographs © copyright the photographers.
Photographs by: Patrizia Pulga, Patrizia Pieri, Ulderico