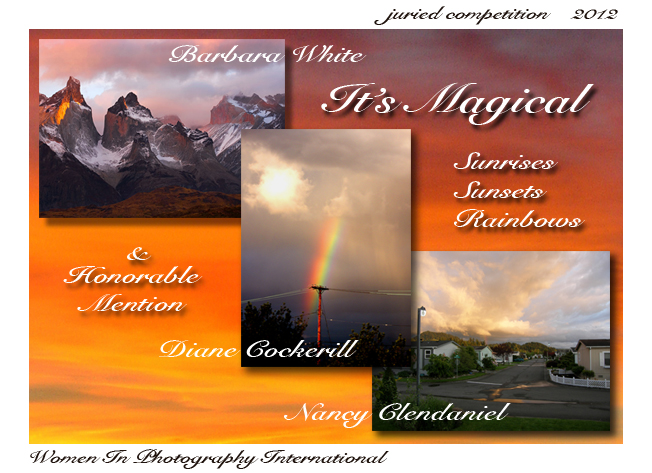 It's Magical
Images of Sunrises, Sunsets & Rainbows

JURIED COMPETITION
NOW CLOSED

notification to Winners October 1st
Exhibition PRESENTATION online
October 15th
Sunrises pg1 Sunrises pg2 Sunsets pg1 Sunsets pg2 Rainbows
Please support women's work and add our competition to
BLOGS, mailings lists, newsletters, FB & TWITTER



Facebook

twitter
CALL FOR ENTRIES: Open to ALL photographers!
Celebrate the magic of the universe! Whether it's summer, fall, winter or spring, the sun rises and sets... and on those special days, a rainbow appears. Competition images can reflect the contrast of devastation with hope, a ray of light shining through tall buildings, the wing of an airplane against an orange sky, a silhouette of a person or object against the late afternoon or early morning light, a couple on the beach, scenic with mountains, trees, through the window of your home or car, from a battlefield to your backyard! Add in a stormy day with monstrous clouds and all of a sudden the sun breaks through -- a rainbow or two becomes a majestic skyscape palette. It's Magical, uplifting, inspiring and soothing to the heart and soul.

JURORS: Jolene Hanson / Director and Curator of The G2 Gallery (Sunrises)
Stephen Perloff / Founder and Editor of The Photo Review (Sunsets)
Chantel Paul / Assistant Curator, Museum of Photographic Art (Rainbows)

PRIZES: Top Juror Choice from each category will receive: iPhone 5 or iPod Touch, Topaz Labs Bundle, LayerCakeElements, TENBA, Messenger Mini photo/laptop bag, WIPI 10 image gallery and more to come


Honorable Mention images will be exhibited in WIPI's online gallery/archive in presentation from the three categories





Call For Entry - ONLINE JPG SUBMISSION ONLY

WIPI welcomes ALL images: B/W, or Color taken with any type of film or digital camera, including mixed media images, alternative or manipulated, software colored, scanned film or scanned prints, cell phone including Instagram -- submitted as a JPEG file. All images are submitted to jurors as number only, no visible names are viewed...It's all about the image!

Minimum 2 image submission.
Enter 1 "extra image" FREE in either Sunrise or Rainbow category by midnight Sept. 4
All photographers welcome

IMAGE REQUIREMENTS!

* Images MUST BE saved as JPEG's at "high" quality
* Images must be 72 -100 dp, Jpeg/JPG (no tiffs or photoshop files)
* Images cannot exceed 11 inches (approx) or 800 pixels at their widest point vertical or horizontal, EXCEPTION cell phone images, send as is.
* Files must be RGB Color (if you are submitting a b/w image, use grayscale)
* Files must be titled with your last name, first initial, followed by either sunrise, sunset or rainbow, (multiple images, add 01, 02, etc.)
To UPLOAD CELL phone images... you must first complete the top of the form scroll down to submit your form, it will take you to the payment page. In a separate e-mail ATTACH your images and send to WIPI-2010@womeninphotography.org
You will receive a separate confirmation within 12-24 hours or sooner.
FINAL DEADLINE - Sunday, September 9, 2012 6pm (NOW CLOSED)
---
Women In Photography International, a 501.c.3 organization founded in 1981, is the #1 resource center for women photographers worldwide. WIPI brings visibility to women working in the photographic arts to curators, educators, researchers, gallery owners and the photographic community.

The WomenInPhotography.org website provides Juried Competitions, Member PhotoProfiles, Feature stories, Hire-a-WIPI-PRO, Spotlight and the Peter E. Palmquist bibliography of over 23,000 women photographers. WIPI HISTORY

Home of the renowned Distinguished Photographer's Award, first presented to Eve Arnold in 1981. The Award has been presented to outstanding photographers including, Ruth Bernhard, 1984, Judy Dater, 1985, Marion Post Wolcott, 1986, Linda McCartney, 1987, Mary Ellen Mark, 1988, Ruth Orkin, 1989, Joyce Tenneson, 1990, Berenice Abbott, 1991, Grace Robertson, 1992, Annie Leibovitz, 2003, Sylvia Plachy, 2004 and Carrie Mae Weems, 2005. The Top 100 female Photographers List was completed August 31, 2008.

JOIN WIPI's SOCIAL MEDIA



Facebook

twitter