Daniel Miller owner/DUNCAN MILLER GALLERY
(Two locations, Bergamot Station, Santa Monica and Venice Blvd, Los Angeles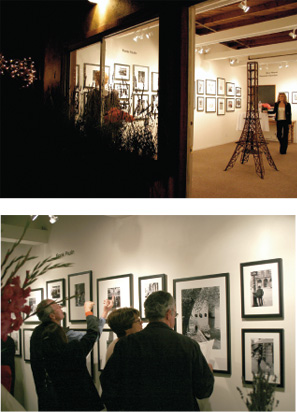 Current exhibition, Isabel Munoz
March 14 thru April 27
Bergamot Station
arts complex
2525 Michigan Ave, Unit A

Isabel Munoz has captured form and movement, whether in flamenco, tango, ballet or in many forms of tribal dance and rituals in her travels throughout the world. This exhibition is a survey of this body language, sought from her exploration of rites and identity. This is her first gallery exhibition in Los Angeles.

Along with a long list of international photography notables and icons, Duncan Miller is also presenting Verge. Verge premiered at photo la. 2013


"VERGE" - DUNCAN MILLER GALLERY
Venice Blvd Gallery.
March 30th
7 pm opening party!

Verge photographers is a group of five photographers that are being sponsored by The Duncan Miller Projects. It includes Los Angeles based photographers Liz Huston, Jamie Johnson, Claire Mallett, Rico Mandel and Marjorie Salvaterra. These photographers each have diverse styles and visions for their work. Coming off the heals of their success at Photo LA in January, Verge is poised for a series of exhibitions throughout the year, giving them an opportunity to explore different facets of their creativity and showcasing the resulting projects each being debuted through The Duncan Miller Projects.

Duncan Miller Gallery
10959 Venice Blvd.
Los Angeles, Ca. 90034
Duncan Miller News
http://www.duncanmillergallery.com/news.html
ARTIST AND COLLECTOR SEMINARS
Daniel Miller, owner of Duncan Miller Gallery, has developed a series of seminars for upcoming artists and collectors. Sharpen your skills and learn tips, trends and information you don't know. Sign up to learn more about upcoming seminars

15 THINGS YOU CAN DO TO GET REPRESENTED BY A GALLERY
Artist Seminar:
15 Things You Can Do to Get Represented by a Gallery
So you've always wanted to show your artwork in a gallery. But how does that work?

ANOTHER DUNCAN MILLER GALLERY PROJECT:

The Daily Photograph. Each day at 9:00 a.m. PST you will receive an email like this with individual photographs offered for sale, one print of each is offered at the special price. Prices listed are good for 24-hours only, and each photograph is available for sale to the first person who agrees to buy. Photographs will be from a wide variety of styles and formats, well-known photographers and lesser-known ones, various subject matter and prices. We agree to buy back this photograph for the price paid within 5 days, provided it is returned in the same condition as supplied. Condition is excellent unless otherwise noted. Vintage prints assume normal wear and tear, contact us for condition report. Prices do not include applicable taxes or shipping. Please be patient, eventually there will be a photograph for nearly any collector.