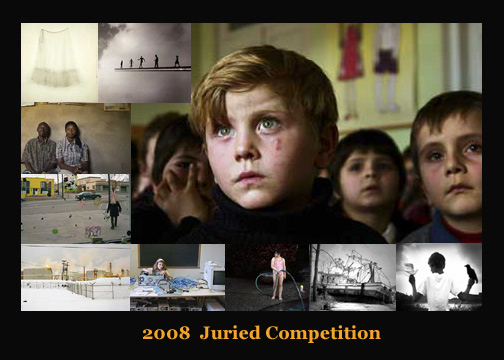 WINNING IMAGES: TOP 10 HONORABLE MENTION



---
Karen Sinsheimer, Curator of Photography, Santa Barbara Museum of Art
Santa Barbara Museum of Art

Karen Sinsheimer has been the Curator of Photography at the Santa Barbara Museum of Art for seventeen years and has organized more than a dozen traveling exhibitions and catalogues. Currently, she is working on an exhibition with Anne Tucker (MFA Houston) that focuses on contemporary Korean photography. She's a member of the Board of JGS, Inc., a non-profit organization, which has funded more than sixty single-artist monographs of contemporary photography.
---

Jessica Johnston, Curatorial Associate, Department of Photographs,
George Eastman House/International Museum of Photography and Film
Rochester, NY


Jessica Johnston is a Curatorial Associate in the Department of Photographs at
George Eastman House
International Museum of Photography and Film in Rochester, NY. She is a graduate of Brooks Institute of Photography (2000) and holds a MA in Photographic Preservation and Collections Management from Ryerson University (2006). She manages numerous projects at George Eastman House including the museum's recent participation on the Flickr Commons. She was the co-curator for Africas: Photographs from the Permanent Collection at George Eastman House and Marvels of Modernism. She is currently working on the GEH exhibitions and publications, Woman and Food, Glorious Food!
---

Stephen Perloff, Founder, The Photo Review, Philadelphia, PA
Stephen Perloff is the founder and editor of The Photo Review, a critical journal of national scope and international readership. Publishing since 1976, the Photo Review covers photography events throughout the country. Stephen is also editor of The Photograph Collector. Since 1980, collectors, curators and dealers have relied on The Photograph Collector monthly newsletter. the leading source of information on the photography art market. A respected writer, educator and photographer, he's been interviewed for the New York Times, the Wall Street Journal, the Philadelphia Inquirer, the Bucks County Courier Times, and Art Matters and has received two critic's fellowships from the Pennsylvania Council on the Arts.

Stephen's photographs have appeared in numerous exhibitions and reside in many museum and private collections. His work was recently included in the exhibition "The Silver Garden" at the Philadelphia Museum of Art.

Stephen has curated more than a score of exhibitions, including "Philadelphia Past and Present" at the Philadelphia Art Alliance for the city's tricentennial in 1982. He was the curator of the acclaimed series "Photography: Contemporary Prospect" at Historic Yellow Springs (1994-2001). And he curated the exhibition "Camera Work: A Centennial Celebration," which opened at the James A. Michener Art Museum in September 2003 and traveled through January 2005. Most recently he curated an exhibition of environmentally-concerned photographs, "Paradise Paved," for the Painted Bride Art Center (April-May 2005), "Radical Vision: The Revolution in American Photography, 1945-1980" at the James A. Michener Art Museum (January-May 2006) and the 2006 Women In Photography International's 25th Anniiversary competition.

The Photo Review
The Photograph Collector
The Photographic Art Market
---
Steve Zeifman, Owner, Rush Creek Editions, Santa Fe. New Mexico

Rush Creek Editions creates museum-quality, fine art digital prints for photographers, artists, galleries and collectors who demand the best archival printmaking and reproduction services. The gallery displays artist portfolios and collections under the guidance of photographer and fine art printer Steve Zeifman.

Rush Creek Editions creates museum-quality archival fine-art prints and limited edition printmaking for photographers, artists, and collectors who demand the best. They offer fine art reproduction services to artists, galleries, and museums. The most vital aspect of Rush Creek's offerings is the dedication to faithfully reflecting each of their artists' personal visions. Prints are created not only with trained eyes, steady hands, and over 30 years of experience in the printmaking art, but with the direct participation of each artist in bringing his or her creative vision to life.

Rush Creek Gallery represent artist work as original art and/or limited editions prints to collectors and corporate art buyers.

Rush Creek Editions