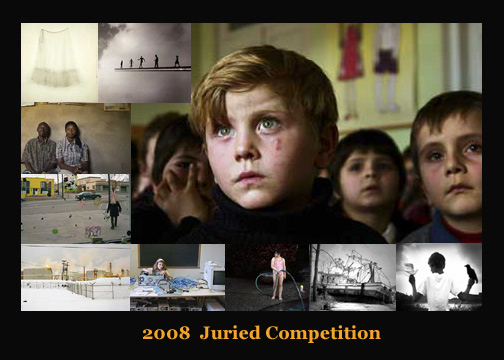 WINNING IMAGES: TOP 10 HONORABLE MENTION


Competition is now CLOSED





Submission Dates & Deadlines:

WIPI 2008 welcomes images taken with any type of digital or film camera.
All photography including mixed media accepted. Color, B/W, alternative or any digital photo image, manipulated, scanned film or scanned prints and submitted as a JPEG file, no date restriction, ALL subject matter accepted.
From the greatest joy to the deepest sadness, from the young and fragile to abstract inventions, show us your best work.

Submit your favorite photos

Winning photographers will have ALL of the images they "submitted" posted in the final exhibition to accompany their winning image.

***********************************
Minimum 2 image submission Maximum 10 images
All time frames are based on Los Angeles midnight, (Pacific Standard Time)

November 1st (midnight PST Los Angeles) FINAL DEADLINE
DEADLINE is FIRM, we are very sorry, but we do not extend the final competition Competition is now CLOSED

November 30 Notification by e-mail of Juror Selection
ALL SUBMISSIONS, online JPEG's, only
Sample File Info

NOTE: By entering the competition, you agree that All work chosen as winning images will be used by WIPI to promote your work and the WIPI 2007 Competition. Make sure your work is copyrighted to you. WIPI does not hold any copyrights to any work, nor does WIPI handle any sales of any work submitted to the exhibition before or after juror choice and on-line published images. Take the credit your receive from WIPI's exposure and double and triple your outreach. WIPI can give you exposure to the photographic community, so it's up to each photographer to realize their own potential.





***********************************

Jurors
2008 Competition juror list

FAQ For more information,

Women In Photography International is a 501.(c).3 USA organization

World Clock Calendar



WIPI continues to honor women photographers worldwide with an online presence through competitions, galleries, feature stories and our Hire-a-WIPI Pro directory. WIPI Competition winners have received recognition in the arts through exposure at womeninphotography.org. The WIPI archive is a key reference for collectors and researchers and curators. Our past jurors have opened the doors to future opportunities for photographers seen on the Women In Photography International website.