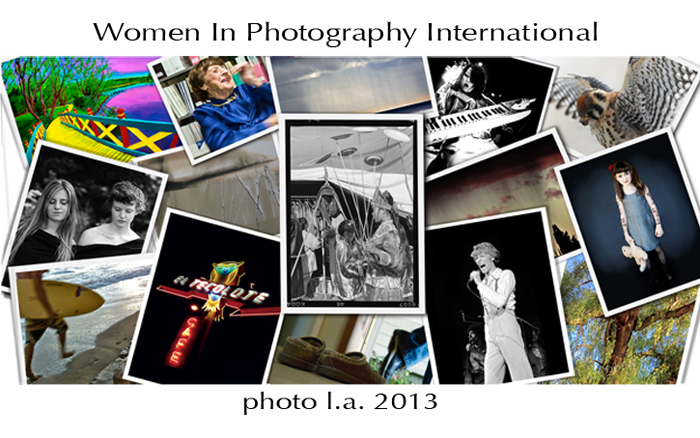 The 22nd ANNUAL INTERNATIONAL LOS ANGELES
PHOTOGRAPHIC ART EXPOSITION


GALA RECEPTION, THURS. Jan 17th benefits the
Inner City Arts, Los Angeles

January 18 - 21, 2013

We look forward to meeting you... visit our booth!

Exhibition & Digital Slide Show
Sponsored in part:



Samy's Camera/Santa Barbara, Wintec Industries, Photo LA, Prosoft Engineering Inc.
LayerCakeElements, CHBphoto

Reception images currently on Facebook



Facebook

twitter
| | | |
| --- | --- | --- |
| Jean Ferro, President | Candace Biggerstaff | Callie Biggerstaff |
Onsite WIPI Member support team
| | | |
| --- | --- | --- |
| Kathy Corday | Jamie Johnson | Barbara Pickles |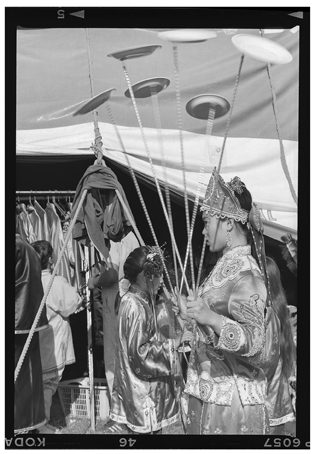 Candace Biggerstaff
WIPI Photo LA 2013 Curator:

Candace Biggerstaff was born and raised in the San Fernando Valley of Southern California, as the youngest of five children. Upon receiving a used Aries rangefinder camera on her thirteenth birthday, her passion for photography was born.

When Candace turned 20 she decided to join Circus Vargas with her soon to be husband, and traveled the country with the circus from city to city for almost 2 years. She has always been intrigued and fascinated by the circus and all of its intricacies, which she has portrayed in various ways through her photography.

"My world is seen as a series of photographs. Growing up, my favorite magazine was LIFE. My favorite book was, The Family of Man, having no idea that the incredible Edward Steichen was the photographer. For me the images were an escape from reality, with reality."

Candace Biggerstaff
Dinner Plates b/w Giclée 30" x 50" framed (circus series, upcoming book and exhibition)

Her most significant influences include Imogen Cunningham, Dorothea Lange, and Henri Cartier Bresson. Growing up in the San Fernando Valley in the late fifties and sixties exhibit the colors and forms she is drawn to photograph. Candace continues to document a variety of Circus's. She is also currently working on a series of memorable areas of Los Angeles she frequented with her Father and siblings, "To Celebrate Los Angeles That
still is ".

Candace is currently a member of Los Angeles Art Association, a Charter member of Women In Photography International, and also resides as an "Artist in Residence," at Studio Channel Islands Art Center.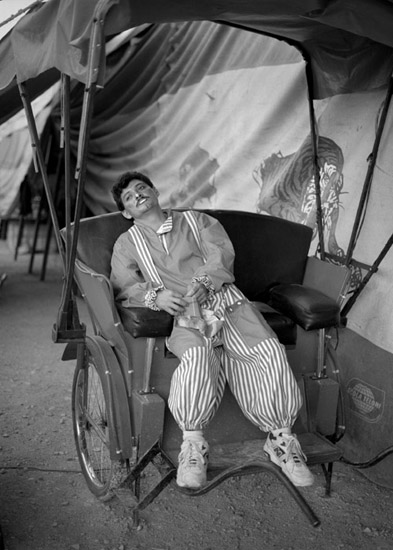 Candace Biggerstaff
Rickshaw, b/w Giclée 30" x 50" framed

Candace Biggerstaff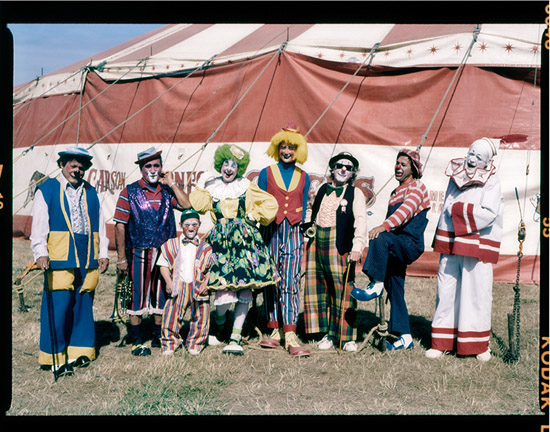 Candace Biggerstaff
Dysfunctional Family 11 x 14" bamboo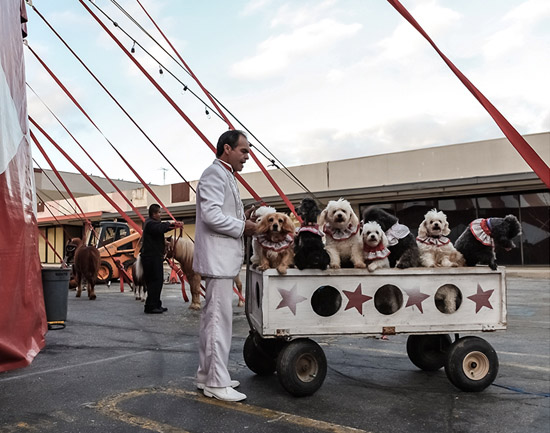 Candace Biggerstaff
Dog School, 11 x 14" bamboo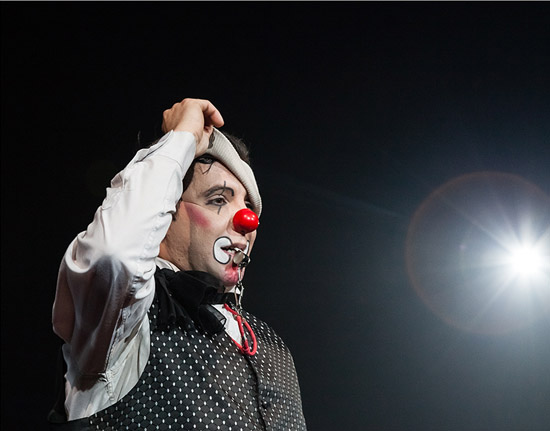 Candace Biggerstaff
Rudolph 11 x 14" bamboo (images are from the circus series forthcoming book and exhibition)
When Candace turned 20 she decided to join Circus Vargas with her soon to be husband, and traveled the country with the circus from city to city for almost 2 years. She has always been intrigued and fascinated by the circus and all of its intricacies, which she has portrayed in various ways through her photography. My world is seen as a series of photographs. Growing up, my favorite magazine was LIFE. My favorite book was, The Family of Man, having no idea that the incredible Edward Steichen was the photographer. For me the images were an escape from reality, with reality." (see complete bio above)

www.CandaceBiggerstaff.com
photo la 2013 PRINT EXHIBITORS

Callie Biggerstaff . Candace Biggerstaff . Diane Cockerill . Kathy Corday .
Jean Ferro . Jane Gottlieb . Cathy Greenblat . Maureen Haldeman .
Carol Henry . Jamie Johnson . Jane Olin . Barbara Pickles . Diane Roter .
Wendi Schneider . Diane Silverman

11" x 14" images printed on eco friendly bamboo along with a selection of acrylic and metal prints through PROLABdigital.com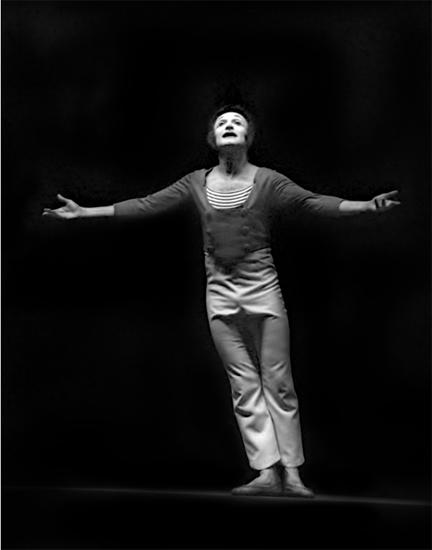 Jean Ferro
Marcel Marceau, Shubert Theater #23, 1973, acrylic 11 x 14" artist proof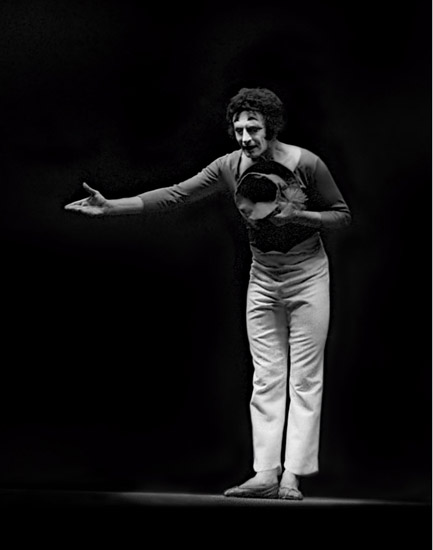 Jean Ferro
Marcel Marceau, Shubert Theater #31, 1973, acrylic 11 x 14" artist proof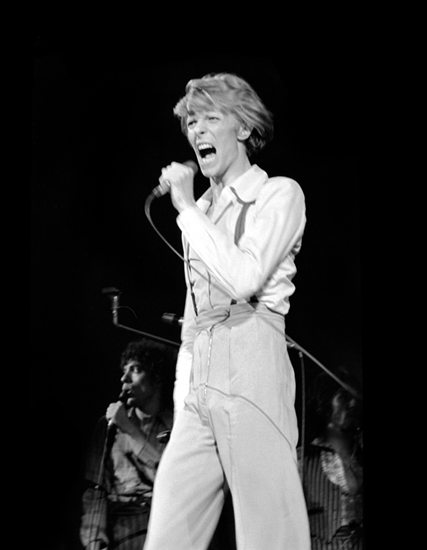 Jean Ferro
David Bowie, Diamond Dog Tour #15, 1974, acrylic 11 x 14" artist proof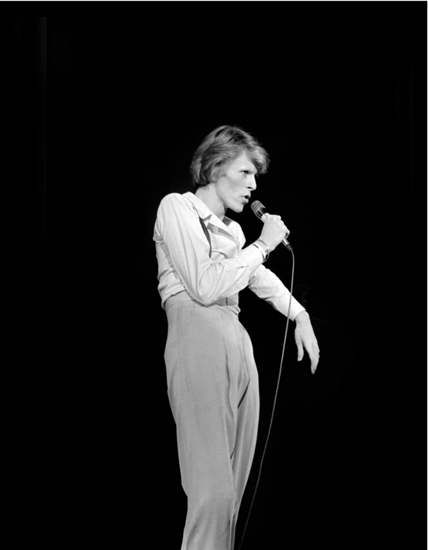 Jean Ferro
David Bowie, Diamond Dog Tour #12, 1974, acrylic 11 x 14" artist proof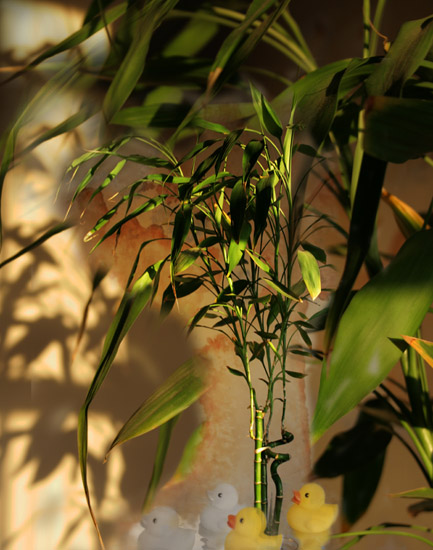 Jean Ferro
Lucky Bamboo Sunset, 11 x 14" bamboo
(upcoming exhibition Bowie / Marceau)

Jean Ferro's fine art self-portrait work has been published in international publications Zoom, French Photo and Japan's Shukan Shincho. TV magazine network shows include ABC Eye On LA and the CBS, America Show. Ferro's film and music personality collection includes such artists as David Bowie, Reba McEntire, Ringo Starr, and her actor/director son, Eric Etebari. Ferro produced and directed the 30 min documentary "Through Our Own Eyes, Self-Portraits by People Without Homes." As a feature photographer for Los Angeles Magazine, Ferro photographed Arianna Huffington, Larry Gelbart, Fred Otash and others. Archive/portfolios include 1990 Women In Film/ Directors Guild, Earthquake Emergency 1994/SCRRA, Los Angeles, Self-Portraits, Global Liberty, Bucks County, PA, Film/Music and the ducks-in-a-row series.
President /Women In Photography International 2000-2013
Member/Lucie Foundation Award Advisory Board
Available for lectures and guest exhibition juror

http://www.JeanFerro.com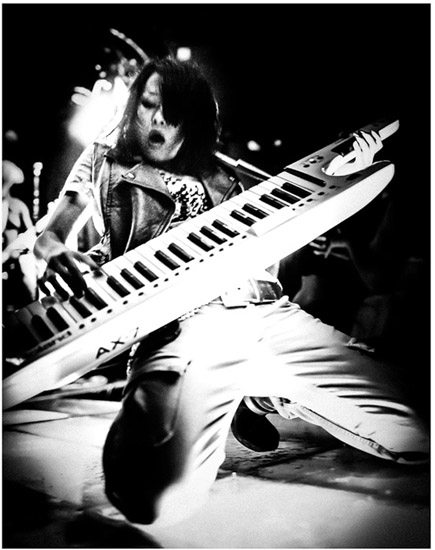 Callie Biggerstaff
More Keytar! 11 x 14" metal print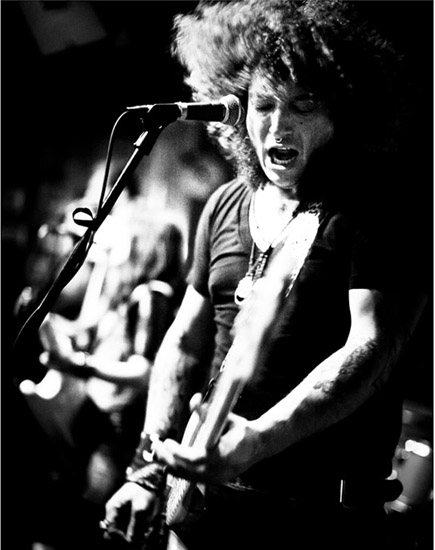 Callie Biggerstaff
Eligh's Coming 11 x 14" metal print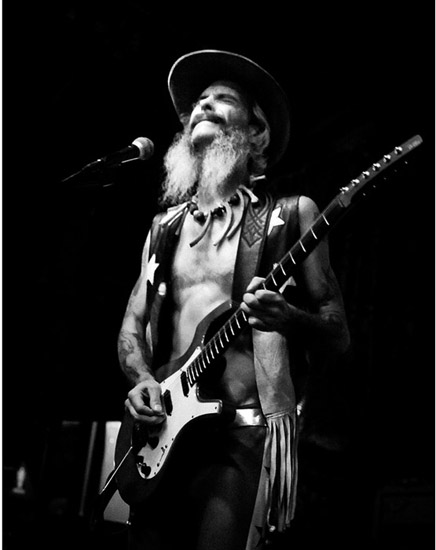 Callie Biggerstaff
Lightnin' Bill 11 x 14" metal print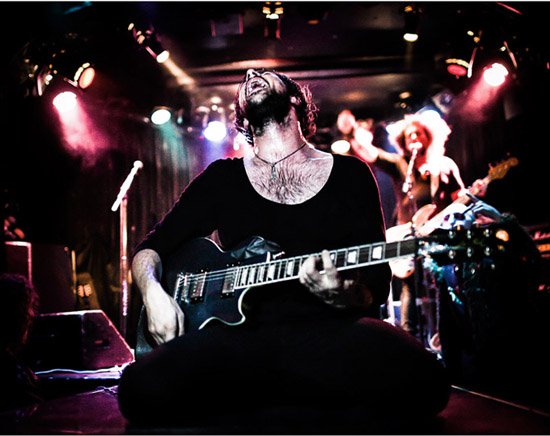 Callie Biggerstaff
MVL 11 x 14" metal print
Callie Biggerstaff, a native to Los Angeles, CA, has been a freelance photographer for over 5 years She has studied photography at Art Center College of Design, Pasadena as well as The Julia Dean Photo Workshops. Callie began shooting professionally after discovering a great passion for imagery during her work as a photo editor in print advertising and graphic design. Callie's earlier images had focused on the documentary of Americana, and its shifts and changes. Her images offer a blunt reality while still allowing the intensity, mystery, and beauty that can be seen in each exploration and journey, capturing a moment and evoking emotion. Her recent focus has exploded in the way of live music and the culture surrounding the underground resurgence of Downtown Los Angeles. She is aiming to capture the raw pleasure and passions that Angelenos are rediscovering in these ongoing times of economic and political struggle.

www.calliebiggerstaff.com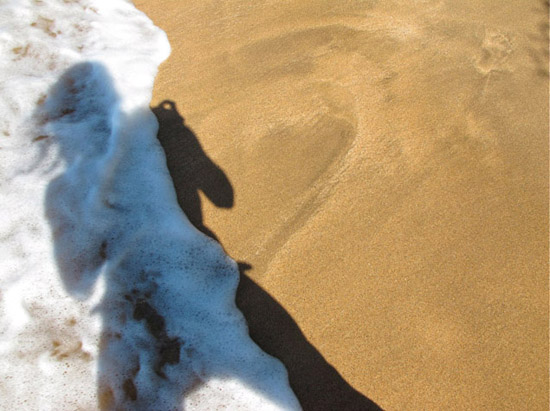 Kathy Corday
Self-Portrait, No 1 Hawaii, USA (2010) 11 x 14" bamboo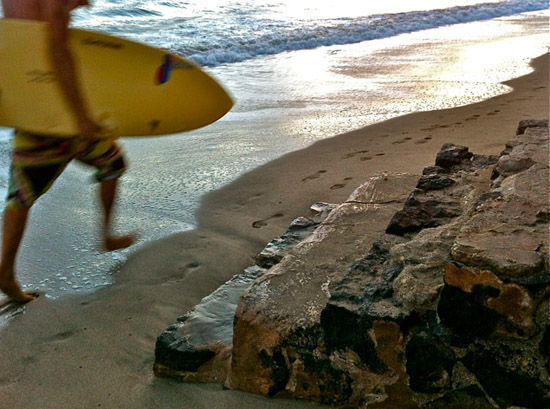 Kathy Corday
Surfer In Motion Hawaii, USA (2012) 11 x 14" bamboo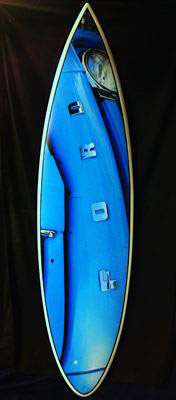 Kathy Corday
Kathy Corday explores the essence of humanity as it exists in the world of surfing along the shores of Hawaii in the reflective images from her Surf series. Accompanied by her trusted Hawaiian surf instructors, Corday traveled to the beaches of Maui to ride some waves. She shares their surfer's spirit, their love of the ocean, and their unique sense of balance amidst today's chaotic world. Ms. Corday is a photographic artist and writer. The former Walt Disney Imagineer embraces her photography with renewed vigor. Following the publication of her limited-edition, coffee table book, In The Blink of An Eye: The Photography of Kathy Corday, she looks forward to exhibiting selections from her new Surf series at photo l.a. 2013. Previously, she taught photography at the Art League School in Alexandria, Virginia, and exhibited work in the WIPI Exhibitions at photo l.a. 2011 & 2012; Long Beach Arts; the Los Angeles Cultural Affairs Department; OxBow; and 1990 Women In Photography International. She resides in Chicago and appears regularly on PBS.

www.cordayusa.artistwebsites.com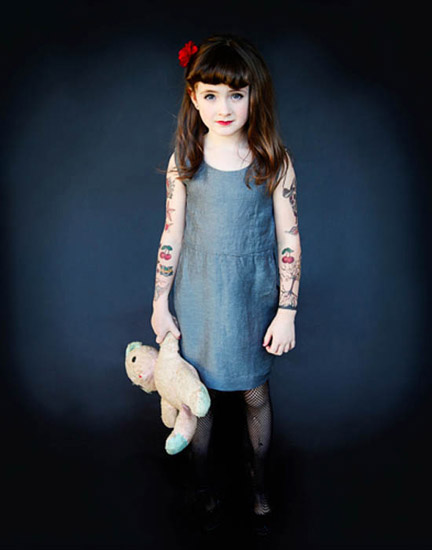 Jamie Johnson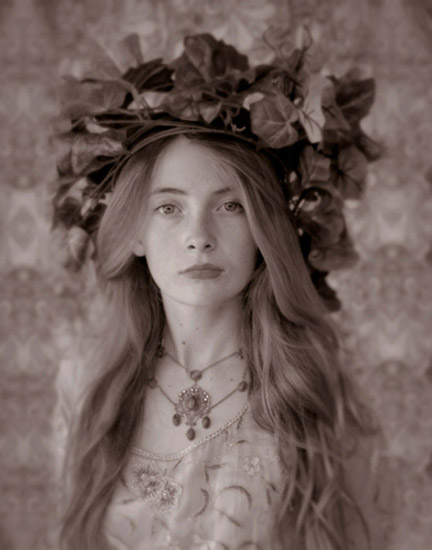 Jamie Johnson
Lillianna 11 x 14" bamboo


Jamie Johnson is a Los Angeles based award winning photographer. Her work has been published in International photography magazines and shown in galleries is nine different countries. Her body of work includes the Orphanages of Cambodia, the Rural Tribes of India, the Children who live in the dumps of Mexico, as well and the Children of the Jungles of Laos. Her most recent work on Cuba can now be seen at the Wooburn Art Festival in England. She had just finished trekking the Himalayas and photographing the children of Nepal and next week heads to the Amazon to live with a small tribe in the jungle and photograph their lifestyle. Her project "Portraits of Skid Row Thru the Eyes of the Children" has been shown worldwide in 5 galleries and in the Fowler Museum in Los Angeles. She is currently working on her book "One World" examining the lifestyles of children from country to country.

http://www.jamiejohnsonphotography.com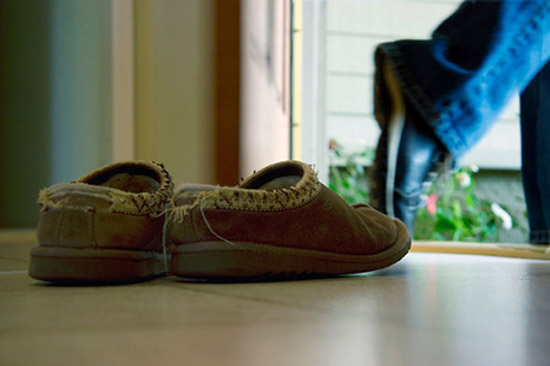 Barbara Pickles
A Mother's World, 11 x 14" bamboo

Barbara Pickles is a fine art and commercial photographer in Southern California. After studying art at Wellesley College she became a photographer, art director and commercial producer in Los Angeles. Completing her MFA studies in photography in 2010 at Brooks Institute in Santa Barbara, Pickles continues to develop her photographic career. In this body of work as an American woman, wife, and mother of three boys, Pickles worked to convey her personal reality within the family. This process constantly brought her back to the dining room table. Yet, in all the images the artist was absent. Ultimately she stepped in front of the camera, and through pose and gesture found a language to communicate her emotional experiences as an American woman, wife, and mother. This is excerpt from a body of 13 images.

barbarapicklesphotography.blogspot.com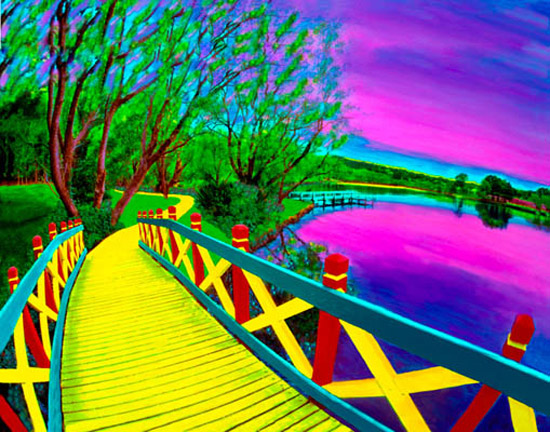 Jane Gottlieb
Bridge of Dreams 1995-2010 Australia 11 x 14" bamboo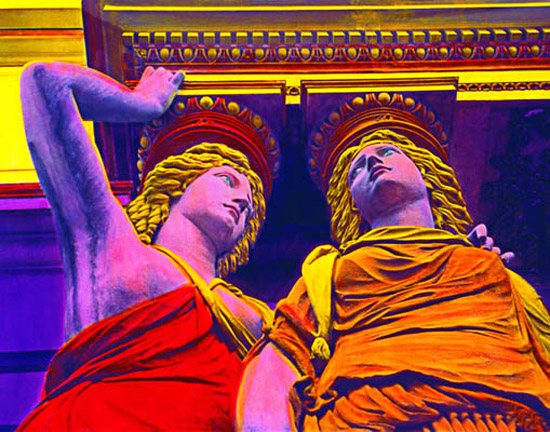 Jane Gottlieb
Girlfriends 1995-2012, 11 x 14" bamboo

ViennaI began as a painter, evolved into a photographer, and eventually began painting on my photographic prints over thirty years ago. I hand-painted vivid colors on my Cibachrome prints, creating a surprising new reality. Now I scan my one-of-a-kind hand-painted prints, enhance them with Photoshop and produce limited edition archival ink-jet prints. Solo exhibitions, include: Butler Institute of American Art, Ohio; Carnegie Art Museum in Oxnard, CA; Laguna Art Museum. CA; Petersen Automotive Museum, LA, CA; LA County Museum of Natural History, CA; Monterey Museum of Art, CA; Laband Art Gallery, LA, CA Loyola Marymount University; Louis Stern Gallery, West Hollywood, CA; Wall Space Gallery, Santa Barbara, CA; Nancy Hoffman Gallery, New York City; L'Image Gallery, Rome, Italy; Demenga Galleries, Basel, Switzerland. Books include, Garden Tales and Car Tales. Recent installation, 65 large art works in two important venues at UCLA, on exhibit for the next ten years.

www.janegottlieb.com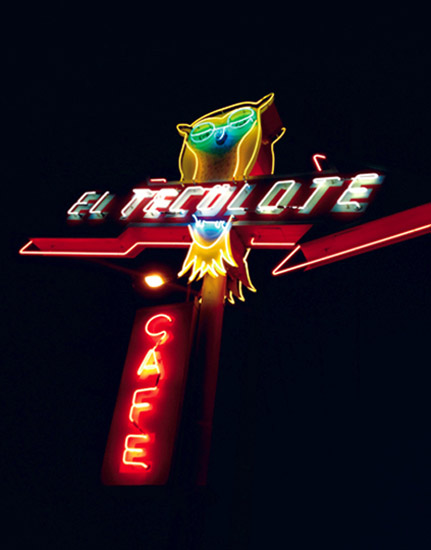 Carol Henry
El Tecolote, 11 x 14" bamboo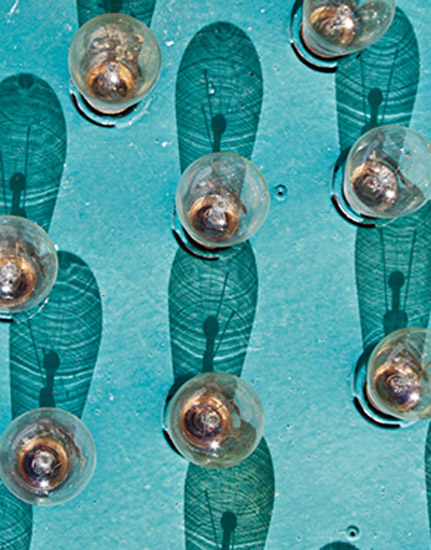 Carole Henry
Bulbs, 11 x 14" bamboo

For 25 years, Carol Henry has been creating one-of-a-kind imagery in the darkroom on cibachrome paper. For over two decades she has exhibited her images through fine galleries: Photography West, Ansel Adams Gallery, Susan Spiritus Gallery, Jackson Fine Art, also exhibiting in public spaces such as Mumm Champagne, Maui Ocean Center, Los Angeles County Museum of Art and the Museum of Contemporary Art Denver. Her work appears in several permanent corporate collections as well as many health care facilities including several Kaiser Hospitals, UC Sacramento, Stanford Univ., Northwestern Univ. Hospitals and Meijer Heart Hospital. Environments and the effect art has on people in them is an important consideration in Henry's work. She wants to expose the viewer to unseen worlds and makes sure that each time they see her work they find something new!

www.carolhenrygallery.com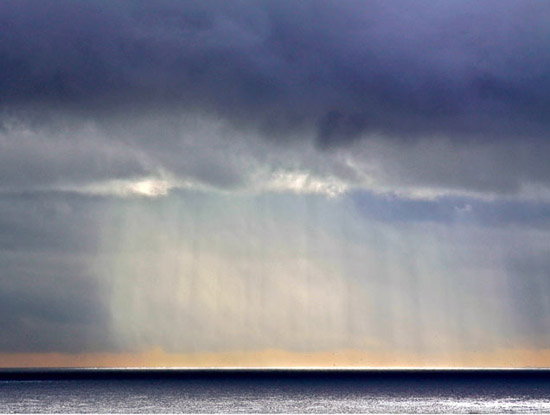 Maureen Haldeman
Silver Lining, 2013, 11 x 14" bamboo

Maureen Haldeman has for over 20 years, photographed a wide range of subject matter spanning all realms of nature as well as the urban landscape: whether dramatic shadows cast by a late day sun or patterns produced by simple objects, representational or abstract, her photographs are acutely conscious of light, shadow and the beauty of nature: whether a moody seascape or a still life, her images impart a painterly quality. "My photographs are interpretations of how I see the world rather than a mirror image of it; unconcerned with depiction of detail, I focus on the total effect of texture, color and light to capture the essence of a scene, often creating a slightly off-balance view of reality. "Maureen's photographs are exhibited at various Los Angeles galleries and many are in private collections. She has taught photography at the college level and previously owned MJH Photography in Malibu, Ca., specializing in portraiture. She is currently working on a series of images of Old Havana taken on a recent trip to Cuba.

http://www.malibufineartphotography.com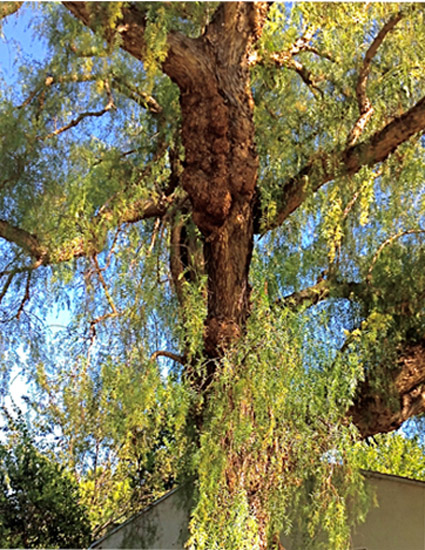 Diane Roter
My Old Man, 11 x 14" bamboo

A creative jack-of-all-trades with many names, she has acted on stage, film, and television, directed theater, and studied mime in Paris with Marcel Marceau. She is an arts journalist and critic, who has reviewed film, theater, and books, as Danielle Roter and Duncan Wilde, for such publications as The Los Angeles Herald Examiner, The LA Times, and LA Weekly. She has published poetry and read in public as Dani Roter, exhibited photographs and drawings, and is a certified teaching artist who has taught acting and movement, writing and editing, in group classes and private sessions. In 2011 she directed and co-adapted a 21st. C. version of of the 19th C. Mark Twain and Bret Harte play, "Ah Sin," which had its debut reading at the Los Angeles Heritage Square Museum. She is preparing an original work-in-progress for Yale Cabaret Hollywood and writing a novel

http://www.facebook.com/DianeRotersOfficialFanpage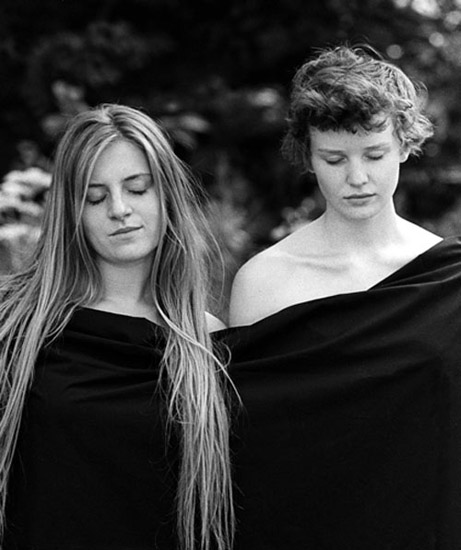 Diane Silverman

Best Friends Forever 2011, 11 x 14" bamboo

As a visual artist, psychoanalyst and art psychotherapist, Diane Silverman has always been focused on the internal world of emotions, the unconscious mind, dreams and fantasies. The primary focus of both her artistic and professional career has been the exploration of this internal terrain, and in the facilitation and both the visual and verbal expression of these less accessible and hidden strata of the mind. Her principal photographic projects have included portraiture, both of herself and others. Often this has taken the form of either actual images of her subjects, or metaphorical and symbolic portraits through the creation of still life assemblages that she photographs. She is more interested in interpretation than in producing faithful representations of the concrete world around her. Diane's photographic experience spans more than 30 years. She has been the recipient of several awards and publications, and has exhibited her work in group shows in Los Angeles, New York and San Diego. She still uses film exclusively, and will probably continue to do so.

www.dianesilvermanphotography.com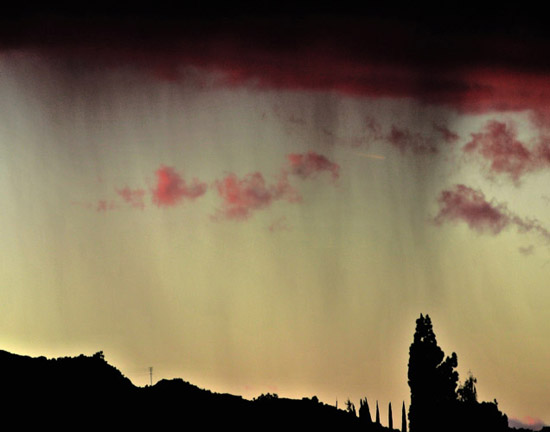 Diane Cockerill
Chance of Showers 2012, 11 x 14" bamboo

Diane Cockerill is a third-generation Angeleno whose love of Los Angeles impacts her photography, from the macro of the downtown skyline to the micro of street curbs. Constantly seeking new images and locations, she takes the usual and offers it up with unusual perspective and sensibility. Diane studied Fine Art at UCLA and has shown work at several local galleries, including a juried competition last December at the Orange County Center for Contemporary Art. Her photograph, "City Hall", was chosen to be part of The Los Angeles Collection exhibition at Duncan Miller Gallery in 2011 as well as the Pink Art Fair in Seoul, Korea. Touring America Magazine and Southern California Women's Caucus for Art's "Women Around Town" have highlighted her work. Diane's street art persona was the topic of a recent article on Huffington Post.

http://www.facebook.com/dianecockerill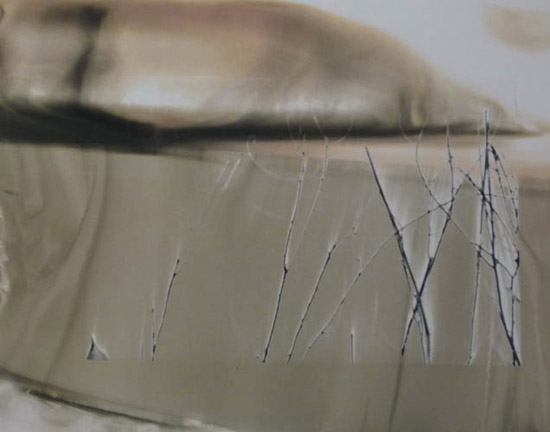 Jane Olin
Site/Sight Unseen No. 1, 2012, 11 x 14" bamboo

Jane Olin's passion for Photography began over 20 years ago. Experimentation and pushing photographic boundaries, both in the darkroom and while making images, are central to her work. Working in Series allows for a deeper interpretation of her subject while simultaneously allowing a deeper examination of her own psyche. She works with film experimenting with pinhole, Holga and conventional cameras. Her creative expression in her darkroom varies from toned silver images, cyanotype and process photography. She's exhibited throughout the United States and Europe and has won numerous awards. Her Studio is located in Carmel Valley, California.

http://www.janeolin.com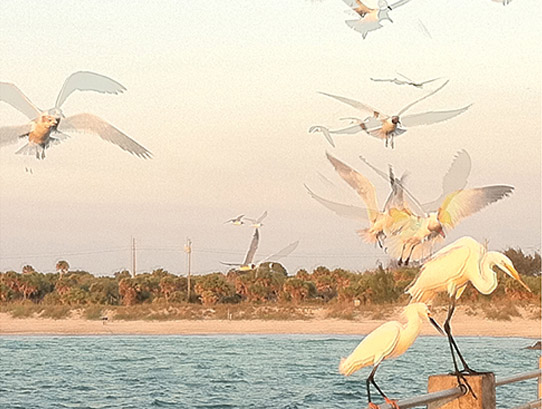 Cathy Greenblat
Birds At The Beach, 11 x 14" bamboo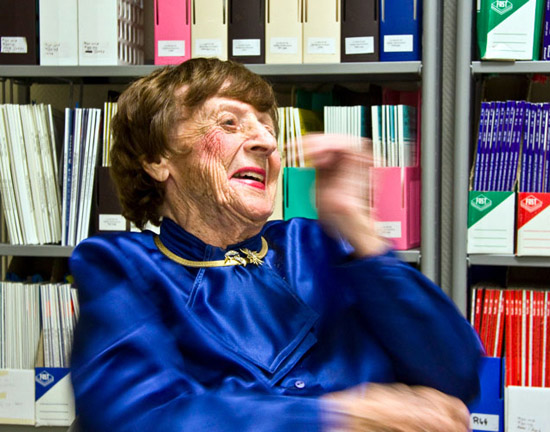 Cathy Greenblat

Jacqueline Laughing, 11 x 14" bamboo

Cathy Greenblat is Professor Emerita of Sociology at Rutgers University, and an Honorary Professor at Glasgow Caledonian University, Scotland. Since retiring in 2001 she has photographed in 6 countries on end of life care and on Alzheimer's care, writing, exhibiting and lecturing on both topics. Her second photographic book, LOVE, LOSS, AND LAUGHTER: SEEING ALZHEIMER'S DIFFERENTLY, was published in March 2012. Through photos and accompanying text readers learn how better quality lives for people with dementia and their caregivers can be created when we understand that many capacities remain long after the onset of the disease. An exhibit from that book has been hosted in Washington DC, New York, Glasgow, Madrid, Salamanca, Nice, Monaco, Geneva and several cities in India. The Australia Alzheimer's Association will tour the exhibit through 7 states beginning in May 2013. The photograph of "Jacqueline laughing" is from this project. Cathy moved from Nice, France to Palm Springs in November 2012.

http://www.cathygreenblat.com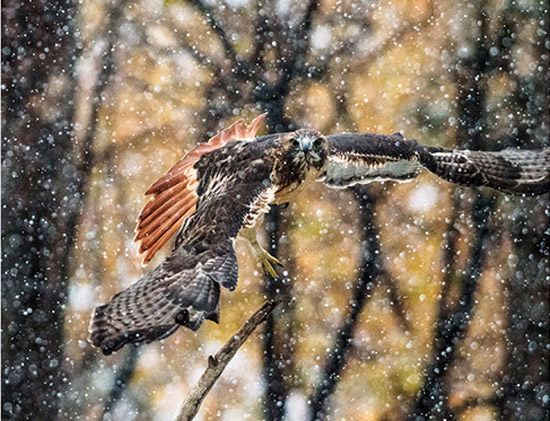 Wendi Schneider
Red Tailed Hawk, 11 x 14" bamboo ,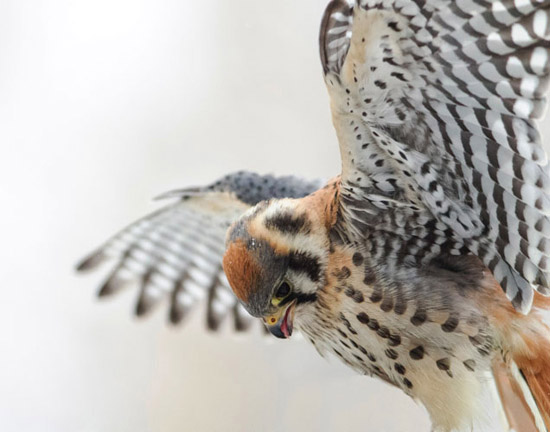 Wendi Schneider
Kestrel, 11 x 14" bamboo

Photographer and designer Wendi Schneider is known for her graceful compositions, which are the foundation for her detailed, sensual photographs. Her color, black and white, sepia and hand-painted photographs are exhibited and collected worldwide and have been featured in magazines, advertising, book covers, websites and more. Much of her work is inspired by the natural world, reflecting the lush sensuality of her southern heritage and her background in art history and oil painting. Born in Memphis, she began making photographs in 1983 and has worked in extensively in New Orleans, New York, Denver and San Francisco. Recent projects include backlit plexiglass photographs featuring details of Denver flora for spa treatment rooms. She is passionately engaged in wildlife photography, working with pigment printing with gold, silver and copper leaf and metallic substrates

http://www.wsphotodesign.com