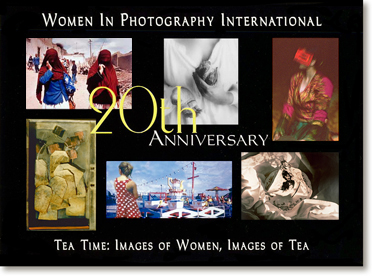 | Lecture Series 2001|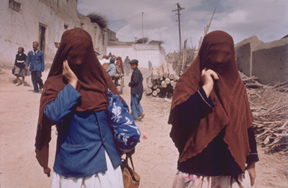 WOMEN BEHIND THE IMAGES, 2001
(as Tea Time travels we will be providing a lecture with each venue to introduce the Women who are in the exhibit and to meet the women of the community we are visiting)
In conjunction with the opening reception of October 20th, 2001 photographer Carol Nye will present an informal talk on her works at 12:00 Noon at The House of Photographic Art, 27182 Ortega Highway, in San Juan Capistrano. Carol's image "Veiled Women, Kashgar, Zin Jiang, China" won first place Women and for which she received the Epson 2000 printer and the jurors also chose her "Bessie Loo, Fr. Chinese American" to be included in the exhibition.

Carol Nye is a bicultural person of Chinese origin, born and raised in Macau in a non-traditional, Western-educated family. She came to America on a college scholarship and stayed.
She is currently working on a Master of Fine Arts in Photography degree at California State University, Fullerton. She studied photography at Otis School of Art and Design in Los Angeles, graduating with an A.A.S. degree in Photography in 1986. From 1982-1985 she studied under Peter Reiss and Edmund Teske. She also holds a B.S. degree from Marywood College in Scranton, Pennsylvania.
Her work is a critical and affectionate exploration of the blessings, curses, contradictions, and opportunities of lives caught between cultures. She is drawn to people who live in places and times where cultures are caught up in the tensions of adaptation and resistance, and how these forces affect their lives.
For the past fifteen years, Nye has been documenting how minority groups relate to the dominant culture in Los Angeles' Chinatown and in Xinjiang Province, China. She is currently working on a project about Chinese American women of Los Angeles and another documenting the displacement of the flower growers in San Diego County.
A recipient of the City of Los Angeles Cultural Grant, her public art project was displayed in Los Angeles' Chinatown from 1994 – 2000. Her selected exhibitions include: Taipei Gallery, Visual Studies Workshop, New York; Addison Gallery of American Art , Hampshire College, Massachusetts ; Woman's Building, Los Angeles Photography Center, LA City Hall Bridge Gallery, Orange Coast College Gallery, San Diego Children's Museum, California. She has been featured in an international traveling exhibition in Great Britain, Sweden,
and Italy; Beijing World Trade Center, China; and Tijuana Cultural Center, Mexico.
Her work has been published in Women & Work, Photographs & Writings, Women Photographers in America, and Zoom Magazine. Carol is a member of Women In Photography International and was also chosen a winner in the 1989 WIP International exhibition that traveled worldwide.